My name is Monica Valentinelli and I'll be your friendly, neighborhood developer for Hunter: the Vigil 2nd Edition. Since the Slasher Chronicle was announced at GenCon 2015, there's been a lot of questions and more than a few recommendations about what might go into the new edition. Today, I'm going to talk a little bit about my plans and how that includes you.
Diving right in! First and foremost, the purpose of the second edition is to clarify and enhance how Hunter the Vigil is played, in addition to providing the new rules in the context of the Slasher Chronicle. Hunter: the Vigil has been a fantastic game overall. Let's face it: Chuck Wendig and his team of writers did an amazing job. Because of the success and quality of this game line and its stories, neither I nor Onyx Path is looking to drastically change what has come before. Instead, we want to focus on enhancing and clarifying the game's core components. For example, when I wrote up my pitch I mentioned that all three tiers of play will be included in the second edition, and will address what slashers and monsters mean to the Tier One, Tier Two, and Tier Three frameworks. Each and every compact and conspiracy will also have clear motivations on what slashers and monsters mean to them as well, to help players and Storytellers cue off of those goals for inspiration in their chronicles.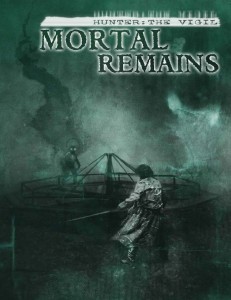 Some of the enhancements we'll make, will incorporate the rules provided in the newly-released Chronicles of Darkness rulebook, and take inspiration from Mortal Remains. However, we're also thinking carefully about what else we can do within the confines of the corebook and supplements. There's a lot we can do but, at the same time, we want to avoid a corebook that's hundreds and hundreds of pages long. Of all the Chronicles of Darkness games, Hunter already has the biggest setting, when you add in all the existing compacts and conspiracies, and that requires space to correctly address in the context of slashers and monsters. In addition to the Slasher Chronicle, however, we do want to think about how we can give Hunter: the Vigil a global feel. We'll be doing an open call for writers to draw in new writers with diverse voices, and I'm also going to use Open Development to see how we can make that more fun and useful for fans, too.
This is the part where you come in. I mentioned that I'm going to be using Open Development in a different way than what you're used to. Before we launch an open call for writers, I'm going to explore and propose how I'd like to approach certain aspects of the Hunter setting in the context of the Slasher Chronicle and why. I have a lot of reasons for wanting to try this approach, but one of them is because I'm keen on ensuring Hunter remains Hunter, even with the changes I'm proposing. Keep in mind, this type of feedback loop is an experiment (and I know how much all of you LOVE change, right?), but the goal remains the same: Hunter 1E is a fantastic game, and I want to make sure that Hunter 2E is worthy of sitting on the shelf next to it.
I hope you're as excited as I am to see a brand new edition of Hunter: the Vigil come to life. In the meantime, I'm going to get started on my first Open Dev post about a certain conspiracy that begins with "A"… In the meantime, don't forget to submit Condition Card ideas for the 12 Days of Onyx contest! Let's see some Hunter ideas!!!