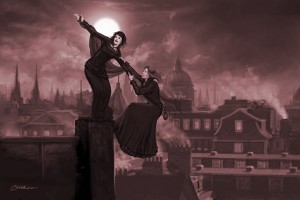 Our "Grande Experimentum" of the nWoD Dark Ages Kickstarter ended Saturday, and so most of what we talked about today in our meetings was reviewing the ups and downs of the experience of opening so much of the project to the backers. I'll let you scroll down to the "Blurbs!" section below if you want to read about the many new chapters we added to the project. Up here, I want to dig a bit deeper into why I set up the KS as I did, and what we have discovered so far.
I mentioned this in a couple of interviews, but might not have done so here, that there were two big influences on deciding to do the Dark Eras KS like we did:
RT: Two separate inspirations, or at least, thought processes. The first was feeling like even as fast as we were putting together nWoD projects, we just weren't able to touch on every nWoD line and get it a new cool book. The idea of doing a new 2014 nWoD core line while we still hadn't given new attention to Promethean, for example, just didn't seem right to me. At the same time, we were having a lot of fun with several of our Kickstarters by getting the backers involved in suggesting new material for Stretch Goals, and sometimes in voting for which Stretch Goals we'd do next. But because of the nature of books like Mage 20th Anniversary Edition, for example, there was really only so much added material we could allow in these very tightly planned main books. But what if we created a Kickstarter for a book that was intended from the start to expand because of community input? It would be best if that book started out modular as well…what book could work that way that we were looking at on our schedule?

There wasn't one, actually. But there was a gap where I wanted to do a new big book that replaced the new supernatural game line of the year. So, if we…made a book that touched on each game line…by presenting a different historical era for each line…that would be the modular book we were looking for. Aha! Then we could have a Kickstarter that added to those base eras with more selected by our community. From there we test tried a whole raft of different voting and polling ideas until we hit on the one we're using. So far, there has been a lot of really positive excitement generated by how we're including the backers and community in this, so I'm really glad we went ahead this way.
As I note above, we went through a lot of options for the voting, because there was some concern that the community involvement might be seen as wholly a popularity contest. We looked at trying to use pledges as an entry to voting, but that mostly meant we'd need to either have the votes be stated in the comments, or happen after the fact in a Survey. Neither of these worked, the Survey was too late for the sort of excitement I wanted during the KS, and having the votes in the comments would be far less scientific a process and potentially off-putting to backers who might not be comfortable with writing out their opinions in a semi-public forum.
But the voting was always to my mind a key part of the value of this Kickstarter. It was where we could get immediate feedback from our backers and community. Fortunately, Impish Ian Watson was able to find us a widget for this site that could be used for voting (I'm guessing we're going to use this a lot more in the years to come for more and different voting), and we hit on the sequence of announcing the poll choices, giving folks a chance to discuss the options, and then closing the poll as the Stretch Goal amount was passed.
All of our Kickstarters are set up so that the Reward Tiers appeal to a wide range of backers. We know we have some folks who prefer PDFs, others that are into the traditionally printed books, and those who love the upper level Reward Tiers that provide more involvement in the project or game line. We hope that further rewards from Stretch Goals will encourage backers to decide to pledge for further rewards "up the ladder", but don't try and force that behavior. With Dark Eras, we had the further challenge of a community that was unlikely be excited about every Era in the book; folks generally like a couple of the nWoD lines which might not be enough to get a book like Dark Eras. Rather than fight that trend, we thought we'd accept it and offer the individual line chapters as PDFs for those folks and hope that the more they heard about the other Eras, the more the line PDF backers would consider a PDF of the whole book.
We also could use the number of backers who backed each separate line PDF as a rough snapshot of the number of fans each line has, but we're not looking at that as a definitive percentage or anything like that.
We had a bunch of suggestions for new Eras from the writers and developers all set before we went live, and as the ideas came pouring forth from our community, I compared that list with the suggestions and put the first two ideas up for vote. We listened to the comments and I caught far more of a trend towards "either/or" than I wanted to hear, so the next poll had three suggestions to eliminate the head to head feel of the first poll.
The next evolution was to try and give every option an even chance by not putting a game line that we knew was less popular vs options with more fans. Between Black Hat Matt, and Rollickin' Rose, and myself, we worked up a set of options for which lines could be matched together, and that seemed to work well for the rest of the KS. It was a balancing act, because I didn't want to unilaterally mandate anything and take the options from the community. After all, this was the idea from the beginning, and if Changeling has a huge and active fan-base, maybe it really should have more of the book. Buuut, we also didn't want folks to feel it was futile to vote because their game would never have a chance.
This was why we changed the polling software after we had a vote with 3200 votes but only 700 backers. A bit of discrepancy was expected as folks voted but didn't back until they saw how things went, but that kind of gap suggested Macros and other methods that really were basically at odds with the spirit of this KS. Similarly, I added a vote for just the Eras without attached game lines so we could, if necessary, include a game line that had not been voted in, and added the Reward Tiers where backers could buy the right to suggest Dark Eras without voting. Like I said, it was a balancing act.
Looking back over the last month, I wish I'd kept notes. 🙂
There were certainly many moments of drama as votes were tallied and new ideas were introduced. The community stepped up with so many ideas that if it hadn't been for our backer Pineapple Steak compiling them into a spreadsheet, I'm sure we'd have missed a lot of them. By and large, this Kickstarter really performed extraordinarily well. Sure, there were some pretty bizarre conspiracy theories, like we had all the options already written (kinda would have ruined the whole point of the community involvement if we'd done that). Some people seemed to think Onyx Path was circa 1994 White Wolf and were going to write something with the awesome cultural sensitivity of WoD: Gypsies. The thing is, we pretty much expected that some folks would get a little sensitive, and others would be a little more competitive, but in the end it seems like most of our backers grooved to the very part we were excited about ourselves in letting our community really have a say in the contents of the book(s).
That being said, managing that involvement was absolutely exhausting. We normally make a few Stretch Goal calls as things happen during our Kickstarters – in fact, I insist on staying flexible to better match the interests of the backers – but collating, deciding on which Eras to put in the polls, following those polls, getting those options put together and explaining things across our social media: our crew found this KS particularly tough. Yet, we really think it was worth it, and are really glad we tried this kind of KS. It might take awhile until we do another one that is quite this interactive in this exact way, but we'll keep looking at ways that our community can be even more involved.
Phew!
————————————————————————————————————————————————————————————-
And now, the BLURBS!
The nWoD Dark Eras Prestige Edition Kickstarter ended on Saturday, with our funding at 320% and having more than doubled the size of nWoD Dark Eras itself, as well as having added enough new Dark Eras to create a second book: the Dark Eras Companion, that threatens to be over 200 pages. Our featured art above is a half-page Elizabethan Requiem piece by Cathy Wilkins, but check out this graphic showing all the extra material created by the Dark Eras Stretch Goals during this Kickstarter: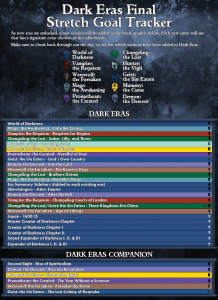 If you look on the chart, the original book contained about 300 pages of Dark Eras, one chapter per existing nWoD game line, and everything after Werewolf in the 70's was created by passing Stretch Goals and adding Reward Tiers during the Kickstarter. So backers are getting 300+ extra pages in the book, and then PDF and PoD coupons for the Dark Eras Companion that we had to create because we couldn't fit any more Dark Eras into the main book. Woot!
Werewolf: the Forsaken fans…keep your heightened senses peeled! We hear an Advance PDF for Werewolf: the Forsaken 2nd Edition featuring the Idigam Chronicle has been sighted! It might be as close by as Wednesday…
————————————————————————————————————————————————————————————
DEVELOPMENT STATUS FROM ROLLICKING ROSE (Projects in bold have changed listings)
First Draft (The first phase of a project that is about the work being done by writers, not dev prep)
W20 Pentex Employee Indoctrination Handbook (Werewolf: the Apocalypse 20th Anniversary Edition) (Going for open development soon.)
M20 Book of Secrets (Mage: the Ascension 20th Anniversary Edition)
Secrets of the Covenants (Vampire: The Requiem 2nd Edition) – In Open Development
Exalted 3rd Novel by Matt Forbeck (Exalted 3rd Edition)
Beckett's Jyhad Diary (Vampire: the Masquerade 20th Anniversary Edition) (Preview post last night.)
M20 Anthology (Mage: the Ascension 20th Anniversary Edition)
Demon Translation Guide (Demon: the Fallen and Demon: the Descent)
Changeling: the Lost 2nd Edition, featuring the Huntsmen Chronicle (Changeling: the Lost 2nd Edition)
nWoD Hurt Locker (World of Darkness 2nd Edition)
Pugmire (Be a Good Dog.)
CtL anthology (Changeling: the Lost 2nd Edition)
WoD nWoD 2e core (World of Darkness 2nd Edition)
Redlines
Mummy Fiction Anthology (Mummy: the Curse)
Arms of the Chosen (Exalted 3rd Edition)
Mage: the Awakening  2nd Edition, featuring the Fallen World Chronicle (Mage: the Awakening) – In Open Development
Wraith: the Oblivion 20th Anniversary Edition
W20 Changing Ways (Werewolf: the Apocalypse 20th Anniversary Edition)
Cursed Necropolis: Rio (Mummy: the Curse)
Demon Storytellers' Guide (Demon: the Descent)
Second Draft
Beast: the Primordial core book (Beast: The Primordial)
V20 Black Hand: Guide to the Tal'Mahe'Ra (Vampire: the Masquerade 20th Anniversary Edition)
W20 Shattered Dreams (Werewolf: the Apocalypse 20th Anniversary Edition)
W20 Novel by Mike Lee (Werewolf: the Apocalypse 20th Anniversary Edition)
"Sardonyx" System Rules (Base rules set for Scion and the Trinity Continuum)
Development
V20 Red List (Vampire: the Masquerade 20th Anniversary Edition)
V20 Ghouls (Vampire: the Masquerade 20th Anniversary Edition)
Promethean: the Created 2nd Edition, featuring the Firestorm Chronicle (Promethean: the Created) Being playtested.
Dreams of Avarice (Mummy: the Curse)
Editing
M20 How do you DO that? (Mage: the Ascension 20th Anniversary Edition)
Development (post-editing)
Sothis Ascends (Mummy: the Curse)
ART DIRECTION FROM MIRTHFUL MIKE
Sothis Ascends –  Got Trabbold's fulls in

on Friday

night. Getting all the files set up for Charles (new layout freelancer) so he can start cranking on them this week. Still have a few halfs coming in, but should be in well before we hit second proof.
Book of the Wyrm 20 – Signed off on color corrections for the "art" portion of the cover. Came out a tad dark and so we had to lighten it a tad. Hopefully seeing the next phase this week.
V20DA –  Hopefully incorporating errata and sending off for indexing this week. 

T-Shirts – Working on WtFII Tribe and Auspice shirts. Should be a nice item to either release before WtFII or along side it.
Art O' The Changin' Breeds –  Mage still a priority.
Fallen World Chronicle Anthology – Uploaded corrections and PoD files.
WtF 2 – Fill in art is all in and placed. Fiction bits are done and some minor format tweaks have been made as well. Cover designed. Got proofing notes from Stew

on Saturday

, so I'll be putting those in

on Monday

. We should be in second proof soon.
Wraith 20 – Getting Mr Cobb started on remaining Guild logos.
M20 – Proofing with Phil. 

Dark Eras – KS wrapped up. Holding off on layout it until we get things finalized (expansions and sidebars in existing chapters being the big ones).

V20 Lore of the Clans – Starting layout this week. Hoping I can make a big dent in it before M20 proofing notes come in. This is our next Kickstarter.
Lore of the Deceived – Uploaded to Drivethru and awaiting activation..
M20: How Do You Do That? – Working on the art buy and pinging artists.
EX3- RichT here, once again tagging onto Mirthful Mike's report: Waiting on the last few pieces of art. Waiting for Dev notes on the roughly laid out pages.
Ex 3 Anthology – Awaiting proofing notes.
REASON TO DRINK: March roars in like a bourbon…