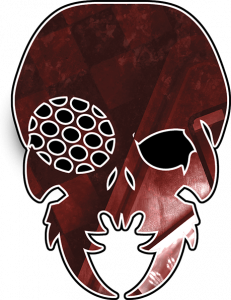 Deviant: The Renegades is in first drafts.
So. New game. What's that all about?
We've spoken at a few conventions here and there about Deviant, and mentioned it as upcoming in brochures and blog posts. There's a handful of forum threads picking over the scant details we've revealed so far, but as we don't like to assume that everyone reads the forums (because we know most people don't!) I thought I'd take the time to formally introduce the game as an inaugural Developer's blog. This isn't really "Open Development" – not yet – as the game is nowhere near Development stage. We have a sketched-out design of a game's skeleton, and my crack team of writers are putting words on its bones. In these early blogs, I'll talk about the game's inspirational sources, themes, and some of the broader elements of its design. Then we'll likely go quiet until the drafts start coming in, and we'll resume with showing you snippets of the work.
You woke up…different. Someone changed you; on a slab, an operating table, an altar. By luck or by fate, you escaped. Hunted by the ones who made you, they hold all the cards. Except one thing, what they don't know is that a fire burns within you because what they did wasn't right. What they don't know is that YOU'RE hunting THEM.
Deviant presents a game where the victims of experiments band together to bring down the monolithic organisations that twisted and warped them.
Deviant: The Renegades is a game about revenge, and escape.
It's about catharsis and loyalty, anger and acceptance.
It's about visceral body-horror, being taken and changed against your will, being betrayed by your body as it warps into something alien.
It's about conviction – a burning need for justice, seeking redress for deep wrongs.
It's about rebellion against those who would turn people into tools, literally dehumanizing their victims in the pursuit of power.
The Elevator Pitch
To save new readers from forum-diving, this is the succinct version of Deviant, straight from its outline;
In Deviant, players take on the characters of the Remade, human beings who have been transformed into something else through the action of human actors. No millennia-old curse, moon-spirit's favour or Supernal Watchtower changed the Remade into what they are; their state is the result of chanted spells, long surgeries, experimental treatments, bizarre accidents, or alchemical poisons. Their creators — Progenitors — have human faces; men and women who saw what lurks in the shadows of the world and wanted power for themselves. Many Remade – Devoted – still serve the conspiracies that changed them. They're one of the game's major antagonists, and will be the subject of one of its sourcebooks. The player characters we're showing in the corebook are Renegades, Remade who have escaped the clutches of their creators… For now.
Irreversibly altered by their Divergence, bearing the scars of what was done to them, Deviants face both biological and spiritual needs. Many Remade end up with physical changes that require upkeep, or come with downsides that require attention. Unless tended, some sicken, mutate, or fall to madness. Most important, though, are the twin drives of Conviction and Loyalty. Remade have been transformed such that they are no longer entirely spiritually human; the process of creating one and giving their powers something to ground into damages the soul of the subject. Where human souls guide their owners to a sense of self-identity and free will, Deviants feel only a desperate, burning need to act externally and define themselves by loyalty or opposition to others. It's this Conviction and Loyalty that drives them, replacing their former Virtues and Vices. Remade who stagnate, refuse to follow their drives and attempt to cut themselves off from humanity undergo Instability; a process something like spiritual organ rejection in which their changes fester and the downsides of their transformation worsen.
Every Remade, Devoted and Renegade alike, is caught between the two drives of love and hate for others, and find the most stress in situations where to uphold one drive, they must betray the other. For Renegades, Conviction drives them on while Loyalty gives them comfort, while for Devoted following orders is their way of action while their own private animosity for Renegades or secret grudges against their masters help them through rest. If a Renegade manages to develop her loyalties to being as important as her convictions, she gains a precarious state of balance and becomes a Guardian, relatively safe from instability until she betrays her principles. The equivalent among the Devoted is a Nemesis, a loyal Remade whose hatred for a particular thing (such as a Renegade player character who has sparred with him repeatedly) has driven him to extremes.
Every Deviant has one or more Variations, the combination powers-and-drawbacks of what was done to them. Although skill at using a Variation comes with practice, the raw power of a Variation comes hand-in-hand with its Scar, the price the Deviant pays for it. Subtle Deviants are weaker but find their lives easier to manage. The most powerful Deviants are virtually inhuman, but most Remade are somewhere "above" the likes of ghouls and hunters in terms of their capabilities but below fully-realized supernatural entities like vampires or Sin-Eaters.
Given the thousands of potential ways to force someone into Divergence, intentional and otherwise, the "means of creation" of a Remade isn't something we mark with a character type. The conspiracies define Remade by broad categories of exhibited Variations and Scars they call Clades; a Deviant who was merged with a machine-spirit by a cult had a very different Divergence to a Remade who was tricked into experimental implant surgery, but they're the same part-machine Clade. Renegades prefer to compare each others' stories of how they came to be changed in the first place – two Renegades who were both abducted and forced into it share an Origin no matter what they ended up looking like, while another who suffered a supernatural accident is different.
That'll do for this initial blog. We've got more concepts to introduce – cohorts and Forms, for two – but the above is a good introduction to the line.
—
Next Blog, we'll address the elephant in the room: what are Deviant's unique selling points, given that it's the 11th Chronicles game