Onyx Path Publishing is partnering with DriveThruRPG to allow independent content creators to publish material in the Slarecian Vault utilizing the OGL for both Pathfinder and Dungeons & Dragons Fifth Edition editions of existing and future Scarred Lands books produced by Onyx Path.
A world known to its inhabitants as Scarn, the Scarred Lands is a place of dynamic heroism, supreme villainy, and incalculable magic. Torn and twisted by battles between the titans and their children, the young gods —fought largely by monstrous titanspawn pitted against humans, elves, dwarves, and other "divine races" — Scarn is a world still wounded deeply by the Divine War that took place less than two centuries ago.
"Scarred Lands is a gem of a setting that's flush with opportunities for great storytelling, adventuring, and good, old-fashioned monster hunting," says Scarred Lands developer, Monica Valentinelli. "With this setting, there's an unlimited potential for creators to explore Scarn by offering new classes, races, and more!"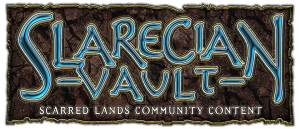 The Slarecian Vault for Scarred Lands features:
– Self-publish service for tabletop RPG material set using the all-new Scarred Lands Player's Guide and The Wise & The Wicked for Dungeons & Dragons Fifth Edition and Pathfinder.
– Content creators themselves set the price for the material they publish and receive 50% of the revenue.
– Access to templates and art packs produced helps content creators make their work look as professional as the official products
– Opportunities to develop new content as additional supplements are released.
The Scarred Lands has been a favored d20 system fantasy setting since the release of the Creature Collection in 2000. Over the next several years, over 40 titles were published for the Scarred Lands, making it one of the most fully supported fantasy RPG settings ever and the premiere product line of the former Sword & Sorcery Studios imprint of White Wolf. Now, Onyx Path Publishing brings this cherished fantasy setting back to your gaming table in Pathfinder and Dungeons and Dragons Fifth Edition editions, along with offering fans more ways to adventure in Scarn through the Slarecian Vault.
The Slarecian Vault for Scarred Lands is Onyx Path's Publishing second Community Content program, and follows on the heels of Canis Minor for the World of Pugmire.
The new Slarecian Vault for Scarred Lands is now available at: Drivethrurpg.com/cc/19/Slarecian-Vault
You can also take a look at the Frequently Asked Questions here: Drivethrurpg.com/hc/en-us/articles/360000698086-Scarred-Lands