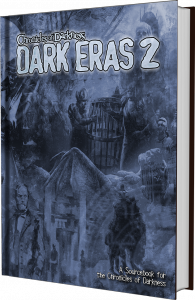 Lost Lineage — The Faceless (Tortured Ones)
Pain is one of the great motivators in human history. Make someone uncomfortable and they will constantly strive to improve their position. Light a fire under anything living and it will instantly run, jump, crawl, climb, do whatever it can do to get away. The Faceless may have been among the worst experiments conducted in the name of warfare, but within their statuesque countenance they bear pain with the stoicism of sheer rock.
As much as constant agony is certainly something that can drive a soul deeper and deeper into Torment, it is also eternal and incontrovertible proof you are alive. The singing of nerves gives proof to a Promethean's place among humanity, a common feeling which is in great supply in the trenches of the Western Front.
The Faceless seem outwardly to be the very model of calm and placid contemplation. Inside, they are eternally burning and experiencing the death throes of thousands of undying nerves. This constant grief drives the Faceless to seek solitude, even from each other. Faceless tend to avoid throngs where they can, preferring to observe humanity's path in unobstructed contemplation. They are obsessed with understanding the reason for their suffering through understanding the suffering of others. While this can express itself in a Tortured One being moved by those who show selflessness and courage in the face of personal agony, it can also drive them to inflict great pain upon others in search of surcease to their constant suffering.
Their name is well earned as the Faceless' features are those of stern, mud-golems. Their outward shell is hardened and blackened mud which cakes the internal tangle of limbs constantly burning in a putrid, self-contained vat of deadly chemicals. They are hulking and square in stature. The eyes of a Tortured One are deep set holes that they have personally bored into the cracked lines of their faces during their agonizing creation with their thick fingers, their mouths are thin, fissured slits that are painful to move. They can show no expression as their hardened surface does not lend itself to great movements of the face, they cover this up by donning large gas masks that cover their entire head, giving them their title.
The first Faceless was brought into being by accident. A lightning storm in France struck the ground where a mass of bodies, killed by chlorine gas, lay buried in the mud. The resulting reaction caused vaguely human shapes to rise, roaring in agony, from the ground. Those who witnessed it whispered among their ranks and word soon reached their superiors of the Entente and Central Powers alike. While the officers dismissed these tales as the rantings of fear-addled minds, Mortal alchemists working in the research and development labs of both sides pushed for these techniques to be refined and used, creating an army of new soldiers to take the place of those who lay dismembered on the scarred earth, their bodies killed by the gas, blown apart by shelling and churned among the mud.
By slowing the circulation of gas masks to front line troops, the alchemists ensure an ample supply of sites to create the Faceless and bolster their ranks. The alarming convergence of death and chemicals lead to staggering numbers of these Faceless appearing in even greater numbers than other Lineages. Their numbers trigger Firestorms across the various battlefields, and though some are seen as unnatural instances of devastation, most are assumed to be part and parcel of the Great War's seemingly endless bombardment of artillery fire and chemical death.
The first of the Faceless are deployed to the trenches in Ypres where they had fallen. As more are created, they appear on various fronts. Sometimes, Faceless are deployed on opposite sides of the same battle line and tales circulate of hulking figures storming across no-man's-land, able to withstand huge amounts of fire without stopping their maddening charge. Only artillery and highly concentrated fire can stop them in their tracks.
Though they do not often speak, Tortured Ones are often fluent in multiple languages, from English, French, and German to Algerian and Hindi. To the eyes of a shell-shocked soldier, they appear to be immensely large, dirt caked men, but the more inquisitive immediately realise that these Created are not one of them, leading the Faceless to regularly move from trench to trench to avoid difficult questions, often switching sides to try their luck elsewhere. What the Faceless know for sure is that this is the one place where they can roam with any sort of freedom. In a city or small village, they would be instantly recognizable.
Faceless regularly possess ragged scraps of uniforms of both sides that they mend into a hodge-podge covering. As one of the few beings able to move between the opposing trenches of the war, they can be turned to the purpose of spying or spreading rumor and misinformation among an enemy trench, a feat that either side could benefit from.
Given their multiple perspectives, they often suffer from confused loyalties, it is not uncommon for German and Austrian dead to mingle with British and French in the mud of the Western Front. In the dirt, all are equal. Their differing points of view can give Faceless a bizarre and unique perspective on their plight, though they may not deign to share it with their comrades in the trench.
Faceless have a special disdain towards Frankensteins. Not so strong as a hatred, just a general distaste. Their prattle of suffering and their misfit, outcast state would wrinkle the noses of most Faceless if they bore noses beneath their masks. Not only do most of them have trouble relating to anyone who simply talks so much about themselves, the idea that so many of the Wretched chose to be here of their own volition, seeking some sort of bloody awakening or epiphany is anathema to their pain. What the Frankensteins truly suffer, so far as the Faceless are concerned, is an ugliness in scarring that dominates their life. This is not nobility, but narcissism.
Of all Created, they identify most closely with the Tammuz, particularly as many of their number may have been dug out of their birthing mud by the shovels of Tammuz engineers. The Faceless have a strange respect for people who quietly get on with their job and lack pretention. The Tammuz do not assign station and rank upon themselves, they find their truth in labor and a hard day's work. They appreciate the simple beauty of a job well done. When a team of Tammuz are lengthening a trench or laying barbed wire, you will often find a Faceless watching over them. It is not clear if they have taken to guard them or if they simply find a strange catharsis in their toil.
Creations
The Mascot
Filthy Hamish is a regimental mascot. He has been adopted by the men of the 1st Lanark Militia due to saving their captain's life simply by walking in front of him during an attempted advance. The men huddled behind him all the way back to the trench.
"He's so dirty the bullets can't pierce him!" they joke. What they don't know is he's the one who keeps ripping the legs, wings and heads off of the messenger pigeons sent to their trench. He doesn't say much, but he watches the other lads very closely.
The Carer
Fraulein Marta is the den mother of her dug-out. She was found by the German Army in the remains of a medical outpost. Some of the men say they didn't have the heart to shoot her, others say shooting her didn't work. One oversized uniform and pickelhaube helm custom made by Oberjager Christoph Feldstein was enough to secure her place as an enlisted man. She has been known to treat the wounded though her care can often be a bit rough.
The Refugee
After wandering from the field, Grand Pierre joined a refugee train heading west. His observation of the families dispossessed from lands they cultivated for generations unnerved the others at first, but he was invaluable in warding off the vultures who preyed on the homeless and starving people fleeing the French countryside. After helping a family pull their dead child from the ruin of their farmhouse, he not only carved out a burial site himself but stood vigil during the modest ceremony the poor girl could be afforded. The family noticed him shedding yellow tears, which escaped from his gas mask and sizzled and smoked on the exposed, blackened mud of his chest.
The Homesick
Rajesh is not sure where he's supposed to be, but it isn't here. A voice in his head is calling him to head east; east through the German line and off to a home he only understands from flashes in his mind and memory of a language he doesn't remember learning. He gathers a small team of men and women and listens to their stories of home. The blistering, humid summers of India. He feels he remembers with clarity his muddy flesh baking in the midday sun as he tended to a small herd of animals, one of whom could fit inside his hand. What he remembers most of all is the peace of it all. He promises to return these people home safely and concocts a plan to do it. They can call it desertion all they like. What are they fighting for if not to save home from this horror? And what is home without these people in it?
The Equestrian
Horses seem to have lost their place in war. Now they don't carry soldiers, they carry crates. Phyllis on the other hand is more than capable of carrying horses. She sees those poor beasts left to die in craters. Discarded by their owners, shot even. She sees herself in the tragicomic reflections cast by their long, humorless faces. She sees a beast of burden staring back at her from every deep puddle. The others of her kind carry supplies now. They dig trenches and soak up fire. How long will it be before their masters ride them into battle? Well, all she can do is try to save something from this mess and it seems to her that the horses are the only innocents in this field.
Humour: Chlorine. The humour of the Faceless guarantees them internal torment as much as their exterior ensures they can never fully express that suffering. It imbues them with inner fury and almost insane, thoughtless bravery but can make them prone to acts of self-sacrifice. The fastest way to cease their torture is to end their existence after all. While this is one of the traits that ensures their Lineage's temporary nature, it is not the only one. Their pain drives them to seek out the focus of their Pilgrimage with incredible, single minded dedication.
As much as their lack of physical expression makes them seem almost emotionless as statues, the internal burning of their humour also gives them a brooding, gruff aspect. Most Tortured Ones speak only when spoken to or, even then, at the uttermost end of need. They use words sparingly but observe and contemplate.
Their large size and formidable strength and toughness makes them physically intimidating and their rivals often shrink from them when confronted. Even the hardiest of Uratha would think twice before rushing headlong at a Tortured One without knowing what he was or what he might do. Most of the time, their quiet, brooding nature sees them easily confused for large, dirty soldiers. It is when they are found among the civilian population they truly stand out.
Bestowments: Living Wall, Chem-Shell
Faceless Bestowments
Living Wall: Your outer layer is hardened like stone and both bullets and blades alike ricochet off of your hide. Any that penetrate often simply become lodged within as part of your monstrous structure. If rolling dice to defend or evade attacks from simple melee weapons or firearms, the Faceless may reroll any failed dice, but must accept the result of the second roll.
Chem Shell: Channeling their inner rage, the Faceless can sacrifice part of themselves to create a hardened, explosive shell, fused with Pyros and deadly chemicals. The Faceless spends 1 Pyros and loses 1 Health level as it uses part of its own body to create this shell. It can then project the shell to a point it can see up to 100 feet away and detonate it. Alternatively, it can be placed somewhere like a conventional explosive. The blast destroys objects and structures caught within it and inflicts 10 aggravated damage on anyone within a 20ft radius. Anyone who survives the blast suffers from the Poisoned Tilt (see Chronicles of Darkness p. 286).
Stereotypes
Frankensteins         They do not understand suffering.
Galateids     At least they know themselves.
Osirans        All knowledge, no drive.
Tammuz      Kindred spirits, tools of another kind.
Ulgans Proof there is more than flesh and pain.
Unfleshed    If only these had been more numerous we may have been left in peace.
Extempore A place to hide the shame of your life.