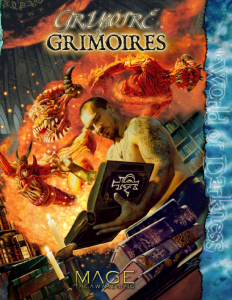 Welcome back, faithful readers!
Those paying attention to the Monday Meeting blogs may have noticed that Deviant: The Renegades, the design of which has been my constant companion through a year or more of suckitude, unemployment, sudden relocation, house flooding, illness, and gods laughing at me, is now in First Drafts. This means that while the Deviant team are off their starting blocks, I'm back to Mage and the off-hold-again Signs of Sorcery.
As I'm not at GenCon this year, I thought I'd mark the occasion by releasing another section of the book-once-more-in-progress. A glance at the Forums seems to indicate that "Grimoires: What's their Deal?" is a popular topic, so – behold! From the pen of Changeling: The Lost Developer Meghan Fitzgerald, here's the advanced Grimoire rules from SoS.
Signs of Sorcery Open Development – Grimoires
As ever, this hasn't been passed to Onyx Path's hardworking editorial team yet, so grammar and such has not been prettified. Enjoy.
And as for Deviant, if that's your interest, expect a blog soon.