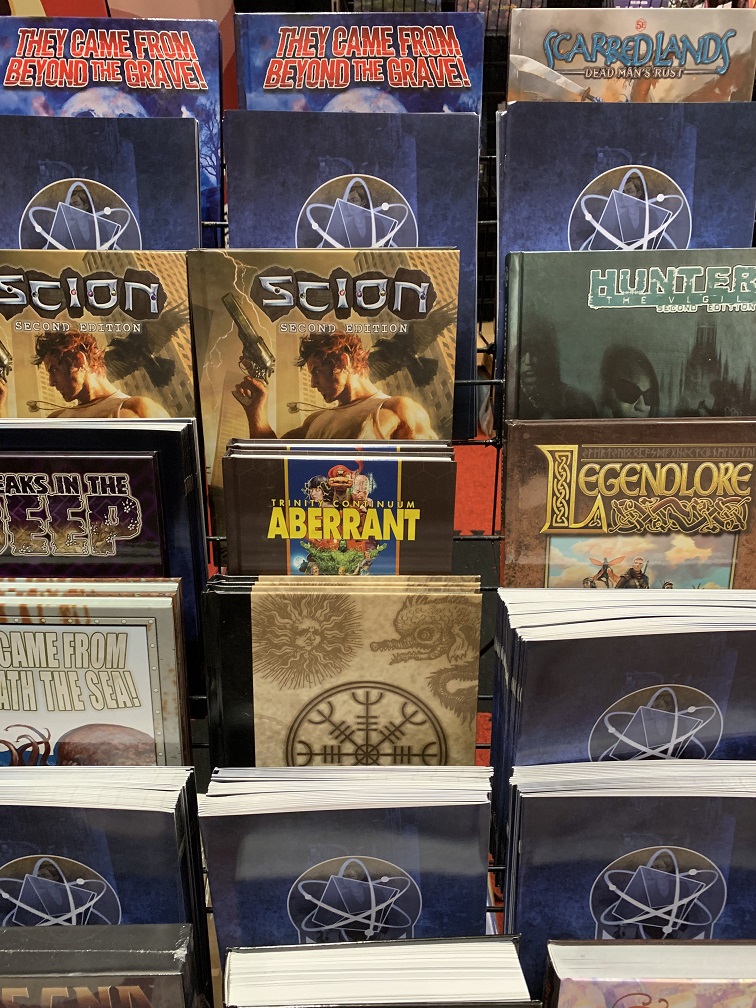 Or maybe Urban Dark Fantasy-ic comments?
I'm referring here to the absolute explosion with the number of folks joining in on the conversation in last week's MMN Comments section. It's been a fantastic and ongoing conversation about what sort of new Urban Dark Fantasy/Horror game Onyx Path should make someday.
I emphasize again: someday!
But it really has been super to chat about what elements we think are compelling, what has worked for WoD and CofD and other horror games – and into the broader media for horror and dark fantasy. Even discussions of the differences between dark fantasy and horror! (For now, I'm going to compress it all down to just horror to save having to write both out every time, here).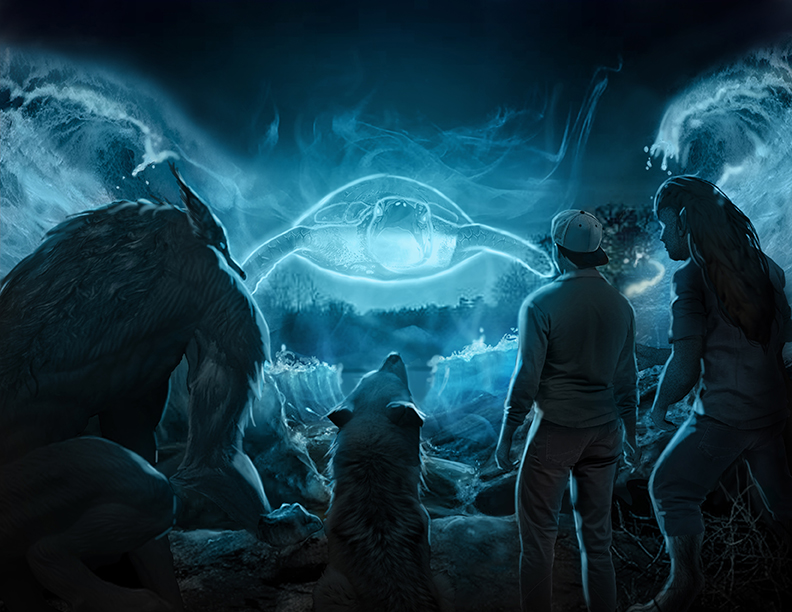 One topic that kept coming up is how open the supernatural should be in this new game. Is there a Masquerade, a Delirium, agents dressed in black suits that make folks forget, a general "meh" from mortals who then just ascribe the latest horror sighting to marketing or "fake news"? Or should this be a world where the supernatural creatures are known to exist? Maybe as far as the most open of settings, like the most public version of the gods and mythological creatures in Scion 2e's The World setting?
Which is actually a great place for any Scion fans who would like to enter the Comments conversation this week: how has The World worked for you? From the book, or have you used the "dials" to make things more secret? Or have you used The World as your setting at all? I know some players kept to the secretive setting in Scion 1e, so it'd be cool to hear some real world examples of how these two kinds of setting have worked out.
A least, I'm hoping we can continue to continue the conversations we've been having in this week's Comments right down there below this blog – but that's all up to you folks. If you want to continue, I'll be right there joining you!
I guess, the takeaway is that a whole lot of folks in our community really like horror and have thought a fair bit about it! Which makes sense since Onyx Path started out building out the 20th Anniversary Editions for WoD and then shepherding CofD through a name change and through a super rebirth with the Second Editions. Horror has been our thing, and clearly a lot of you are really into that!
Thank you all for reminding us of that with your insightful comments!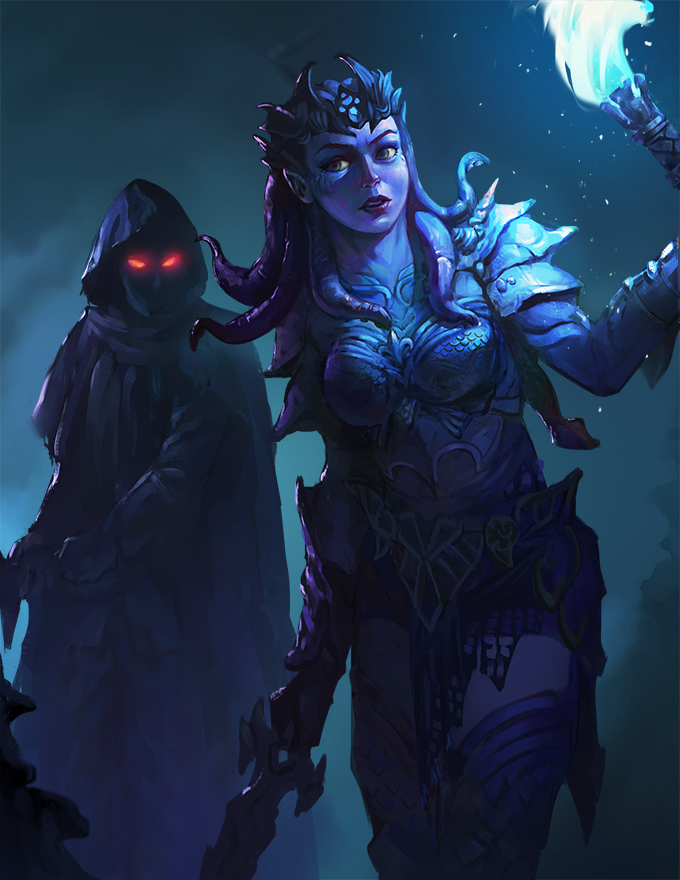 Even Greater Horror: the Monday Meeting!
Last week, we finished up the Trinity Continuum Player's Guide crowdfunding campaign on BackerKit, and all in all it was a terrific turn out for a cool supplement that enables us to get it into stores with a nice traditional printing. Thanks to all who backed the project – without your support and backing, we couldn't add another book to the TC roster in your friendly local game stores!
Next up, the enigmatically named They Came From…? is coming in May if our plans, and Kickstarter, all come together! Fear not, true believers, there will be an actual title on the cover when you see the mock-up, although this KS is a bit…unusual…so the book title and the title of the Kickstarter campaign may actually be different!
Just a brief heads-up to let folks know not to worry if there's a brief Forum/website disruption over this coming weekend. We're still tweaking our set-up and Ian plans on making the next change during the wee hours so the fewest number of people even notice. As always with website stuff, fingers crossed and we'll all be taking deep breaths.
All this week is the GAMA Trade Show – and IPR and Studio2 have sections of their booths set up as "home bases" for Onyx Path reps. If you are a store owner, know a store owner, or want to remind a store owner, who is going, we'd love to say hi and talk about getting our books into your store!
In fact, here are some pictures of their respective areas: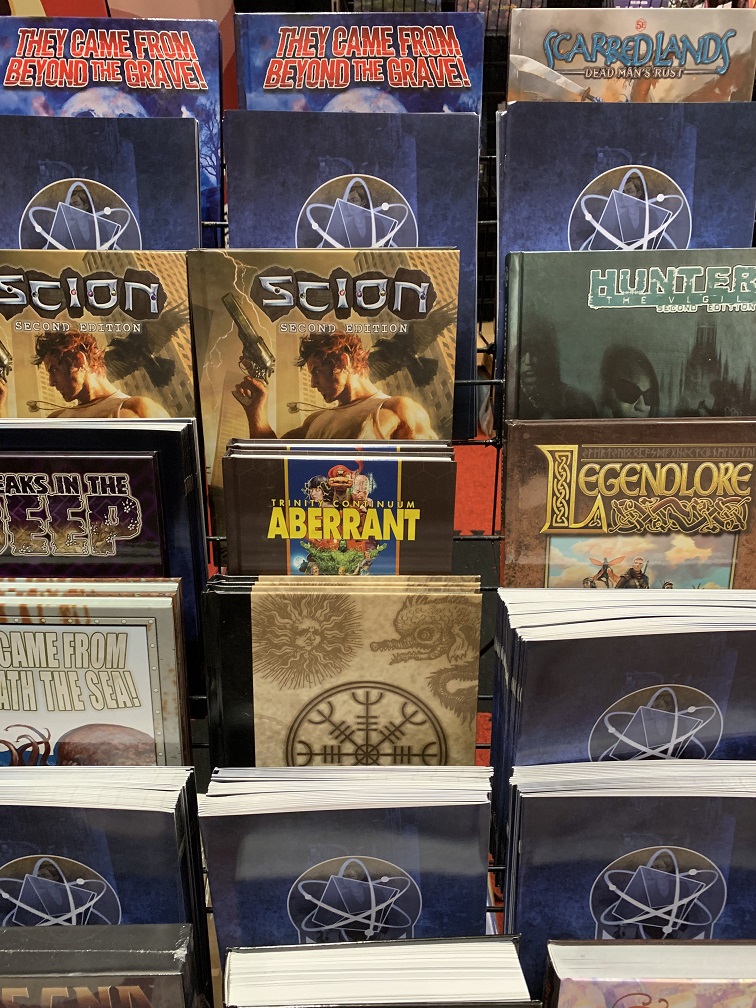 You'll note that the Storypath Ultra Brochure is tucked in there surreptitiously among the books!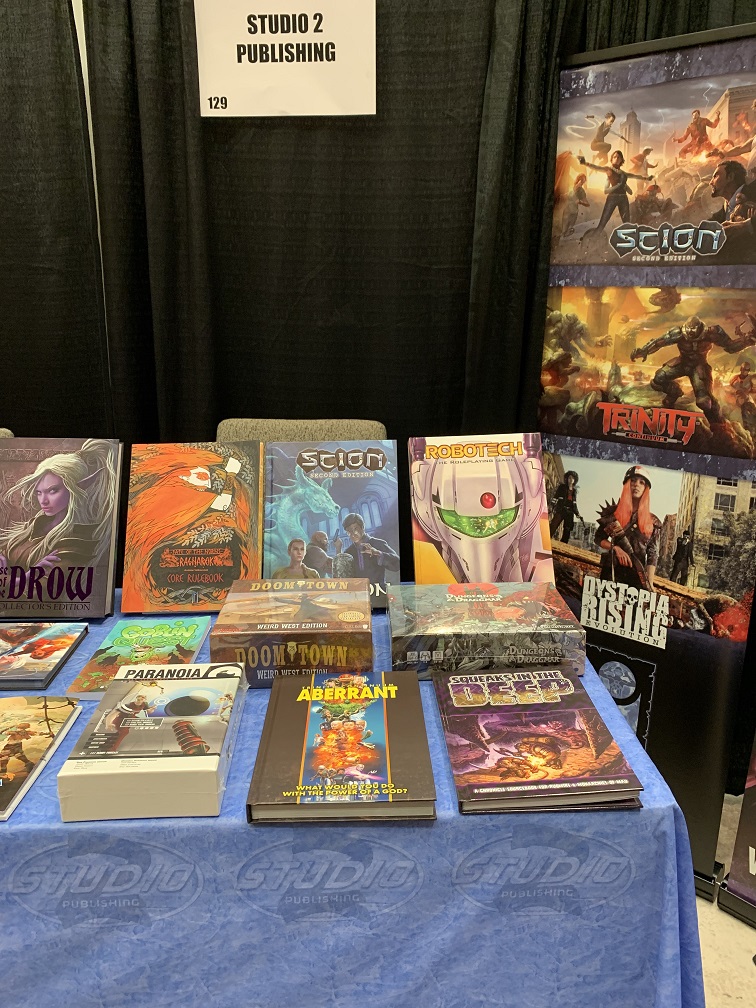 On this Friday we have this month's Onyx Path Friday Night Game Night at StartPlaying Games, and this month it is the The Came From! series that we're highlighting, although any game can be played if somebody sets it up to run.
Towards that, our own Travis Legge will be on our Twitch channel tomorrow (Tuesday) night at 5pm EDT with Devon from StartPlaying to show how to set up a game on the Startplaying Game Night Setup show.
Also on Friday, maybe before you start playing at StartPlaying, you can listen to Danielle and Dixie interview Devon all about StartPlaying on this week's Onyx Pathcast! That Devon gets around!
A reminder that our Short Media Contest is ending at the end of this month, and we're looking for any sort of short vids – instructional, useful, silly, whatever – about our projects. It's a $150 gift certificate/coupon prize, so if you have something to say, we'd love to see it! Not just for TikTok!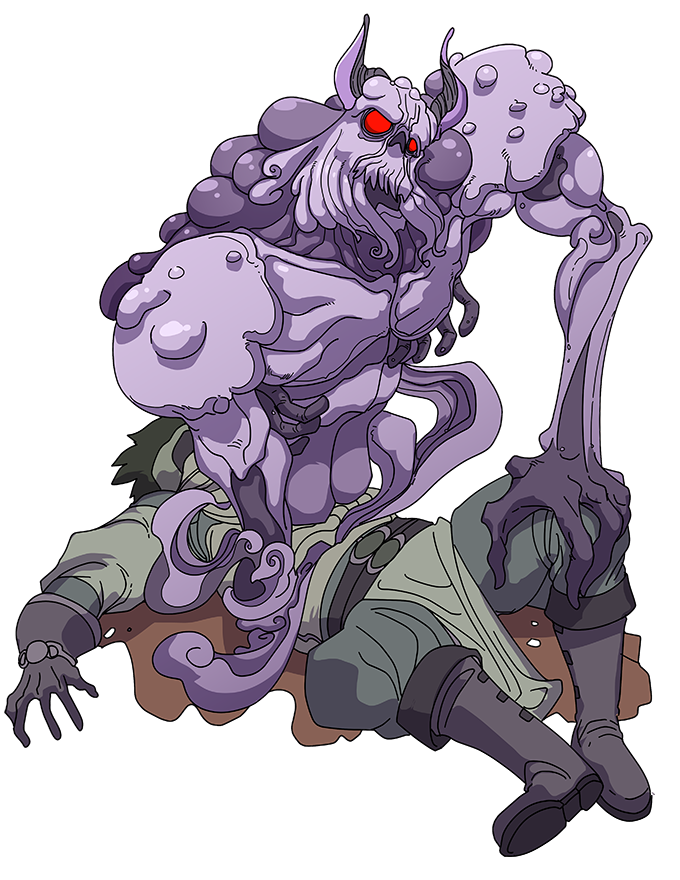 Finally, a plea from a non-profit organization I'm proud to support, and I hope you will be as well: the Bodhana Group. Bodhana continues with its mission to spread the use of TTRPGs as therapeutic tools and are looking for people willing to help them by donating funds during York PA's GiveLocalYork fundraising over May 4th to 5th! If you want to help, go the page at the link below. Fundraising starts during the event and they also have some special events in partnership with some local game store partners over those days if you're in the York, PA area.
https://www.givelocalyork.org/organizations/the-bodhana-group
No worries if it's not something on your radar right now, they're in it for the duration and appreciate any help at any time, from spreading the word to attending their con in the Fall, to helping with this fundraiser!
I'm hoping to show up at one of the stores myself, if I can get away from my desk. But what can I do? I'm making great games with a great crew so we can deliver to you:
MANY WORLDS, ONE PATH!
---
BLURBS!
---
KICKSTARTER/CROWDFUNDING!
Coming Next: They Came From…?
---
Onyx Path Media!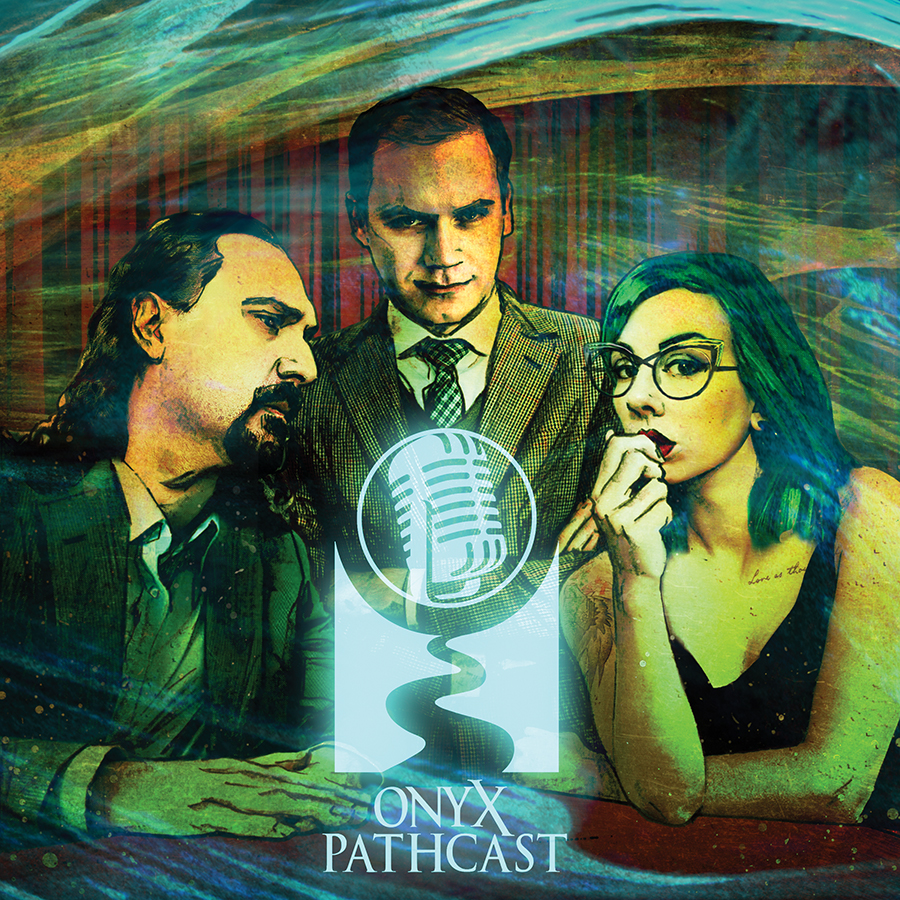 This week:
Danielle and Dixie interview Devon at StartPlaying!
As always, this Friday's Onyx Pathcast will be on Podbean or your favorite podcast venue! https://onyxpathcast.podbean.com/
---
Onyx Path Media now has its own blog on Tuesdays! We'll continue posting our highlight of the week here, but Tuesday will be the day to visit if you want to catch up on actual plays, interviews, deep dives, and other assorted Onyx Path media!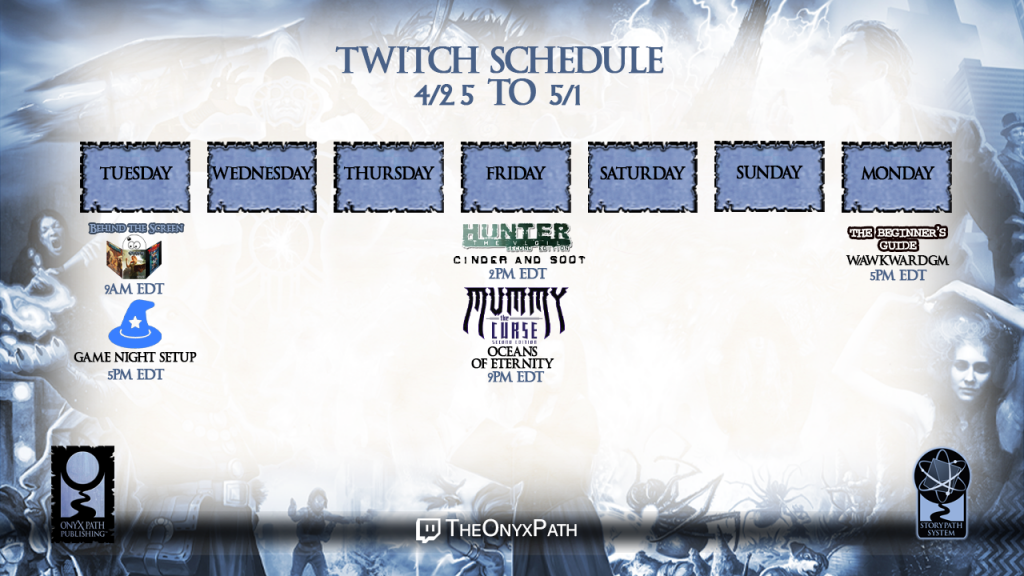 Please check out our attached media schedule for the videos on our Twitch channel this week! In particular, keep those eyes open for our Storypath Showcase, where we give an excellent profile of our various Storypath games and how to play them!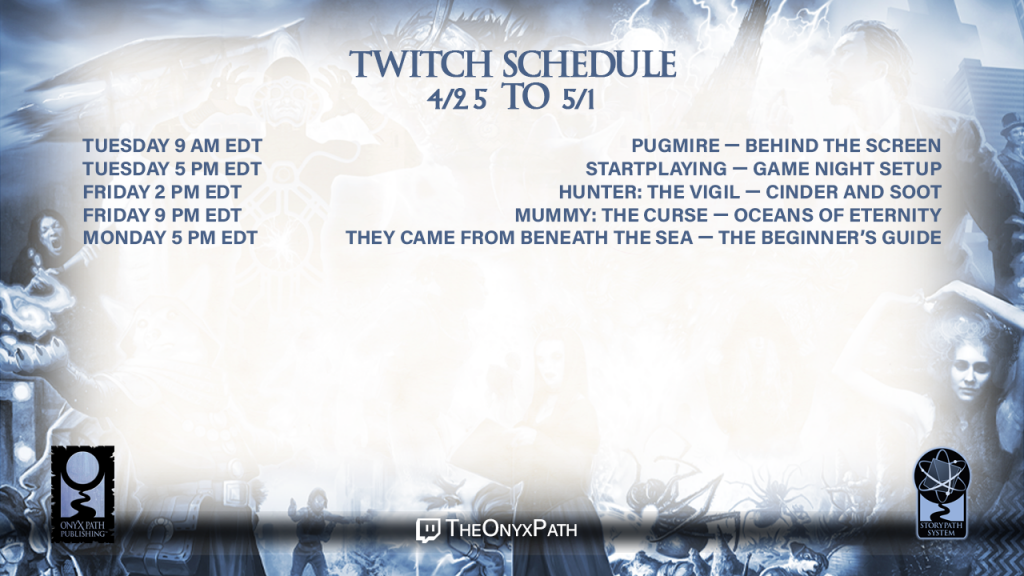 MEDIA HIGHLIGHT OF THE WEEK:
A new series has begun on the subject of the Scion roleplaying game! This show, run by the talented Asterinomous, is all about Scion stories, starting with those of the seductive succubi. Watch the video and take some inspiration!: https://youtu.be/jT040lyr-YM Give them a subscribe and a like, and leave comments on their videos!
The Onyx Path News discusses recent and upcoming releases! You can find it on our YouTube channel (click the bell to be informed when we go live!) but if you missed the last episode, here it is: https://youtube.com/live/d1w3-US4pTg
---
Virtual Tabletop!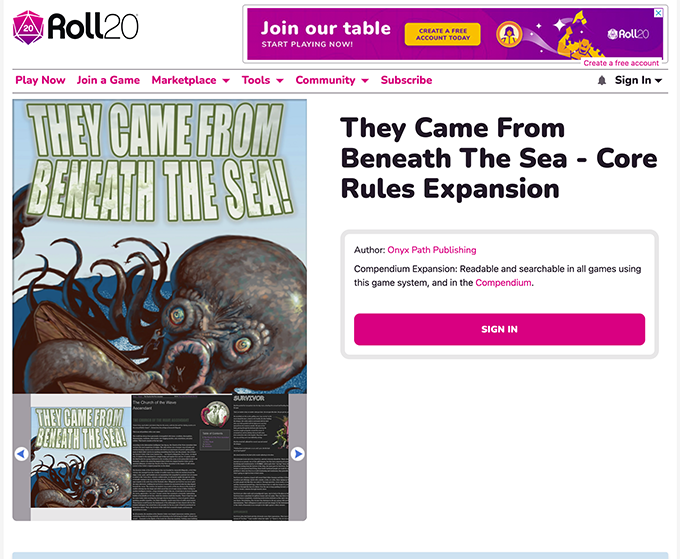 NEW!
They Came From Beneath the Sea! on Roll20 VTT!
https://marketplace.roll20.net/browse/bundle/22308/they-came-from-beneath-the-sea
Here are some more shots from the They Came From Beneath the Sea! Compendium!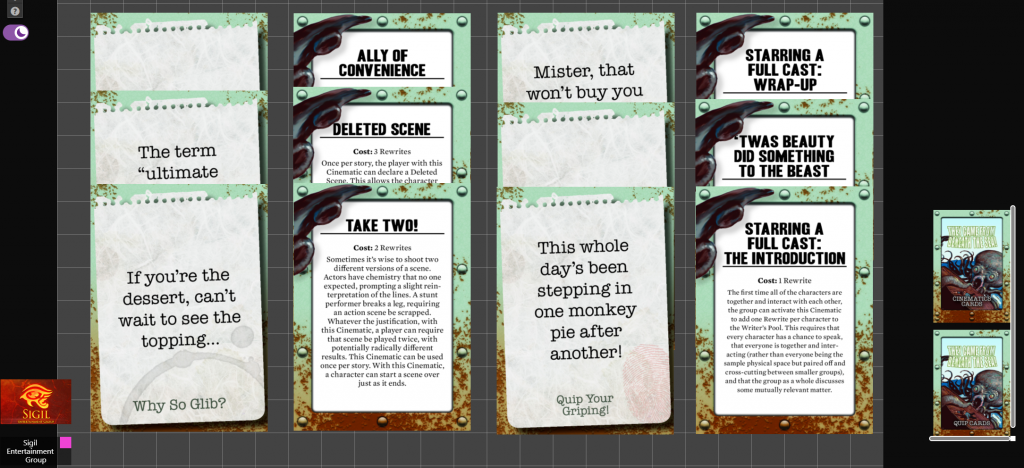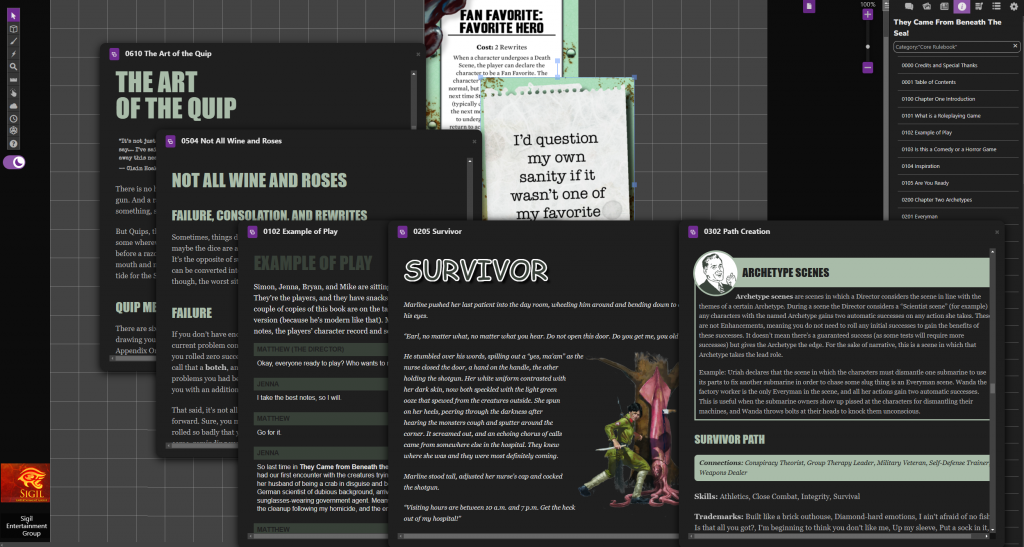 And there's also the Scion Jumpstart, all ready for Roll20 VTT fun!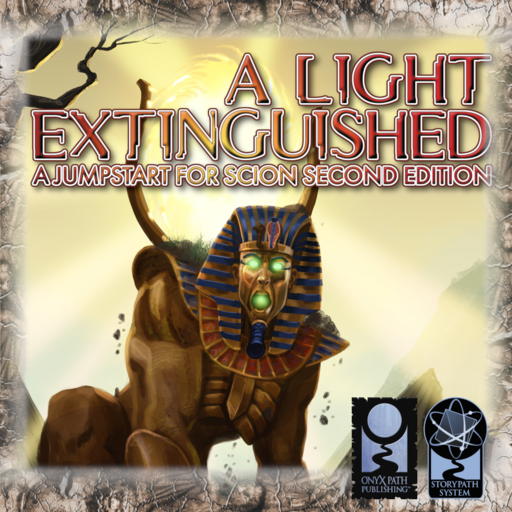 More news and links when we have them!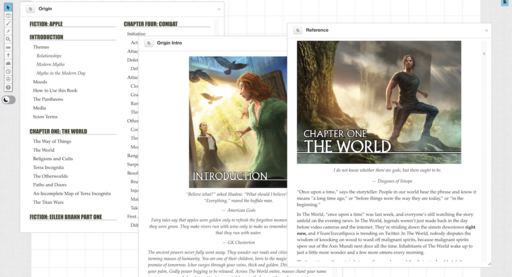 The Scion: Origin and Scion Hero Compendiums are now available on Roll20!

https://marketplace.roll20.net/browse/publisher/1716/onyx-path-publishing

Scion is just the start! They Came From Beneath the Sea! and other
Onyx Path RPGs are in development for Roll20 virtual tabletop!

The first of our official Scion sheets designed for Foundry VTT are
now available!

Direct Link: https://foundryvtt.co
Looking for more virtual tabletop resources? We have a selection of
Tokens, Encounters, and more available now at DriveThruRPG!

Get 'em here: https://bit.ly/3SnrNJ7

---
Our Sales Partners!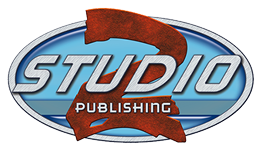 We're working with Studio2 to provide our traditionally printed books out into your local game stores. Game stores can order via their usual distributors, and can also contact Studio2 directly. And individuals can check out our projects via the links below!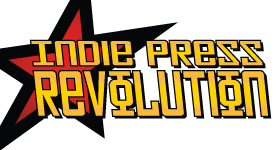 Looking for our Deluxe or Prestige Edition books, dice, and screens? Try this link! http://www.indiepressrevolution.com/xcart/Onyx-Path-Publishing/
https://www.indiepressrevolution.com/xcart/Deals-and-Specials/

As always, you can find Onyx Path's titles in PDF and PoD versions at DriveThruRPG.com!
Amazon and Barnes & Noble!
You can now read our fiction from the comfort and convenience of your Kindle (from Amazon) and Nook (from Barnes & Noble).

Check out Melody Through the Mirrorshade Lens and Facets of Truth , as well as Trinity Continuum: Terat and The Hollow Courts on Kindle in the Kindle store!
---
On Sale This Week!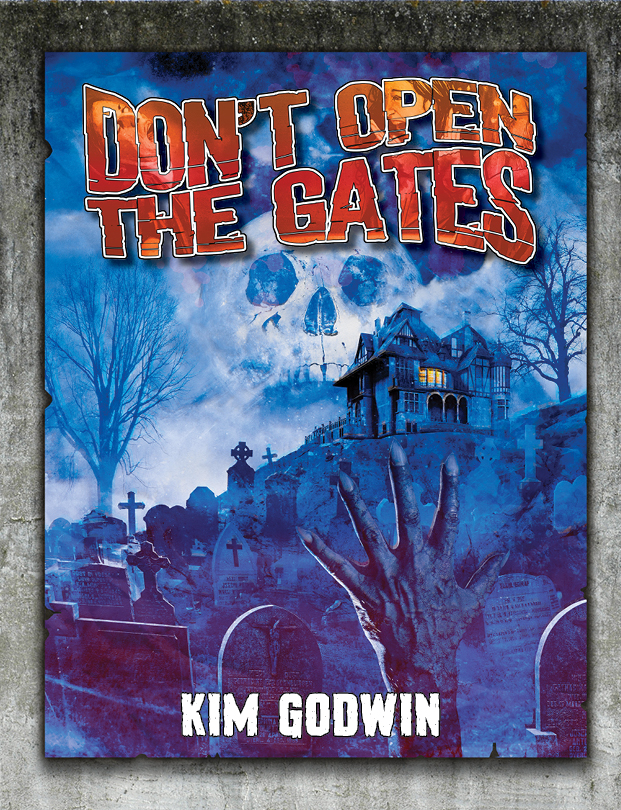 What could be more appropriate of a Tasty Bit for They Came From Beyond the Grave! than Don't Open the Gates? Includes a graveyard map usable for online gaming as well as tabletop! PDF on sale this Weds on DTRPG!
---
Conventions!
As we are slowly returning to attending conventions in person after the current COVID-19 outbreak, keep an eye out here for more physical and virtual conventions we're going to be involved with!
Once again…the creature RISES! Here comes the Onyx Path Virtual Convention (June 16th – 18th)!! More news to come!!!
We'll be at the IPR booth at the GAMA Trade Show THIS WEEK: April, 24th to 28th, so let your friendly local game store know that they can talk to us there! And if you ARE a retailer, we'd love to chat with you right there!
Game Night With Onyx Path Publishing at Start.Playing is this coming Friday the 28th! Come play some They Came From! in celebration of the upcoming They Came From…? KS! (But any of our game lines are welcome all day long!)
Please spread the word about GMing games as much as
possible. Details on how list a game are at the bottom of the page in
the FAQ:

https://startplaying.games/event/game-night-onyx-path
---
And now, the new project status updates!
Our full list of projects will be available monthly on our blog! Check out March's full list report here:
DEVELOPMENT STATUS FROM EDDY
Here are the projects that moved to the next stage of production:
Redlines
TC: Aether – Aether Player's Guide
Eddy: Our first non-stretch-goal supplement for Trinity Continuum: Aether is hitting its invasion schedule exactly! Our intrepid developer is looking forward to using their heat rat to blast away any stilted prose.
They Came From the Cyclops's Cave! – They Came from Witchford Academy!
Matthew: Michele delves deep into the magickckal trough of Witchford Academy, redlining the fine work of his wizarding writers. AVAKA-BALENSIAGA!
Editing
They Came From! – They Came From…?
Matthew: We creep quietly into editing, knowing the current content of this book… But some of it for some reason remains a mystery! Maybe we'll find out what else appears within it very soon…
---
ART DIRECTION FROM MIKE CHANEY!
In Art Direction
Ex3 Eight Directions – Sketch and color feedback sent to artists. Moving along…
TCF Cyclops Cave/Classified – Luis is done with his KS stuff, so I'm moving him onto these.
TCF ? (KS) – We are just waiting for the final cover, the wild west pcs (2), and the splat finals.
SCION Once and Future – I think just awaiting finals for the cover and some interior pcs.
TC Assassins VTT Adventure – Getting there. Maria should have an update for me.
In Layout
MtAw Tome of the Pentacle – Symbols are in. I've already started working on it.
Ex3 Crucible of Legends
W20 Howls of the Apocalypse – Fonts issue fixed.
HTV Tending the Flame
Proofing
W20 Apocalyptic Record – One lingering piece of art needs Paradox approval…
Indexing
At Press
TC: Adventure! – PoD proofs on the way. Trad printing files prepping.
M20 Victorian Age – Shipping to KS backers.
M20 Victorian Age Screen – Shipping to KS backers.
Scion Dragon Screen – Shipping to KS backers.
Scion Dragon – Shipping to KS backers.
Scion Masks of the Mythos – Shipping to KS backers.
Scion Masks of the Mythos Screen – Shipping to KS backers.
Storypath Ultra Brochure – At GAMA.
They Came From! Tasty Bit Compilation – PoD proof ordered.
Ex3 Surface Truths – PoD proof on the way.
SL Vigil Watch Kelder Mtns – PoD proof ordered.
TC Stampede of Justice (Adventure JS) – Inputting the errata and prepping PoD.
Tasty Bit: Don't Open the Gates! A graveyard map for They Came From Beyond the Grave! PDF on sale this Weds on DTRPG!

---
Today's Reason to Celebrate!
Today in 1183 BC: Traditional reckoning of the Fall of Troy marking the end of the legendary Trojan War. Having spent last month steeped in Bronze and Early Iron Age readings for Trinity Continuum: Aegis, this popped out at me, so I'm sharing it with you. Depending on your point of view, maybe not a cause of celebration, but certainly an obscure date of note.