Today our spotlight shines on a superb actual play podcast dedicated to Exalted: Essence! Read on!
The Spotlight
Fatebreakers is a new actual play of Exalted: Essence that acts as a fantastic display of the kinds of characters, gameplay, and system use you can come to expect from Essence. What's more, if you're new to the game, this is a great on-boarding ramp for you to learn about it.
If you want to give them a listen, you can find Fatebreakers over on YouTube or Podbean:
https://fatebreakers.podbean.com/
The Video Round-Up
If you're not already following Onyx Path on YouTube and Twitch, now's an ideal time to do so. We produce a wealth of content on Twitch every week with a group of stellar partners and content creators, and much of that content makes its way to our YouTube channel too. Don't take our word for it, however; you can check it out for yourselves:
https://www.twitch.tv/theonyxpath
https://www.youtube.com/c/TheOnyxPathRPG
Here's this week's schedule, and don't forget, if you missed something you want to watch, you can find it by subscribing (for free, if you have Amazon Prime) to our Twitch channel: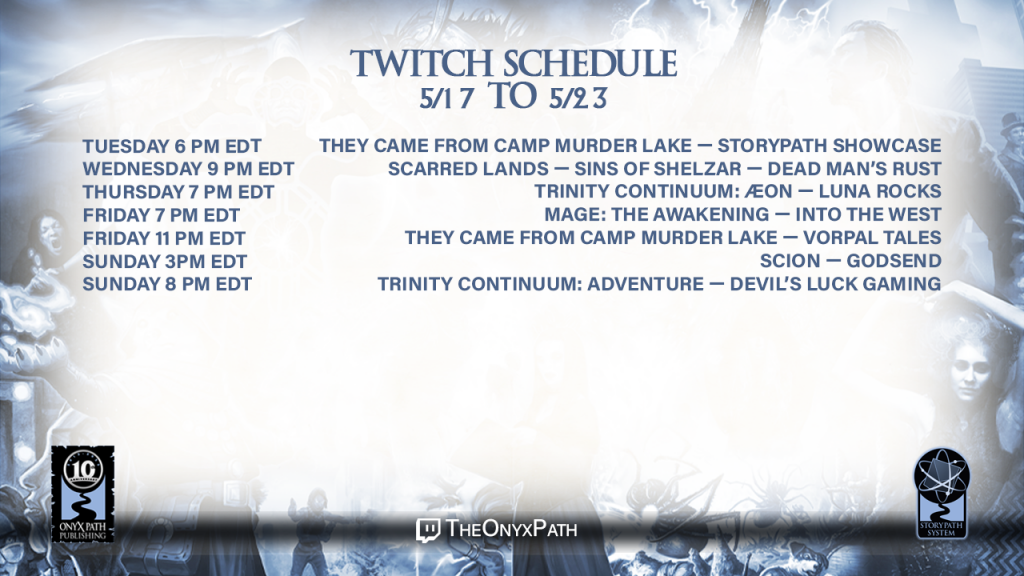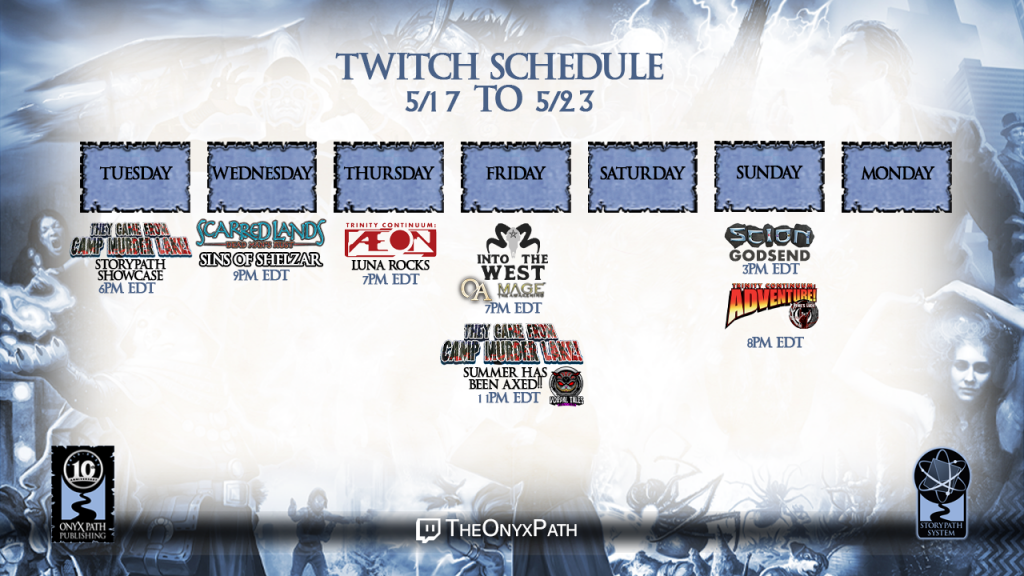 Once again another packed schedule, with everything from They Came From to Scarred Lands and Trinity to Scion. Do give us your support if you can!
In the past week, we uploaded the following videos to our YouTube channel:
That's a hell of a lot of Scarred Lands!
And in that episode of the news, just above this text, you can find out all about Onyx Path Con and book yourself in to run or play games!
The Podcast Round-Up
Mage: The Podcast has ventured into Ascension, Space, and Spheres on the latest episode of the show:
A Bunch of Gamers continues with their howling Werewolf show:
And on the subject of Werewolf, you can find the ongoing Werewolf: The Podcast right here:
https://keepontheheathlands.podbean.com/
And here's the stellar Changeling: The Podcast for you:
https://changelingthepodcast.com
Last, but definitely not least, the ever excellent OPCast interviews developer and writer Leath Sheales about Prometheus Unbound for Trinity Continuum: Æon:
Where I Read…
We're looking for some new Where I ReadERS, so if you want to start up a thread over on our forum, on E.N. World, or on RPGnet where you read through one of our books, do post a link below and we'll be sure to show it off!
Do you want to create media?
If you do, you should use the attached form to submit your suggestions for podcasts, review shows, actual plays, deep dives, and more! We'd love to hear from you so we can profile you on our blog and elsewhere: The Form