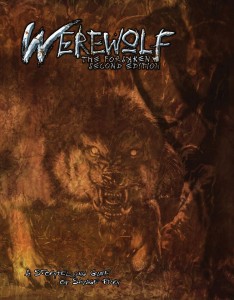 Matthew Dawkins here, to talk a little about the upcoming Werewolf: The Forsaken book I'm developing called Shunned by the Moon.
Shunned by the Moon is a Night Horrors book. Steadily, we appear to be releasing a new Night Horrors book for each and every Chronicles of Darkness line and this pleases me a great deal. The intention is to provide a grab-bag of interesting antagonists and supporting characters for anyone's chronicle, whether to populate a cast or inspire compelling plots tied into the mythology of each game line. My writers in this case are hard at work creating a gang of horrifying bastards for Werewolf.
We're currently deep into redlines, but things are already shaping up to sound fun and disturbing in equal measure. Just looking at some of the developing concepts, we've got everything from a fallen Pure Totem (how does something fall so far that even the Pure won't accept it?) to several new, horrifying Idigam. There's a set of new hosts waiting to spill out of 2nd edition's body, from locusts to frogs, through to coverage of the Pure's signature Gifts and hunting methods, and some characters from those loveliest of Father Wolf's tribes. We even have Bale Hounds, examples of some wicked spirit-ridden, and a new breed of critter called the Geryo that can tie into the Contagion Chronicle and Beast: The Primordial, or stand alone as its own antagonist. More on that in a future blog post. To cap all that off, we have Ghost Wolves and even some mortal threats to the poor Forsaken.
One of the reasons I love Werewolf: The Forsaken is the same as my reason for loving comicbook heroes. Heroes are defined and strengthened by their cast of villains. Batman is great because he has the Joker, Catwoman, Scarecrow, and Two-Face. Spider-Man is great because he has Venom, Doc Ock, Mysterio, and the Lizard. So it goes. Werewolf is great, to me, because it has the best plethora of antagonists of any Chronicles of Darkness line.
We have the Pure, Bale Hounds, unruly spirits, the spirit-ridden, hosts, Idigam, hunters (let's not forget them!), each other (Forsaken don't always get along), and the Geryo (again, more on them in a future blog). No wonder werewolves are so damn angry. It seems the world's monsters all hate them.
Bestiaries, Monster Manuals, Creature Collections, and Night Horrors books are some of my favourite RPG sourcebooks, simply due to the range of stories waiting to emerge from their pages. Rich antagonists with accompanying art always draw my eye and start my imagination going. I'm pleased to say my writing team on Shunned by the Moon – a book of creatures abandoned by Luna, or that turned their back on her – shares this enthusiasm for villains of many shades lighting the fuse for exciting chronicles.
Despite this, I'm aware Werewolf doesn't necessarily grab a group of players as easily as games like Vampire: The Requiem or Changeling: The Lost. The concept of playing an oftentimes savage creature forms a disconnect for some prospective players. With this in mind, I'm having one of the writers on this book write a chapter that hopefully acts a cross between an enthusiastic essay about the game's many strengths and avenues of play, and as an elevator pitch any Storyteller can read to themselves or provide to an intrigued player, to really clamp the game's claws onto some new prey. It will accompany the range of monsters and bad apples present in this book to push you in the direction of fresh chronicles and new approaches to Werewolf: The Forsaken.
Early days though they may be right now, I'm very excited to unveil more of this book in the future. I would love to see some of your comments below on what it is about Werewolf: The Forsaken that inspires you or even what barrier to entry you face with this game. Perhaps my writers and I can push you through the Gauntlet and into a chronicle of hunting, slashing, and biting.