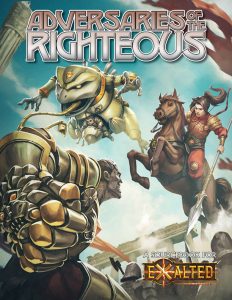 Now available in PDF and print from DriveThruRPG: Adversaries of the Righteous (Collected Edition) for Exalted 3rd Edition!
A privateer crew sails the frozen winds of the far North, hunting for riches.
Deep beneath the Blessed Isle, a Fair Folk prince plots vengeance from within her crystal palace.
Not far from Cynosure, a long-dead ruler returns from the Underworld and rallies his descendants to reclaim their stolen territory.
In the East, an ancient god's Chosen sells powerful artifacts to the highest bidder, while out in the Western oceans, a war god and her bloodthirsty children prowl the angry waters.
From bustling cities to remote villages, from Underworld fortresses to Heaven's bureaucratic halls, to the Bordermarches of the Wyld and beyond, Adversaries of the Righteous features a collection of full character entries designed for Storytellers to include in their games as antagonists and allies, or to use as examples for creating their own. Mortals, elementals, gods, denizens of the Wyld, the Exalted, and even stranger peoples populate both Creation and the pages of this book, as well as groups and organizations for intrepid Chosen to encounter.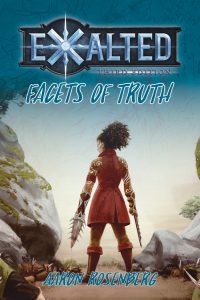 Also available in PDF and print: Facets of Truth: A Lunars Novella for Exalted 3rd Edition by Aaron Rosenberg!
Ayami, a newly Exalted Lunar, and her Circle uncover a horrifying necromantic plot.
As they investigate in Sijan, Ayami discovers that a lover from her previous life may have made everything more complicated.
A new Exalted novella made possible by the backers of the Lunars: Fangs at the Gate Kickstarter.
Other Recent Releases
Did you miss one of these recent releases?
Sales
DriveThruRPG's GM's Day Sale continues! For the next week, get up to 30% off nearly 1000 Onyx Path titles!
Meanwhile, DriveThruFiction is running their March Mystery Sale over the same period, with 25% off select mysteries and thrillers, including a selection of fiction from Onyx Path!
IPR's OGL (and More) sale continues! Get 50% off OGL titles like the Legendlore rulebook and GM screen, Monarchies of Mau, Pirates of Pugmire, Scarred Lands hardcovers, plus books and screens like Changeling: The Lost 2nd Edition and Dark Eras 2!
Crowdfunding Update

Our next Kickstarter will be for the Trinity Continuum Player's Guide.
Did you miss one of our previous campaigns? The following crowdfunded products are still open for preorders via BackerKit:
Community Spotlight
The following community-created content for Scarred Lands has been added to the Slarecian Vault in the last week:

The following community-created content for Realms of Pugmire has been added to Canis Minor in the last week:
The following community-created content for Storypath has been added to the Storypath Nexus in the last week: