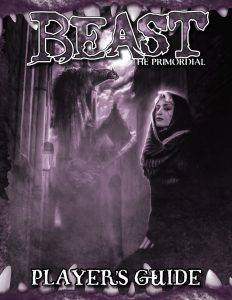 Now available in print from DriveThruRPG: Beast Player's Guide for Beast: The Primordial!
"You know what's out there? No, you don't. Stop trying to list them off. Yeah, yeah, you've met the vampires and the werewolves and the ghosts and so forth, but you haven't seen a hundredth of what's really there. Look, I'm not shaming you. I'm trying to make a point. You don't know. You never will. There's no complete picture, no magic moment where you see the whole truth and get to yell "ah-ha!" You don't know. I don't know. We never will.  That's really a good thing, my sister, because it means there's so much yet to see." 

—Zmei

The Beast Player's Guide expands on the material presented in Beast: The Primordial, with additional information on the Families and Hungers, what it feels like to be a Beast and experience the Devouring, and how to commune with the Dark Mother. You'll also find two new Families and two new Hungers!

The book also includes a plethora of new Atavisms, Nightmares, Merits, and Birthrights, as well as systems for creating smaller, subservient versions of the Horror, new forms of Inheritance, and details on the mysterious Obcasus Rites.
Kickstarter Update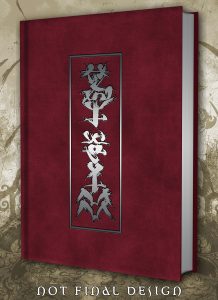 We continue with the Dragon-Blooded: What Fire Has Wrought Kickstarter! With 7 days remaining:
We're in the Week of Earth, offering the fourth of five previews of the full manuscript for Dragon-Blooded.
We funded in two hours and 12 minutes, and have since raised $259,582 of our $60,000 goal, or 433%
We've got 1916 backers
We've passed 25 stretch goals:

A Dragon-Blooded Storyteller's Screen
The Heirs to the Shogunate Dragon-Blooded Companion has sections on additional DB Charms, a triple-sized Lookshy section, triple-sized Forest Witches, triple-sized Outcastes, Cadet Houses, Prasad, double-sized Realm, Quick Characters
A Kickstarter backer T-shirt
An increased art budget for What Fire Has Wrought
A digital wallpaper
"General of the Maelstrom Legion," "Sorcerer of the White Register," and "Custodian of an Heirloom Panoply" Reward Tiers added
Two Dragon-Blooded Novellas
At least two more silk bookmarks for What Fire Has Wrought
Cloth map of the Blessed Isle
Sales
Only four days remain on our V20 Sale via Indie Press Revolution, with 30% off the following Vampire: The Masquerade items from previous Kickstarter campaigns:
Community Spotlight
The following community-created content for Pugmire has been added to Canis Minor in the last week:
No new content this week!
The following community-created content for Vampire has been added to the Storytellers Vault in the last week: