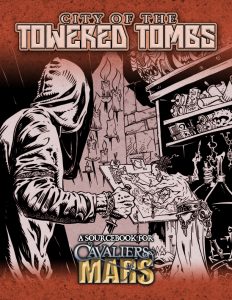 Now available in PDF from DriveThruRPG: City of the Towered Tombs for Cavaliers of Mars!
City of the Towered Tombs
Abundant water! Rampant crime! Wealth and squalor beyond compare! And the best place on Mars to drink when you're broke. Welcome to Vance, city of canals and chicanery!
Features:
Archetypal Shakespearean characters to meet in the city, with full examples for each one.
New locations with characters and story seeds, including the Palace of the Prince and the looming presence of the Prison Spire.
Rival factions, with plot hooks for both their rises and their falls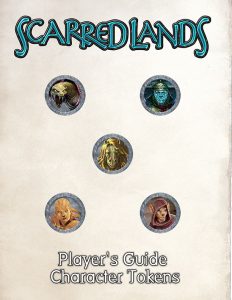 Also available from DriveThruRPG: a Virtual Tabletop Token Pack from the Scarred Lands Players Guide!
These tokens are designed to allow you to bring Scarred Lands to the virtual tabletop platform of your choice.
Inside you'll find:
Note: This is not the Scarred Lands Player's Guide, which is sold separately.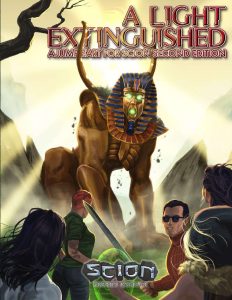 Also available, Astral Virtual Tabletop now contains the Scion 2nd Edition Jumpstart, A Light Extinguished.
The ancient powers never fully went away. They wander our roads and cities, mingling with the teeming masses of humanity. You are one of their children, born to the magic of yesterday and the promise of tomorrow.
You can start this free adventure by clicking the Scion 2e module on the Astral home screen. Maps, tokens, and pre-gen characters are all set up and ready to play. Plus, there is a GM Guide to help the Storyguide run the adventure.
Kickstarter Update

Dead Man's Rust for Scarred Lands launched on Kickstarter last week, and we're already at $16,841, or 112% of our $15,000 goal! Thanks to our 286 backers. We'll be running this one right through to December 23, so get on board while you can! We've already hit our first stretch goal:
VTT Tokens & Map Pack: Journey to Broadreach Horizon
Did you miss one of our previous Kickstarters? The following Kickstarted products are still open for preorders via BackerKit:
Community Spotlight
The following community-created content for Scarred Lands has been added to the Slarecian Vault in the last week:

The following community-created content for Realms of Pugmire has been added to Canis Minor in the last week:
The following community-created content for Storypath has been added to the Storypath Nexus in the last week: