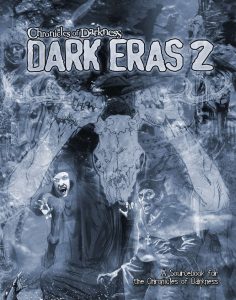 Now available in ebook and print from Storytellers Vault: Chronicles of Darkness: Dark Eras 2!
For millennia, monsters have hunted and fought alongside us…
Rebellions swell and vampires feed. Casualties of war draw Reapers to blood-soaked battlefields. Gilded ages benefit mortals and monsters alike.
How? Why? What role do the monsters play with us —- and each other?
Dark Eras 2 explores 13 new eras scattered throughout the history of the Chronicles of Darkness. Each chapter features two to three game lines which include Vampire: The Requiem, Mage: The Awakening, Hunter: The Vigil, Changeling: The Lost, and more!
The rules in this book are compatible with second edition Chronicles of Darkness. Each terrifying time period and location is examined through the supernatural creatures that dwell there.
Unlock the past. Find out what hides in the shadows.
Inside, you'll find:
Historically inspired settings and story hooks
Character-creation tips and gameplay advice
New Tilts, Conditions, and era-appropriate rules
Because of general quarantine conditions, we wanted to make it easier for you to get the stuff you wanted in order to play your games, so like Dark Eras 1, we also broke out the individual chapters as separate products: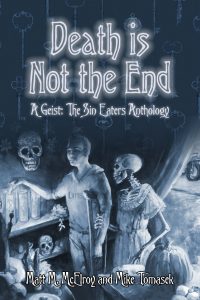 Also available, last week's Geist anthology, Death is Not the End, is now available via Amazon for the Kindle and B&N for the Nook!
Sales
Scion: Origin is one of dozens of products available in this COVID-19 charity bundle from DriveThruRPG! Over $600 of product for only $20, with all proceeds going to the World Food Programme!
Indie Press Revolution has a number of great bundle deals up until May 24th, or while supplies last!
Kickstarter Update

Our Technocracy Reloaded Kickstarter for Mage: The Ascension 20th Anniversary Edition launched last week! We hit our $35,000 goal in just 45 minutes! We're currently at $145,751, or 416% of our original goal, thanks to our 1,730 backers. Wow!
We've hit a bunch of stretch goals already, including:
Technocracy Reloaded ST Screen
Technocracy Player's Companion: Constructs and Symposiums Expanded, Digital Web 3.0.2, Technomancer's Toybox 20: Q Division, Unlikely Allies III,
Technocratic Union PDF bundle
Backer T-shirt
Technocracy Digital Wallpaper
Mage20 Cookbook PDF added to rewards
Art of Mage20 PDF added to rewards
Did you miss one of our previous Kickstarters? The following Kickstarted products are still open for preorders via BackerKit:
Community Spotlight
The following community-created content for Scarred Lands has been added to the Slarecian Vault in the last week:

The following community-created content for Realms of Pugmire has been added to Canis Minor in the last week:
The following community-created content for Storypath has been added to the Storypath Nexus in the last week: