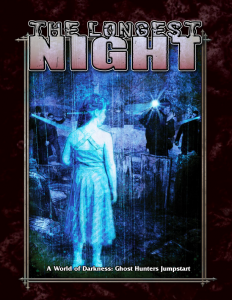 Now available in PDF and print: The Longest Night: A Ghost Hunters Jumpstart for the World of Darkness!
How many times must we witness a hapless group of aspiring ghost hunters spend a night in a "haunted" house before we accept it for the cheap source of jump scares and bottled hysteria that it is?
These places house no ghosts. These people know nothing of the undead. These "ghost hunters" do not understand real fear.  
Well, now they're coming to my house, and I feel it's high time someone put a damn good fright into the impetuous living. 
Who knows? Maybe before the night's out, they'll join the ranks of the dead, and keep me permanent company. 
The Longest Night includes:
A condensed version of the Storyteller System for use in any World of Darkness 20th Anniversary game.
A full chronicle taking ghost hunters from their arrival at an old, haunted house, through to their departure — as living or dead — the morning after. Perfect for a one-shot or convention play.
A selection of ready-made characters, all playable straight from the pages of this book.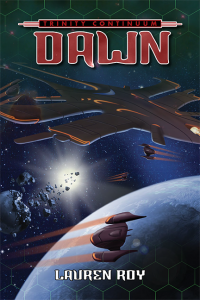 Also available in eBook and PoD: the Dawn novella for Trinity Continuum: Æon! Also available for Amazon Kindle!
ISRA assigns Jay and her team to Far Nyumba for what should be an easy job aiding a remote research settlement with their irrigation systems.
Shortly before their arrival on the distant moon, a mysterious artifact falls from the sky. The aliens who come to claim it give the townspeople of Upepo an ultimatum: clear out before the sun and the planet Mgitu rise, or there's going to be trouble.
Cut off from the moon's other cities and interstellar aid, Jay and her team are the little town's first — and only — line of defense.
A novella set in the Trinity Continuum: Æon universe.
Also also available: Tales of Heroes: A Scion Anthology is now available for the Amazon Kindle!
Other Recent Releases
Did you miss one of these recent releases?
Sales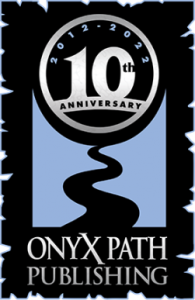 It's Onyx Path's 10th Anniversary! Every month in 2022, we'll be celebrating another one of our published game lines.
February is World of Darkness month, so to celebrate our 10th anniversary, this week our Wraith and Changeling 20th Anniversary PDFs are only 10% of their regular price! You read that right: that's not "10% off," that's 90% off.
Indie Press Revolution also has 20% physical stock for WoD 20 books, screens and dice!
Stay tuned for more sales the rest of this year!
Crowdfunding Update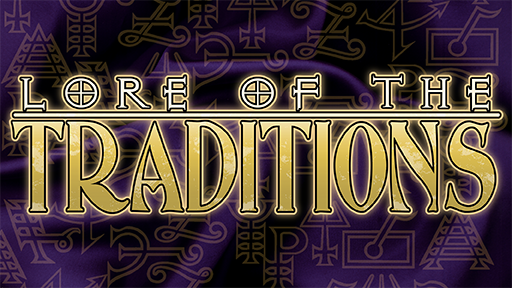 The Kickstarter for M20 Lore of the Traditions launched four weeks ago, funded in only 62 minutes, and has just under 24 hours to go! We're currently at $129,849 of our $30,000 goal, or 433%! Thank you to our 1,576 backers. We've so far hit the following stretch goals:
Faces of Magick x3: A book of magickal NPCs
RedBubble backer T-shirt
Forgotten Ones & Forbidden Orders x2: Other extra-Traditional organizations, from the Ahl-i-Batin to the Ngoma, Bata'a to the Solificati
Digital & Mobile Wallpapers
Lore of the Traditions VTT token pack
Lore of the Traditions streaming overlay set
Faces of Magick VTT token pack
Did you miss one of our previous Kickstarters? The following Kickstarted products are still open for preorders via BackerKit:
Community Spotlight
The following community-created content for Scarred Lands has been added to the Slarecian Vault in the last week:

The following community-created content for Realms of Pugmire has been added to Canis Minor in the last week:
The following community-created content for Storypath has been added to the Storypath Nexus in the last week: