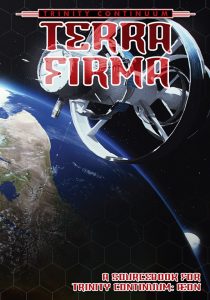 Now available in advance PDF from DriveThruRPG: Terra Firma for Trinity Continuum: Æon!
Bleeding Edge Dangers and Ancient Mysteries! 
Terra Firma expands the setting of Trinity Continuum: Æon by revealing some of the many wonders and secrets found on Earth and Luna, while also providing Storytellers with the material they require to set exciting campaigns on either of these two worlds. 
Terra Firma requires both the Trinity Continuum Core Rulebook and Trinity Continuum: Æon to play. Inside, you will find:
Further information about 10 nations previously discussed in Trinity Continuum: Æon, including a detailed look at an important city in each nation.
Details on threats facing Earth, including revolutionary movements, dangerous cults, and criminal gangs.
An exploration of some of the strange, and often deadly, mysteries found on Earth and Luna — from the ancient and terrible Gorgon Karst caves beneath eastern Europe to the bizarre Hadley Rille Anomaly on Luna. 
New technologies used on Earth, examples of the many strange and powerful relics of the Nova Age, as well as new Edges and Paths specifically for the inhabitants of Earth and Luna.
Merch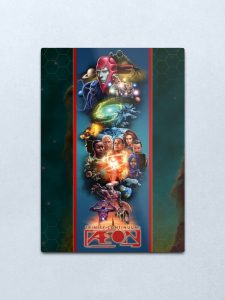 Also available: posters and art prints of the Trinity Continuum: Æon cover art!
Kickstarter Update
The Kickstarter for Scion 2nd Edition Book 3: Demigod is halfway through! We funded to 100% in 75 minutes, 200% in less than 12 hours! We're currently at 313% of our $35,000 goal, or $109,625, thanks to our 1758 backers (just inches away from the next stretch goal), and we've hit several stretch goals:
Scion: Demigod Reference Screen
Scion: Demigod Companion: New Boons, new creatures, new Guides, new followers
Backer T-shirt
Did you miss one of our previous Kickstarters? The following Kickstarted products are still open for preorders via BackerKit:
Community Spotlight
The following community-created content for Scarred Lands has been added to the Slarecian Vault in the last week:

The following community-created content for Realms of Pugmire has been added to Canis Minor in the last week:
The following community-created content for Storypath has been added to the Storypath Nexus in the last week: