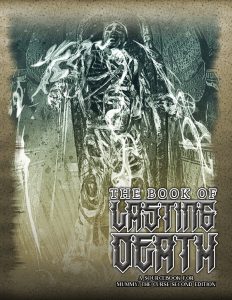 Now available in PDF and print from DriveThruRPG: The Book of Lasting Death for Mummy: The Curse 2nd Edition!
There is naught more powerful than life.
Life is the wellspring from which all hope and endeavor emerges. How selfish of you Arisen, to deny us the same secrets you hold so close.
Not to worry, my entombed friend. My friends and have found ways of replicating your eternal state, though I daresay, our choices require a little more cutting and pasting than your ancient methods. How fortunate for you that you only needed to practice your Rite of Return a single time. For us, we are always on the lookout for a new little finger, a new femur, a new heart…
Maybe we will learn at your feet, when you awake. Perhaps we'll steal what you have and make it our own. Needless to say, we will serve you, for a time. But when we know all that you know, you will find even your eternity will come to an end.
The Book of Lasting Death includes:
New guilds to play in your chronicles of Mummy: The Curse, from the tragic Deceived and stoic Kher-Minu to the blighted Maar-Kherit and oracular Wadjet-Itja.
New antagonists among the Judges and Amkhata and playable options such as Patchwork People, Purified, and ephemeral cultists, as well as many more.
New cosmic powers, some specific to the guilds in this book and others usable by Deathless created from the Mummy: The Curse core book.
Other Recent Releases
Did you miss one of these recent releases?
Sales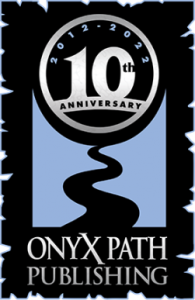 It's Onyx Path's 10th Anniversary! Every month in 2022, we'll be celebrating another one of our published game lines.
November is Legendlore month! You can get Legendlore titles for 90% off!
Indie Press Revolution also has 50% off the Legendlore physical rulebook and screen!
Stay tuned for more OPP10 sales the rest of this year!
Also: Coinciding with the opening of Lunars Community Content on the Storytellers Vault, DriveThruRPG's Exalted Sale is running for the next 12 days!
Crowdfunding Update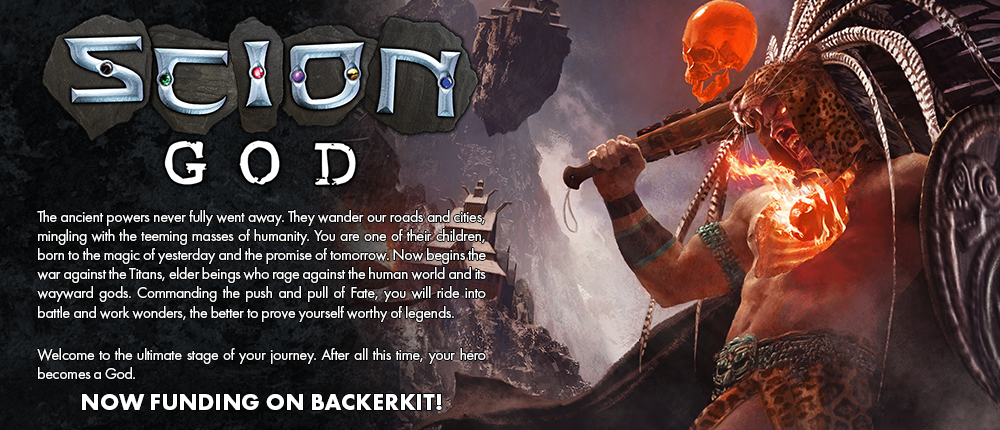 Our campaign for Scion: God 2nd Edition launched last week on BackerKit! We're currently at $97,292 of our $30,000 goal, which puts us at 324%, thanks to our 1,795 backers! We hit 100% in just two hours!
We've hit the following stretch goals:
Scion: God Storyguide Reference Screen
Scion: God Companion x2: More details, Incarnations and Mantles
Scion: God Jumpstart
Divine Inspiration
Backer T-Shirt
Did you miss one of our previous campaigns? The following crowdfunded products are still open for preorders via BackerKit:
Community Spotlight
The following community-created content for Scarred Lands has been added to the Slarecian Vault in the last week:

The following community-created content for Realms of Pugmire has been added to Canis Minor in the last week:
The following community-created content for Storypath has been added to the Storypath Nexus in the last week: