Titans Rising builds on the foundations of Scion: Titanomachy, explaining the grand conflict between the Gods and Titans. It delves into the very heart of Titanhood, revealing that some Titans truly are just misunderstood and that conflict based on whom someone's parents are is problematic at best. The book presents Titanic Scions — not just as playable characters, but as heroes, despite their bitter conflicts with some of Scion's more established names, like Eric Donner, Yukiko Kuromizu, and Little Mao. Can your game's Scions repair the rift between Gods and Titans? How many Titans are better than their reputation and which Gods are worse than theirs? Whom can your Scions trust and whom must be destroyed once and for all?
Titans Rising looks hard at Titans, their Scions, and their servants as one side in the war, fleshing out the conflict between these two divine factions and delving into the heart of what it means to be the Offspring of a Titan. It includes rules for playing Titanic Scions, profiles of characters and creatures to fight against or alongside, and an in-depth look at how to use the Second Titanomachy in your Scion game.
But that's not all: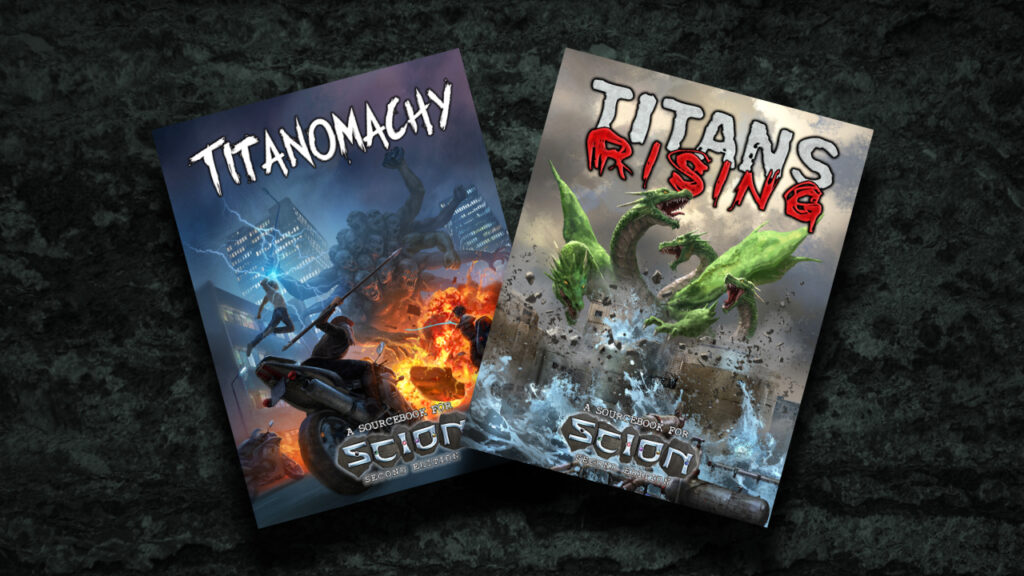 The primary purpose behind this crowdfunding campaign is to enable Onyx Path to create hardcover editions of Titans Rising, a brand new sourcebook for Scion Second Edition, as well as best-selling Titanomachy, currently available in PDF and Print-on-Demand formats but never before available as a traditionally-printed hardcover book.
Your support will allow Onyx Path to produce a fully-developed PDF and hardcover edition for Titans Rising, as well as a print run for the Titanomachy hardcover. With your help we hope to not only deliver these beautiful books to all of our backers, but also fund at least one print run to be sold through distribution and into book and hobby stores that are so vital to our community.