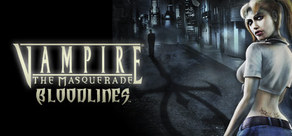 Troika/Activision's Vampire: The Masquerade – Bloodlines is a fantastic introduction to the world of Vampire: The Masquerade, using an early version of Valve's Source engine. Despite being eight (!) years old, it's still a popular game. Play as one of the seven Camarilla clans in an epic story dealing with Sabbat, Kuei-jin, Lupines, and what may be an Antediluvian.
Steam has its annual Halloween Sale on now, and Bloodlines is on sale for 75% off, knocking the price down to $4.99 US! There's no better time to grab this game.
For optimal play, don't forget to grab the unofficial patch.