Now Available: Guide to the Night, plus monthly Exalted!
Exalted, Sales, Scarred Lands, Vampire: The Masquerade, Vampire: The Requiem, Werewolf: The Apocalypse
Now available in advance PDF via DriveThruRPG: the Guide to the Night for Vampire: The Requiem 2nd Edition!
The eyes of the 
Ascendancy see everything. 
Well, everything we 
want them to see anyway. 
The more power they have, 
the less we have to 
worry about them 
trying to take ours. 

— Una Adeyemi

This book includes:

An introduction to Vampire: The Requiem that aids new players and old alike.
A look at how to run Vampire in different settings and genres as well as several optional setting options.
A look at how to design games around specific clans or covenants, and how to play to their unique strengths and weaknesses.
A detailed look at creating and using coteries in a Vampire game.
Information for creating and running chronicles based on the options presented throughout the book, as well as guidance on how to design a chronicle from start to finish.
An all-new social conflict resolution system called Lingua Bellum, along with new mechanics to support optional settings and genres presented throughout the book.
Also available in PDF: Hundred Devils Night Parade part 18: Austrech and Unicorn!
From the frozen North to the burning South, and all directions in between, there are creatures that stalk Creation. Demons, spirits, monsters and even creatures who live alongside mankind are in every region.

In this collection you will find new foes, encounter old enemies, and learn the secrets of these denizens of Exalted 3rd Edition's wondrous world.
And introducing the long-awaited release of the Exalted Map of Creation! Available as image/PoD from DriveThruRPG, or via our RedBubble store as poster, canvas print, photographic print, metal print, and more!
Sales
HALFOWEEN ends in just a few more hours! All World of Darkness deluxe edition and Chronicles of Darkness prestige edition stock leftover from our Kickstarters is on sale for 50% off during the month of October on Indie Press Revolution! If you missed backing the Kickstarters for great books like V20 Dark Ages, W20 Book of the Wyrm, the M20 rulebook, or Demon: The Descent, this is your chance to get those books!
DriveThruRPG likewise has just hours remaining on its Halloween Sale, with more than 250 Onyx Path products available at discount!
Kickstarter Update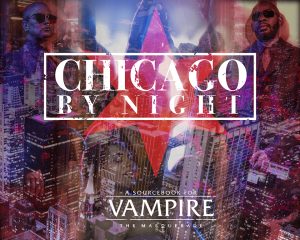 The Kickstarter for a prestige traditional print run of Chicago by Night for Vampire: The Masquerade 5th Edition launched yesterday! We funded in about 15 hours! So far we have 706 backers pledging $45,571 — 114% of our $40,000 goal. We haven't reached any stretch goals yet, but with this momentum, it's only a matter of time!
Did you miss one of our previous Kickstarters? The following Kickstarted products are still open for preorders via BackerKit:
Community Spotlight
The following community-created content for Scarred Lands has been added to the Slarecian Vault in the last week:
The following community-created content for Realms of Pugmire has been added to Canis Minor in the last week:
The following community-created content for White Wolf games has been added to the Storytellers Vault in the last week: