Now Available: Requiem for Regina, Nook/Kindle Wave 3, and Monthly Exalted!
Changeling: The Lost, Chronicles of Darkness, Demon: The Descent, Exalted, Promethean: The Created, Sales, Vampire: The Masquerade, Vampire: The Requiem, Werewolf: The Apocalypse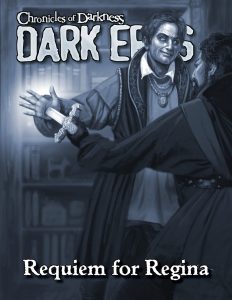 Now available in PDF and print for Vampire: The Requiem and Changeling: The Lost: Dark Eras: Requiem for Regina.
We have shared the world with monsters for millennia. In the time of Alexander the God-King, mages fought their secret wars. In Elizabeth's London, vampires built their own empire brick by bloody brick. Before the founding of America, hunters fought enemies within and without. And in the Cold War, as the clock ticked towards Armageddon, we could have been damned by fallen angels.

This is a single chapter from the larger work, Chronicles of Darkness: Dark Eras. Now available on its own in PDF and Softcover formats.
Also available in PDF: your monthly Exalted material:
Adversaries of the Righteous: Cynis Borok and Regara Feria
Arrogant and manipulative, Cynis Borok hopes to make a name for himself at the expense of others.

A seasoned Admiral, Regara Feria commands loyalty from her crew and strike fear into the hearts of her foes.
Hundred Devils Night Parade: Strix and Zicnal
Giant nocturnal birds of prey and giant many-faced foes, the Strix and Zicnal are dangerous threats to any Exalted.