Release Roundup: September 2018
Changeling: The Dreaming, Dystopia Rising, Exalted, Mage: The Ascension, Realms of Pugmire, Sales, Scarred Lands, Vampire: The Masquerade, Vampire: The Requiem, Werewolf: The Apocalypse, Werewolf: The Forsaken
As always, we've been keeping ourselves pretty busy over the last month:
Games
Our friends at White Wolf have also released The Monsters: A Vampire 5th Edition Quickstart, as a PDF on DriveThruRPG. If you're looking to get into V5, this is a great place to start!
Prince's Gambit, our Vampire: The Masquerade social deduction card game, is now available for purchase from Studio 2! You can either order a copy yourself, or you can get your FLGS to order from them!
Scarred Lands material for both Pathfinder and 5e — including the Player's Guide, Wise & the Wicked, the Spiragos trilogy, and Scarred Lands dice — is also now available for order via Studio 2 Publishing! If you'd like your FLGS to carry Scarred Lands material, please let them know they can order from Studio 2!
The Onyx Dice dice app (iOS/Google) now supports two different styles of Werewolf: The Forsaken dice! Werewolf dice (rust colored) and Werewolf Bone dice (ivory).
Merch
Kickstarter Update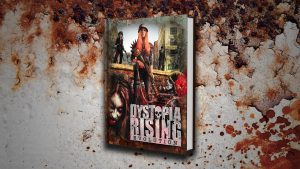 Our Kickstarter for Dystopia Rising: Evolution, the 2nd edition of the Dystopia Rising tabletop RPG, is now over! Thanks to intrepid survivors like you, we hit our goal in under a day, and achieved a total of at $39,608 (198% of the goal), with 736 backers.
With your help, we achieved eight stretch goals:
Dystopia Rising: Evolution Kickstarter backer T-shirt
The Threat Guide companion has added two sections
Dystopia Rising: Evolution digital wallpaper
A Dystopia Rising: Evolution community content portal will be created on DriveThruRPG, which includes LARP content
Dystopia Rising: Evolution jumpstart
Dystopia Rising: Evolution fiction anthology
Our next Kickstarter will be for Vampire: The Masquerade 5th Edition's Chicago by Night. Keep an eye out in October!
Community Spotlight
The following community-created content for Scarred Lands has been added to the Slarecian Vault in the last month:
The following community-created content for Realms of Pugmire has been added to Canis Minor in the last month:
The following community-created content for White Wolf games has been added to the Storytellers Vault in the last month: