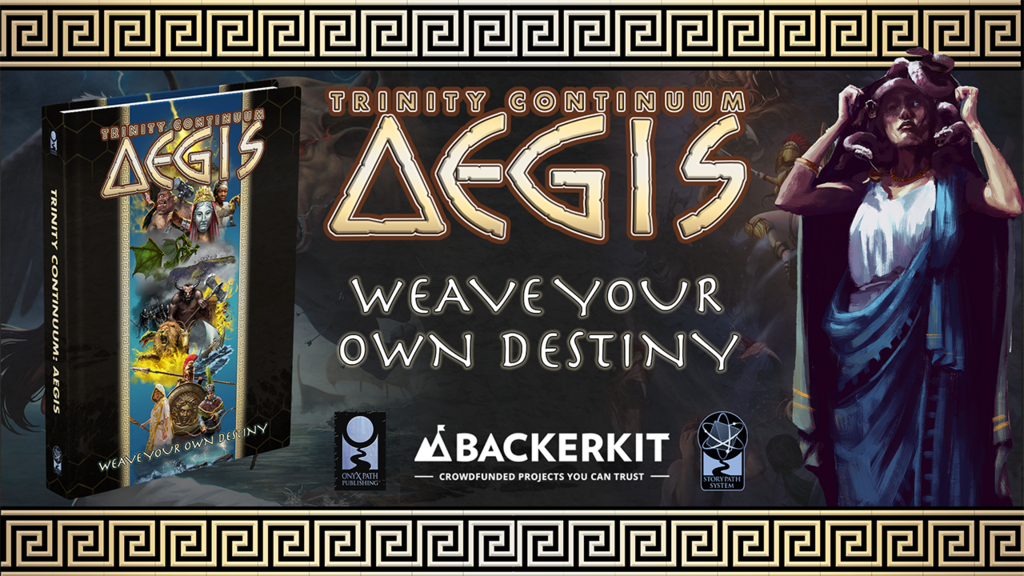 Yep, we're halfway through the year, so what does that mean for Onyx Path?
Well, first of all, it's a great time to ask our crew at the Monday Meeting what was cool for them the first half of the year, and what they're looking forward to:
Heeeerrrreeee's Dixie:
Last six months: It's fairly recent, but I'm extremely excited about the recent release of Exalted: Essence, which has remained in the top five over at DTRPG since its release! The team worked incredibly hard on that one, and I can't wait for fans to see the final versions of the various books that came out of the Kickstarter's stretch goals as well (I'm currently playing a Hungry Ghost stylist Liminal in my home game and it's rad).

Next six months: After all the fun announcements at Onyx Path Con, what am I not excited for?? I can't wait to see more of The World Below and At the Gates, as well as the voted-on chapters for They Came from the RPG Anthology! Like Ian and Eddy, I'm hyped for the full release of Anima and the Aegis crowdfunding campaign. Abyssals are also looming large on the (very dark and creepy) horizon, and I'm just wrapping up my work on Sidereals, so that'll also be cool to see shoot into layout. We're also getting way closer to Crucible of Legends and Across the Eight Directions coming out, which I know Exalted fans are excited for.
From across the Atlantic, we have young Mr. Dawkins:
I'm going to be boring this time around and focus all my enthusiasm on one game: The World Below. It was truly a thrill to release our first Ashcan, for The World Below, and see it reach Electrum Seller status before it's even in print on demand form. It's fantastic to see the hype grow for our new fantasy game.

As for what I'm looking forward to – The World Below again! We aim to crowdfund it later this year, so for the first time you'll get to read the full manuscript, with all the lovely art we have planned. It's always exciting to see a new game find its audience, and I hope to see The World Below find lots of new players.
His partner in trans-Atlantic crime, Eddy Webb:
What I'm excited about from the last six months: Trinity Continuum: Anima! It's been a wild ride to get it out to the world, but I'm really happy with how it turned out.

What I'm excited about in the next six months: The Trinity Continuum; Aegis Kickstarter! The other "not the original three" game on the horizon, and while I didn't personally work on this one, I'm really excited to see the Trinity Continuum line expand over time!
How about Dangerous Danielle Lauzon?:
What I'm excited about from the last six months: The successful TC Player's Guide Crowdfunder was a great way to start the year. We released TC: Adventure!, which I'm so excited to see out in the world. We released Exalted: Essence, which was also such a great release with so many hands working to make it the excellent product it is.

What I'm excited about in the next six months: We have so many great crowdfunders lined up. I can't wait for folks to get a deeper look at The World Below. And along with that, I'm so excited to see the final Exalted: Abyssals book after it comes out of development. And of course I'm so excited to keep working on At the Gates and hopefully start sharing some of its concepts and themes in the coming months.
The ever-popular Ian Watson:
Last six: It's just outside the last six months by a handful of days, but earlier this year, we released Victorian Mage. It's something I've been noodling about since I first read a LiveJournal post by Malcolm Sheppard back around 2003 — wow, 20 years ago! — so it was wonderful to be able to be part of the final push to see it through to fruition. There's also, of course, the release of the final part of the original Trinity Continuum trilogy, Adventure!, and the first new era, Anima, having gone out to backers.

Next six: The final release of Anima will likely be out before six months are done. We're also just days away from launching the crowdfunding campaign for Aegis, the furthest into the past we've ever gone for the Trinity Continuum. The possibility was teased in several books going back to 2001, so again it's really fun to see the delivery on that promise. It's a different take on the Continuum we know, and I hope people enjoy it.
And finally, Travis Legge sez:
Last six months: I've been very excited to see the response to the World Below Ashcan Edition. The community response to the Ashcan Edition has been awesome to see, and I'm happy to see there are Actual Plays and Game Night games popping up focusing on that material.

Next six months: I can't wait to see how fans respond to Trinity Continuum: Aegis! It was a ton of fun to work on and I think it takes the Trinity Continuum into some fun, unexpected directions.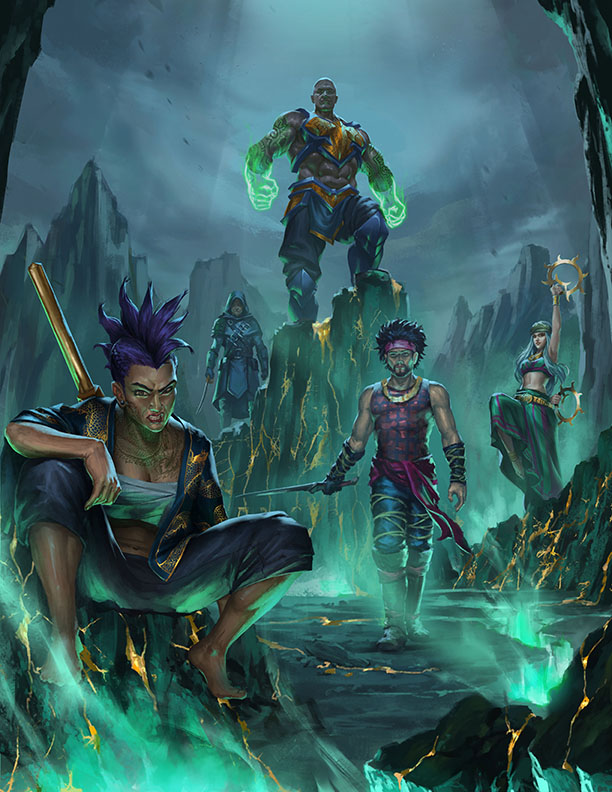 CROWDFUNDING IN 2023
Clearly, there's a lot of crowdfunding excitement with our crew, and why not?! These campaigns are an exciting part of what we do, and we keep playing around with different ways to bring our backer community into that with us. If you are inclined to notice such things, you'll note that we ran a series of campaigns in the first half that were for a variety of our game lines and were mostly for providing the funds to get that particular book into stores and the general distribution system.
Part of what we've been doing is trying out and fine-tuning several different crowd-funding platforms so that we wouldn't be bogged down waiting for a particular platform to go through whatever they might be going through – thus delaying our campaign. We now have good methodology for working with the folks at Kickstarter and the folks at BackerKit, and we're comfortable with how IndieGoGo works, as well!
Knowing what to expect is absolutely essential to run campaigns of this size, and gives us the ability to come back in and add an element we might have moved away from including in our campaigns these last few years while the crowdfunding platforms, as well as printers and manufacturers and shippers, were evolving due to the weirdness of the Covid crisis.
Now that we have run some very fun campaigns so far this year that let us try out a few options, we've got about four more to run the rest of this year, and you should see a bit of ramping up with each one in terms of just what is included for pledges and add-ons!
We'll be starting with Trinity Continuum: Aegis, which goes live next Tuesday, July 25th at 2pm on BackerKit, and you still have time to hit the link to the pre-campaign page – it's right after the big divider below that says BLURBS!.
After that, in some order but not necessarily this one, we'll be offering the Titans Rising (Titanomachy 2) for Scion 2e, The World Below, and the Abyssals for Exalted 3e crowd-funding campaigns! So stay with us, it's gonna be an exciting ride!
If you backed the Realms of Pugmire campaign earlier this year, then you had a chance to include a new dice set in your pledge. That's the start of Onyx Path working to include more new dice sets, as well as dice-rolling trays, and more cool items to our crowd-funding fun. We're talking to manufacturers of all sorts, from dice to coins and icons to clothing and bags! And more! We're also working on deals with folks who create and sell different sorts of games than we make, and we're hoping to finalize those arrangements in time to include some of them this year still!
PRINTING
I've mentioned before on these sorts of recaps that we've been dealing with printer issues that derive from the effects of the pandemic. Mirthful Mike and I have been talking with a bunch of printers all this year to see if any of them can put together a price and service package we can work with. This is not the wild and wacky part of this business, but it really is vital for us to be working with printers and manufacturers who can make what we want, for what is a good price for us, and in the time frame we need it in.
This is rarely a slam-dunk, success at first try, sort of thing. We've had some false starts, but fortunately Mike and I have been at this long enough to tell when a quote isn't what we need. Whether that's base price, hidden costs, quality issues, communication, right through to proofs and shipping to our sales partners – we're always checking to see if this company can work with our company in the way we need it to.
Like I said, this is not the fun part of making games, but we do think that we have a really strong contender for a printer we're willing to give a shot with one of our traditionally printed books. Finally! If they do well with this one, not only are they capable of handling our current books the way we have been doing them, but they have the potential of doing even more with both our books and with other projects we previously couldn't make happen!
CONVENTIONS
All through 2023 we're ramping up our attendance at in-person conventions, and this continues to accelerate into the second half of the year, with attendance at GameHole Con, Save Against Fear, and PAX Unplugged closer to the end of 2023. We're continuing to do a mix of our own booth with sharing a space with our sales partners, IPR and/or Studio2.
We still think that in-person demos are the best thing we can be doing at conventions, with panels and being available with our books at our various sales partners' booths covering the traditional reasons for attending. Next year, we expect to continue this trend, so hopefully we'll see some of you out there!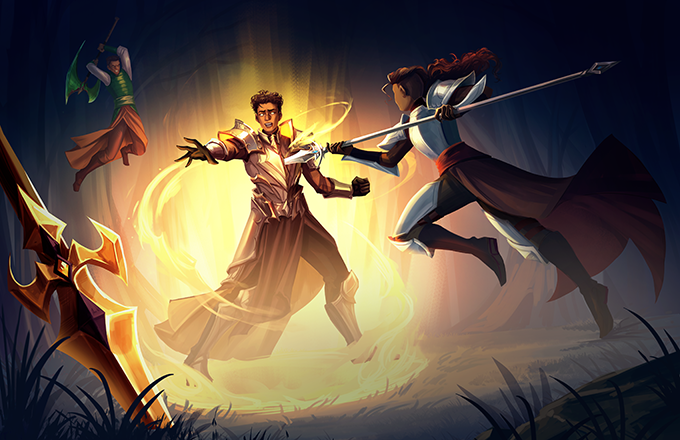 OUR WEBSITE
During the first half of the year, Impish Ian instituted a change to multiple parts of our Onyx Path website, with specific emphasis on making our forums work as expected and needed. Plus, we would finally be upgraded to the latest versions of the various types of software used. That enabled Ian to upgrade our security status for the site, allowed folks to post in the Exalted forums once again, and just this week Ian finagled with our spam settings in order to stop the overzealous software from sending posts to spam that were merely posts that their creators edited.
We're still continuing to look for a format for the site that works with all that has been fixed and which is a lot closer to our old look, but that's trickier than it seems at first glance since we keep finding themes that include compatibility with some, but not all, of our required features. That being said, we just were told that the increase of forum posts has propelled us to a new pay tier with that service.
So, the site seems to be back!
PROJECTS
You've all got a front-row seat on the progress of our various projects with our weekly and monthly Progress Reports here on the blog, so I'll step back and note that the "big picture" point-of-view is very much about getting some long-awaited books through those various stages and into your hands more quickly than we've been able to make it happen these last few years. Without diving into specific projects here, I'll say we've been thrilled to be able to deliver (or soon to deliver) a stack of outstanding CofD books the first half of the year, as well as a few 20th Anniversary projects.
Exalted is still challenging, but we saw some significant milestones being hit in the first half of 2023; with Essence's DTRPG release and Crucible of Legends now over for approval at Paradox just today. We're keeping the effort going though, and with the largest pool of dedicated developers and writers for any single game line we have, the second half of 2023 looks good for even more releases.
They Came From! and Trinity Continuum continue to pop out a stunning variety of rule books and supplements, so no issues there – and we expect to move faster on getting the crowd-funded core books out if, as noted above, our efforts to bring on a new printer pay off. Scion also has a few projects tied to crowd-funding, in particular Scion: God, so we're pushing there too.
Realms of Pugmire had its crowdfunding campaign the first half of the year, so now the whole second edition process is running along, with the follow-up coming in this half!
The gang hit pretty much all of our brand-new game lines like The World Below and its Ashcan, and I've certainly pushed that pretty well in these last few weeks of the blog – and Matthew has restarted his blog about The World Below, too, with a smashing discussion concerning armor in such a setting, so I don't think I need to add much here. (But do look it up and check out its Comments section for the discussion!)
Obvious excitement is obvious!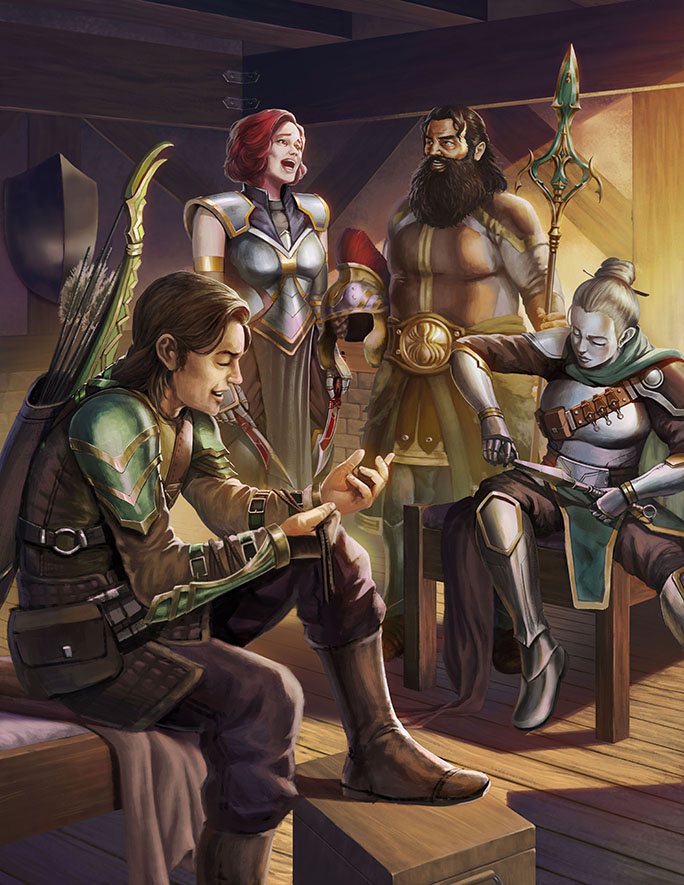 STORYPATH ULTRA
This gets its own listing, as it touches on our efforts in one area this whole year. From the SP Ultra brochure, to including Ultra in the They Came From the RPG Anthology! book and crowdfunding campaign, to previewing peeks of it with The World Below teasers and ashcan, we've deliberately been letting folks taste-test the new system in reasonable doses.
So far, we've really appreciated just how folks have been taken with it. At the Onyx Path Virtual Con, we announced a kind of book we haven't done before, really, and that's a Core Rule Manual for Ultra that is there as just the rules. (I mean, we'll be including some added settings, but those are separate from the rules in order to help illustrate and expand on them). Other companies have done this, but we've never felt that we were in a position to frame it the right way. Here's hoping!
SALES
Finally, just a brief note on our various sales this year in with our various sales partners. First, you'll note that unlike last year, they are spread out more and have a variety of themes. And they aren't the Thank You For Ten Years discounts we did all last year. Those sales were very special, after all. But, what we're doing a lot more of this year is to get sales going across as many of our sales partners at the same time as we can.
For example, right now as I write this, DTRPG has started their gigantic X-Mas in July Sale with pretty much all of our PDFs – games, fiction, cards, comics – discounted 20% – 25% off. At the same time Studio2 is having a sale on a bunch of our physical books and screens, and Roll20 is also having a sale that includes a selection of our VTT items on their store. Links to all those are below in the Our Sales Partners section!
My point in bringing these sales efforts up is both to make y'all aware so you'll go check them out, but even more to the point of this blog it's to show how this year we have seen inroads into working to coordinate our efforts. Whether within Onyx Path or with our printers and sales partners, 2023 has so far been all about pulling together, and we are only going to accelerate that through the rest of the year!
Looking forward to all of you being able to join us as we burn through the Summer and fall into Fall. We're gonna put the WIN in Winter and spend the rest of 2023 digging our:
MANY WORLDS, ONE PATH!
---
BLURBS!
---
KICKSTARTER/CROWDFUNDING!
Coming up NEXT WEEK on July 25th: Trinity Continuum: Aegis on BackerKit!
Here a link to the BackerKit campaign landing page!
https://www.backerkit.com/call_to_action/877c1416-a77f-42a9-8c11-8aedb2e4656c/landing?ref=OnyxPath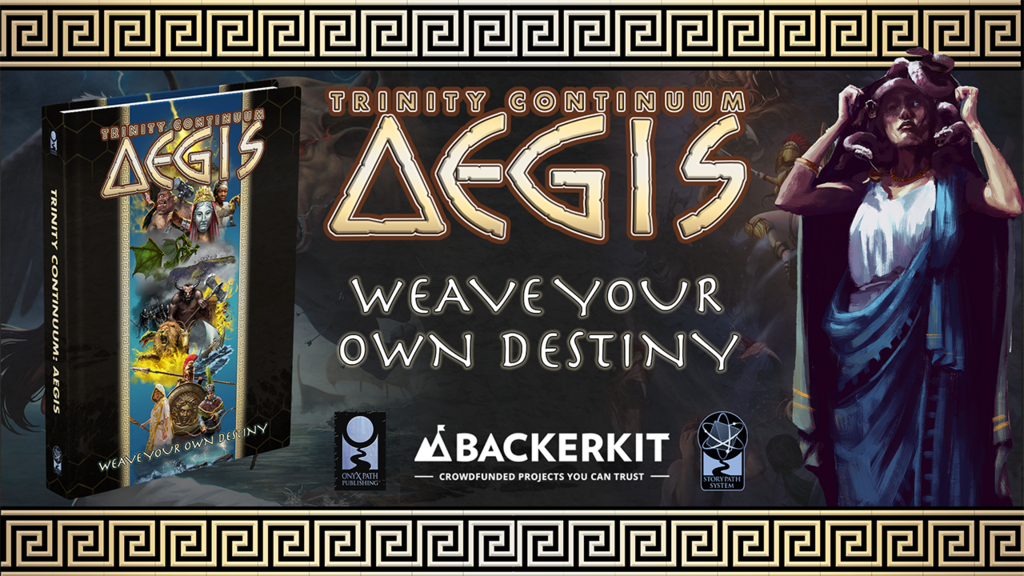 ---
Onyx Path Media!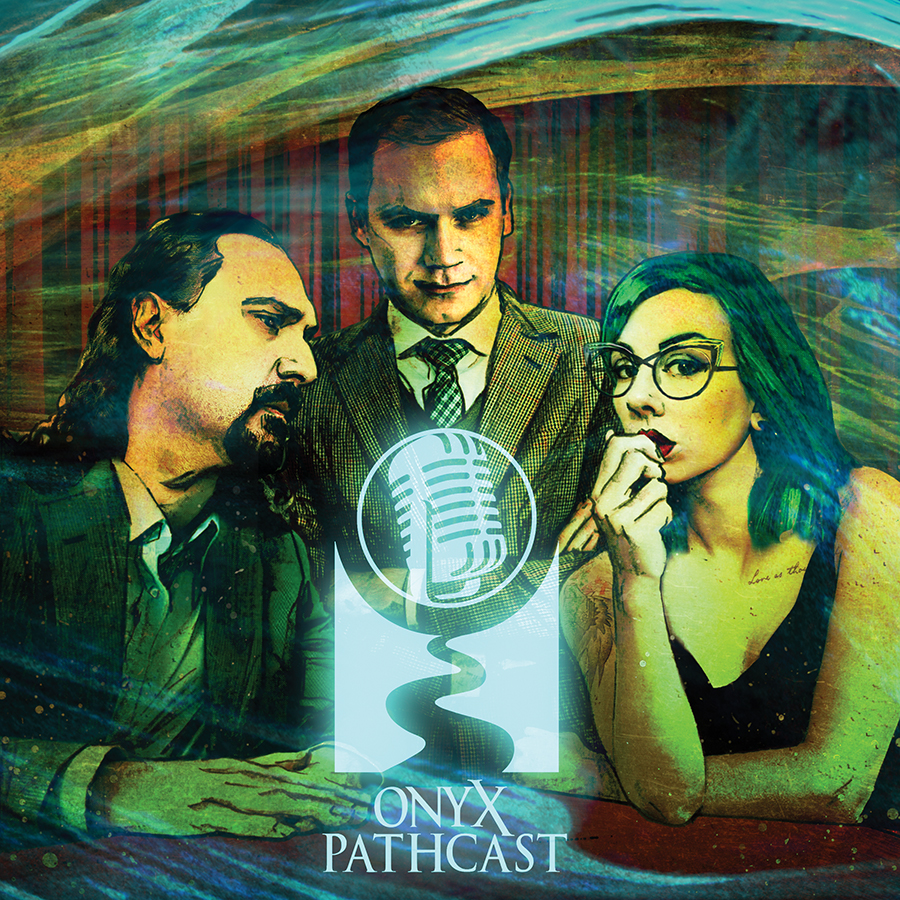 This week:
The Pathcast crew talk about Trinity Continuum: Adventure!!
As always, this Friday's Onyx Pathcast will be on Podbean or your favorite podcast venue! https://onyxpathcast.podbean.com/
---
Onyx Path Media now has its own blog on Tuesdays! We'll continue posting our highlight of the week here, but Tuesday will be the day to visit if you want to catch up on actual plays, interviews, deep dives, and other assorted Onyx Path media!
Please check out our attached media schedule for the videos on our Twitch channel this week! In particular, keep those eyes open for our Storypath Showcase, where we give an excellent profile of our various Storypath games and how to play them!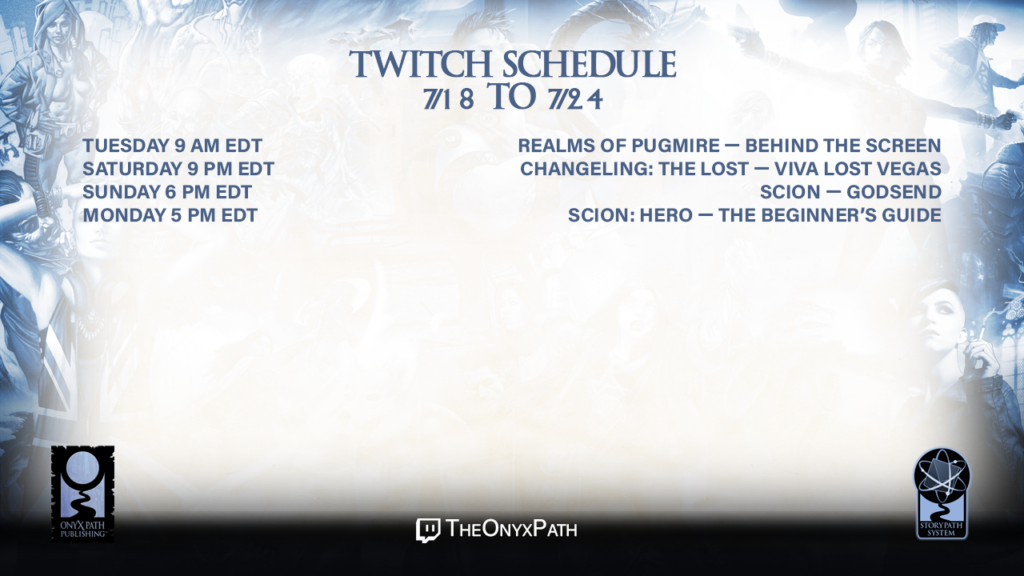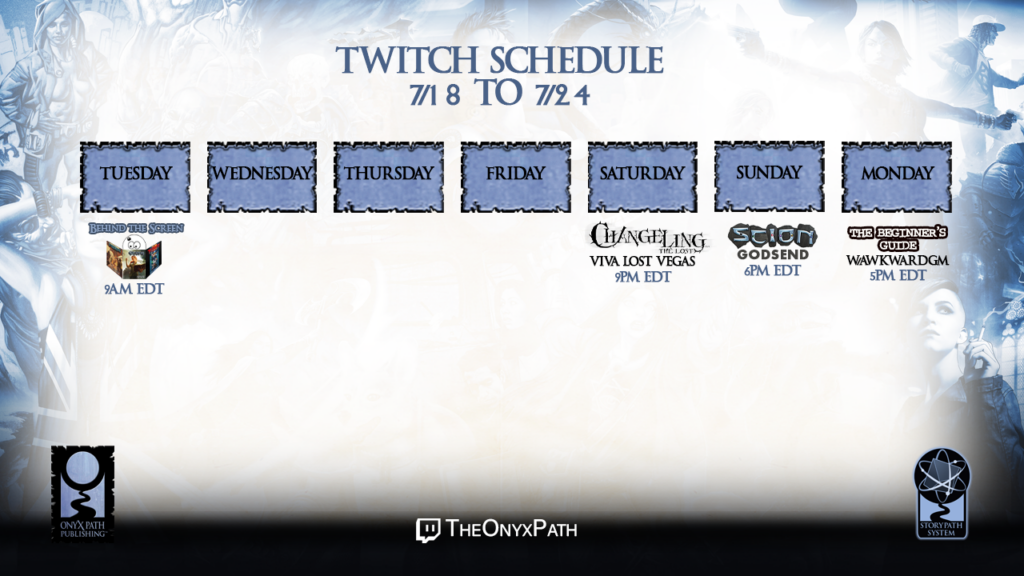 MEDIA HIGHLIGHT OF THE WEEK:
We highlighted Awkward GM Corbin's Beginner's Guides last week, and are now going to do so again by pointing you at the YouTube playlist incorporating this increasing number of helpful videos: 
Please give him your support and check out his videos on our Twitch and YouTube!
The Onyx Path News discusses recent and upcoming releases! You can find it on our YouTube channel (click the bell to be informed when we go live!) but if you missed the last episode, here it is: https://youtube.com/live/8UAUwIFb8Tk
---
Virtual Tabletop!
We have several items on sale in Roll20's X-Mas in July Sale:

https://marketplace.roll20.net/browse/publisher/1716/onyx-path-publishing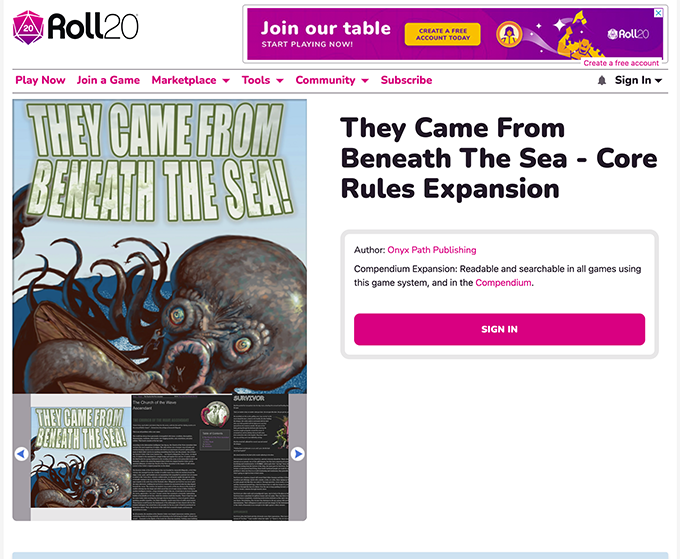 NEW!
They Came From Beneath the Sea! on Roll20 VTT!
https://marketplace.roll20.net/browse/bundle/22308/they-came-from-beneath-the-sea
Here are some more shots from the They Came From Beneath the Sea! Compendium!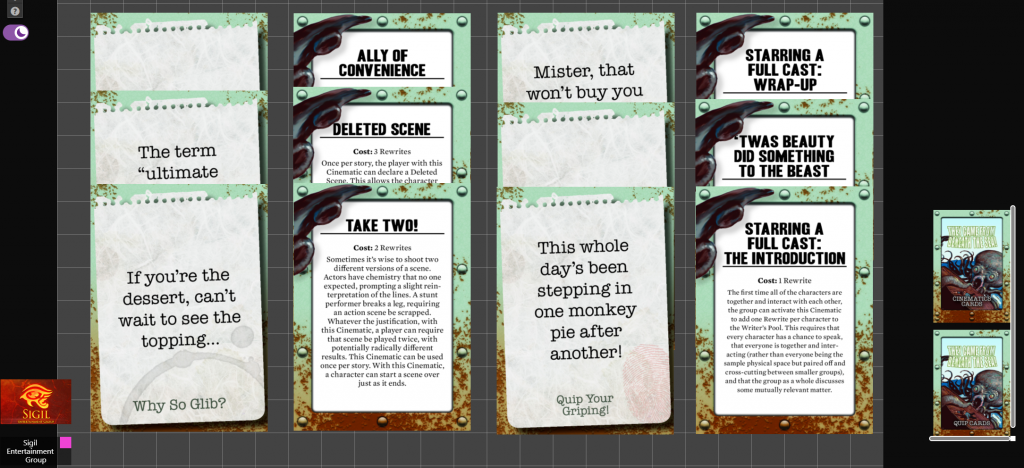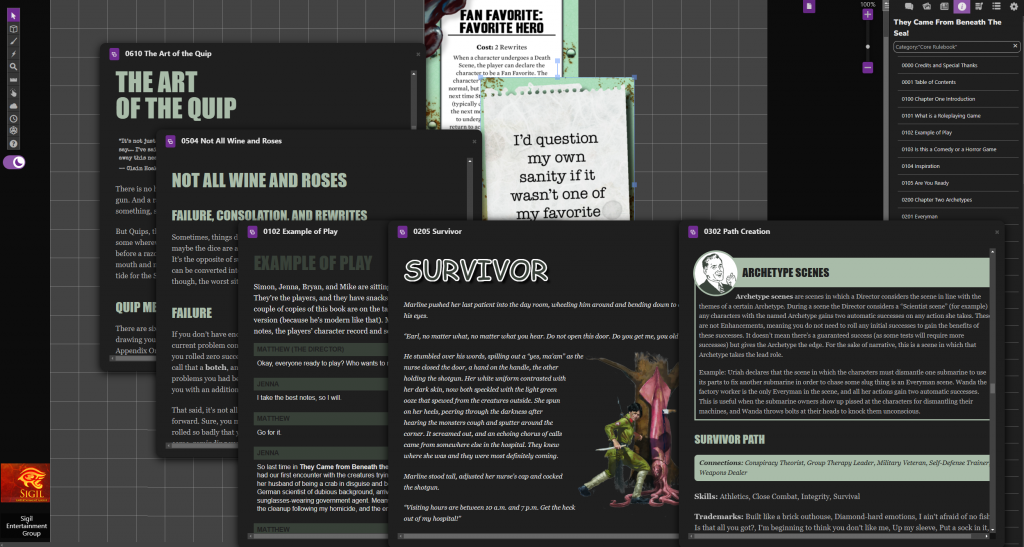 And there's also the Scion Jumpstart, all ready for Roll20 VTT fun!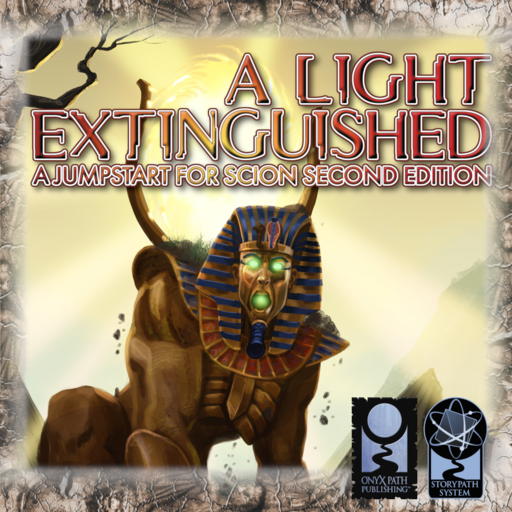 More news and links when we have them!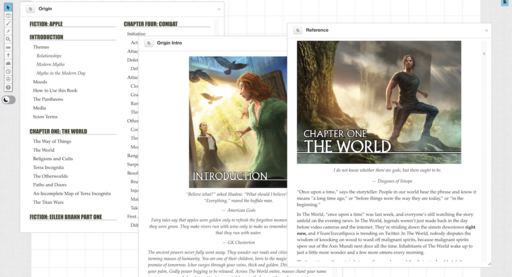 The Scion: Origin and Scion Hero Compendiums are now available on Roll20!

https://marketplace.roll20.net/browse/publisher/1716/onyx-path-publishing

Scion is just the start! They Came From Beneath the Sea! and other
Onyx Path RPGs are in development for Roll20 virtual tabletop!

The first of our official Scion sheets designed for Foundry VTT are
now available!

Direct Link: https://foundryvtt.co
Looking for more virtual tabletop resources? We have a selection of
Tokens, Encounters, and more available now at DriveThruRPG!

Get 'em here: https://bit.ly/3SnrNJ7
---
Our Sales Partners!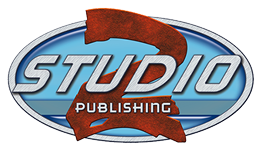 We're working with Studio2 to provide our traditionally printed books out into your local game stores. Game stores can order via their usual distributors, and can also contact Studio2 directly. And individuals can check out our projects via the links below!
Studio 2 has a few of our traditional printed books and screens on sale until the end of the month:

https://studio2publishing.com/collections/onx-onyx-path-publishing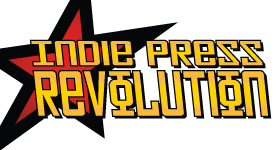 Looking for our Deluxe or Prestige Edition books, dice, and screens? Try this link! http://www.indiepressrevolution.com/xcart/Onyx-Path-Publishing/

As always, you can find Onyx Path's titles in PDF and PoD versions at DriveThruRPG.com!
DTRPG's massive X_Mas in July Sale is NOW LIVE.

https://www.drivethrufiction.com/xmas_in_july.php?manufacturers_id=4261
https://www.drivethrurpg.com/xmas_in_july.php?manufacturers_id=4261
Amazon and Barnes & Noble!
You can now read our fiction from the comfort and convenience of your Kindle (from Amazon) and Nook (from Barnes & Noble).

Check out Melody Through the Mirrorshade Lens and Facets of Truth , as well as Trinity Continuum: Terat and The Hollow Courts on Kindle in the Kindle store!
---
On Sale This Week!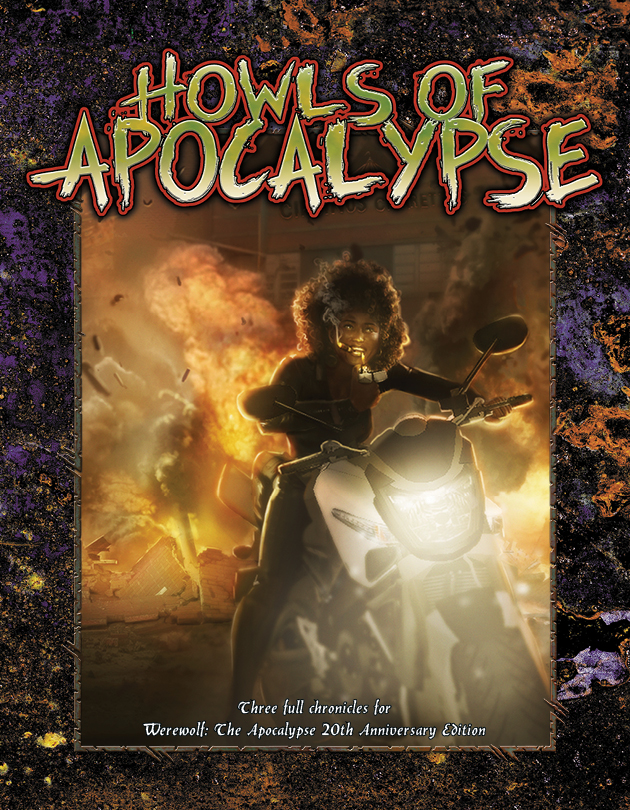 The battle against The Wyrm continues with these three full chronicles for Werewolf: The Apocalypse 20th Anniversary Edition! New allies, enemies, and powers, plus eleven Ready Made Characters! PDF & PoD versions of W20 Howls of Apocalypse are available this Weds on DTRPG!
---
Conventions!
As we are slowly returning to attending conventions in person after the current COVID-19 outbreak, keep an eye out here for more physical and virtual conventions we're going to be involved with!
GameHoleCon (Oct 19th – 22nd) has updated their Exhibitor list, and we're on it!:
https://www.gameholecon.com/

We'll be part of the Studio 2 booth at PAX Unplugged (December 1st – 3rd):
https://unplugged.paxsite.com/
Game Night With Onyx Path Publishing at Start.Playing is the last Friday of the month! Come play some Trinity Continuum in celebration of the upcoming Trinity Continuum: Aegis crowdfunding! (But any of our game lines are welcome all day long!)
Please spread the word about GMing games as much as
possible. Details on how list a game are at the bottom of the page in
the FAQ:

https://startplaying.games/event/game-night-onyx-path
---
And now, the new project status updates!
Our full list of projects will be available monthly on our blog! Check out June's full list report here: https://theonyxpath.com/release-roundup-june-2023/
DEVELOPMENT STATUS FROM EDDY
Here are the projects that moved to the next stage of production:
Manuscript Approval
Tasty Bit – Scion: Dragon: Library
Eddy: This Tasty Bit is eating through the production stages like a bookworm eats through paperbacks! Just a few people double-checking a few things, and it'll be on track for next month's release!
Post-Approval Development
They Came From the Cyclops's Cave! – They Came from Witchford Academy!
Matthew: In a dramatic show of events, Witchford Academy! went off for approvals, was approved with changes, and now those changes have just been made! I'll be reviewing them and the book will then head to editing.
Exalted – Deeds Yet Undone (was Exalted Essence Adventure Trilogy)
Danielle: If you blink, you'll miss it.
Editing
They Came From! – Heroes of Action and Wonder!
Matthew: Lightning speed for Heroes of Action and Wonder! too, as we watch our crossover guidelines and new Archetypes enter the realm of editing.
Tasty Bit – They Came from CLASSIFIED!: Hotel Lobby
Eddy: Hello? Agent X-23 here. The secret phase is "the manuscript is in editing." The counter phrase is "hopefully the edits will be light." See you soon. [click]
---
ART DIRECTION FROM MIKE CHANEY!
In Art Direction
Ex3 Eight Directions – Maps recontracting.
SCION Titans Rising – Cover sketch in.
TC Aegis (KS) – Backer Kit bits ready.
TC Ab With Great Power – Getting this thing rolling…
In Layout
Legacies of Earth – Wrapping up.
Proofing
Ex3 Crucible of Legends – Off to Paradox today.
M20 Lore of the Traditions – Getting it ready for 2nd proof.
TC Assassins VTT Adventure – Swear to god I'll get it into 2nd proof this week.
Indexing
At Press
TC Anima – Errata input.
TC: Adventure! – Still finishing the press cover to get files over to printer.
TC Adventure Storyguide Screen and Booklet – Quoting with Printers.
Exalted Essence – Quoting with Printers.
W20 Apocalyptic Record – Quoting with Printers.
W20 Apocalyptic Record Screen & Booklet – Quoting with Printers.
MtAw Tome of the Pentacle – PoD proofs ordered.
The World Below Ashcan – PoD proofs ordered.
W20 Howls of Apocalypse – PDF and PoD versions On Sale this Weds at DTRPG!
---
Today's Reason to Celebrate!
Today is the birthday of famed White Wolf (and a teensy bit Onyx Path) developer Ethan Skemp! Ethan doesn't post anywhere near as much as he used to while developing Werewolf – both Apocalypse and Forsaken – but I still will dig up old threads of his from various forums where his open and friendly, yet firm, online messaging style is something I'll suggest emulating to creators who are finding their voices online. Plus, his ability to generate really fun settings and campaigns almost at will is a talent I wish we could bottle! Happy BDay, Evan Stump!