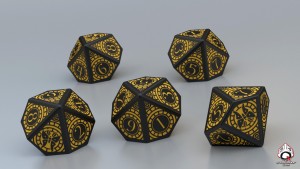 2015 was in a lot of ways a year of changes, although Onyx Path Publishing itself became more stable and efficient. Not that that internal tune-up was obvious as projects slid last year, but I think it will make a big difference this coming year now that we have a very different licensing situation.
One of the behind the scenes situations that slowed our progress was that we really spent the year waiting for news of whether the White Wolf properties had been sold; not a total cessation of activity, but a sort of decision making paralysis limbo where we needed and wanted to press forward with our WW licenses, but couldn't do too much out of concern of being caught short if the new owners decided to pull them from us.
I've seen too many companies crash because they had overextended on their licensed projects, and had no intention of Onyx Path getting caught like that.
Instead we focused on hitting these specific project-based milestones through the year:
starting the 5th of the classic WoD projects, Changeling 20th's, Kickstarter; getting V20 Dark Ages's and Mage 20th's backer PDFs and PoDs delivered; as well as other cWoD projects to continue to restore life to cWoD.
the (nWoD) 2nd Editions that we were only just given the OK to do from CCP; running the Beast: the Primordial Kickstarter for the new (nWoD) game line; also running the Dark Eras KS that slipped into 2015 from 2014 and which was one of the reasons we prioritized KSing Beast in 2015; and the end of the year switch to Chronicles of Darkness as a brand covering all the previously nWoD game lines, which took a lot of logistical bandwidth but truly has set those lines up as their own unique setting moving forward just as we had wanted to retool and revitalize them with the 2nd Editions.
delivering the Backer PDF of Exalted 3rd so we could move into discussing the project based on the material (and tweak and fix it before final release) for its new edition.
start building an audience for Pugmire, our first creator partnered project.
have a fantastic GenCon and use our presence there as a platform to talk to gamers we don't ordinarily get a chance to, and to check out other conventions and see which might be good for Onyx to attend.
continue to add designs to and build knowledge of our RedBubble t-shirt store, as the last addition to our license we got before CCP was caught up in whatever went on with the WW sale.
Because we pretty much hit these milestones, we can now follow through into 2016 with more projects for our WW game lines, including those that weren't prioritized.
At the same time, even with our milestone focus, we did have an aggressive schedule to keep up with, and that limited the attention we could devote to pushing our Onyx and creator owned projects last year. We moved them forward, but I really wanted Scion or the Trinity Continuum or Scarred Lands or Cavaliers of Mars to hit in 2015, and that didn't happen. But things look pretty good for them in 2016 (just check out the Scarred Lands Kickstarter starting tomorrow and the Pugmire KS coming at the end of January).
According to Impish Ian Watson, who loves to compile these sorts of numbers, we released 421 projects in 2015.
Now, 399 of them were t-shirts, posters, and wallpapers. But even 22 new book projects are almost two a month. Plus we also brought 10 classic books into PoD form over on DTRPG and added 7 old White Wolf Magazine issues to PDF form there as well.
We started the year in Kickstarters with the finish of the Wraith 20 KS, and rolled right into Dark Eras, followed by KSs for V20 Lore of the Clans, Beast: the Primordial, and W20 Shattered Dreams. And we end the year with the start of the Changeling 20th KS, which wraps up a week from now. While Wraith 20 is running later than we wanted, and Dark Eras had so much added to it with the Stretch Goals that we are naturally off-target for our delivery, the next three are looking good with some early and on-time Backer PDF delivery and are back rolling along after working out our new approval process with the new White Wolf Publishing.
And we did much in terms of laying the groundwork for further cool projects and sales venues last year. The Deluxe C20 Dice Set pictured above, has just been offered on the Deluxe C20 KS, and is the first time we have been able to offer dice. It will not be the last.
While next week will be more of a look forward into 2016, this week our Onyx Path crew are looking into the year and making bold resolutions that they will fulfill or die trying!
Mirthful Mike Chaney, our art director, happily grumbles that he'll "Cut back on caffeine. I'm about 90% positive my blood can be used as a stimulant right now… so time to cut it back to normal levels and get back to drinking water again. Dig back into iBooks Author and work towards creating some really cool interactive digital titles. Expand our artist list. Play more games."
Lovely Lisa Thomas, our office manager, efficiently notes that she'll "Clean out her emails and take on more office processes like contracts."
Impish Ian Watson, our webmaster and Trinity Continuum major domo, politely mentions that "I'm going to resolve to try to RP more this year, because I don't want to lose sight of what makes this fun."
Marvelous Matt McElroy, our DTRPG representative and Fiction Coordinator, intends to "Play more games with and get to know more Onyx Path fans and freelancers. Do more with Onyx Path's fiction titles and get more great stories out."
Rollickin' Rose Bailey, our CofD producer, also says she'll "Run more games I'm not professionally involved with."
Mighty Monica Valentinelli, our marketing consultant and Hunter: the Vigil 2nd developer, shouts out that she'll "Generate fan enthusiasm!"
Fast Eddy Webb, V20 developer and Lord of Pugmire, barks this at us "Strike a better balance between projects where I work in other people's sandboxes (like V20) and projects where I have creative control (like Pugmire)."
And as for me, I am the Mole Man. No wait, that's an old Fantastic Four line. As for me, "I'm going to get back to a work and exercise routine that also allows some time for family and fun. Be that games or just watching a movie without checking messages on my iPad. While doing that, I'm looking to break some new ground with Onyx Path this coming year!"
BLURBS!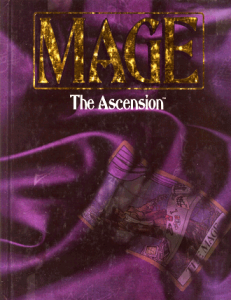 With 12ish hours to go, check out the Mage: the Ascension 2nd Edition Bundle of Holding! This is your last chance to get classic 2nd Edition Mage PDFs at this discount and with a percentage of sales going to charity! https://bundleofholding.com/presents/With MageAscension
KICKSTARTER!
The Changeling: the Dreaming 20th Anniversary Deluxe Edition Kickstarter IS DOWN TO ITS LAST WEEK! As pointed out above, we now are offering C20 Deluxe Dice Sets as Add-ons because the Dice Stretch Goal was passed! We've also added sections on How To Create Your Own Kith, two more bookmarks, and Kith from two international CtD books to the Main book! We've unlocked a new Reward Tier that will offer signed prints by Tony DiTerlizzi and a special Sound Board of C20 sounds and music! A C20 fiction anthology, and a How To Manage Your Freehold PDF, and more – we're just getting started! Next up: Kithbook Boggan!
And here is an interview C20 developer Black Hat Matt McFarland and I did for FlamesRising: http://www.flamesrising.com/talking-c20-with-onyx-path/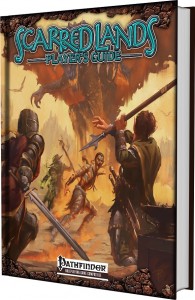 In the heady days of the D20 explosion, White Wolf created our own fantasy setting featuring a world devastated by the brutal war between gods and ancient titans.  Starting Tuesday the 5th, the Scarred Lands return as the Kickstarter for the new edition of Scarred Lands Players Guide goes live! Hosted on KS by our partner, Nocturnal Media, this Kickstarter is not only for a new edition but for a print run to get those new books into stores!
ON SALE!
The Demon Storyteller Guide is slated to go on sale as an Advance PDF on Wednesday on DTRPG!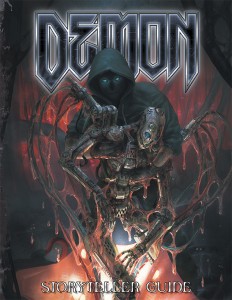 V20 Lore of the Clans in PDF and PoD versions now on sale at DTRPG!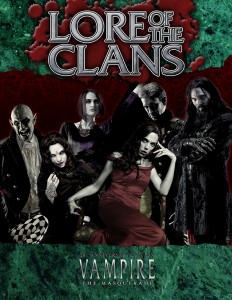 M20 How Do You DO That? is now available at DTRPG in PDF and PoD versions!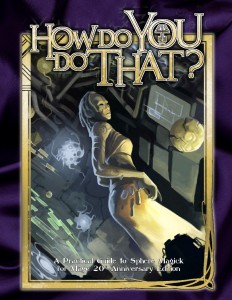 The Pugmire Pamphlet we had available at Gen Con is now ready for PDF download. Read about the world of Pugmire from the enthusiastic and optimistic pen of Princess Yosha Pug, as well as notes from the gruff and worldly hunter Pan Daschund: http://www.drivethrurpg.com/product/153518/Pugmire-Gen-Con-Brochure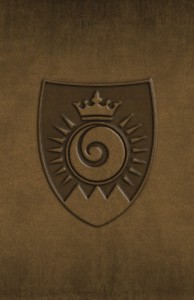 There are also six Pugmire posters available as free PDFs or $.99 physical posters, suitable for framing:
Start spreading the Code of Man!
CONVENTIONS!
1 WEEK TO GO! We're one of the Contributing Sponsors at Midwinter Con this year this January in Milwaukee! We are so looking forward to catching up with all our friends at the Con and showing off our newest projects. This is the first year we are in the dealers hall, so come by and say hi! RichT, Fast Eddy Webb, and Newlywed Neall Raemonn Price will be there at our booth as well as running demo games of Scion and Pugmire. There will be panels for What's Up With Onyx Path?, WoD 20th Anniversary Games and a Pugmire/Scion/StoryPath System one. In the meantime, check out the show here: http://www.midwintergamingconvention.com/
---
And now, the new project status updates!
DEVELOPMENT STATUS FROM ROLLICKING ROSE (projects in bold have changed status since last week):
First Draft (The first phase of a project that is about the work being done by writers, not dev prep)
M20 Book of Secrets (Mage: the Ascension 20th Anniversary Edition)
Exalted 3rd Novel by Matt Forbeck (Exalted 3rd Edition)
CtL anthology (Changeling: the Lost 2nd Edition)
Scion: Alpha (Scion 2nd Edition Playtest Alpha Slice)
Dagger of Spiragos (Scarred Lands)
EX3 Quickstart (Exalted 3rd Edition)
Shattered Dreams in-book stretch goals (Werewolf: the Apocalypse 20th Anniversary Edition)
Ring of Spiragos (Scarred Lands)
Ex Backer Charms (Exalted 3rd Edition)
DA Tome of Secrets (Vampire 20th Dark Ages)
Redlines
Mummy Fiction Anthology (Mummy: the Curse)
Wraith: the Oblivion 20th Anniversary Edition
Changeling: the Lost 2nd Edition, featuring the Huntsmen Chronicle (Changeling: the Lost 2nd Edition)
V20 Ready Made Characters (Vampire: the Masquerade 20th Anniversary Edition)
Cavaliers of Mars
Signs of Sorcery (Mage: the Awakening Second Edition)
Changeling: the Dreaming 20th Anniversary Edition
Night Horrors: Conquering Heroes (Beast: the Primordial)
Second Draft
Arms of the Chosen (Exalted 3rd Edition)
The Realm (Exalted 3rd Edition)
Dragon-Blooded (Exalted 3rd Edition)
Beckett's Jyhad Diary (Vampire: the Masquerade 20th Anniversary Edition)
WtA Kinfolk (Werewolf: the Apocalypse 20th Anniversary Edition)
Development
StoryPath System Rules (Base rules set for Scion and the Trinity Continuum)
W20 Changing Ways (Werewolf: the Apocalypse 20th Anniversary Edition)
CofD Hurt Locker (Chronicles of Darkness)
VtM Lore of the Bloodlines (Vampire: the Masquerade 20th Anniversary Edition)
W20 Shattered Dreams (Werewolf: the Apocalypse 20th Anniversary Edition)
Beast Ready Made Characters (Beast: the Primordial)
Editing
W20 Pentex Employee Indoctrination Handbook (Werewolf: the Apocalypse 20th Anniversary Edition)
Dark Eras Expansions (Chronicles of Darkness Dark Eras)
Beast Fiction Anthology (Beast: the Primordial)
Dark Eras Companion (Chronicles of Darkness Dark Eras)
WtF The Pack (Werewolf: the Forsaken 2nd Edition)
Post-Editing Development:
V20 Ghouls (Vampire: the Masquerade 20th Anniversary Edition)
Secrets of the Covenants (Vampire: The Requiem 2nd Edition)
Scarred Lands Player's Guide: Ghelspad (Scarred Lands 2nd Edition)
ART DIRECTION FROM MIRTHFUL MIKE:
In Art Direction
V20 Ghouls – Awaiting text.
W20 Shattered Dreams – Awaiting artnotes for Ch. 5.
Promethean: the Created Second – Pinging Ron… again…

Scarred Lands PG – Last bits of the artwork coming in.

Dark Eras – Art in progress.

Dark Eras Companion – Still sorting through that buy.
The Pack – Contracting.
In Layout
Guide to the Black Hand – Working on it. 
Chronicles of Darkness Condition Cards – After the errata pass is done on CofD core.
Beast Screen – Awaiting feedback but almost done.
Mage: the Awakening Second – Once updated text is in, this will move into the layout queue.
Pugmire Early Access – Inputting first round of Eddy's corrections.
Proofing

Beast: The Primordial – Indexing.
Demon STG –  Advance PDF going on sale Wednesday.
Ex 3 core book – From RichT: Still reviewing Dev notes and adding my own art/design/backer names notes to the proofing PDF. Last week lost to sickness.
Dreams of Avarice – Ready to roll out to backers

on Wednesday

.
Truth Beyond Paradox – Proofing with Phil.
Pugmire Early Access – Eddy is proofing the first round of the interior.
At Press
M20 – Deluxes printing (Screen is finished and awaiting book).
M20 How Do You Do That ?!? – Hopefully available this week.
Chronicles of Darkness – Should be entering in errata this week.
Ex 3 Anthology –  Waiting for PoD proof.
Special- projects on hold in the art and production area until an external factor is resolved
Wraith 20 – Can't go further until art notes come in, still being developed by Rich Dansky.
Pentex Employee Indoctrination Manual – Some added and amended text needs to come in.
---
TODAY'S REASON TO DRINK: To a wild and wacky yet restrained 2015!
For more info on our game worlds and our forums, check out www.theonyxpath.com