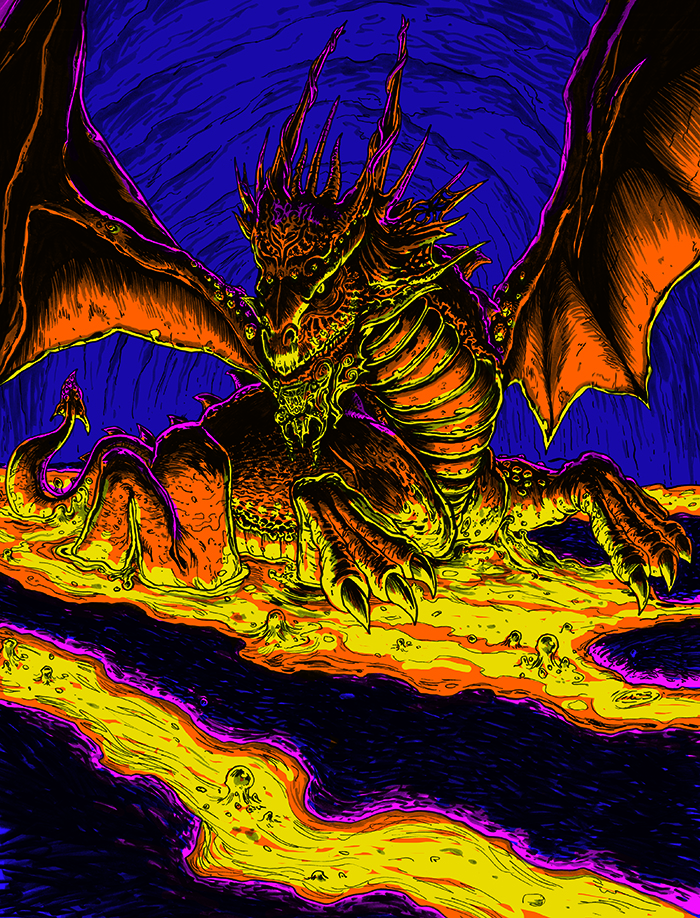 In The World Below, below the Gold Strata, we have The Abyss. Its dark energy seeps ever upward, but our time visiting it is coming to an end. Tuesday the 14th, in fact, is the end of The World Below crowdfunding campaign on BackerKit.
Yet, our time with things Abyssal is not at an end at all!
Because on Thursday, the 16th, at 2pm Eastern US time, we begin a very different Abyssal journey: an Exalted Abyssal journey as we launch a Deluxe book crowdfunding campaign on IndieGoGo!
Yes, this may be the closest we've ever run campaigns, but we are trying to give Exalted 3e its Abyssals campaign this year before the end of the year holidays take up everybody's time and attention!
There has been a delightfully huge upsurge of support in the last two days, so with our time remaining, please considering backing and reaching out through your own gaming networks to support The World Below! We are rushing towards achieving our twelfth Stretch Goal and 200% funding! With your help, we can make it before time is up!
Creator and lead developer Matthew Dawkins has this last note for you all concerning The World Below:
What a marathon it's been over the past month of campaigning! At the time of writing we're over 900 backers and almost double our funding target, so thank you so much to all of you who have shared, backed, and supported The World Below on BackerKit.

As we enter the last 24 hours, it's really important we make as many people as possible aware of the BackerKit campaign, as backing now will help fund stretch goals. Therefore, please get the campaign to your friends, your forums, your Discords, your social mediums, your subreddits, etc.

It feels very much like we've excavated a path all the way from the surface down to Oracaster, and now the Well itself is in sight. Will we wrest some of this Kaotic power from the hands of the liches, or will we be consumed by the unpredictable power? We shall see!

Thank you again, everyone who has backed!
But is this really THE END of The World Below?
Not even remotely! We not only have multiple versions of the core book to create, plus all the Stretch Goals, but now we have an entire campaign full of comments from all of our backers to review! Both the manuscript and what does go into the core book, but also for a peek into the sorts of expansions our backers would like to see.
How fantastic is that? So often, in the past particularly, we'd have to guess at what parts of a new game had caught folks' attentions. Now, we already have commentary and starting points.
In fact, we even get a headstart by presenting the Ashcan early and the whole manuscript during the campaign: like, did you know there is already a fan-made The World Below character sheet up on Roll20? Yep, you can already access that and start your group playing down, down, deep underground. We needed a sheet, and The World Below Provides!
Even beyond the fact that this is just the beginning for TWB, it is also the beginning of the multi-game setting Earthbane Cycle! Expect us to be talking to you soon about the next gameline in Earthbane: At The Gates!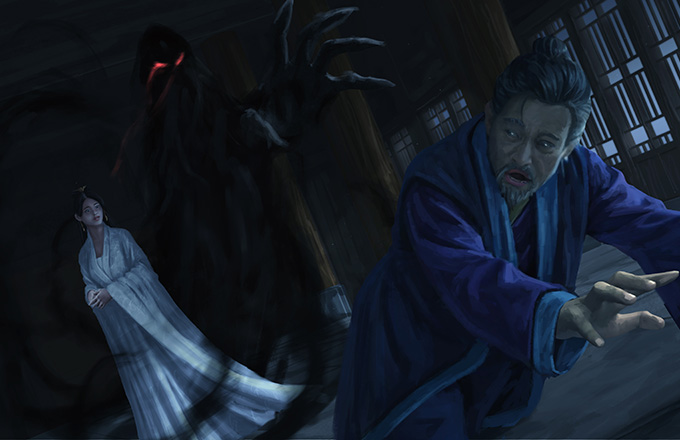 And so: Exalted Abyssals. The champions of death in Exalted 3e. In many ways the opposites of the Solar Exalted, in this edition you'll find that they are not just negative images. We're running the campaign in order to create the Deluxe Edition of Exalted: Abyssals – one worthy of sitting on your shelves next to our previous Deluxe EX3 books!
As with the Exalted: Exigents crowdfunding campaign, we'll be using IndieGoGo as our venue, which is, in fact, different than either Kickstarter or Crowdfunding By BackerKit, so please don't assume that the campaign runs exactly the same way as on the other sites. Fear not though: our intrepid Crowdfunder Concierge James Bell will be ready, willing, and able, to help explain the differences and assist along the way!
Here's a little bit of a teaser for what you will find in this dark tome:
Never before has Creation known the perils of the Abyssal Exalted. They have emerged from the gloom of the Underworld as champions of death, sworn to the service of the Deathlords and the Neverborn. Each was offered the gift of the Bleak Exaltation at the moment of their own demise, and each chose to willingly become an agent of the apocalypse. Their motivations are as manifold as any others — they may seek destruction or domination, malice or justice, ancient secrets hidden and forbidden or sheer iron-willed survival. In service to their lieges, these deathknights will grind the Underworld to heel and scour life from the face of Creation. Or…they might break from those oaths and set themselves up as death's own Lawgivers, ruling empires of the dead as sages, arbiters, and reapers. All that can be known for sure is that with the Abyssal Exalted loosed upon the world, it will never be the same again.
Oooo scary! See you Thursday at 2pm EST on IndieGoGo!

Non-Crowdfunding Stuff!
Unlike last week, we talked mostly about what we had accomplished all this last week, and as Dixie and I attended the Save Against Fear Convention, we made our reports which I'll share a bit of here.
I went to the first Save Against Fear over a decade ago held overnight in a gaming store below Harrisburg, PA, and that's where I first talked with Jack Berkenstock and learned of his interest in combining Table Top Gaming and therapy. As someone who seriously believes that TTRPGing is an artform, and like all art, can help folks in addition to being amusing entertainment, Onyx Path has supported SAFe and the Bodhana Group every year since.
It has been great to see the convention grow from venue to venue, and it seems like this was their biggest year yet, although I haven't seen any actual numbers. Certainly there were a lot of very enthusiastic people attending, from the Bodhana team, to vendors, to game designers, to game players and fans. And also, all these folks seemed to be genuinely positive and friendly in their interactions.
Maybe that was because we all know we are there ultimately to help Bodhana, which is a worthy cause, or maybe I was just having a good time.
But maybe it wasn't just me – here are Dixie's thoughts about the convention:
This year I attended my third Save Against Fear convention in York, Pa, a convention Onyx Path has been sponsoring for over a decade.

It's a unique little convention in that it's run by a nonprofit (The Bodhana Group) that specializes in therapeutic gaming, so they have both sessions for therapeutic professionals and sessions/panels/games for regular attendees. While a lot of people only seem to want to attend the big ones, like PAXU or Gen Con, I've found there's a ton of value in smaller conventions like Save Against Fear and Midwinter Gaming Convention.

I say this because while the big ones are whirlwind events of announcements, sightseeing, seeing old friends, and maybe attending a party or two, the intimate, relaxed affairs have a different kind of value. I saw old friends like Rose Bailey for hours, rather than five minutes in passing. I got to spend multiple evenings having dinner and drinks and conversation with old friends and colleagues Rich and Rose, Bear, Amber, Jack, Jen, Josh, Zak, and Calvin. I also got to make new friends like Graham and Doc, and maybe found new collaborators for future projects!

I volunteered at the con this year and worked in the (HUGE) board game lending library, where attendees can check out board games for free to play, and it was lovely talking to attendees and getting to know my fellow volunteers. I think the main thing I always feel there isn't enough of at conventions is time, and this one neatly fit in everything I wanted to do, both socially and gaming-wise.

Now, of course, we had a panel! This was the first time I got to talk to an audience of therapeutic professionals about Branch Riders, the game we're publishing with The Bodhana Group, so we got to talk about an aspect of the game we don't usually dive as hard into: the practical application of its narrative and mechanics during client sessions. While Rich and I are obviously not in that field, the various practitioners had so many excellent questions and possible scenarios, and Jack Berkenstock was on hand to answer the trickier ones! We also had two of the game's designers on the panel, Doug and Bonnie. I was amazed to learn that Bonnie's only 17 years old and already doing such thoughtful design work. I can't wait to see what she does in the future.

All in all we had a great time telling stories, playing games, and getting to know people. It's a con I plan to attend year after year, as I truly value both the friends I've made there and Bodhana's mission.
Just to add to Dixie's recollections of the Branch Riders panel: it was really interesting to be presenting in the professional (the therapists') track, and to look at the sorts of features that they seemed to appreciate and want us to go into further detail about. Of course, everybody liked hearing about just what Branch Riders are, and Jack revealed several of the worlds you can visit, the Branches, that you attempt to defend. But we had that response the last couple of gaming panels we held, too.
This panel focused on a few more things that the attendees thought stood out:
First of all, they really appreciated that the DM doesn't ever roll dice. No one wanted to, as one member of the audience put it, "roll to defeat the clients". Now, they, of course, are looking at it as a professional therapist, but even as a gamer, I know that the "Adversarial DM" has begun to be less accepted at the table. So this fits right in.
There was also some discussion as to how this is first and foremost a fun game – just one that has been created by therapists who are used to thinking a certain way – so the therapeutic aspects are basically baked in. No overt text in a coaching or "Here's how to add Bleed" sort of way by non-professionals. Nobody in the room wanted non-therapist gamers to try and "heal" their friends using Branch Riders.
But, as I said, the therapeutic aspects are in there. So, when one of the professionals asked about whether there was any sort of after-the-mission debriefing moments – which I, as a non-therapist, took to mean a post-therapeutic session sort of methodology – Jack was able to express that there is indeed a debriefing phase where the PCs report back to whomever sent them on their mission.
It's part of the way the game world works AND it is therefore there for a therapist to use as part of their sessions. Which seems like a pretty solid example to me.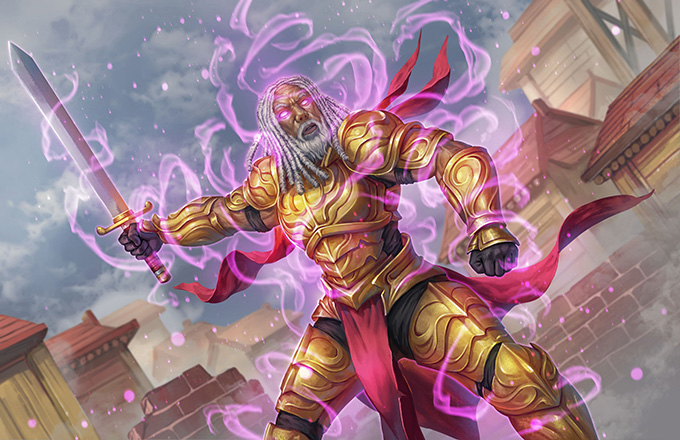 It was noted during the meeting that our monthly Game Night at StartPlaying is going to be a Game Weekend this month, with extended playing hours and the gang at StartPlaying is providing a discount coupon for the StartPlaying Store:
https://startplaying.games/referral/clog9y0v10006ju0968iev95m
Over on Roll20, in the Roll20 blog for Teach Your Kids to Game Week there's a short quote from Eddy: https://blog.roll20.net/posts/10-games-to-play-with-kids
There are also Pugmire PDFs on sale on DTRPG during this sale!
Ian pointed out that twenty years ago, that's 20, three different Scarred Lands books were released on Nov 17, 2003: Creature Collection III, Faithful and Forsaken, and Vigil Watch: Secrets of the Asaatthi! Mirthful Mike points out that the three only all came out together due to scheduling snafus, but still!
And finally, although in the same d20 fantasy line of thought, I actually raced home from the SAFe Convention in order to run a multi-generational D&D 5e game for two of my old Crossroads Continent players and a bunch of our now-adult kids. And yep, they are playing in the same Crossroads world, just 30+ years later. Here's a shot of the table after the session was done and all the food and drink was cleaned up: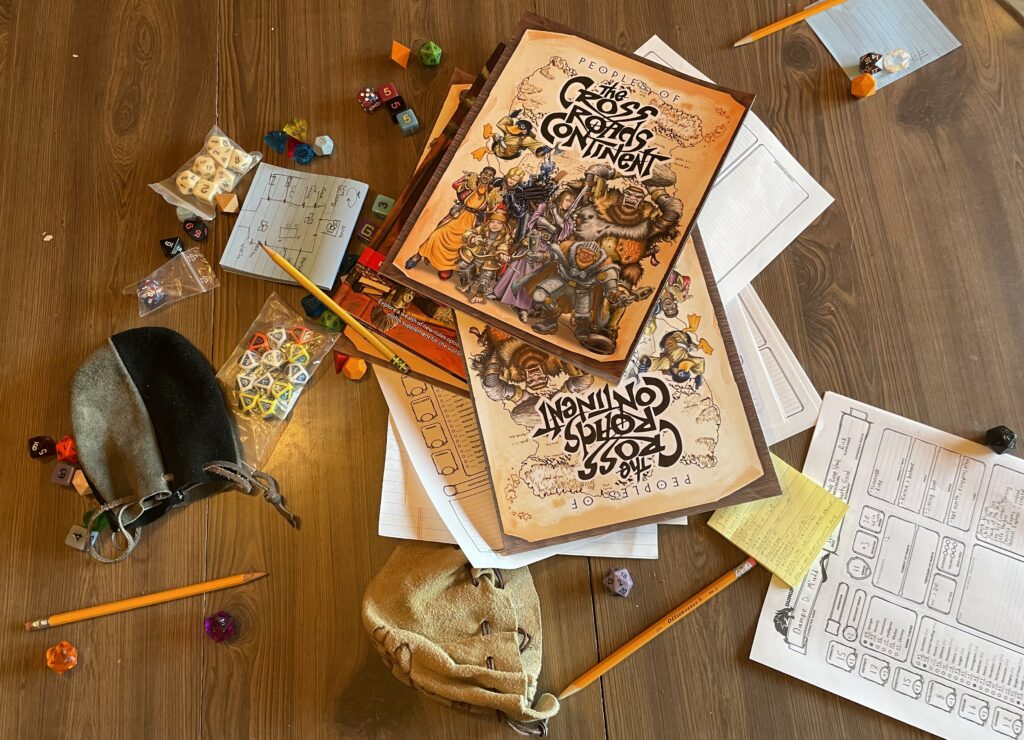 It's interesting to weave together the playing styles of two generations at a face-to-face, around the table game, while still finding that I can keep everybody engaged. It's delightful to do that for friends and family! And it's a joy to continue to adventure in and build:
Many Worlds, One Path!
---
Blurbs!
---
Crowdfunding!
ONE DAY LEFT! We're crowdfunding The World Below on BackerKit! We've already smashed through eleven Stretch Goals including the two part Beginning Adventure, Ed Greenwood's Monster Ecology book parts 1 and 2, and Monster Cards to aid in your gameplay – and are mere dollars aware from funding our 12th as I write this! You can dig it here!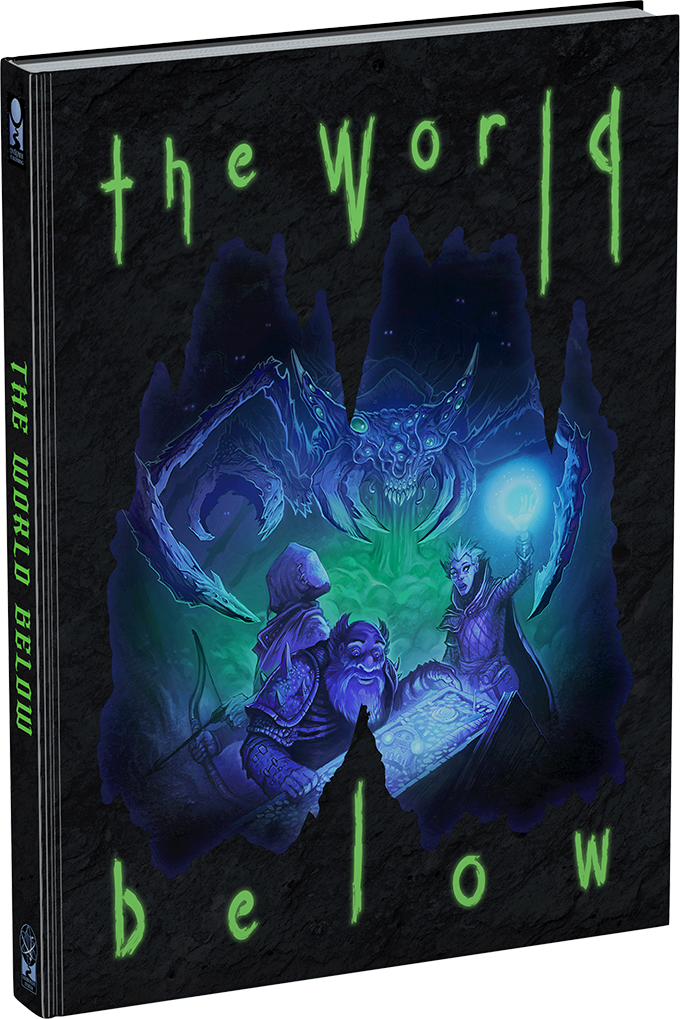 NEXT CROWDFUNDING CAMPAIGN!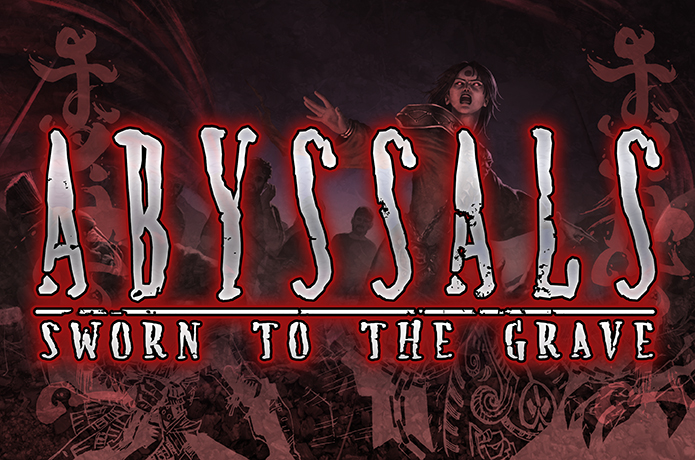 The Exalted: Abyssals Deluxe Edition campaign on IndieGoGo starts 2pm Eastern US time on Thursday the 16th! That's right- THIS COMING THURSDAY!
---
Onyx Path Media!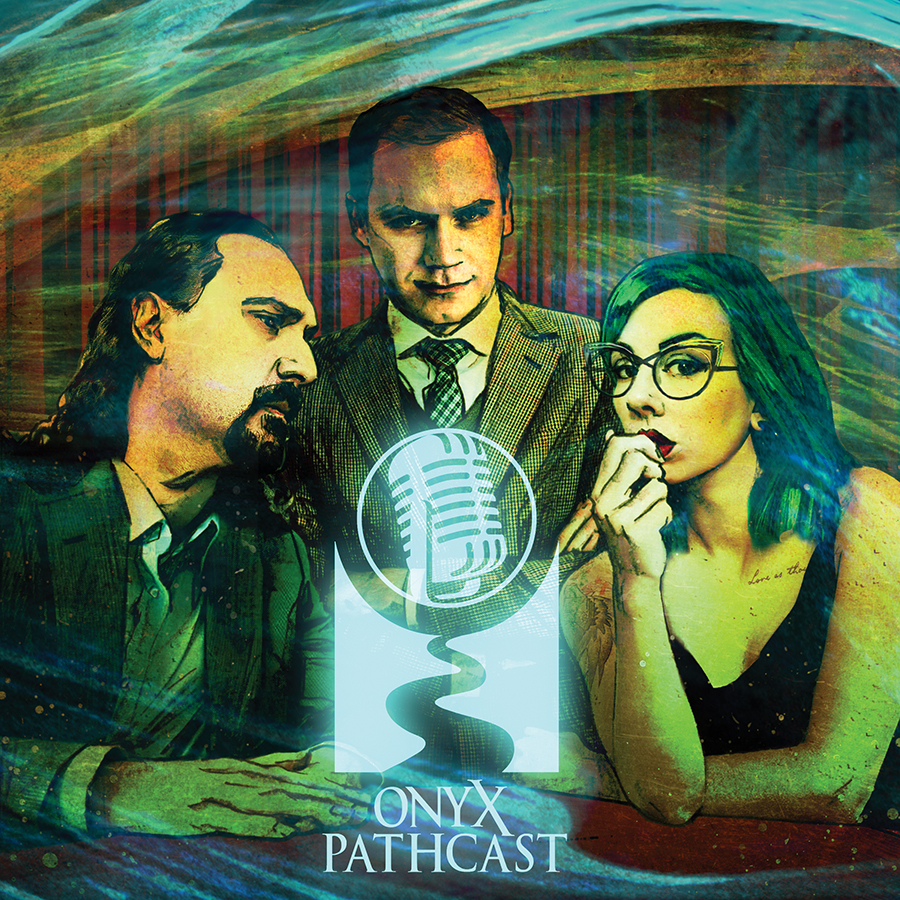 This week: Danielle interviews Chazz Kellner and Elliott Freeman about the upcoming Exalted: Abyssals book and crowdfunding project!
As always, this Friday's Onyx Pathcast will be on Podbean or your favorite podcast venue!
---
Please check out our attached media schedule for the videos on our Twitch channel this week! In particular, keep those eyes open for our Storypath Showcase, where we give an excellent profile of our various Storypath games and how to play them!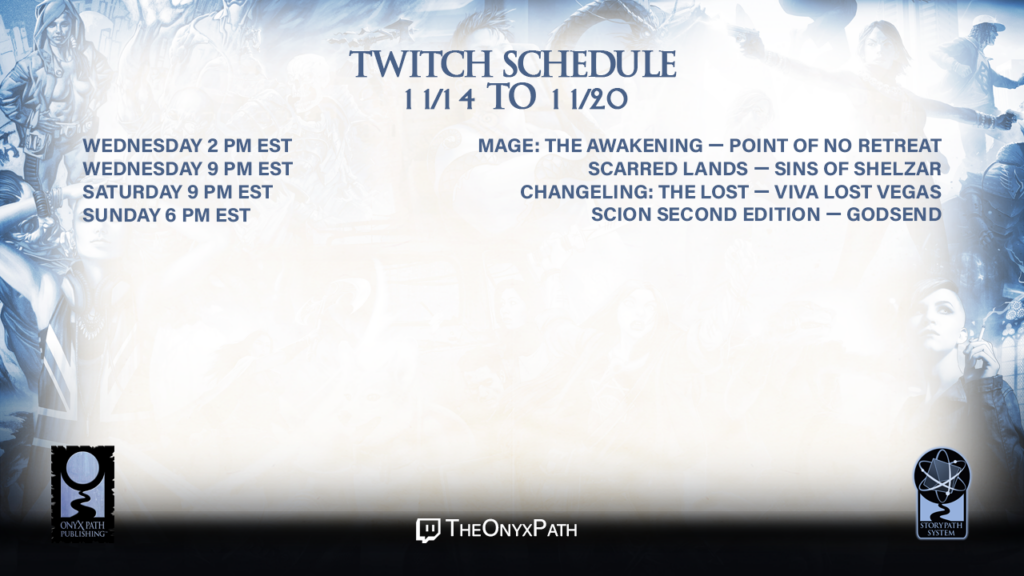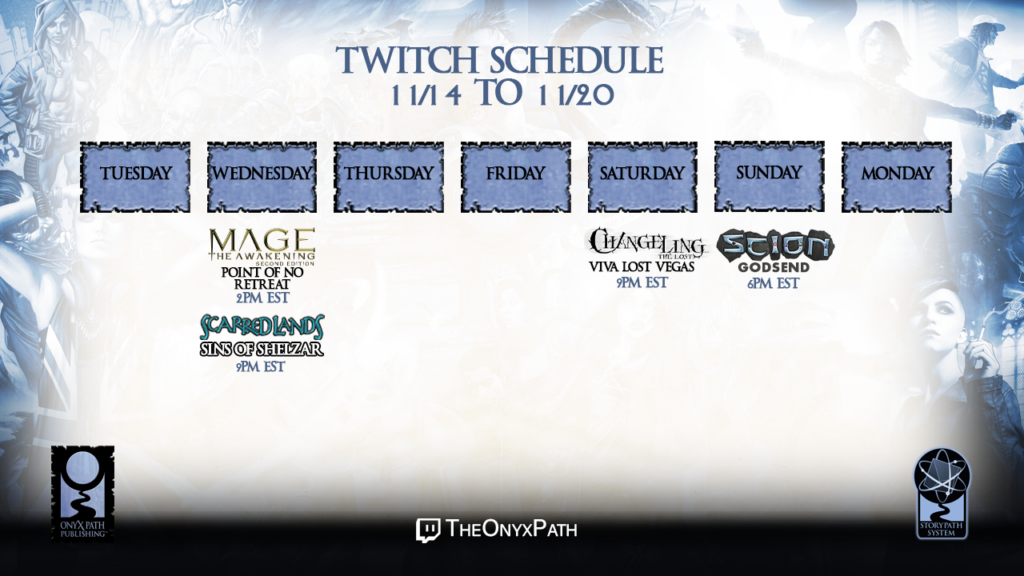 MEDIA HIGHLIGHT OF THE WEEK:
A Bunch of Gamers interviewed Matthew Dawkins about The World Below, and you can find that interview right here:
The Onyx Path News discusses recent and upcoming releases! You can find it on our YouTube channel (click the bell to be informed when we go live!) but if you missed the last episode, here it is: https://www.youtube.com/watch?v=6OyozIAnWUE
---
Virtual Tabletop!
New on the Roll20 Marketplace, it's the Scarred Lands Creature Collection and Camp Murder Lake Tokens for Roll20 VTT play!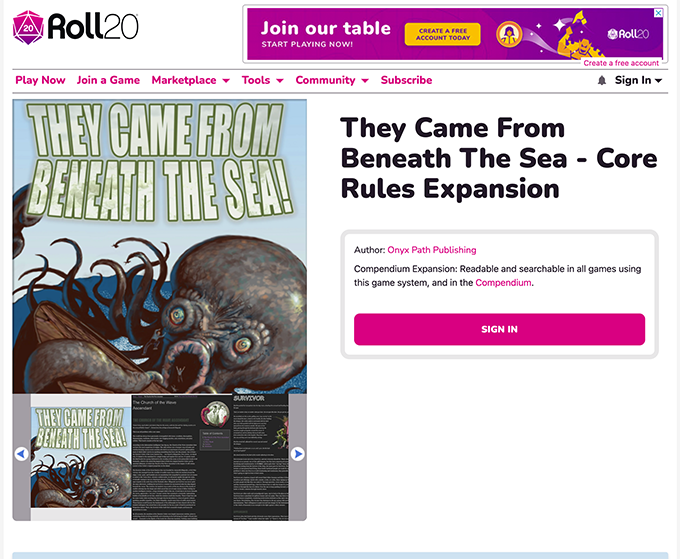 NEW!
They Came From Beneath the Sea! on Roll20 VTT!
https://marketplace.roll20.net/browse/bundle/22308/they-came-from-beneath-the-sea
Here are some more shots from the They Came From Beneath the Sea! Compendium!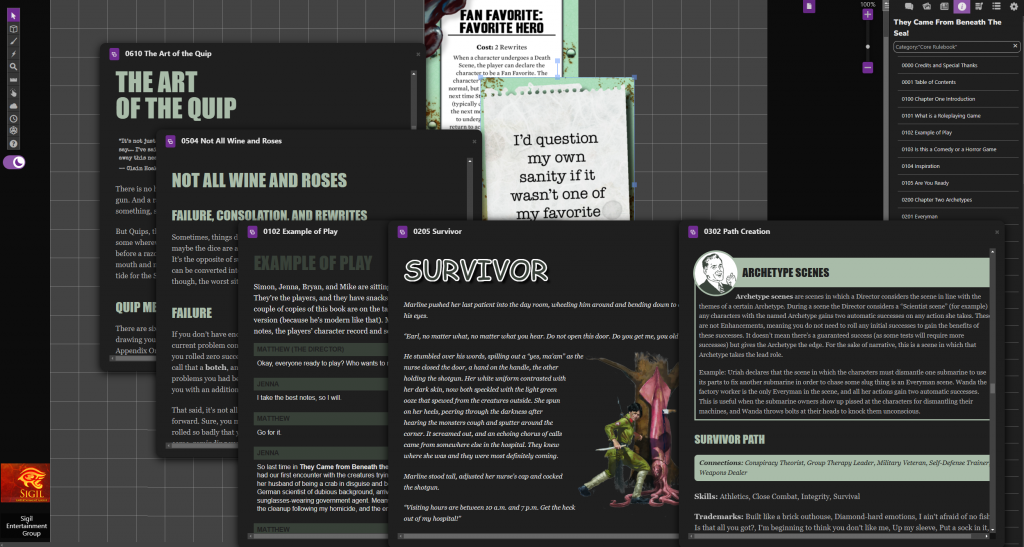 And there's also the Scion Jumpstart, all ready for Roll20 VTT fun!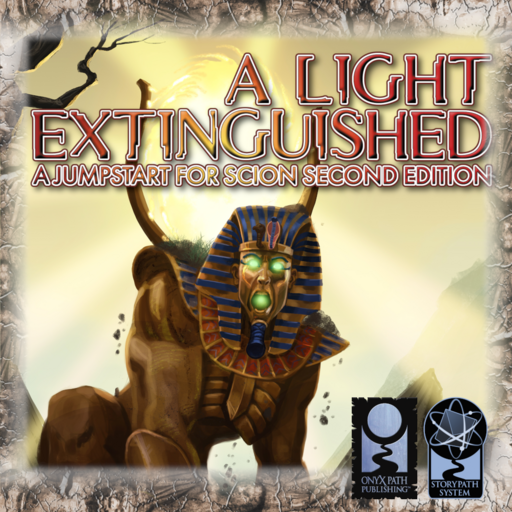 More news and links when we have them!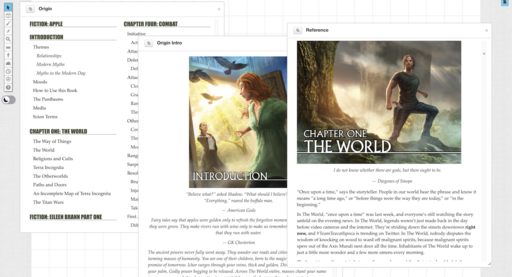 The Scion: Origin and Scion Hero Compendiums are now available on Roll20!

https://marketplace.roll20.net/browse/publisher/1716/onyx-path-publishing

Scion is just the start! They Came From Beneath the Sea! and other
Onyx Path RPGs are in development for Roll20 virtual tabletop!

The first of our official Scion sheets designed for Foundry VTT are
now available!

Direct Link: https://foundryvtt.co
Looking for more virtual tabletop resources? We have a selection of
Tokens, Encounters, and more available now at DriveThruRPG!

Get 'em here: https://bit.ly/3SnrNJ7
---
Our Sales Partners!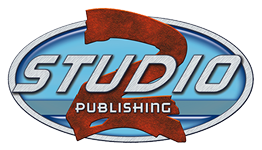 We're working with Studio2 to provide our traditionally printed books out into your local game stores. Game stores can order via their usual distributors, and can also contact Studio2 directly. And individuals can check out our projects via the links below!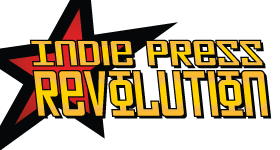 Looking for our Deluxe or Prestige Edition books, dice, and screens? Try this link! http://www.indiepressrevolution.com/xcart/Onyx-Path-Publishing/

As always, you can find Onyx Path's titles in PDF and PoD versions at DriveThruRPG.com!
DriveThruFiction NaNoWriMo includes Buried Bones:

https://www.drivethrufiction.com/sale.php?manufacturers_id=4261

Teach Your Kids to Game Week at DriveThruRPG starts today and will
have most of the Pugmire PDFs included.
Amazon and Barnes & Noble!
You can now read our fiction from the comfort and convenience of your Kindle (from Amazon) and Nook (from Barnes & Noble).

Check out Melody Through the Mirrorshade Lens and Facets of Truth, as well as Trinity Continuum: Terat and The Hollow Courts on Kindle in the Kindle store!
---
On Sale This Week!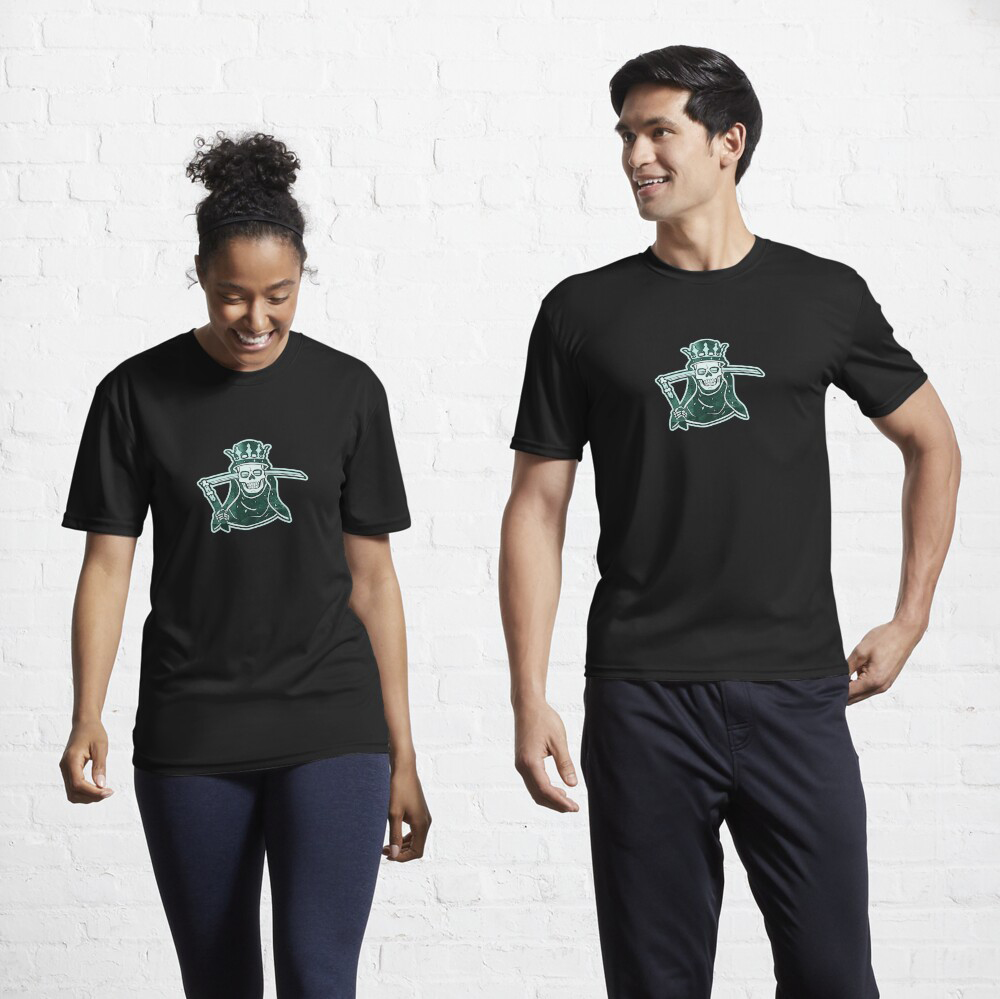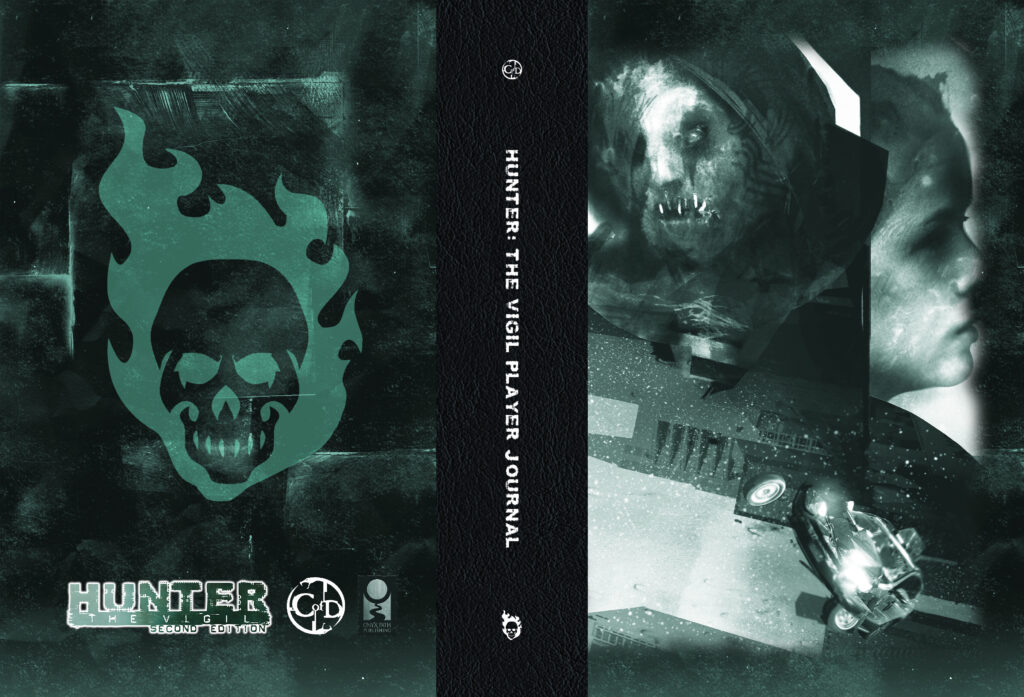 Take back the night with these Hunter: the Vigil 2e items going up on our RedBubble site this Weds! Six different shirt designs, six different journals! Wear your symbol proudly, and make sure to take lots of notes in your journal!
---
Conventions!
As we are slowly returning to attending conventions in person after avoiding them during the COVID-19 outbreak, keep an eye out here for more physical and virtual conventions we're going to be involved with!
We'll be part of the Studio 2 booth at PAX Unplugged (December 1st – 3rd):
https://unplugged.paxsite.com/
Matthew Dawkins is one of the guests at Illusion Horror Con, a virtual gaming convention taking place from 1 to 3 December this year! Matthew will be running They Came From! and The World Below, and there are lots of other games available to play besides them! We're also sponsoring this con and providing free PDFs as prizes for their competitions, so get involved!
If you want to sign up to play, head on over to Illusion Horror Con's website right here: https://www.theillusionhorrorcon.events/
Game Night With Onyx Path Publishing at StartPlaying will be the whole last weekend of November this month! Come play some of our games, especially Exalted! (But any of our game lines are welcome all weekend long!)
Please spread the word about GMing games as much as
possible. Details on how list a game are at the bottom of the page in
the FAQ:

https://startplaying.games/event/game-night-onyx-path
---
Project Status Updates!
Our full list of projects will be available monthly on our blog! Check out October's full list report here:
DEVELOPMENT STATUS FROM EDDY
Here are the projects that moved to the next stage of production:
Final Drafts
Realms of Pugmire – Threats and Curs (was Pugmire Monster Book)
Matthew: Hey! I'm not the overseer for Pugmire or Mau, but Eddy's out, so I'm going to provide my insightful commentary here to say "Woo! Final drafts! I bet there are going to be a lotta cats in this bad boy! Wee!"
Manuscript Approval
Earthbane – At the Gates
Danielle: After a long boss battle with at least three different phases, I've finally wrangled At the Gates into a passable form for approval.
Editing
Scion – Scion: God Player's Guide
Matthew: Hiromi and Michele have turned this one around nice and fast, so off to editing it goes!
---
ART DIRECTION FROM MIKE CHANEY!
In Art Direction
Ex3 Eight Directions – I have been told maps are progressing nicely. Very soon now!
Ex Essence Tomb of Memory (Jumpstart) – Should see sketches from Mel for the cover soon.
Ex3 Abyssals (KS) – All ready for IndieGoGo Thursday.
TC Aether – Contracted.
The World Below(KS) – Last day!
In Layout
Ex Essence Charm Cards – Now that all the fixes are in and I'm prepping the press files, I'll export out the Incopy docs for the Charms chapter.
Proofing
They Came From CLASSIFIED! – getting ready for final proof.
Indexing
At Press
TC Adventure – At the Port of Chicago – the Windy City!
TC Adventure Screen and Booklet
W20 Apocalyptic Record – Printing, expecting publisher copies soon.
W20 Apocalyptic Record Screen & Booklet
Exalted Essence – Corrections are in and I'm prepping press files…. kinda going back and forth with it and Anima.
Ex Essence Screen
M20 Lore of the Traditions – Got the press interior ready to go, just need to get #s so I can send in the production sheet and get a cover doc from the printer.
Ex3 Crucible of Legends VTT Tokens
Scion CC Guide
Ex Essence Novella 1 – PoD proofs ordered.
Ex Essence Novella 3 – PoD proofs ordered.
HtV 2 Jumpstart – With James going out to KS backers.
They Came From the Cyclops Cave! – Errata incorporation.
TC Anima – Prepping PoD files – and the press files… and doing xxs and stuff… will be uploaded by end of day Monday.
---
Today's Reason to Celebrate!
Happy Birthday to our friend and freelancer, the multi-talented Larry Blamire! Not only is he a wonderful artist and writer for our They Came from! games, but he is an indie filmmaker – starting in 2004 with The Lost Skeleton of Cadavra, and in 2005, he wrote and directed Trail of the Screaming Forehead. Though continuing the retro science fiction spoof theme, the film had a different look and feel, in widescreen and color, under the Ray Harryhausen Presents banner, with a title song composed by Blamire and sung by The Manhattan Transfer. Then in 2008, Larry made two films back-to-back; The Lost Skeleton Returns Again, a sequel to The Lost Skeleton of Cadavra, and Dark and Stormy Night, a stylistically authentic takeoff on 1930s "old dark house" movies. All of his films, many with the same actors, display Larry's unique sense of humor and dialogue and are a lot of fun!