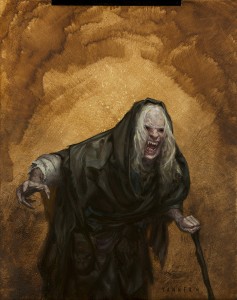 Our image this week is an amazing Nosferatu piece by the ever-talented Kieran Yanner from V20 Dark Ages that relates to a couple of the topics Eddy, the Onyx Path crew, and I discussed today.
But before I get into that, I just want to thank everybody who joined last week's blog discussion on RPG reviews. It pretty much lasted all week, and a very wide range of thoughts were expressed as to how folks heed and consume reviews. Stars, written paragraphs, forum threads, online video blogs; it seems that there's no single preferred method, but most of our community who wrote in do tend to check them out one way or the other. Which was pretty useful for us to know and plan for as another way that folks can get engaged in the projects we are publishing, particularly since for the most part a potential fan can't browse book/game stores looking for something of ours.
Magical Matt McElroy, representing for DriveThruRPG.com wanted me to share this link with any of you who think you could spare a little time to jot down a review of something of ours you purchased: http://rpg.drivethrustuff.com/account_orders_uncommented.php This link shows you which of the products you purchased from DTRPG you haven't yet commented on. If you can help us out with a review, even just rating with stars, although folks in the blog comments last week seemed to prefer the written out ones more, that would be really helpful in letting other folks know what we're doing right (or wrong, for that matter).
Today, we talked about the Deluxe V20 Dark Ages Kickstarter, as you might imagine, as it hurtles forward to become our fourth highest pledge total KS. We have an interesting list of additional Stretch Goals still waiting in the wings, and something that I've wanted to do for a while but couldn't quite figure out how to use in the Kickstarter format. But I think I've figured it out. I'll be giving the details in an Update on the KS, but the upshot is giving certain selected backers a chance to have their likenesses used for depicting the rest of the Clan signature characters in the full page pieces we haven't yet done. Sorry, the Nosferatu pictured above isn't one of them.
Also, here's V20 DA Developer David Hill in a fascinating interview with the Gentleman Gamer: http://youtu.be/4DPrwMbSxbM?a talking about his plans for V20 Dark Ages and other books like V20 Black Hand: Guide to the Tal'Mahe'Ra, Changeling: the Lost 2nd Edition, and nWoD's Hurt Locker.
Eddy and I went over how he and his team are approaching the fine line they are walking on Beckett's Jyhad Diary for V20 in terms of providing the info on what is happening in Vampire in 2014/2015. We are working at finding ways to create fascinating and rich stories for the setting while still trying to avoid overwriting folks' ongoing Chronicles (as we stringently held to in V20). A lot of the issue is getting everyone on the team comfortable with our specific definition of the dreaded "metaplot" as well as all of us being aware that no matter how we define it, the word has a great deal of baggage that we can't force to go away. That Nosferatu has left the catacombs.
Finally, I reiterated with the Onyx Path crew how important it is to me that Onyx's games be open for everyone for all walks of life. I mentioned this on the Pugmire blog this way: "Both WW and now Onyx Path have a proud history of telling stories about people for people, all people, even when some of the characters are monsters. Or dogs, in Pugmire's case." Similarly, I stressed how important it is for us to approach the way we talk to fans on all our social media with the idea that no matter what, we're all fans and let's remember to cut each other some slack. If for that fact only.
This week, Rose was feeling under the weather and had to take some time off, so we don't have her part of the Update- I'll edit this later in the week once she gets me the info she normally gathers up:
DEVELOPMENT STATUS FROM ROLLICKING ROSE (Projects in bold have changed listings)
First Draft (The first phase of a project that is about the work being done by writers, not dev prep)
Beast: the Primordial core book (Beast: The Primordial)
W20 Pentex Employee Indoctrination Handbook (Werewolf: the Apocalypse 20th Anniversary Edition)
Mage: the Awakening  2nd Edition, featuring the Fallen World Chronicle (Mage: the Awakening) – In Open Development
Fallen World Chronicle Fiction Anthology (Mage: the Awakening)
M20 How do you DO that? (Mage: the Ascension 20th Anniversary Edition)
M20 Book of Secrets (Mage: the Ascension 20th Anniversary Edition)
Cursed Necropolis: Rio (Mummy: the Curse)
Secrets of the Covenants (Vampire: The Requiem 2nd Edition) – In Open Development
Wraith: the Oblivion 20th Anniversary Edition
V20 Black Hand: Guide to the Tal'Mahe'Ra (Vampire: the Masquerade 20th Anniversary Edition) – In Open Development
W20 Novel by Mike Lee (Werewolf: the Apocalypse 20th Anniversary Edition)
Exalted 3rd Novel by Matt Forbeck (Exalted 3rd Edition)
W20 Shattered Dreams (Werewolf: the Apocalypse 20th Anniversary Edition)
W20 Changing Ways (Werewolf: the Apocalypse 20th Anniversary Edition)
Redlines
Mummy Fiction Anthology (Mummy: the Curse)
Exalted 3rd Fiction Anthology (Exalted 3rd Edition)
Arms of the Chosen (Exalted 3rd Edition)
Second Draft
Promethean: the Created 2nd Edition, featuring the Firestorm Chronicle (Promethean: the Created) – Playtesting
Development
Firestorm Chronicle Fiction Anthology (Promethean: the Created 2nd Edition)
V20 Red List (Vampire: the Masquerade 20th Anniversary Edition)
V20 Ghouls (Vampire: the Masquerade 20th Anniversary Edition)
World of Darkness Dark Eras- Vampire chapter (WoD Dark Eras)
Sothis Ascends (Mummy: the Curse)
V20 Lore of the Clans (Vampire: the Masquerade 20th Anniversary Edition)
Editing
Mage: the Ascension 20th Anniversary Edition core book (Mage: the Ascension 20th Anniversary Edition)
Werewolf: the Forsaken 2nd Edition, featuring the Idigam Chronicle (Werewolf: the Forsaken)
Exalted 3rd Edition core book- From Holden: "The book is in editing. Art is coming in thick and fast, being reviewed and revised. And the final piece of writing for the book is now in editing—a new short story by Jenna Moran". (Exalted 3rd Edition)
Development (post-editing)
World of Darkness Dark Eras core book (WoD Dark Eras)
Idigam Chronicle Fiction Anthology (Werewolf: the Forsaken)
ART DIRECTION FROM MIRTHFUL MIKE
White Howlers – PDF updated and PoD uploaded. Waiting on proofing the PoD.

Book of the Deceived – Got Luis' art in and approved. Trabbold should have his stuff in by end of the week and head shots should be in by end of week as well. Pinging one artist to see where his stuff is. Gonna put the cover for it together this week as I think I have an idea for the logo finally.
Book of the Wyrm 20 – Errata continues. Looking at screen proof

Tuesday

.
DAV20 –  

Tightening up layout as the bulk of the art is in. Probably going to take a day to give the clan and bloodlines sections some more love as well. 

Got one of my three stragglers halfs in, one of them should be done shortly, and the other is running into some difficulty due to not completely reading his email.
Anarchs Unbound –  At the printer. Looking at screen proofs

on Tuesday

.
T-Shirts – V20 shirts and vintage Bradstreet Vampire shirts are up. We're going to look at our RedBubble offerings more closely on Weds.
Art O' The Changin' Breeds –   Half way through the writing commentary for everything in the book.
Umbra – Most of the fulls are in. Gonna get the cover for that one done this week as well.
Ready Made Characters: Geist – Art in the works. Cathy is still pretty sure she can hit the deadline.
VTR II – Covers discussed.
Dark Eras and Second Editions – As the artists are wrapping up DA, Umbra, and various other projects I'd like to get them onto these before the holidays. Most artists won't take on that many pieces during the Thanksgiving and Xmas holidays and all three of those titles are big books that will require quite a bit of art.
WtF 2 – I know it's off to editing. Now I need artnotes so we can get that stuff rolling. Probably going to have to ask Aileen to help out as I'll be neck deep in M20 by the time that comes around.
Scarred Lands – pinging artist about cover stuff.
EX3- RichT here, once again tagging onto Mirthful Mike's report, to say that art director Maria Cabardo has assigned all the art from the first batch of 91 pieces and I am looking at sketches and sending them on to the Devs, and Maria has the second batch of art notes and is assigning those pieces. With this many illustrations in the book, it's a team effort.
REASON TO DRINK: Today is Onyx Path Office Manager Lisa's birthday!