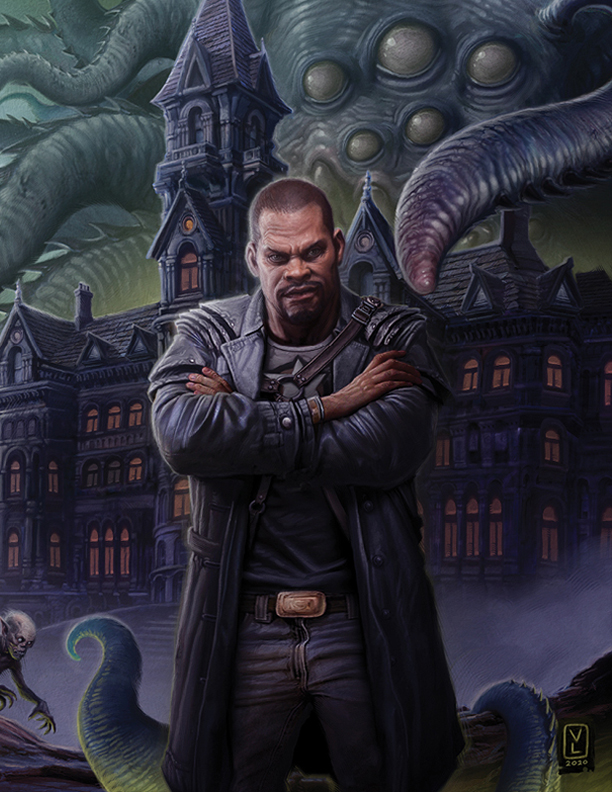 I didn't forget the title – that's a joke as we're in the week before we start a Kickstarter, see below, and that gives me a little time to touch on topics other than letting folks know about whichever KS we're running and how cool it is. And really, they are all cool for different reasons otherwise we wouldn't be running their Kickstarter, right?
With that in mind, I'm going to look at something that a bunch of folks have touched on in the comments sections of our social media, this blog, for our KSs, and with our recent Survey. What it boils down to is that some of our community are concerned when projects other than for their favorite game lines move faster through the creation process and out into stores and/or DTRPG.
There's a lot of ways this concern is expressed, and I'm going to try and cover them as best I can. Before I do, though, let me lay in the groundwork for how we do what we do.
First, we publish a bunch of game lines, as you know. Some we own, like the Storypath games ala Scion, for others we have a license to publish from another company, like WoD, CofD, and Exalted, all licensed from Paradox, and for a couple of game lines we have a different sort of license that's more of a partnership, like with Pugmire.
Next, each game line has an in-house developer who works with out-of-house developers, who hire the freelance writers who provide the text for the project. The devs make sure all that text makes sense when it is all combined into the book. Some writers write for multiple game lines, some devs also do writing for other devs, but generally any given project is unlikely to have the exact same creators as another, particularly if being written at the same time.
Most of our creators are not full-time freelancers; most have "real" jobs and do the writing for us when their day job allows. Equally often, if a creator is working full-time as a freelancer in TTRPGs, it is because they have a relationship with someone who is the main wage-earner in their household. There are a lot of reasons why we say that people work in TTRPGs because they love creating TTRPGs, not for fame or fortune.
The reason we have the in-house is primarily so somebody is pulling together the efforts of all these teams of creators and to a large degree that all comes down to scheduling who can work when, how is that work coming, and whether it will hit the deadline. If it's going to miss the deadline, then by how much and is there flexibility enough that that lateness won't wreck the project?
Remember, there are other stages after the writing is done that have the same challenges – editing, art direction, layout, proofing. If the writing runs late, when will the art director get art notes? Are the artists who were open to accept new work two weeks ago still open?
What if the notes were supposed to be in two months ago? Those artists need to take freelance gigs pretty much constantly, so our Art Directors are constantly juggling the need to get the best, most appropriate, artists for a project with which artists are actually available at the point they can be hired.
Like I said, same sort of challenges all through the process.
So, with all that background, let's look at some of the concerns.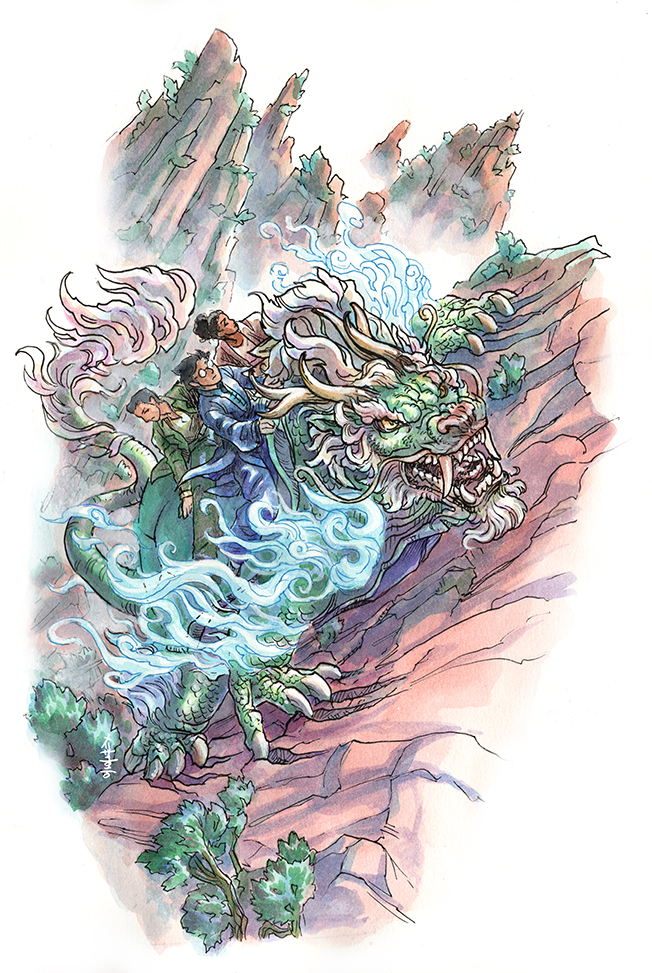 Question: Why is Project A sitting at one stage or advancing really slowly, while Project B advances from stage to stage every week? Is it because it's an Onyx Path owned game line and you're pushing your own and not my fave?
Answer: Well, only sort of. Obviously we would like the lines we own to do really well, but for us to deliberately hold back books that have large followings would mean that we are throwing away the whole reason to license a property in this first place. As fans, we want to do great work with that license, and as a business, we want to make great money because of the license's existing fans. Neither of those things is happening if we deliberately hold a project back.
Rather, if you go back to the background and the tetris game of trying to piece together all the schedules, we have more flexibility with one of our own game lines because we only have ourselves to satisfy. The decisions are all internal. The bigger the company we license from, the more people outside of Onyx Path need to sign off on approval stages, the more brand decisions are out of our hands, and the longer each stage is likely to take. This is the nature of licenses, and we know that going in.
(We DO have our own internal approvals, and sometimes they too take more time than we'd like. For sure.)
So what happens is that we are able to plan out the stages of our own projects with far more accuracy in terms of timing, and with the flexibility we have because of fewer external factors weighing in, we can move our own projects to take advantage of when a writer, or dev, or artist, etc. are open right now and get that stage of the project finished up.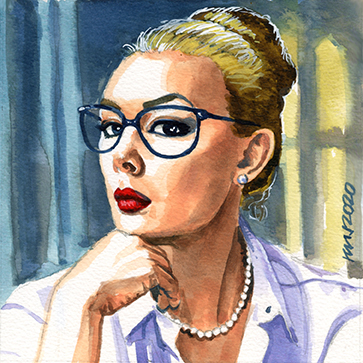 Question: Why is Project A sitting at one stage or advancing really slowly, while Project B advances from stage to stage every week? Is it because somebody "in-the-know" unfairly pushes Project B through?
Answer: Absolutely not. No individual is going to "grease the wheels", but as a group we may all put extra focus on a given project. All of our in-house team are well aware of which projects need pushing, and very often you can see that concerted effort as a long-delayed project starts moving because we discussed just what to do during the Monday Meeting.
Whether someone sees that effort as unfair is a personal thing, but rest assured that no one person can play the system to advance projects. Except in one way.
One creator can advance their project if they can coordinate with that project's other creators to deliver their work as originally scheduled, or even early. (Be still my heart!) Can they guarantee the art notes to the AD in time for the art to be ready when the text is done in editing? Can they burn through the proofing process so that we can get the Advance or Backer PDF out to you folks faster – without sacrificing quality? It's a tall order with all the moving parts I mentioned, but it can be done, and has.
And so, that's another reason why you might see a project move forward quickly – some people hitting on all cylinders. Which was a tough one to pull off with everything hammering all of us in 2020!
Question: Why is Project A sitting at one stage or advancing really slowly, while Project B advances from stage to stage every week? Is it because Onyx Path hates Project A's game line for some reason?
Answer: No. As an organization, we can't agree on almost anything. Which means that corporate "group-think" is really unlikely when we consider our options. (Our team speaks their minds – no matter how much I tell them not to!) So, all of us hating any of our games is just not possible. Every game line has champions in our in-house crew, and certainly among our many, many freelancers.
Thanks for letting me ramble on here with what I hope is a useful look behind the scenes of how we do our thing. Here now, the rest of the news: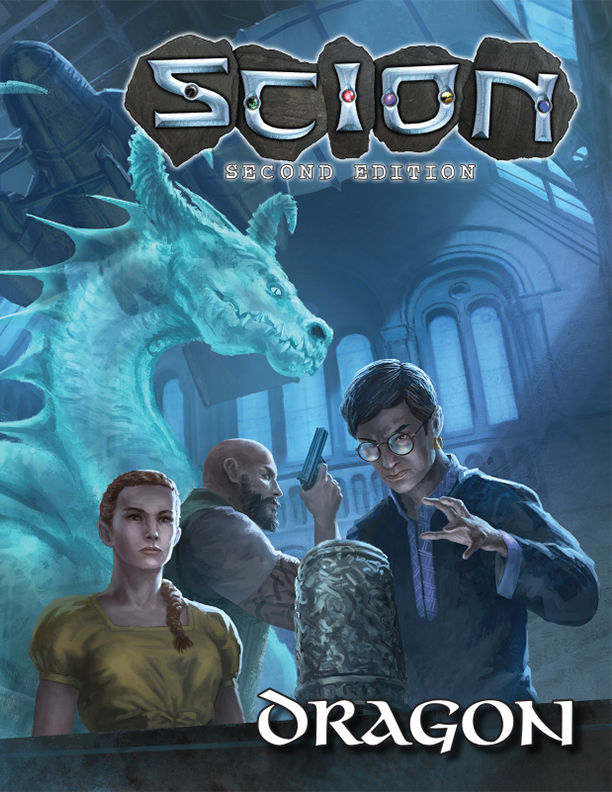 What Else Was Discussed at the Meeting Today?
Thanks so much for your support of the Jacky Cassada and Nicky Rea fundraiser Bundle of Holding to help Nicky pay the hospital costs and to cover their debts from Covid! So far, we've raised over $33,000 and we still have 13 days to go! Please do check it out here: https://bundleofholding.com/presents/Jackie
We are finalizing plans for our first Kickstarter in 2021, which is the dual KS for two fantastic ways to expand your Scion game: Scion: Dragon and Scion: Masks of the Mythos. We've scheduled it for 2pm on Tuesday the 19th! Hope to see you there!
We'll be putting the PDF and the PoD versions of V5 Cults of the Blood Gods up for sale on DTRPG this Wednesday! Now this PoD was not something we were able to include as part of its Kickstarter, which has some connection to the licensed projects thoughts I mentioned above, so we're excited to make this version available to everyone.
In fact, we will be sending a coupon for a discounted version of the PoD to our V5 Cults of the Blood Gods KS backers as a thank you for their support. Of course, the PDF or PoD versions aren't the real goal of the Cults KS, which was a traditionally printed book version that we'll also put into stores as we did with V5 Chicago By Night. That traditionally printed book is still coming folks – this PoD version does not replace it!
We set the date for the 2021 Onyx Path Summit for the first week in February – which, of course, we'll be attending virtually. So, that'll be new for all of us. We've always used the Summit to get together in-person once a year, but that's just not happening this year so we're going to make do as best we can.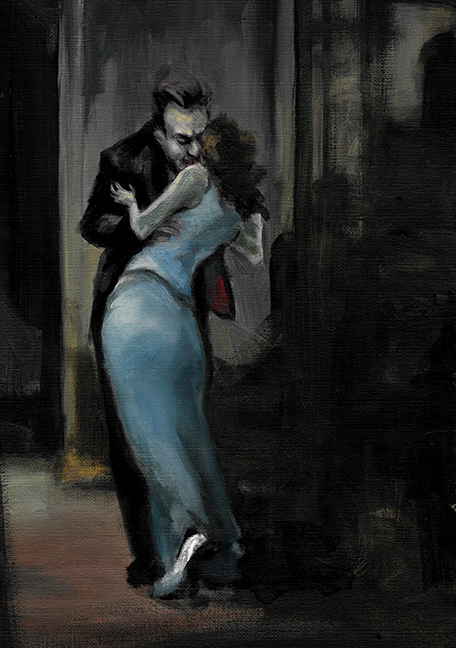 Finally, we've finalized plans for a new series of monthly releases that are pretty different than our previous ones for Exalted 3rd or for Scarred Lands. Each month of this year on the last Wednesday, we'll be presenting what we're calling Storypath Tasty Bits!
These are smaller PDF offerings for all of our Storypath game lines that will be items that we think will add to your enjoyment of those lines, but which we can't build up into full-sized projects.
There are literally dozens of these that have kind of nagged at us over the years, over all of our game lines: characters and their stats, small adventures that spun out of the work on larger projects, or even ideas inspired by a piece of art in a book that we never went further with as that book was already jam-packed with the things it needed.
The Storypath Tasty Bits are really going to be all a total variety of which games, what sort of subject matters they'll cover, and length of the release. The only standard things about them will be that they'll be offered on that last Wednesday of the month – and that they'll be amazing! If you have questions about or ideas for the Bits, please do throw them at me in the Comments section here – we'd love to hear from you!
That's it for this week! Thanks for reading and for enjoying our:
Many Worlds, One Path!
---
BLURBS!
---
Kickstarter!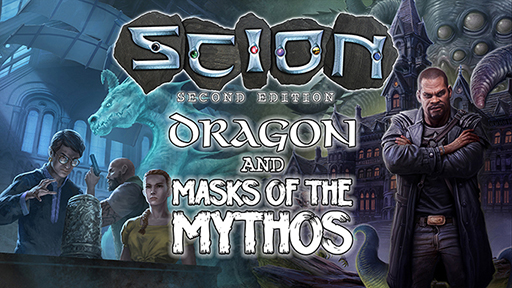 Our next Kickstarter will be Tuesday January 19th, 2021, at 2pm Eastern US time! It's a double feature for Scion: Dragon and Scion: Masks of the Mythos!
---
Onyx Path Media!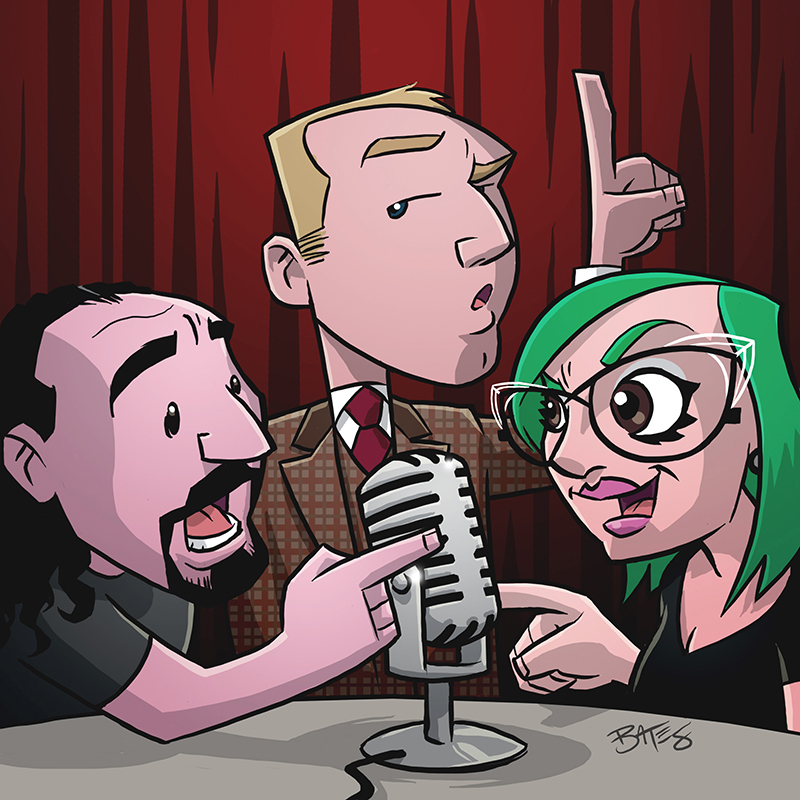 This week: A rollicking and in-depth retrospective of Cults of the Bloods Gods for V5 by Dixie, Matthew, and Eddy!
As always, this Friday's Onyx Pathcast will be on Podbean or your favorite podcast venue! https://onyxpathcast.podbean.com/
Big news for actual plays this week, as our good friends at Vorpal Tales start up their Masks of the Mythos game this week over on twitch.tv/theonyxpath! If you want a preview of that game, go over to our channel and follow (and subscribe!) to be notified when that stream goes live!
Let's continue with some of 2020's greatest hits on our YouTube channel!
Changeling: The Dreaming – Last Faerie Tale – Actual Play: https://youtu.be/3MViDZJcGxY
Exalted Essence Actual Play (Part Two): https://youtu.be/2uBDR07CiG4
Vampire: The Masquerade – Boston by Night – Actual Play: https://youtu.be/tkiUR2Om4lw
Changeling: The Dreaming – Gifted and Talented – Actual Play: https://youtu.be/PI1DOGqxKZs
Deviant: The Renegades – Actual Play: https://youtu.be/J3Uwo4VgtmU
For anyone new to our media section, you can find us running and playing games over on twitch.tv/theonyxpath pretty much every day of the week! Plus, if you'd like your games hosted there, just get in touch with Matthew Dawkins using the contact link on matthewdawkins.com.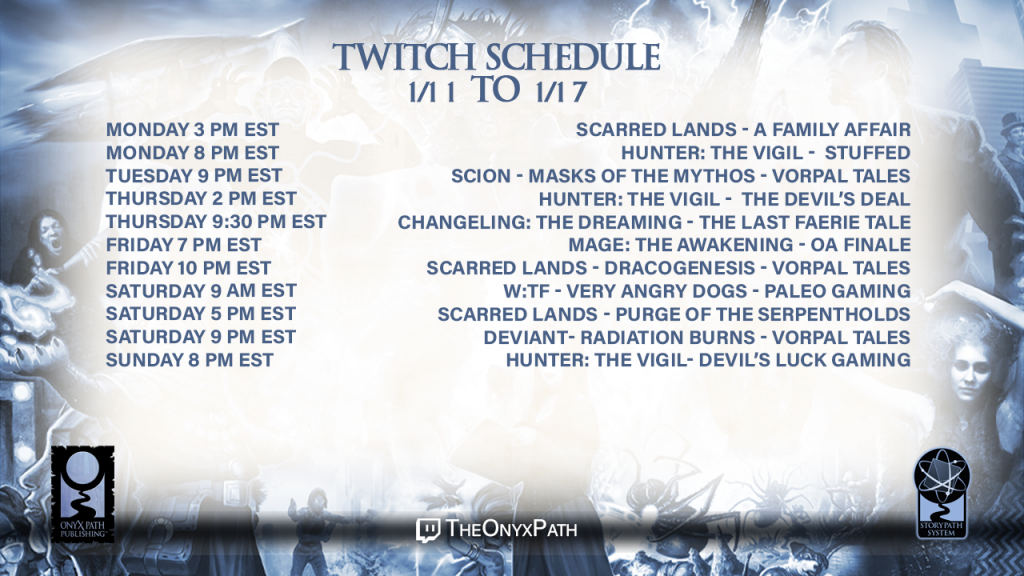 This week on Twitch, expect to see these games and streams running:
Scarred Lands – A Family Affair
Hunter: The Vigil – Stuffed
Scion – Masks of the Mythos – Vorpal Tales
Hunter: The Vigil – The Devil's Deal
Changeling: The Dreaming – The Last Faerie Tale
Mage: The Awakening – Occultists Anonymous FINALE
Scarred Lands – Dracogenesis – Vorpal Tales
Werewolf: The Forsaken – Very Angry Dogs – Paleo Gaming
Scarred Lands – Purge of the Serpentholds
Deviant: The Renegades – Radiation Burns – Vorpal Tales
Hunter: The Vigil – Devil's Luck Gaming
Get watching for some fantastic insight into how to run these wonderful games and subscribe to us on Twitch, over at twitch.tv/theonyxpath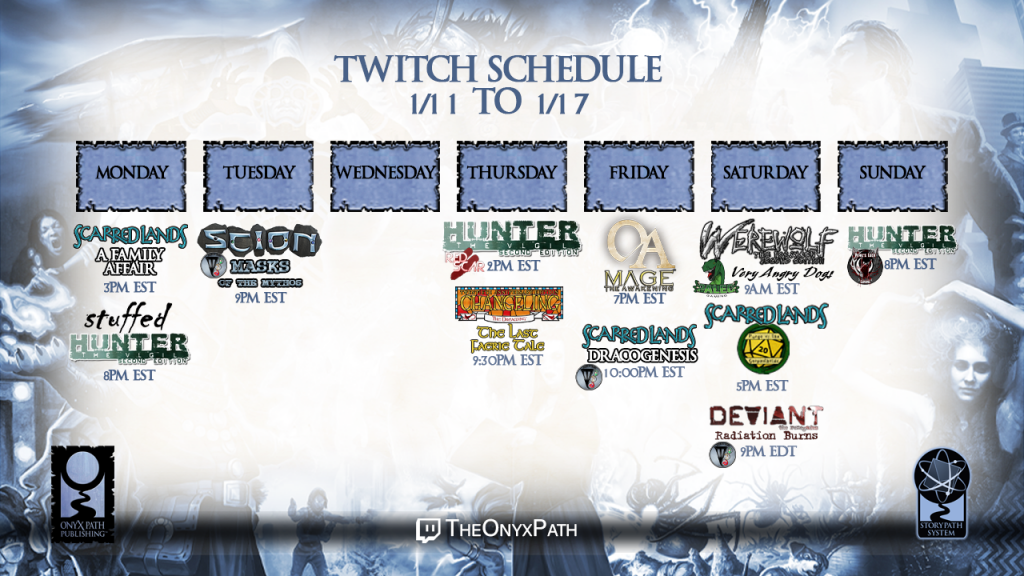 Come take a look at our YouTube channel, youtube.com/user/theonyxpath, where you can find a whole load of videos of actual plays, dissections of our games, and more, including:
Changeling: The Dreaming – The Last Faerie Tale – E29 – https://youtu.be/FdIA0YrSrGg
Scarred Lands – Purge of the Serpentholds – S2E2 – https://youtu.be/FI-5l-QfpFg
Ghost Hunters – Chimera House – E3 – https://youtu.be/mqVORDdsb0M
NEW Changeling: The Lost Actual Play – E1/2 – https://youtu.be/yaAhGold9kc
Hunter: The Vigil – Stuffed – E1 – https://youtu.be/NbBKv57qI3Y
Subscribe to our channel and click the bell icon if you want to be notified whenever new news videos and uploads come online!
Wards & Witchcraft continue their stunning Mage: The Awakening actual play over on their YouTube channel:
Episode Six
The cabal gets up to late night antics as they each quest for a suitable bed. After a fitful sleep the party is transported to Salem center where they go on a shopping spree. What is the ominous shadow that lays over this occult center and will the witches unveil it catches them in its teeth?
https://youtu.be/BNSqg0YVeoM
Over on Red Moon Roleplaying, Matthew Dawkins and Klara Herbøl conclude their Dead Man's Rust campaign with Craig and Hjalmar of RMR! This game has been a huge amount of fun to play. Check out episode four right here (https://youtu.be/rWPqbrUAkrA) and give them a subscribe.
Systematic Understanding of Everything is a fantastic Exalted Explainer Podcast by Exalted Dev Monica Speca and Exalted Writer Chazz Kellner. You should check it out, because it remains among the best Exalted shows out there.
Their most recent episodes are available over on https://www.exaltcast.com/, with their newest the following:
Want a system for how to use dance to get someone to elope? How about a speech to start a religion or a song that gets bakers to riot? Exalted has you covered! Chazz and Monica explain social systems then we use them to save Prismatic Falls, for now.
https://www.exaltcast.com/2021/01/11/unbound-social-mastery-social-systems/
Our very own Chris Allen continues his wonderful chronicle of Werewolf: The Forsaken over on the Paleo Gaming Twitch channel! Please add a follow to their stream and give them your support: https://www.twitch.tv/paleo_gaming
Occultists Anonymous continue their wonderful Mage: The Awakening chronicle right here:
Episode 155: Moving Pawns
The cabal speaks with Elder Uncle, a mage from a Nameless Order. Seer mages pay a visit to the Rookery. There may be up to 5 archmages involved… What has the cabal gotten entangled in?
https://youtu.be/ke3sR5_S8c4
Episode 156: Castling
With a potential loophole discovered in the rules and strictures of the Council, the cabal journeys with Elder Uncle and Taylor to the Seat of Judgement, in search for the place where the Grimoire Lock can be opened. Whether it should be, is another question entirely.
https://youtu.be/Dr9Jv9UI6qQ
Back to Exalted, and the Story Told Podcast continue their Fall of Jiara Dragon-Blooded chronicle right here:https://thestorytold.libsyn.com/fall-of-jiara-34
After the party, the Dragon-Blooded reconvene to compare notes and learn what Tepet Sanzo uncovered during his infiltration.
Please check these out and let us know if you find or produce any actual plays of our games! We'd love to feature you!
---
Electronic Gaming!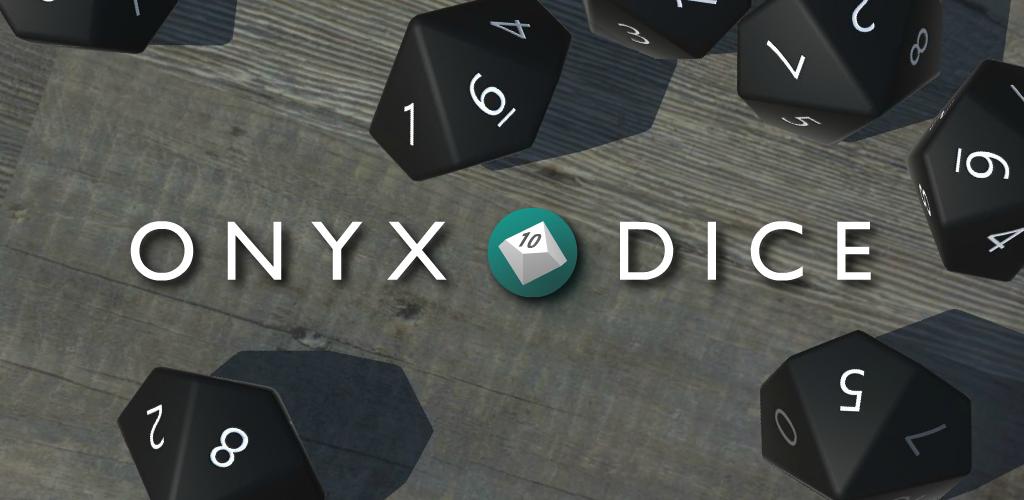 As we find ways to enable our community to more easily play our games, the Onyx Dice Rolling App is live! Our dev team has been doing updates since we launched based on the excellent use-case comments by our community, and this thing is awesome! (Seriously, you need to roll 100 dice for Exalted? This app has you covered.)
We're told that the App Dev is currently creating an updated version for the latest devices, so keep an eye open for those! The App was also pulled down from the Apple store in order to make some required updates – it'll be back there soon!
---
Virtual TableTop!
Two Virtual Tabletop adventures: the Gauntlet of Spiragos and the Dagger of Spiragos for Scarred Lands on Astral TableTop and DriveThruRPG!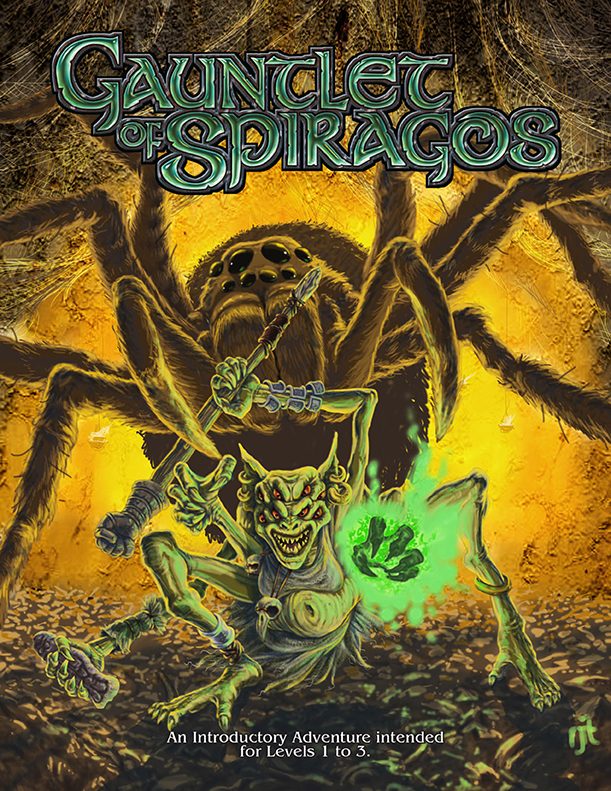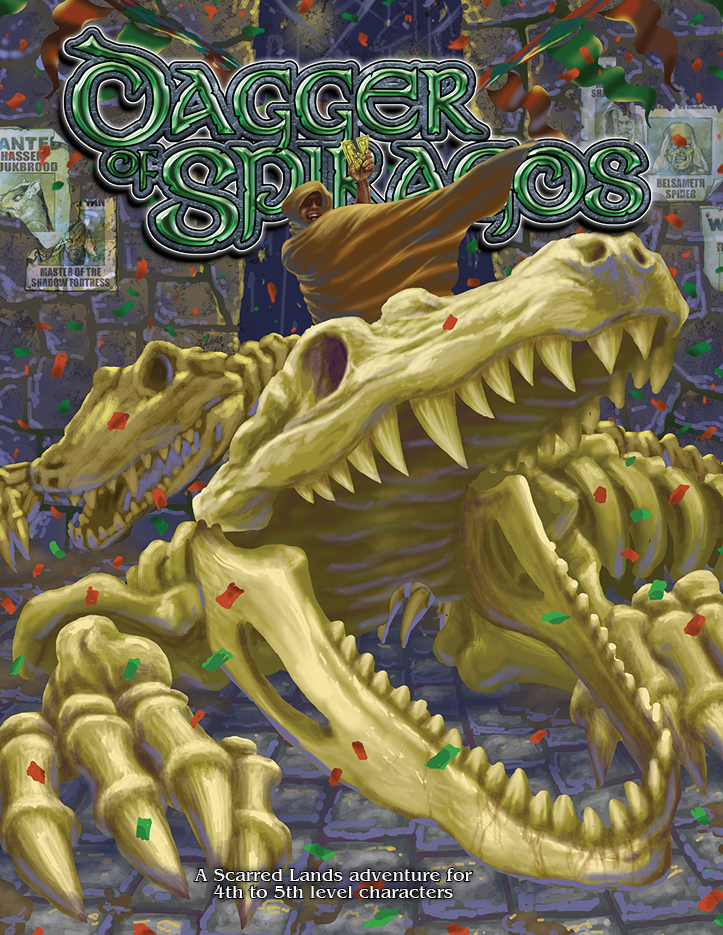 Scars of the Divine War, which ended less than 200 years ago, have still not healed. One such scar is the Chasm of Flies, a rent in the earth created when the titan Spiragos the Ambusher was smote down by one of the young gods, Vangal the Ravager. Now, the Chasm is inhabited by spider-eye goblins and their spider allies, but it is also thought to be the resting place of powerful artifacts from that elder age.
Astral TableTop is the easiest way to play any tabletop RPG online, free. Astral already supports popular systems like D&D and Pathfinder, and Astral can support virtually any tabletop roleplaying game. Get started quickly with built-in support for most popular game systems. Whether you're brand new to TTRPGs or a veteran tabletop gamer, Astral's ease-of-use and built in automation is designed to streamline gameplay.
Astral is browser-based and uses the latest technology to streamline your storytelling experience. Connect with your party online and run your campaigns however you like. Astral offers tools optimized for phone, tablet, and desktop devices, no installation required.
Build epic battlemaps using Astral's enormous collection of scenery, props, and tokens or upload your own. Pro users gain access to over 12,000+ assets and fresh new packs every month. Add weather, visual effects, triggers, and so much more with easy-to-use tools
Build your own adventure, or choose from pre-generated game kits like Gauntlet of Spiragos and Dagger of Spiragos. Create character sheets, craft maps, or just jump right in to connect with your friends and start your adventures!
---
On Amazon and Barnes & Noble!
You can now read our fiction from the comfort and convenience of your Kindle (from Amazon) and Nook (from Barnes & Noble).
If you enjoy these or any other of our books, please help us by writing reviews on the site of the sales venue from which you bought it. Reviews really, really help us get folks interested in our amazing fiction!
Our selection includes these latest fiction books:

---
Our Sales Partners!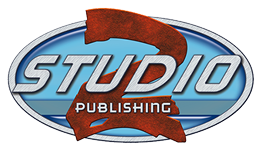 We're working with Studio2 to provide our traditionally printed books out into your local game stores. Game stores can order via their usual distributors, and can also contact Studio2 directly. And individuals can check out our projects via the links below!
You can pick up the traditionally printed Pugmire and Monarchies of Mau main books, screens, and the official dice through our friends there! https://studio2publishing.com/search?q=pugmire
Now, we've added Chronicles of Darkness books such as Changeling: The Lost Second Edition products to Studio2's store! See them here: https://studio2publishing.com/collections/all-products/changeling-the-lost
Scion 2e books and other products are available now at Studio2: https://studio2publishing.com/blogs/new-releases/scion-second-edition-book-one-origin-now-available-at-your-local-retailer-or-online
Our Vampire: The Masquerade 5th Edition books are also available from Studio2 in the US: https://studio2publishing.com/products/vampire-the-masquerade-chicago-by-night-sourcebook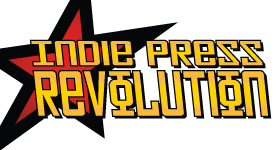 Looking for our Deluxe or Prestige Edition books? Try this link! http://www.indiepressrevolution.com/xcart/Onyx-Path-Publishing/
And you can order Pugmire, Monarchies of Mau, Cavaliers of Mars, and Changeling: The Lost 2e at the same link! And now Scion Origin and Scion Hero and Trinity Continuum Core and Trinity Continuum: Aeon are available to order

As always, you can find Onyx Path's titles at DriveThruRPG.com!
The next big sale at DTRPG is the New Year, New Game Sale with core books, player guides and jumpstarts included. Plus a big Scarred Lands bundle focused on the VTT elements.
https://www.drivethrurpg.com/rpg_newyear.php?manufacturers_id=4261
---
On Sale This Week!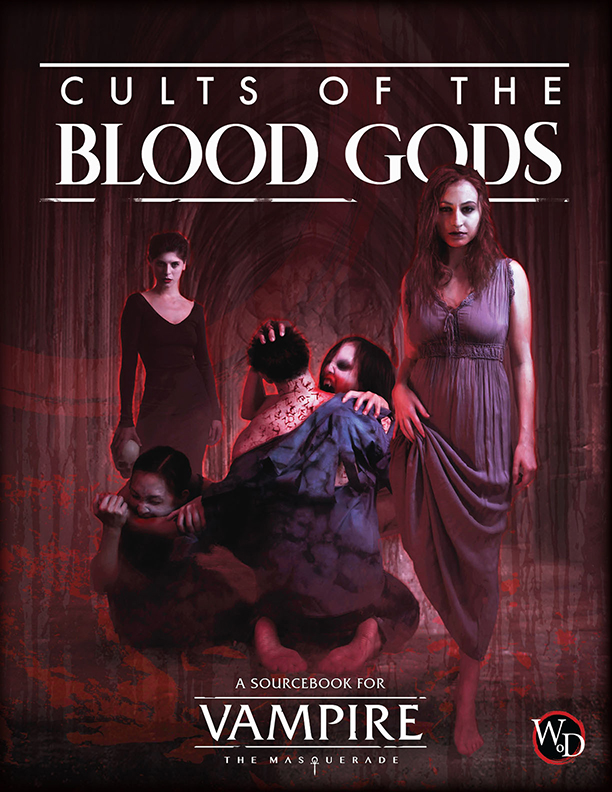 This Wednesday we rip aside the crypt door to reveal the PDF and PoD versions of V5 Cults of the Blood Gods on DTRPG!
Cults of the Blood Gods includes:
An in-character breakdown of the rise of esoteric beliefs among the ranks of the undead and how faith drives many of the major aspects of vampire culture.
A host of religions — from historic theocracies and globe-spanning conspiracies to fringe cults and mortal beliefs arising in the modern nights — introduced for incorporation into your character backgrounds or as supporting casts and antagonist groups in your chronicles.
The history, structure, and ambitions of the Hecata, the vampire group known as the Clan of Death, as well as a chapter dedicated to playing a vampire among the Necromancers, and the rituals for their signature Discipline: Oblivion.
Guidance on how to use ecclesiastical horror and construct cults in Vampire, making them a vivid backdrop for your own stories, including new coterie styles focused on cult play.
Faith-based story hooks and a full chronicle centered on the activities of the Hecata, involving walking corpses, ghosts, ready-made characters, and the secrets of the most twisted family in the World of Darkness.
New Loresheets, Backgrounds, and Predator types for inclusion in your chronicles, encouraging player characters to engage fully with the material presented in this book.
---
Conventions!
Though dates for physical conventions are subject to change due to the current COVID-19 outbreak, here's what's left of our current list of upcoming conventions (and really, we're just waiting for this last one to be cancelled even though it's Nov/Dec). Instead, keep an eye out here for more virtual conventions we're going to be involved with!
Gehenna Gaming is planning a second Virtual Horror Convention in mid-February and Onyx Path will be there and sponsoring sessions! From Gehenna Gaming:
"Virtual Horror Con is back for the second year in a row with three more days of online tabletop RPG, panels, industry workshops and TTRPG actual play streams! Virtual Horror Con 2021 returns February 19-21. VirtualHorrorCon.com"
---
And now, the new project status updates!
Development Status from Eddy Webb! (Projects in bold have changed status since last week.):
First Draft (The first phase of a project that is about the work being done by writers, not dev prep.)
Exalted Essay Collection (Exalted)
No Gods, No Masters (Scion 2nd Edition)
TC: Aeon Novella: Dawn (Trinity Continuum: Aeon)
Once and Future (Scion 2nd Edition)
Tome of the Pentacle (Mage: the Awakening 2e)
Realms of Magic and Mystery (was Terra Incognita) (Scion 2nd Edition)
The Hedge (Changeling: The Lost 2nd Edition)
Redlines
Dragon-Blooded Novella #2 (Exalted 3rd Edition)
They Came From Beneath the Sea! Jumpstart (They Came From…!)
They Came From [Classified]! (They Came From…!)
They Came From [Classified]! Jumpstart (They Came From…!)
Second Draft
Wild Hunt (Scion 2nd Edition)
TC: Aeon Novella: Meridian (Trinity Continuum: Aeon)
Tales of Depravity! (They Came From…!)
Proteus Nova Compendium (Trinity Continuum: Aberrant)
Annie X (Tasty Bit) (Scion 2nd Edition)
Development
TC: Aberrant Reference Screen (Trinity Continuum: Aberrant)
Contagion Chronicle: Global Outbreaks (Chronicles of Darkness)
Exigents (Exalted 3rd Edition)
Kith and Kin (Changeling: The Lost 2e)
Adversaries of the Righteous (Exalted 3rd Edition)
Saints and Monsters (Scion 2nd Edition)
Trinity Continuum: Anima
Many-Faced Strangers – Lunars Companion (Exalted 3rd Edition)
Monsters From the Crypt! (They Came From…!)
They Came From Camp Murder Lake! (They Came From…!)
Manuscript Approval
Crucible of Legends (Exalted 3rd Edition)
Trinity Continuum: Adventure! core (Trinity Continuum: Adventure!)
Assassins (Trinity Continuum Core)
Exalted Essence Edition (Exalted 3rd Edition)
Post-Approval Development
Contagion Chronicle Ready-Made Characters (Chronicles of Darkness)
The Devoted Companion (Deviant: The Renegades)
Across the Eight Directions (Exalted 3rd Edition)
Editing
Lunars Novella (Rosenberg) (Exalted 3rd Edition)
Mummy: The Curse 2nd Edition core rulebook (Mummy: The Curse 2nd Edition)
The Book of Lasting Death (Mummy: The Curse 2e)
Dearly Bleak – Novella (Deviant: The Renegades)
N!ternational Wrestling Entertainment (Trinity Continuum: Aberrant)
Under Alien Skies (Trinity Continuum: Aeon)
Dead Man's Rust (Scarred Lands)
V5 Trails of Ash and Bone (Vampire: The Masquerade 5th Edition)
M20 Victorian Mage (Mage: the Ascension 20th Anniversary Edition)
Mission Statements (Trinity Continuum: Aeon)
The Clades Companion (Deviant: The Renegades)
V5 Children of the Blood (was The Faithful Undead) (Vampire: The Masquerade 5th Edition)
M20 Technocracy Operative's Dossier (Mage: The Ascension 20th Anniversary)
Yugman's Appendix: People of Ghelspad (Scarred Lands)
V5 Forbidden Religions (Vampire: The Masquerade 5th Edition)
CtL2e Novella Collection: Hollow Courts (Changeling: The Lost 2e)
Heroes in a World of Horror! (They Came From…!)
Dystopia Rising: Evolution Fiction Anthology (Dystopia Rising: Evolution)
Squeaks In The Deep (Realms of Pugmire)
Prometheus Unbound (was Psi Orders) (Trinity Continuum: Aeon)
Legacies of Earth (Legendlore)
Hundred Devil's Night Parade (Exalted 3rd Edition)
Novas Worldwide (Trinity Continuum: Aberrant)
Scion Fiction Anthology (Scion 2nd Edition)
M20 Rich Bastard's Guide To Magick (Mage: The Ascension 20th Anniversary)
They Came From Beyond the Grave! Jumpstart (They Came From…!)
Post-Editing Development
Hunter: The Vigil 2e core (Hunter: The Vigil 2nd Edition)
Deviant: The Renegades (Deviant: The Renegades)
Legendlore core book (Legendlore)
Masks of the Mythos (Scion 2nd Edition)
They Came From Beyond the Grave! (They Came From!)
Scion: Demigod (Scion 2nd Edition)
Scion: Dragon (Scion 2nd Edition)
Player's Guide to the Contagion Chronicle (Chronicles of Darkness)
Indexing
---
Art Direction from Mike Chaney!
In Art Direction
WoD Ghost Hunters (KS)
Hunter: The Vigil 2e – Art buy in progress – tweaking last of notes.
Legendlore
Scion: Dragon (KS) – Ready for the KS.
Masks of the Mythos (KS) – Ready for the KS.
Scion: Demigod – Art buy in progress.
They Came From Beyond the Grave!
TC: Adventure! (KS) – Contracting KS artwork.
Contagion Chronicle Jumpstart (Chronicles of Darkness) – LeBlanc is on it.
M20 Victorian (KS) – Splats in. Fulls in.
TC: Under Alien Skies – Most final art in – chasing down stragglers.
Heirs to the Shogunate – Sketches notes from Dev back to artists.
Dead Man's Rust
Children of the Blood – AD'd.
M20 Technocracy Jumpstart – Art in progress.
Exalted Essence (KS)
V5 Trail of Ash and Bone – Sending out remaining art notes.
V5 Forbidden Religions
TC Mission Statements – Artnotes in.
TC Aberrant N!We
M20 Technocracy Dossier/Companion
M20 Rich Bastards Guide
Hundred Devils Night Parade
Squeaks In The Deep (KS) – Meredith ADing this.
In Layout
Vigil Watch
M20 Technocracy Reloaded
Monsters of the Deep – Given to Josh.
Mummy 2
TC Aberrant Jumpstart
Peoples of the Crossroads Continent
LARP Rules (Scion 2nd Edition)
Proofing
Yugman's Guide Support Decks (Scarred Lands)
Aberrant – Wrapping up prepping PoD and trad print files.
Geist: One Foot In the Grave
Deviant – Backer PDF errata gathering.
Yugman's Guide to Ghelspad Compiled – Cover in, getting the book ready for compiled PDF.
TC: Aberrant Screen
At Press
Contagion Chronicle – KS fulfillment shipping finishing up.
Lunars Wall Scroll Map – At KS fulfiller. Shipping started soon.
Lunars Screen and Booklet – At KS fulfiller. Shipping started soon.
Lunars: Fangs at the Gate – At KS fulfiller. Shipping started soon. PDF and PoD on sale at DTRPG.
V5 Cults of the Blood Gods – Prepping for press. Final PDF and PoD versions go live on Wednesday.
Esoterica of Mars: City of the Towered Tombs – PoD ordered.
Tales of Aquatic Terror – PoD files uploaded.
---
Today's Reason to Celebrate!
A week or so ago, we got the word that our stock of traditionally printed Pugmire core books has almost sold out, so we're going to reprint it – again! This makes it the third printing for Pugmire, the most of any of our books so far! Woot! Or should I say: Woof!