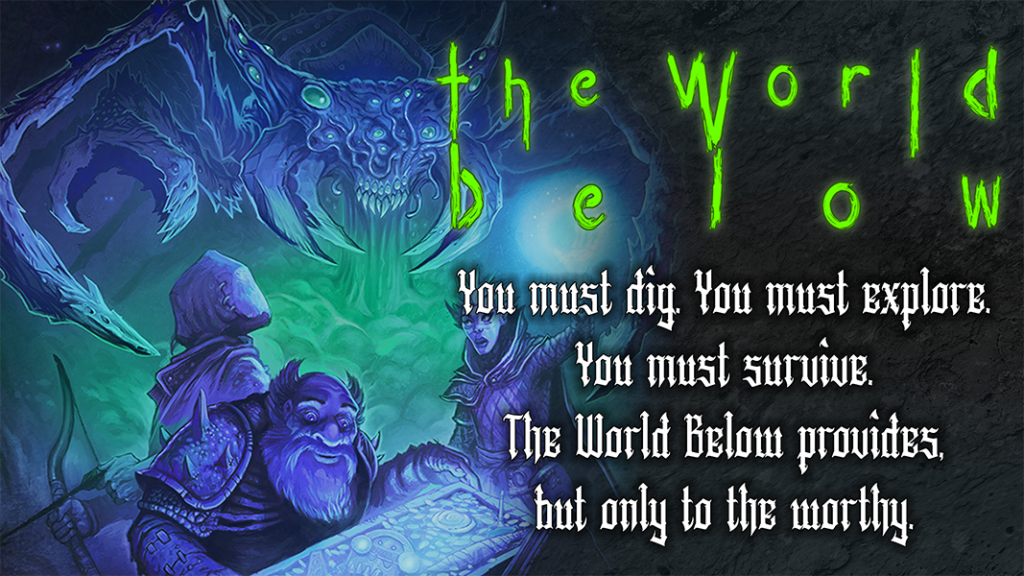 Grab your rope, picks, and shovels. Pack your slug sandwiches and stone soup. Commune with your spores, pray over your holy symbol, consult your charts and maps. Let us delve!
The World Below Provides.
We go live with The World Below Crowdfunding on BackerKit tomorrow, Tuesday the 17th, at 2 pm Eastern US time! As usual, backers of any kind will receive sections of the text throughout the campaign so that by the time it is almost over, they can read through 99%ish of the text and really get a feel for how the world and rules work.
Which is important, since the setting for The World Below is a brand new fantasy-genre game world, and the rules are the first time folks are seeing the Storypath Ultra System rules set into a game world. That's a lot of firsts!
Plus! With this crowdfunding campaign, we are offering the traditionally printed book and Screen that will go into stores, but also a Deluxe edition of the book! Which is not unusual for us, but, BUT, we are also offering a very special 10-sided dice set in a lovely dice-bag, a dice-rolling tray, a very cool pendant and a sweet pin featuring The World Below Provides graphic, all together with an "authentic" TWB messenger bag also featuring that The World Below Provides graphic to hold all of your unearthed booty!
We think that's a lot of cool stuff, and we're really looking forward to hearing what you think!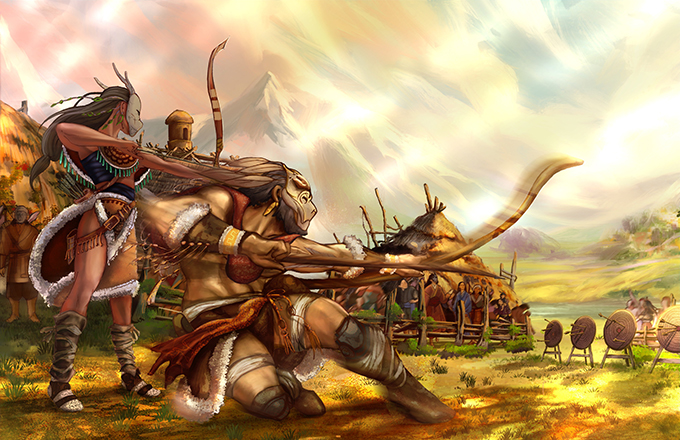 Meanwhile, and all during the campaign, there are lots of ways to get info about The World Below even faster, starting with many interviews of Mr. Matthew Dawkins, The Gentleman Gamer, the creator and lead developer of the game! It's all the Dawkins you can shake a stick at, and we have links to them down below in our Media section in The Blurbs!
In fact, here's Mr. Dawkins himself:
This new game is a big deal for me. I don't think I've ever been more proud of a writing team, or indeed a team of artists, than on The World Below. Our ambition was to create a game that utilised Storypath Ultra to its fullest (I believe we did), that evoked OSR lethality (I believe it does), that contained a believably deep and rich setting (I think it's there), and provided such a heavy array of antagonists and environmental hazards that no game would be the same (we definitely hit this one).

One thing I've not spoken about much is the sorcery of The World Below. These Kaotic powers (with their possible Kaotic Retaliations) are a cornerstone of the game, as everyone has access to them, and just using them can send a story into an entirely unexpected direction. The two authors of the Sorceries were Travis Legge and Leath Sheales, and as I suppose I realised on today's Onyx Path News, this was Leath's final assignment before his passing, and one Travis and I met with him to discuss the day before he died. It's very odd to think of what your last RPG might be, but to avoid being morbid, I think it's worth saying this: Leath was very happy with his work on The World Below, and both Travis and myself were wowed by what he came up with. I honestly can't wait for other people to read it, play with it, and let us know their thoughts.

Speaking of which, a whole group of players who playtested The World Below have done that very thing!

"The World Below blends OSR lethality and classic fantasy with the narrative strength of a World of Darkness game." – Mattiaz Fredriksson, Red Moon Roleplaying

"In a sea of games where magic is limited by the writer's imagination, The World Below is a breath of fresh air with a kaotic system that is only limited by /yours/." – Vee Locke, Queen's Court Games

"Characters crafted in The World Below benefit from your dreams of what they could be. Guardrails be damned, there's real adventures to be had here." – Mike Diamond, The Old Ways Podcast

"The World Below scratches an itch I didn't know I had. Horror and fantasy has been a long loved genre of mine since the early days of Changeling: The Dreaming. It's exciting to see a game that dives into the fantasy part of that and moves away from the urban tropes. While games like that certainly exist few do that combine the marriage of mechanics and narrative quite the way Onyx Path have managed to do!" – Logan Rollins, The Story Told Podcast

"The World Below is one of the most unique game settings I have read. Its dangerous world is filled with subterranean exploration fuelled and inspired by OSR titles, wrapped in the horror-filled, storytelling writing I love about Onyx Path." – Jack LeBreton, Lore by Night

"Guys! This sounds like a really cool game! It's just dripping with flavor!" – Claire Stricklin, A Bunch of Gamers

I hope this game finds its audience and they love it as much as we loved working on it. We had an incredible team and every part of it, from the Hunter Calling to the settlement of Telver's Hearth; from the Pet Rock Synthesis to the Swarm Form Sorcery; from the Abyssal weapon tag to the gaseous Miasymill; from the exceptional Kalm season to the ravages of Kaotic Retaliations – I'm proud of it all. Please check it out and give us your thoughts!
A bunch of these quotes are from folks who have actually played The World Below, and you can catch their actual Actual Play recording all over YouTube (a bunch are on our channel), and on their homes sets. We'll provides more links to those on the TWB campaign page on BackerKit.
For those folks who want an audio experience, we now have the first week of the Onyx Pathcast AP up on our Podbean channel (and wherever your favorite podcasts are found), with part 2 arriving Friday. So if you're driving, that's a great time to check out the exciting and funny antics of your favorite Pathcasters as they explore The World Below!
C'mon! Let's DELVE into The World Below!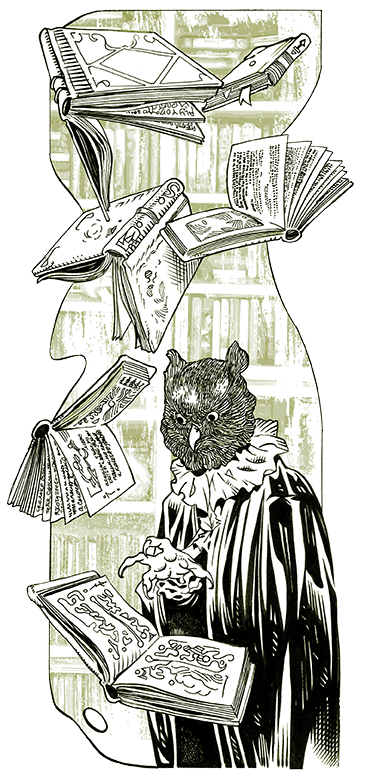 WE DOING ANYTHING ELSE?
Well yeah, but our heads are stuffed with crystals and gems and spores and insect eggs and Kaos rocks! But I'll try and peel off a few other things:
First: Thanks, Dixie, for pulling together the MMN Blog last week!
Next: lots of sales are coming up and going on this time of the years, so here's a few we're involved in:
The Bundle of Holding Scarred Lands deal has one week left.
The Starter Collection includes 9 titles: Scarred Lands Player's Guide 5E, the 5E Scarred Lands DM Screen and Creature Collection, Yugman's Guide to Ghelspad character expansion, The Wise & the Wicked, and the Spiragos Trilogy: Gauntlet of Spiragos, Dagger of Spiragos, and Ring of Spiragos.
If you pay more than $31 you also get a Bonus Collection on top of the Starter Collection. The Bonus collection includes 17 more titles, a mix of 5e and classic 3e supplements.
https://bundleofholding.com/presents/Scarred5E
Halfoween is back at Indie Press Revolution. A mix of World of Darkness, Chronicles of Darkness, and Storypath traditionally printed books and screens are 50% Off:
https://www.indiepressrevolution.com/xcart/Deals-and-Specials/
And, sometime this week, DTRPG's Halloween Sale starts. Several of our core books, anthologies, and a few adventures will be on sale on DriveThruRPG, DriveThruFiction, and Storytellers Vault.
GameHole Con in Wisconsin starts this week and runs over the weekend! We'll have an actual physical booth – #14 – and would love to see you if you're in the area! Several of our creators will be there; some, like the indefatigable Travis Legge, running games for you to sit in on!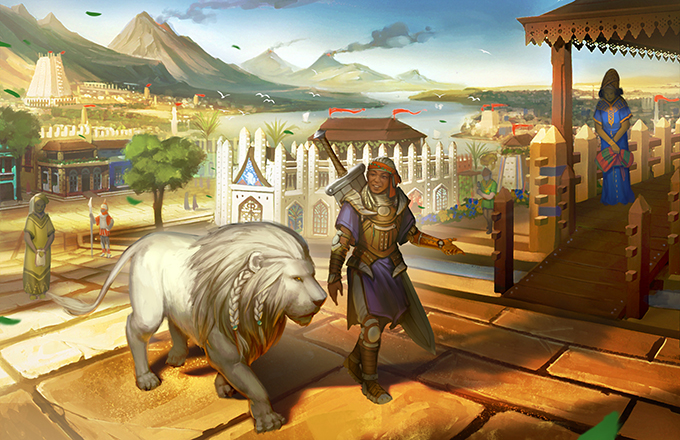 On our Discord, Round #1 of the Exalted Essence Iron Charms Competition has finished, with 15 relieved fan Charm creators advancing to Round #2! Check it out on the official Exalted Discord channel (at the bottom of the list of channels)!
Tomorrow isn't just the start of The World Below crowdfunder on BackerKit, we are also holding our quarterly Developer Town Hall Meetings – as always, if you have anything you'd like me to bring up to them, just drop it in the Comments below.
Welp, I'm just over the half-way mark with my Inktober drawrings! Always feels surprising to be poised here, sort of exhausted and sort of enjoying the 16 pieces I've worked through. But really, I am beat, so I'll leave you folks here on the precipice of The World Below (oh darn, I wish I'd thought of that bit of phrasing up above for the title of this MMN Blog!)
Remember, you can survive if you hang on by your fingertips and don't look down. Which works both in our real world, and in our:
Many Worlds, One Path!
---
Blurbs!
---
Crowdfunding!
Starting Tuesday the 17th at 2pm Eastern US time, we're crowdfunding The World Below on BackerKit! Sign up now to get notified on launch here!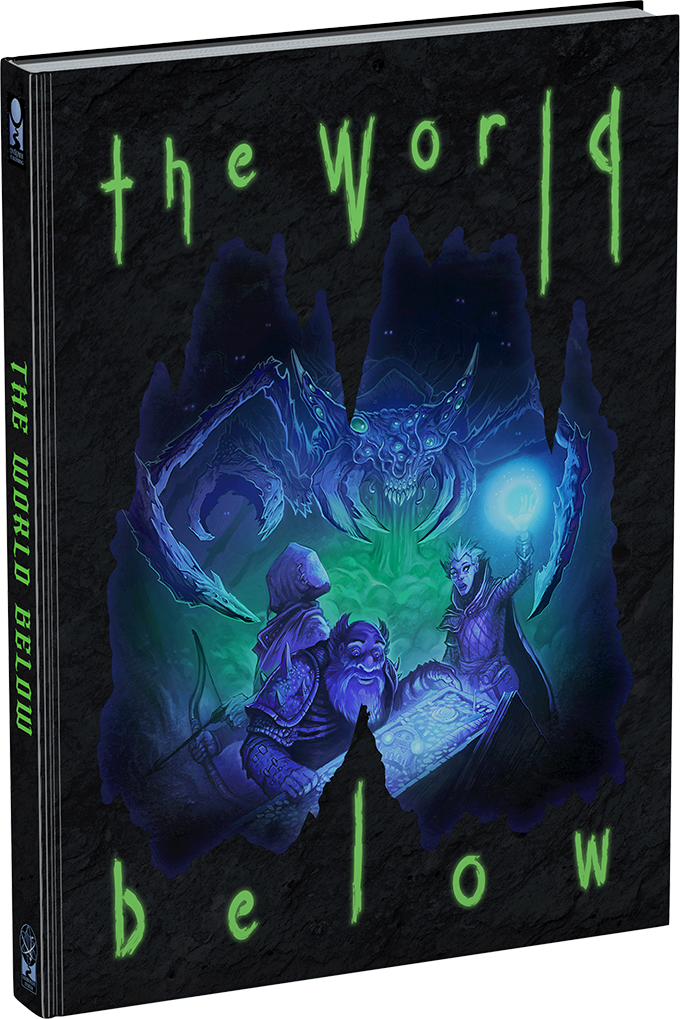 ---
Onyx Path Media!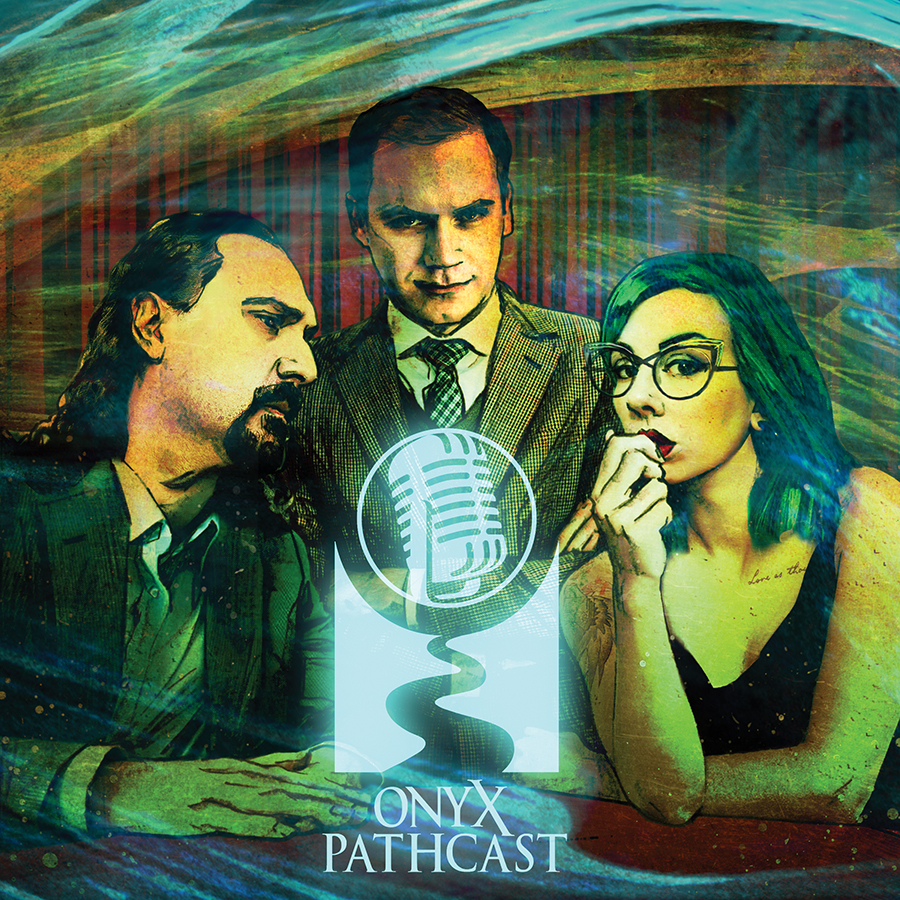 This week: Episode 2 of the Pathcast's actual play of The World Below!
As always, this Friday's Onyx Pathcast will be on Podbean or your favorite podcast venue!
---
Please check out our attached media schedule for the videos on our Twitch channel this week! In particular, keep those eyes open for our Storypath Showcase, where we give an excellent profile of our various Storypath games and how to play them!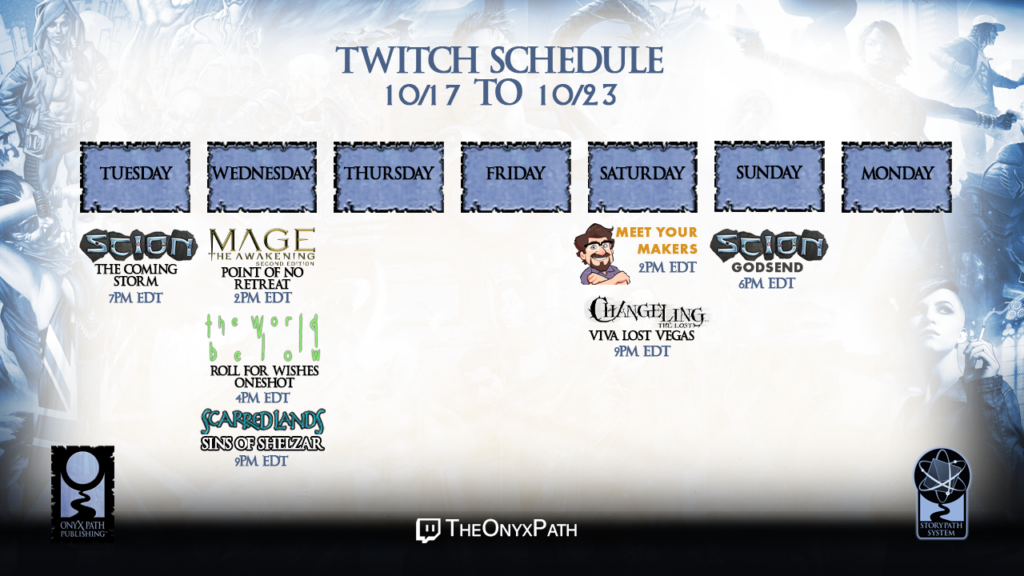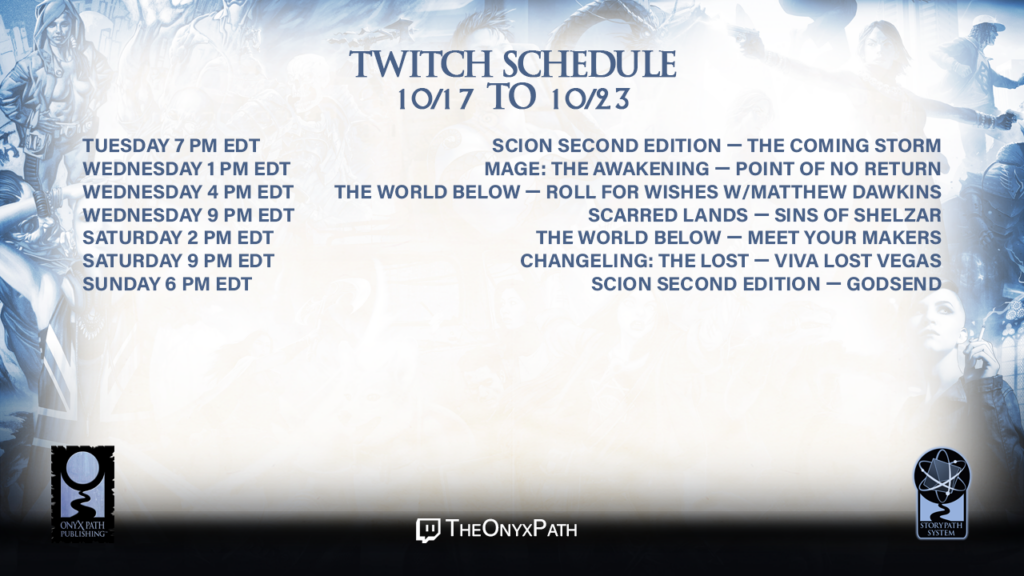 MEDIA HIGHLIGHT OF THE WEEK:
Matthew Dawkins continues The Gentleman's Guide to The World Below, on YouTube and via podcast! you can find the most recent episodes right here:
– https://youtu.be/LA1jFKDDe2o?si=PrGkjkTlMSrDb5df
– https://youtu.be/eyTlylM62vo?si=5SCn_3NfeNh69fOU
– https://open.spotify.com/show/7KhUQtkobfppw8rDGooBcC?si=c015521208594e47
M.K. Anderson has also released an interview with Matthew Dawkins regarding The World Below: https://youtu.be/0B-haRSpHEQ?si=DDW1muNhvLLN86qc
AND so has Lore by Night right here: https://youtu.be/Q5Spcopi0H8?si=baGZZZvc508Sb-Sr
Expect to see lots of actual plays for The World Below coming up very soon!
The Onyx Path News discusses recent and upcoming releases! You can find it on our YouTube channel (click the bell to be informed when we go live!) but if you missed the last episode, here it is:
---
Virtual Tabletop!
New on the Roll20 Marketplace, it's the Scarred Lands Creature Collection and Camp Murder Lake Tokens for Roll20 VTT play!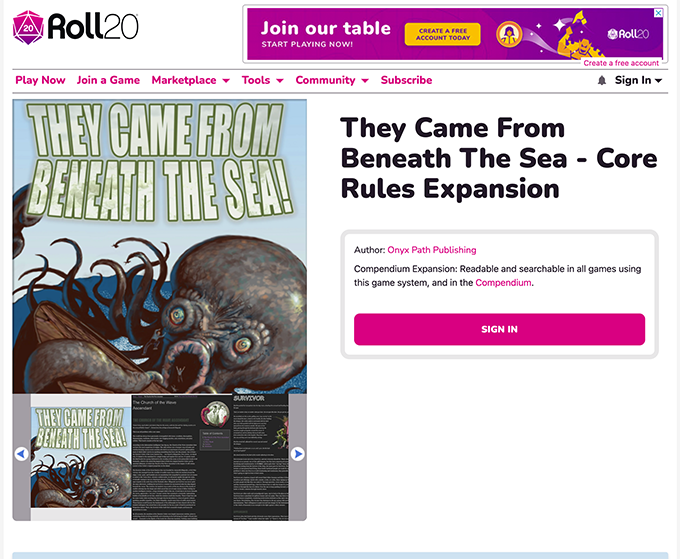 NEW!
They Came From Beneath the Sea! on Roll20 VTT!
https://marketplace.roll20.net/browse/bundle/22308/they-came-from-beneath-the-sea
Here are some more shots from the They Came From Beneath the Sea! Compendium!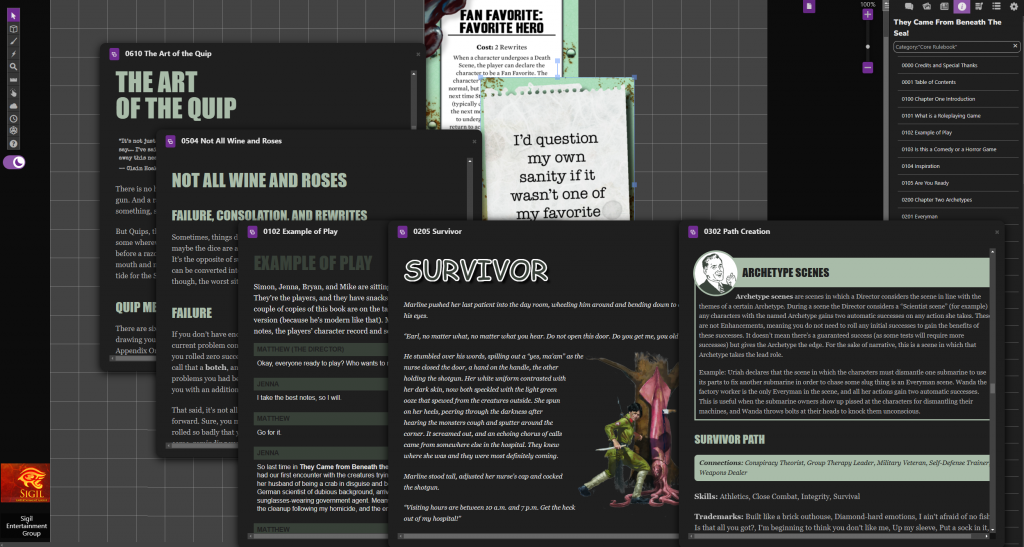 And there's also the Scion Jumpstart, all ready for Roll20 VTT fun!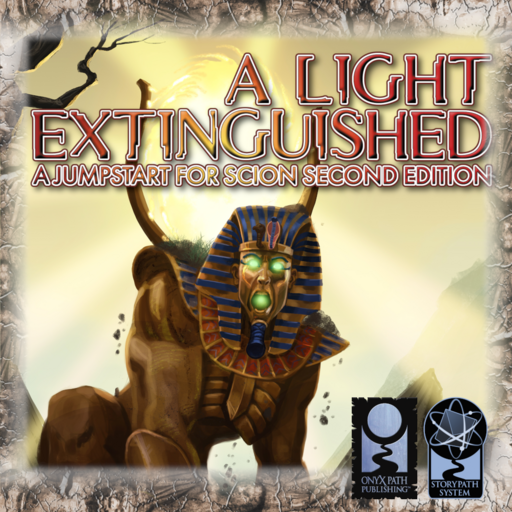 https://marketplace.roll20.net/browse/bundle/21165/a-light-extinguished-a-jumpstart-for-scion-second-edition
More news and links when we have them!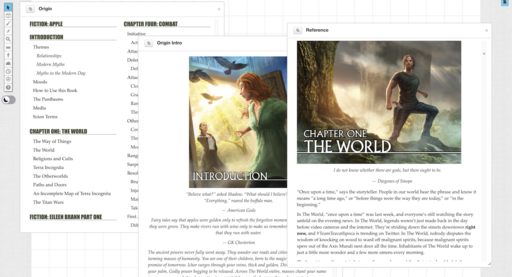 The Scion: Origin and Scion Hero Compendiums are now available on Roll20!

https://marketplace.roll20.net/browse/publisher/1716/onyx-path-publishing

Scion is just the start! They Came From Beneath the Sea! and other
Onyx Path RPGs are in development for Roll20 virtual tabletop!

The first of our official Scion sheets designed for Foundry VTT are
now available!

Direct Link: https://foundryvtt.co
Looking for more virtual tabletop resources? We have a selection of
Tokens, Encounters, and more available now at DriveThruRPG!

Get 'em here: https://bit.ly/3SnrNJ7
---
Our Sales Partners!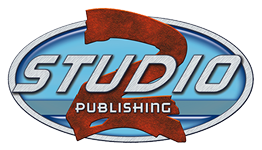 We're working with Studio2 to provide our traditionally printed books out into your local game stores. Game stores can order via their usual distributors, and can also contact Studio2 directly. And individuals can check out our projects via the links below!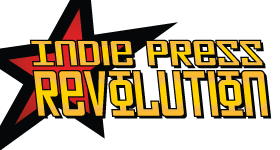 Looking for our Deluxe or Prestige Edition books, dice, and screens? Try this link! http://www.indiepressrevolution.com/xcart/Onyx-Path-Publishing/
Halfoween is back at Indie Press Revolution. A mix of World of Darkness, Chronicles of Darkness, and Storypath books and screens are 50% Off:
https://www.indiepressrevolution.com/xcart/Deals-and-Specials/

As always, you can find Onyx Path's titles in PDF and PoD versions at DriveThruRPG.com!
DTRPG's Halloween Sale starts this week. Several of our core books, anthologies, and a few adventures will be on sale on DriveThruRPG, DriveThruFiction, and Storytellers Vault.
Amazon and Barnes & Noble!
You can now read our fiction from the comfort and convenience of your Kindle (from Amazon) and Nook (from Barnes & Noble).

Check out Melody Through the Mirrorshade Lens and Facets of Truth, as well as Trinity Continuum: Terat and The Hollow Courts on Kindle in the Kindle store!
---
On Sale This Week!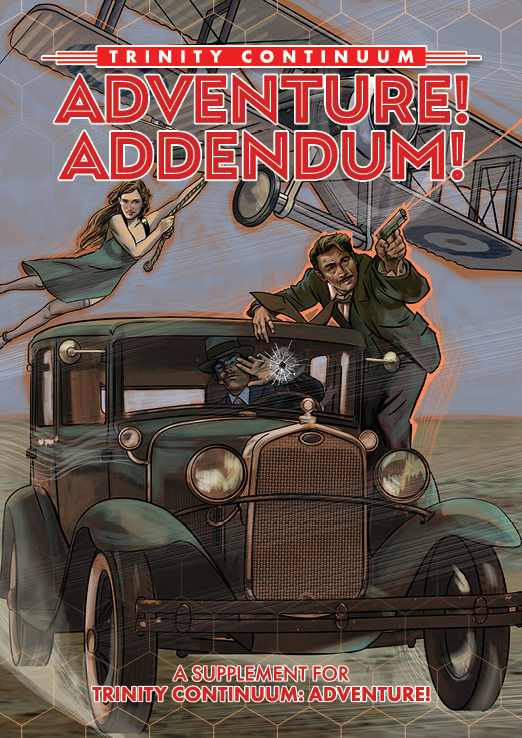 Furious fists of fury flying, here comes the TC: Adventure! Addendum! with PDF and PoD versions going on sales this Wednesday on DTRPG!
Plus, check out the TC: Adventure! VTT Assets also going on sale this Weds!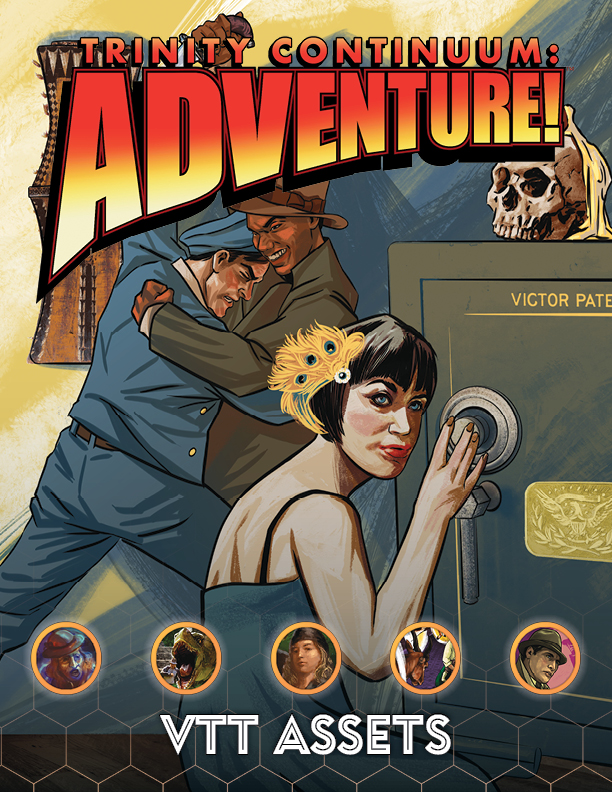 ---
Conventions!
As we are slowly returning to attending conventions in person after avoiding them during the COVID-19 outbreak, keep an eye out here for more physical and virtual conventions we're going to be involved with!
GameHoleCon (Oct 19th – 22nd) has updated their Exhibitor list, and we're on it!:
https://www.gameholecon.com/ Look for us in person at Booth 14!
And also: Virtual GameHoleCon is back on: https://virtual.gameholecon.com/
We'll be part of the Studio 2 booth at PAX Unplugged (December 1st – 3rd):
https://unplugged.paxsite.com/
Game Night With Onyx Path Publishing at StartPlaying is the last Friday of every month! Come play some of our games, especially The World Below! (But any of our game lines are welcome all day long!)
Please spread the word about GMing games as much as
possible. Details on how list a game are at the bottom of the page in
the FAQ:

https://startplaying.games/event/game-night-onyx-path
---
Project Status Updates!
Our full list of projects will be available monthly on our blog! Check out September's full list report here:
DEVELOPMENT STATUS FROM EDDY
Here are the projects that moved to the next stage of production:
First Draft
Scion – Titans Rising Origin and Hero Adventures
Matthew: David Castro leads this team to create a series of adventures funded by the Titans Rising Kickstarter campaign! Get your War Games on with this clash of Titans and Gods.
Exalted – Sidereals Novella
Danielle: Elliott Freeman is taking the helm of this novella. I'm excited to see the shenanigans of a newly Exalted Sidereal getting along in Heaven.
Exalted – Exigents Jumpstart
Danielle: MJ Monleon is taking the reins for the first time to develop this jumpstart, and I'm excited to see what kind of adventure she has in store for you all.
Redlines
TC Aegis: Aegis Atlas
Eddy: Our stretch goal atlas of new and bizarre locations for Trinity Continuum: Aegis is sketched out and are now being reviewed by our tireless developer!
Final Drafts
Exalted – Exigents: Miracles of Divine Flame (was Companion) (title change)
Danielle: As of this moment, drafts are flying back into the hands of authors for final edits. I was very impressed with the quality of the first drafts and I'm excited for you all to see the really great Exigent ideas that are in this book.
---
ART DIRECTION FROM MIKE CHANEY!
In Art Direction
Ex3 Abyssals – Should be seeing more sketches and revisions this week.
The World Below – Tuesday…
COFD Contagion Chronicles RMCs – Moving along.
In Layout
Ex Essence Charm Cards
Ex3 Across the Eight Directions
TC Anima Terra Surge Screen
SCION Once and Future
W20 Icons of Rage
Squeaks in the Deep Companion
Trinity Continuum CC
Ex3 Exigents
DTR Clade Companion
M20 Victorian Jumpstart
Proofing
Scion CC Guide – Getting this over for final proof.
HtV Jumpstart
TCF Classified – First set of comments back to Ron.
TCF Cyclops Cave – Well, half of it. Should have the rest of it this week.
Indexing
At Press
TC Adventure – Sailing, sailing, over the bounding main…
TC Adventure Screen and Booklet
W20 Apocalyptic Record – Printing.
W20 Apocalyptic Record Screen & Booklet
Exalted Essence – Prepping Trad Print files.
Ex Essence Screen
M20 Lore of the Traditions – Prepping Trad Print Files. PoD versions getting ready for sale.
Ex3 Crucible of Legends VTT Tokens
Scion Dragon Jumpstart – PoD proofs ordered.
Ex Essence Novella 1 – Prepping PoD files.
Ex Essence Novella 3 – Getting that over to James to send out to backers
Ex Essence VTT Assets
TC Anima – I gotta interactivize the character sheet.
Ex 3 Crucible of Legends – PoD files uploaded.
TCPG KS Shirt
Ex 3 Exigents Shirt
TC Adventure Addendum – PDF/PoD versions on sale this Weds on DTRPG!
TC Adventure VTT Assets – On sale this Weds on DTRPG!
---
Today's Reason to Celebrate!
Today in 1736 – Mathematician William Whiston's predicted comet fails to strike the Earth. Did the fear of that strike drive many folks to flee underground? Was that The World Below?! Everything is about TWB today!