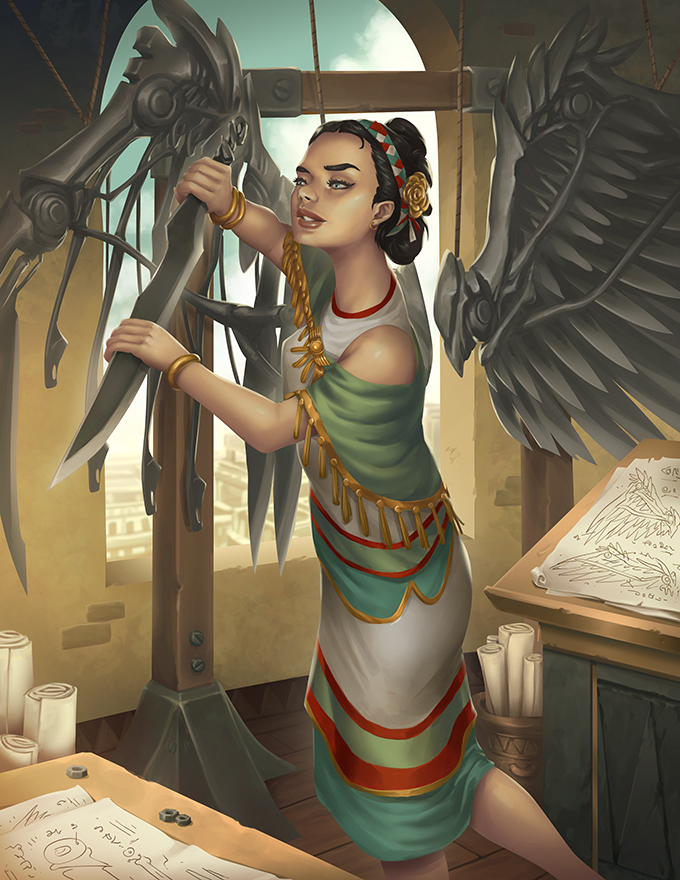 Hey, hey! It's the last couple of days for our BackerKit crowdfunding campaign for Trinity Continuum: Aegis!
We just passed 200% funding and listed our next two Stretch Goals, so even though the campaign ends Thursday, there's still time to pledge and to get the word out so we can achieve those goals!
As you might have guessed from the art posted above, TC: Aegis is concerned with the heroes and demigods, monsters and terrors, of the time frame around the collapse of the Bronze Age and the start of the Iron Age. A time that is absolutely filled with potential stories for players!
Now, two things about that.
The first is: because it is during a transitional time in Earth's history, what is true and what is myth can be blended as much or as little as your table wants. Plus, there's wiggle-room presented in the book if you want to have your TC: Aegis game run earlier or later throughout history. Or away from early Europe entirely!
(Which is where the Stretch Goal for the TC: Aegis Atlas will really come in handy!)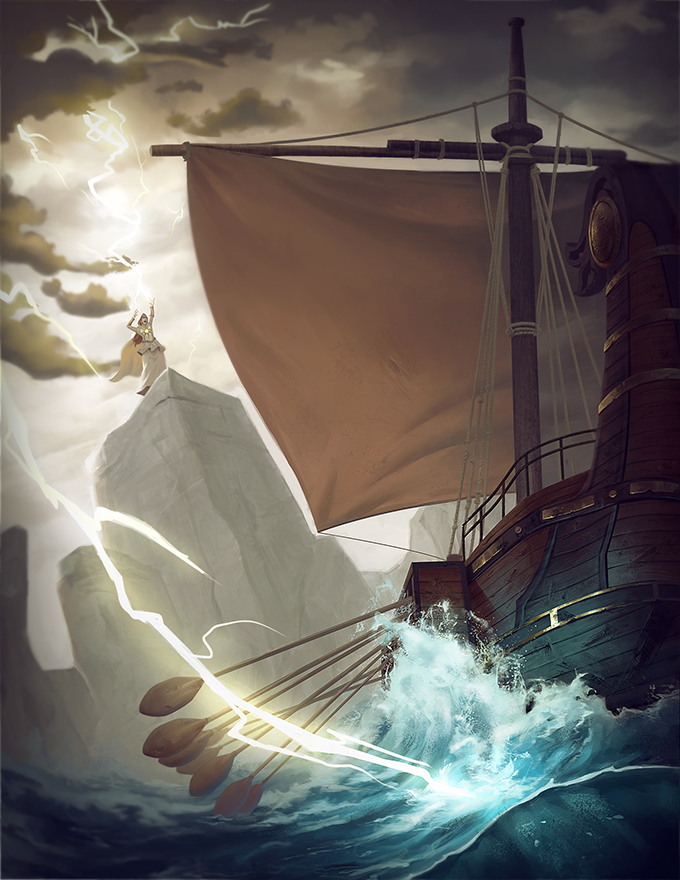 The second fun aspect for dealing with this time-frame is the built-in setting fact of this being the Trinity Continuum. Does TC: Aegis lead to TC: Aether lead to TC: Adventure!, etc? Like on a linear time-line? Only if you want it to. The Continuum is designed so that these parallel setting dimensions can connect, connect for a time, slide past each other, whatever works at your table.
You want to have Divis Mal from TC: Aberrant develop a time travel device and show up in ancient Egypt (like the whole Dr Doom/Rama-Tut/Kang thing in the old Fantastic Four) and change human history as we know it?
Do it! Up to you whether that changes the history of the other games or not!
So, tell your friends, like and share our social media posts, all that stuff – and we'll see if we can achieve the next couple of Stretch Goals! Thanks!
Coming up next for our crowd-funding: a two book set of Scion: Titanomachy and its sequel – Scion: Titans Rising! The campaign being designed to get both traditionally published books into your Friendly Local Game Stores! Expect that very late in August or very early in September.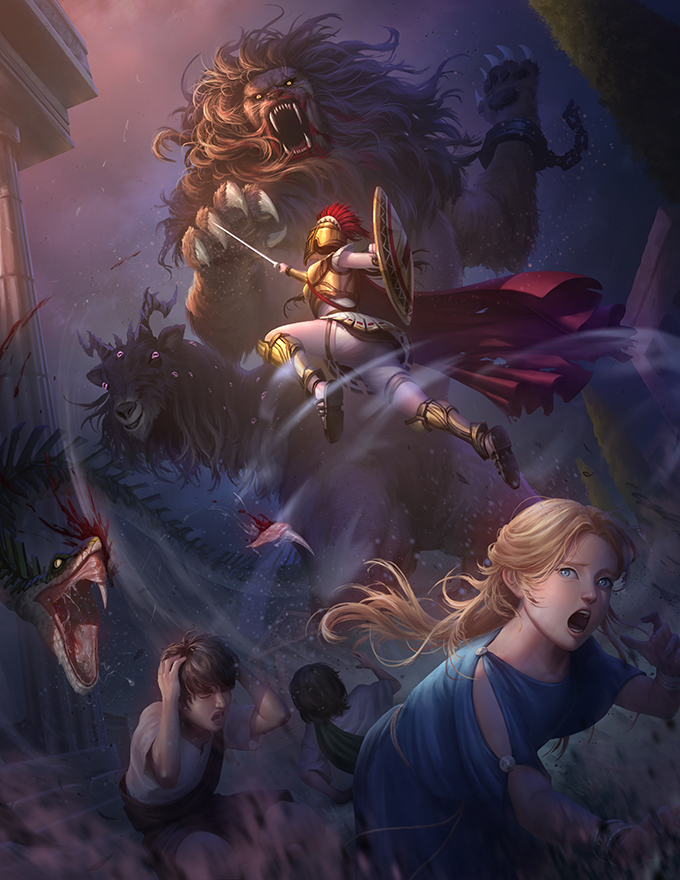 Back In The Saddle Again!
Thanks Danielle, for covering for me last week! Hope everybody enjoyed D's fill-in MMN blog!
If you enjoyed Danielle's blog and her mention of the special Q&A session all about our creative processes that she held just over a week ago on our Discord, you can hear a recording of that session this Friday on the Onyx Pathcast. It's well worth listening to if you're curious as to why we do what we do the way we do.
Do, do, doooo.
Also, speaking of our processes, our Managing Editor, M. K. Anderson, was the guest on last Friday's Pathcast, as D and Dixie delved into a dynamic deconstruction of the dangerous domain of editing. No text is complete without it, yet so many folks really don't know just what game book editing entails: this Pathcast episode delivers those deets.
Some DTRPG Sales are either happening right now or coming really soon, so keep an eye out for them! The ongoing one is on the Storyteller's Vault, which also contains links to our books over on the DTRPG main site.
The thing is: we're not on SV, we are on DTRPG – alhough you can see ads/links for our stuff – as our official license from Paradox means that our books aren't non-canon, community-created. SV is entirely owned and managed by Paradox and we have nothing to do with it as a company, even if those links pop up or some of our freelance creators put some of their own projects up there for your enjoyment and edification.
(I bring this up now because while I was on vacay somebody messaged me demanding we change stuff over there. Sorry we have no mechanism that lets us change anything on a site we don't own, but there you are!)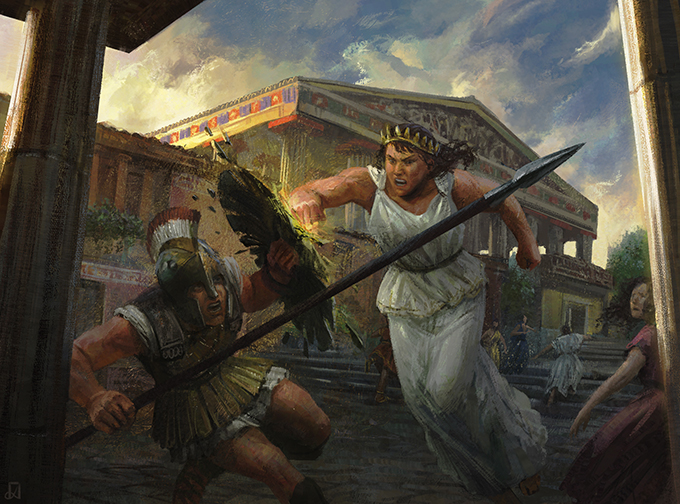 Honestly, still catching up from the time off. Our Monday Meeting was actually pretty packed because of that, but not really with fun stuff to share, unfortunately. I did get to do a bunch of concept art for The World Below while I was off – hey, for me uninterrupted time to draw is a sweet vacation – as well as designing the symbols for all the settlements, churches, guilds, heritages, etc. Plus, I realized we need a couple of new writing systems down there, so they need designing!
I haven't told Matthew about those yet.
Finally, just like I got a week off, we're cycling through breaks for all of our team as Summer starts to wind down, so you might not see some newer art today as Mirthful Mike takes some time this week, or as many project progress jumps or even Twitch shows as folks take well-deserved time off! We'll all come back rarin' to go and ready to bring more magic to our:
MANY WORLDS, ONE PATH!
---
BLURBS!
---
KICKSTARTER/CROWDFUNDING!
Trinity Continuum: Aegis!
Over 200% funded! More Stretch Goals coming!
ENDING THIS THURSDAY!
Here's a link to the BackerKit campaign landing page!
https://www.backerkit.com/call_to_action/877c1416-a77f-42a9-8c11-8aedb2e4656c/landing?ref=OnyxPath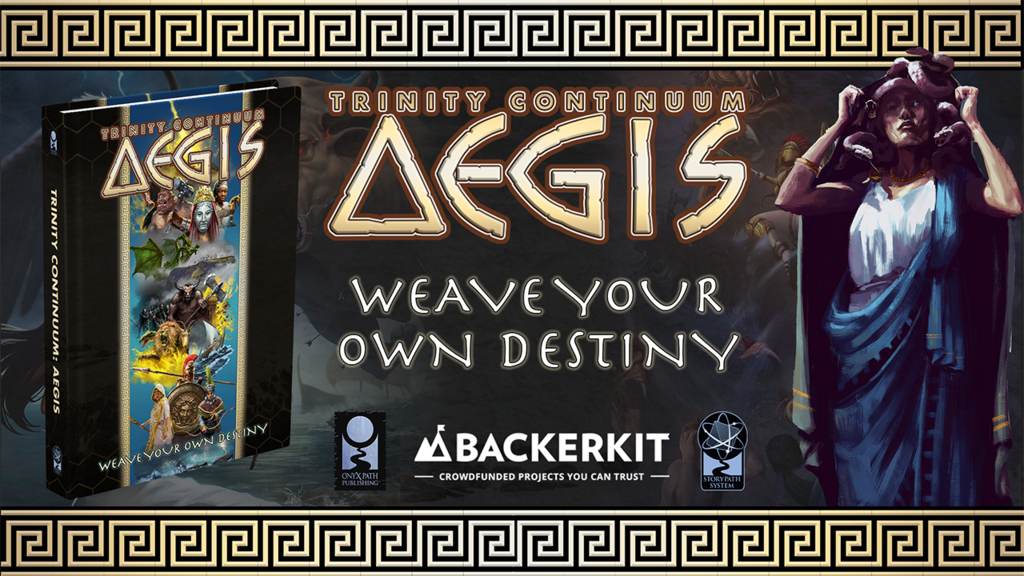 ---
Onyx Path Media!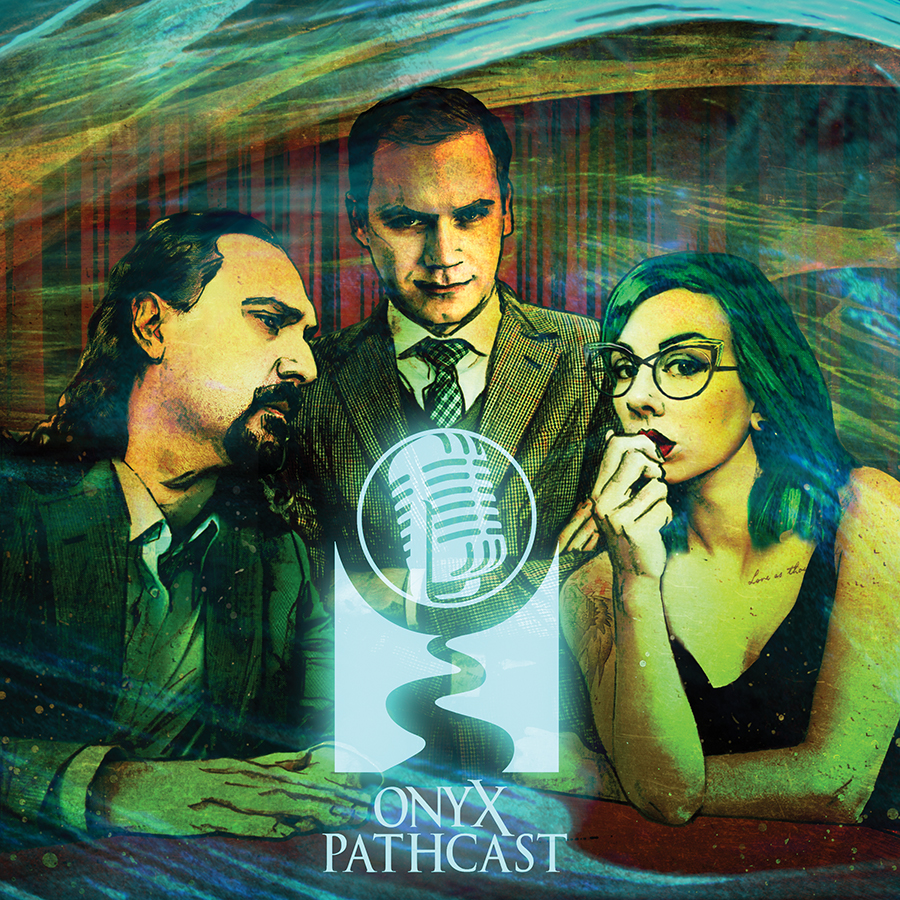 This week:
We present the recording of the process Q&A that Danielle did on Discord!
As always, this Friday's Onyx Pathcast will be on Podbean or your favorite podcast venue! https://onyxpathcast.podbean.com/
---
Please check out our attached media schedule for the videos on our Twitch channel this week! In particular, keep those eyes open for our Storypath Showcase, where we give an excellent profile of our various Storypath games and how to play them!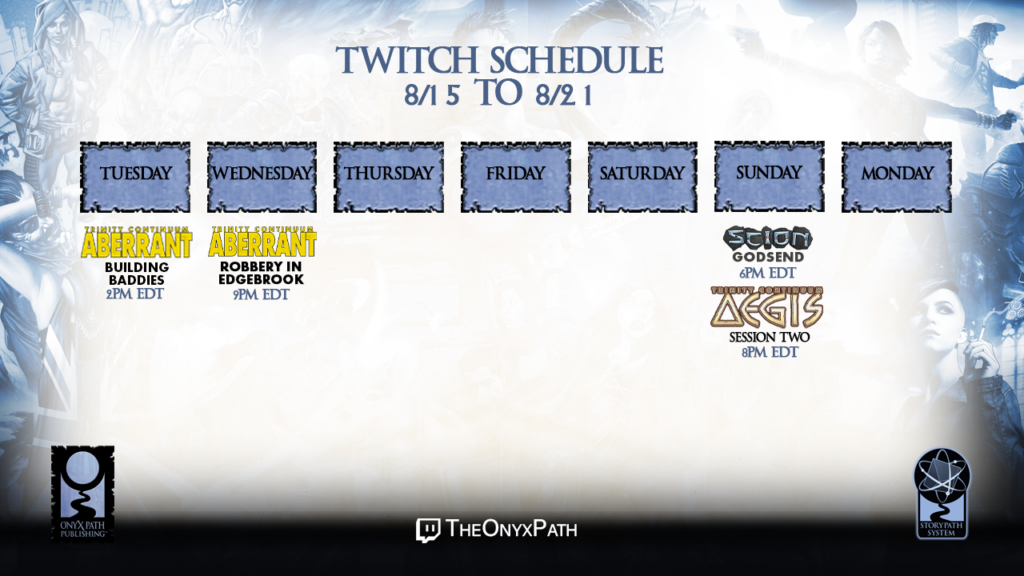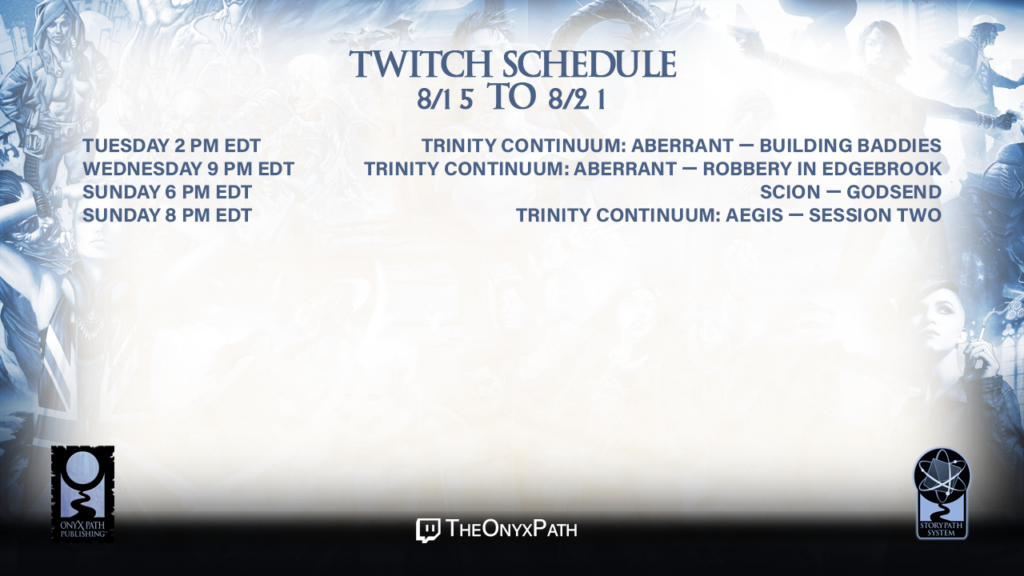 MEDIA HIGHLIGHT OF THE WEEK:
If you're looking forward to Trinity Continuum: Aegis, tune in to our YouTube channel for all sorts of interviews and actual plays! You can find the first writer interview here: https://youtu.be/E3OACiK4inY
The Onyx Path News discusses recent and upcoming releases! You can find it on our YouTube channel (click the bell to be informed when we go live!) but if you missed the last episode, here it is: https://www.youtube.com/live/0ZlQpwregwA
---
Virtual Tabletop!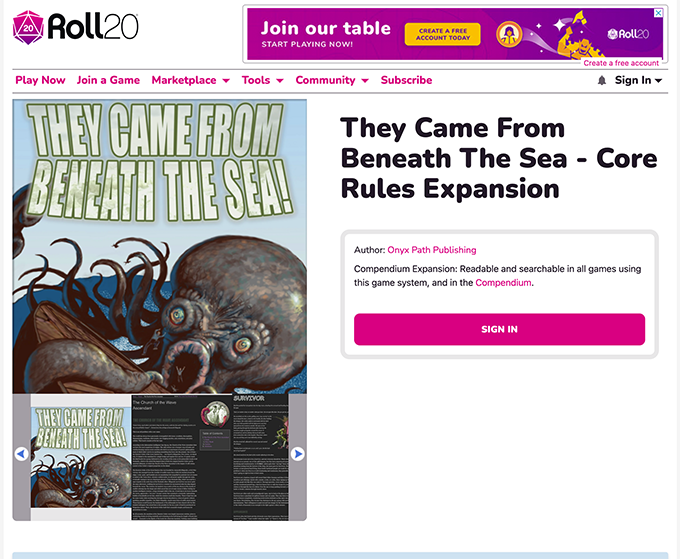 NEW!
They Came From Beneath the Sea! on Roll20 VTT!
https://marketplace.roll20.net/browse/bundle/22308/they-came-from-beneath-the-sea
Here are some more shots from the They Came From Beneath the Sea! Compendium!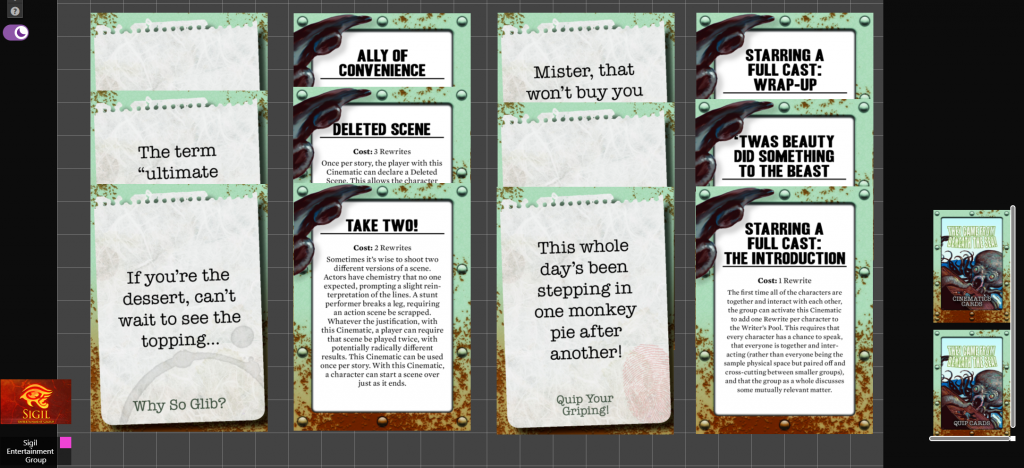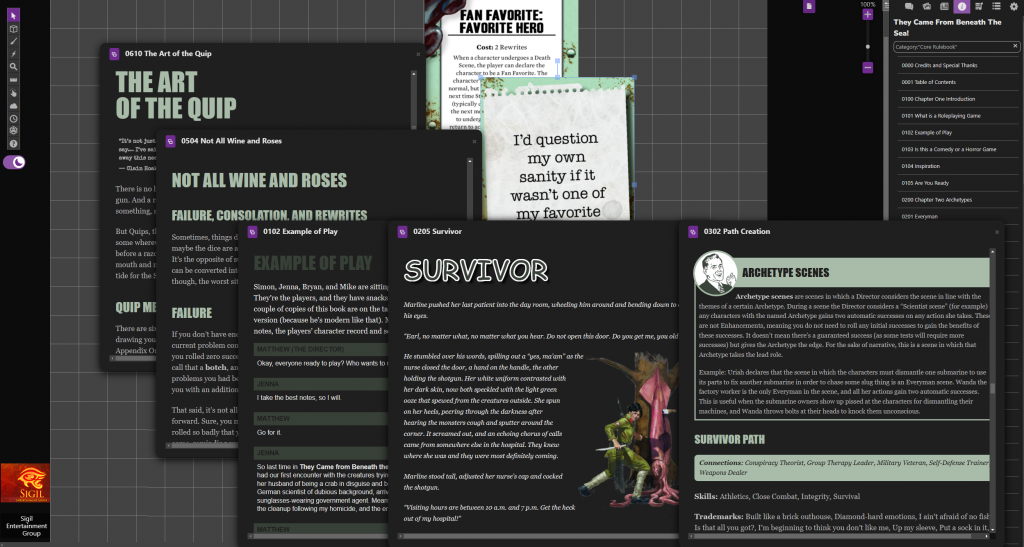 And there's also the Scion Jumpstart, all ready for Roll20 VTT fun!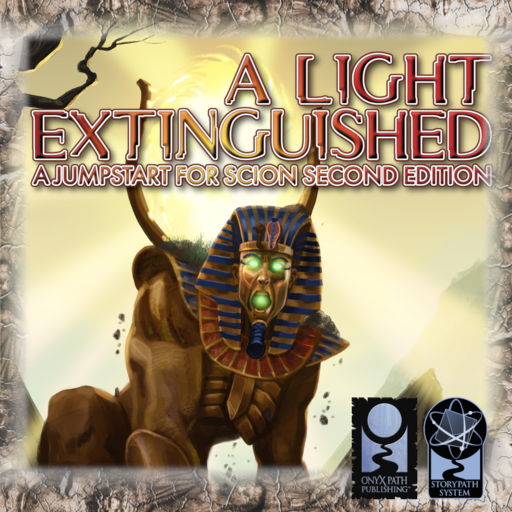 https://marketplace.roll20.net/browse/bundle/21165/a-light-extinguished-a-jumpstart-for-scion-second-edition
More news and links when we have them!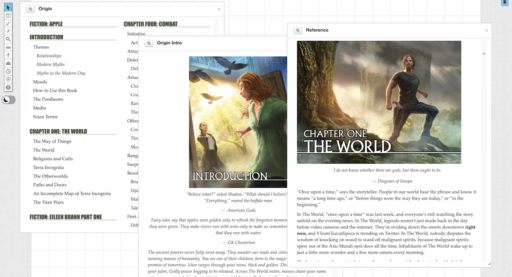 The Scion: Origin and Scion Hero Compendiums are now available on Roll20!

https://marketplace.roll20.net/browse/publisher/1716/onyx-path-publishing

Scion is just the start! They Came From Beneath the Sea! and other
Onyx Path RPGs are in development for Roll20 virtual tabletop!

The first of our official Scion sheets designed for Foundry VTT are
now available!

Direct Link: https://foundryvtt.co
Looking for more virtual tabletop resources? We have a selection of
Tokens, Encounters, and more available now at DriveThruRPG!

Get 'em here: https://bit.ly/3SnrNJ7
---
Our Sales Partners!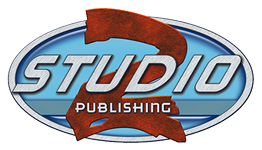 We're working with Studio2 to provide our traditionally printed books out into your local game stores. Game stores can order via their usual distributors, and can also contact Studio2 directly. And individuals can check out our projects via the links below!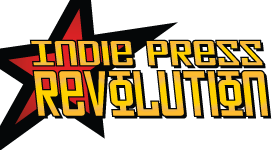 Looking for our Deluxe or Prestige Edition books, dice, and screens? Try this link! http://www.indiepressrevolution.com/xcart/Onyx-Path-Publishing/

As always, you can find Onyx Path's titles in PDF and PoD versions at DriveThruRPG.com!
First half of the Summer of Darkness Sale is live on the Storytellers
Vault marketplace. Almost all of our Chronicles of Darkness PDFs are
on sale. Sale ends in a few days and switches over to the World of
Darkness:

https://www.storytellersvault.com/sale.php?manufacturers_id=4261

On DriveThruRPG the Cosmic Horror/Cthulhu Mythos Sale starts tomorrow.
They Came From Beneath the Sea, Scion: Masks of the Mythos, and the
God Machine PDFs will be on sale.
Amazon and Barnes & Noble!
You can now read our fiction from the comfort and convenience of your Kindle (from Amazon) and Nook (from Barnes & Noble).

Check out Melody Through the Mirrorshade Lens and Facets of Truth, as well as Trinity Continuum: Terat and The Hollow Courts on Kindle in the Kindle store!
---
On Sale This Week!
It's all sorts of VTT Tokens to help your online play!
They Came From Beneath the Sea! VTT Tokens
They Came From Camp Murder Lake! VTT Tokens
Hunter: The Vigil 2nd Edition VTT Tokens
All on DTRPG this Wednesday!
---
Conventions!
As we are slowly returning to attending conventions in person after the current COVID-19 outbreak, keep an eye out here for more physical and virtual conventions we're going to be involved with!
GameHoleCon (Oct 19th – 22nd) has updated their Exhibitor list, and we're on it!:
https://www.gameholecon.com/

We'll be part of the Studio 2 booth at PAX Unplugged (December 1st – 3rd):
https://unplugged.paxsite.com/ (Also, I'll be there, so you can come play a fun game with me!)
Game Night With Onyx Path Publishing at Start.Playing is the last Friday of every month! Come play some Trinity Continuum in celebration of the Trinity Continuum: Aegis crowdfunding! (But any of our game lines are welcome all day long!)
Please spread the word about GMing games as much as
possible. Details on how list a game are at the bottom of the page in
the FAQ:

https://startplaying.games/event/game-night-onyx-path
---
Project status updates!
Our full list of projects will be available monthly on our blog! Check out July's full list report here:
DEVELOPMENT STATUS FROM EDDY
Here are the projects that moved to the next stage of production:
First Draft
Realms of Pugmire – The Curious Cats of Mau (was Mau 2e)
Eddy: The next Realms of Pugmire book is underway! Because I'm still working on another Pugmire book, I've asked the ever-elegant Lauren Roy to co-develop this one with me so we both land on our feet!
Manuscript Approval
Exalted – Abyssals
Danielle: It's finally here. I can't wait to sit down with a nice hot tea and read this for the next week.
---
ART DIRECTION FROM MIKE CHANEY!
In Art Direction
Ex3 Many Faced Strangers – First batch of stuff turned around.
Ex3 Eight Directions – Navella is gonna handle the maps…
Ex3 Exigents – First batches of sketches in.
TCF Cyclops Cave/Classified – Cyclops Cave AD'd… and yes, maps too.
M20 Victorian Weird Wonders and Revolutionary Magic – AD'd.
SCION God 2e – Getting this rolling.
SCION Titans Rising – Prepped so it can go to KS for approval this week.
TC Aether – Getting this rolling when i get back.
In Layout
Ex Essence Novella I – What Lies Forgotten – With Dixie.
TCF Classified – It's ready for layout.
Proofing
TC Assassins VTT Adventure – Should be good to go out when i get back.
Wallpapers for Essence
Ex Essence Screen
Scion Dragon Jumpstart
TC Adventure Addendum
Ex Essence Novel 2 – Scoundrelsong
Indexing
At Press
TC Anima – Errata incorporation this week so we can get the index going.
TC: Adventure! – Should see press proofs next week.
TC Adventure Storyguide Screen and Booklet – Printer quoting.
Exalted Essence – Quoting with Printers.
W20 Apocalyptic Record – Interior and endpages done… working on LtD cover.
W20 Apocalyptic Record Screen & Booklet – Printer quoting.
M20 Lore of the Traditions – Errata input and page xxs. Also working on the printer quote for the LtD version.
Legendlore: Legacies of Earth – Errata input and page xxs.
Ex 3 Crucible of Legends – Errata gathering ends Weds.
---
Today's Reason to Celebrate!
15 years ago today, Hunter: the Vigil first edition was released. Yep, I actually do remember it well; working with the awesome super Chuck Wendig and making a huge presentation to the combined teams from White Wolf and CCP explaining just what it was. And, of course, we at Onyx Path then created Hunter: the Vigil second edition (available in POD and PDF on DTRPG, and traditionally printed books through your FLGS and our pals at IPR and Studio 2)! You might say that we kept the light burning!
---