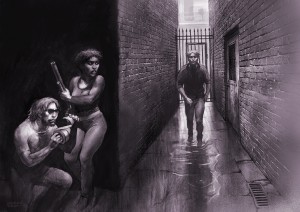 No, don't worry, we aren't changing Beast: the Primordial into a game of Noir detectives. Like I talked about last week, there are revisions being done, but only to better present Black Hat Matt's vision for the game.
But there is actually a connection between Beast and Films Noir.
First, a digression.
One of the issues with being self-employed is that if you love what you do, like I do, it is all too easy to obsess over your job. Just one more email. Just another graphic designed or file proofed. Many times during our Monday Lunch Meetings, Fast Eddy Webb and I compare notes on this very question: how do you keep the balance between life and job when there's no office to drive home from? And not just balance, but  how do you maintain the ability to be creative when you are doing a creative job 24/7? Certainly, that burnout was something White Wolf employees struggled with back in the day.
One method, that Eddy and I each hit on without telling the other, is to continue learning. Keep giving your brain input, and make it outside the info you absorb continually while doing the job. It turns out that there is an online class in Film Noir in conjunction with Turner Classic Movies, which is just perfect for me (and also for Eddy apparently). Old movies to watch, reconnecting with my film theory days, and just a little bit of added structure so that playtime isn't just veg-out time. A film-clip a day, a quiz a week, full films on TCM, and podcasts and recorded lectures make for a varied and interesting break from regular life and work.
So, to return to the connection between Beast and Films Noir, we had a podcast lecture from that course that talked about the conundrum faced by the old Hollywood movie studios where they had to please one segment of their audience who wanted to see an expected story and set of themes play out, and another segment who got tired of the same old things. Plus they had very creative teams that wanted to stretch what they did and experiment creatively.
Wow, I said to Fast Eddy.
That's us!
Because Onyx Path was lucky enough to start with the license to revitalize WW's game lines, we also have more than 25 years of expectations. People have been playing a certain way, and to totally change that with a new version of their game would be doing them a disservice. But to just ape the old WW settings and particularly the rules, which age way faster than the setting, leaves us no room to grow as creative folks. And in a business sense, no company survives without innovation. So, like the Hollywood studios in the 1940's, we have to find a way to do both.
We try and produce a semi-steady stream of projects, but we don't allow that to become a production treadmill producing substandard books. We have some projects like the 20th Anniversary books that try and compile all those great moments from earlier editions, but which still leave room for their supplements to expand the setting and rules in new ways. I'm being general here because even one example that details our stategery will fill up this blog.
Beast is one of the ones that we pushed a little harder with. The themes go a bit beyond a lot of what we've done with nWoD before, with the Hero/Beast dichotomy and no social splats as some examples. And as folks reacted we could see that maybe the presentation got a little lost while trying to tackle this challenge. We were ambiguous where a bit more clarity was needed, and in other places we drew too hard a line where we intended the situation to be more fluid. Hence the revisions that are right now being done.
It's a balancing act and sometimes you teeter a bit too much one way or the other. We don't exactly look graceful as we start and stop and stagger and stutter up there on the wire.
But if that's what it takes to try and climb to another height – it's worth it.
YMMV.
And Now For Something Completely Different: a couple of things about Gen Con that we talked about today.
First, the Events folks at Gen Con tell us they have moved the room for the SEM1572637 Dive into Pugmire & Cavaliers of Mars on August 1. It has moved from the Crowne Plaza to the Embassy Suites, Ambassador 1 room. This sometimes happens and it's a drag, but if any more of these changes occur, I'll let you know here, and/or on social media, and we'll also have a notice at the Onyx Path booth at the con.
And speaking of the booth, Impish Ian Watson, our T-shirt maven, loves both our new shirts and classic White Wolf shirts so much that he wants you to know that anybody buying books at our booth during Gen con who is wearing any of our shirts, old or new, will get an additional discount on their purchase. Of course, he might make you pose for a pic, if you're willing, not unlike these:
Nuff said!
___________________________________________________________________________________________________________________________________
And now, the BLURBS!
Fear the dark places: the Beast: the Primordial Kickstarter has passed a whole passel of Stretch Goals like a silk ribbon in the book, a t-shirt, a historical Beast chapter in the nWoD Dark Eras Companion, Beast Ready Made Characters, and a Beast Fiction Anthology. And we just achieved a Beast supplement for Mortal Remains PDF. Many of these SG rewards were suggested by our backers, too. The original complete text is up there on the KS site, and we just added links to revisions for the Intro, and Chapters 1 & 2. We'll be adding more revision links as we head into the last week of this Kickstarter!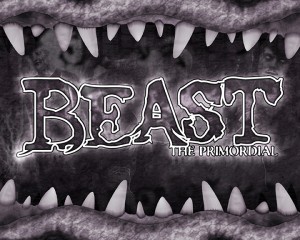 All omens and portents point to the Demon Translation Guide Advance PDF being ready to appear in a cloud of brimstone and ozone on Wednesday. We take fiendish delight in presenting this devilish guide to transferring your Demon: the Fallen and Demon: the Descent characters from one setting to the other.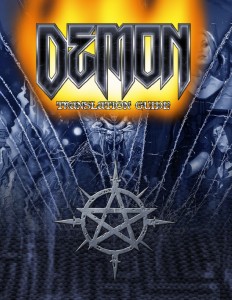 Mage: the Ascension 20th Anniversary Edition KS backers: M20 PDFs went out to backers, and the response has been amazing! Thanks to all of you for your support and accolades. The Errata is being collated and will be sent over to Satyr Phil, and the index is getting finished up.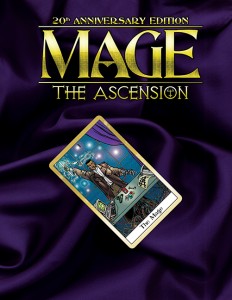 The third Pugmire poster, Sgt. Leo Bulldog, will be available on Wednesday.
The second poster, Princess Yosha Pug, is available now: http://www.drivethrurpg.com/product/149750/Princess-Yosha-Pug-Pugmire-Poster-2
And the first poster, Sister Picassa Collie, is here: http://www.drivethrurpg.com/product/148516/Sister-Picassa-Collie-Pugmire-Poster-1
Start spreading the Code of Man!
Waiting on PoD proofs of Dread Names, Red List for V20 AGAIN, so it might not hit DTRPG in time to go on sale Wednesday, but keep an eye open for this collection of the most dangerous Kindred ever called Anathema.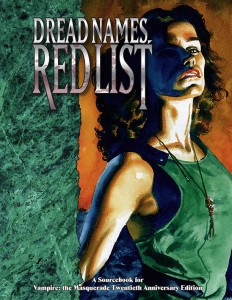 We're also waiting for PoD proofs for The Poison Tree novel by Mike Lee for W20…
Convention News: Our friends at Gamerati are running a Game Day on July 25th, the Saturday before Gen Con, in Eau Claire, WI. I'm told there is one nWoD session scheduled already, but they would love it if anybody in our community wants to run other WW or Onyx Path games. So check it out if you want to doing some playing and give them a yell if you want to do some Storytelling: http://gamerati.com/gamedays/
————————————————————————————————————————————————————————————
And now, new project status updates!:
DEVELOPMENT STATUS FROM ROLLICKING ROSE (Projects in bold have changed listings)
First Draft (The first phase of a project that is about the work being done by writers, not dev prep)
M20 Book of Secrets (Mage: the Ascension 20th Anniversary Edition)
Exalted 3rd Novel by Matt Forbeck (Exalted 3rd Edition)
M20 Anthology (Mage: the Ascension 20th Anniversary Edition)
Pugmire Gen Con Materials (Be a Good Dog.)
CtL anthology (Changeling: the Lost 2nd Edition)
The Realm (Exalted 3rd Edition)
Dragon-Blooded (Exalted 3rd Edition)
Dark Eras Expansions (nWod Dark Eras)
Pugmire Early Access
Dark Eras Companion (nWod Dark Eras)
WtF The Pack (Werewolf: the Forasken 2nd Edition)
VtM Lore of the Bloodlines (Vampire: the Masquerade 20th Anniversary Edition)
WtA Kinfolk (Werewolf: the Apocalypse 20th Anniversary Edition)
Changeling: the Dreaming 20th Anniversary Edition
V20 Ready Made Characters (Vampire: the Masquerade 20th Anniversary Edition)
Redlines
Mummy Fiction Anthology (Mummy: the Curse)
Wraith: the Oblivion 20th Anniversary Edition
Cursed Necropolis: Rio (Mummy: the Curse)
Beckett's Jyhad Diary (Vampire: the Masquerade 20th Anniversary Edition)
Changeling: the Lost 2nd Edition, featuring the Huntsmen Chronicle (Changeling: the Lost 2nd Edition)- In Open Development
Second Draft
Arms of the Chosen (Exalted 3rd Edition)
Secrets of the Covenants (Vampire: The Requiem 2nd Edition)
Scarred Lands Player's Guide: Ghelspad (Scarred Lands 2nd Edition)
W20 Changing Ways (Werewolf: the Apocalypse 20th Anniversary Edition)
W20 Pentex Employee Indoctrination Handbook (Werewolf: the Apocalypse 20th Anniversary Edition)
nWoD Hurt Locker (World of Darkness 2nd Edition)- In Open Development
VtM Lore of the Clans Expansions (Vampire: the Masquerade 20th Anniversary Edition)
Development
Promethean: the Created 2nd Edition, featuring the Firestorm Chronicle (Promethean: the Created)
"Sardonyx" System Rules (Base rules set for Scion and the Trinity Continuum) In Open Development
W20 Shattered Dreams (Werewolf: the Apocalypse 20th Anniversary Edition) 
nWoD 2e core (New World of Darkness)
Mage: the Awakening  2nd Edition, featuring the Fallen World Chronicle (Mage: the Awakening) – In Open Development
Demon Storytellers' Guide (Demon: the Descent)
Editing
V20 Ghouls (Vampire: the Masquerade 20th Anniversary Edition)
V20 Black Hand: Guide to the Tal'Mahe'Ra (Vampire: the Masquerade 20th Anniversary Edition)
Development (post-editing)
M20 How do you DO that? (Mage: the Ascension 20th Anniversary Edition)
ART DIRECTION FROM MIRTHFUL MIKE
In Art Direction
Dreams of Avarice – Art Directed.
NWoD 2 – Need to rattle cages. Half of them missed sketch deadlines
V20 Ghouls – Got artnotes for it

Friday

night, so I'll be looking over those this week and figure out my art buy for it.
In Layout
Gen Con Stuff – Buttons wrapping up this week. Card promos getting uploaded this week. Vert banner should hopefully go quick if my idea pans out.
Beast – Working on the layout graphic elements. 

M20 How Do You Do That – Getting files together for Charles now that text is out of editing.
Pugmire Brochure – Rolling along. Eddy is doing some text tweaks so the layout can flow a little better.
In Proofing
M20 – Errata time over, Rose compiling for Phil.
M20 Screen – Still proofing with Phil.
Ex 3 Anthology – Awaiting updated text file.
The Avarice Chronicle (Combined Mummy Adventure) – Sending 2nd proof off to CA and CCP.
At Press (on Drivethru… or whatever)
Red List – Hopefully on sale

on Wednesday

.
The Poison Tree/Werewolf 20 Novel – Hopefully PoD and digital on sale

Wednesday

.
Beast Within Revised Layout – Also hoping the PoD for this one is ready.
Gen Con Banners – Looking at the digital proof of the biggun

this 

morning.
Pugmire Shirt – At Teelaunch. Reaching out to Chris to see if everything is in order.
OPP Gen Con Staff Shirt – Proof version should be here early this week.
Cavaliers of Mars QS –  PoD should be processing.
Demon Translation Guide – Digital version ready to up

on Wednesday

.
VDA20 – Tweaking names and waiting for other text changes.
Gen Con Brochure – At Gotprint. Thus far, they have only dropped the ball once since they got the files in.
Special
Dark Eras – Holding pattern.
Wraith 20 – Awaiting art notes for the book. All the logos from Cobb are in.
V20 Lore of the Clans – Holding pattern for appendices.
Exalted 3rd Edition – RT here: Went over what Maria has labelled as the 4th Layout Proof PDFs, and sent those over to the Devs for their comments. Initial comment was "So beautiful", with much more in-depth notes to come. While it is so, so great that we at last have the full book to look at in layout, the nature of the way Maria builds her design means that some sections are very close to being finished and others need more polish. But it is satisfying to have the pages so far along that I can send them over to the Devs.
REASON TO DRINK: "It's the, eh, the stuff that dreams are made of."