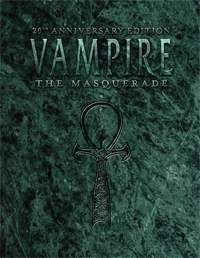 Way, way back -here- I posted a little teaser and shared the names of the 13 Anathema that are going to be featured in the upcoming Dread Names, Red List V20 supplement. Well, today I've got a bit more substantial bit of the book to share.
Originally this book was going to be a small stretch goal PDF featuring a bit of an update and some fresh new material regarding the Red List, sort of an homage to the classic Kindred Most Wanted from 1st edition Vampire. It has greatly expanded in scope and depth as to the content and its place in the V20 line since its inception. This first chapter alone eats up almost half of the originally planned word count.
As a developer and a freelancer for Onyx Path I've learned a lot from awesome people like Rich Thomas, Justin Achilli, Eddy Webb, Rose Bailey, and David Hill. I'd say this book is a vast improvement over the sketched out idea of that initial pitch during the Children of the Revolution Kickstarter, thanks in part to the learning curve and wisdom of those five people. The rest of the improvements to the text of this work are the result of the Monica Valentinelli, who you may know from her work on Strange, Dead Love and Hunter: Mortal Remains, as well as the Firefly RPG from Margaret Weis Productions. Monica has come on as the second writer on this book and is adding some awesome details to the Anathema write-ups and the Alastor investigation sections of the book.
This is more of a preview than a standard Open Development post, but I'm definitely looking forward to your comments. To get a few of the usual questions out of the way ahead of time:
When we get the book done we're still going to be delivering the PDF to the backers of the Children of the Revolution Kickstarter as promised. Hopefully it will have been worth the wait.
After that, the plan is to have the book available in both PDF and PoD at DriveThruRPG.com.
We're not going to be covering the final fates of everyone from Kindred Most Wanted that didn't make it into this book in exacting detail. Some mysteries must remain in the World of Darkness. Also this a new book, a supplement to V20, not just a patch for Kindred Most Wanted.
More sections of the book will be revealed soon, and I'm hoping to post a few of the Anathema themselves as previews.
With that, here is the unedited draft text of Dread Names, Red List Chapter One.
Note: This is a preliminary draft. Things will likely change between this draft and the final book.