Good evening, and welcome to the Monday Meeting Blog. I'm your stand-in writer, D. As Rich mentioned last Monday, he's on family vacation this week, and I've been left with the keys to the kingdom blog. Unlike Eddy, who had a nervous breakdown filling in for Rich, I'm pretty sure I'm living in a continuous state of nervous breakdown; so there's nothing new to report on that front.
Usually, Rich likes to regale readers about whatever it was we talked about in our Monday meeting. Since Rich was out this week, the rest of us summarily agreed we wouldn't meet today, and instead just enjoy our free time. Rich suggested I spend some time talking about the process Q&A I did last week, which I guess I can sum up here. But otherwise, I've been left to my own devices.
What to do, what to do…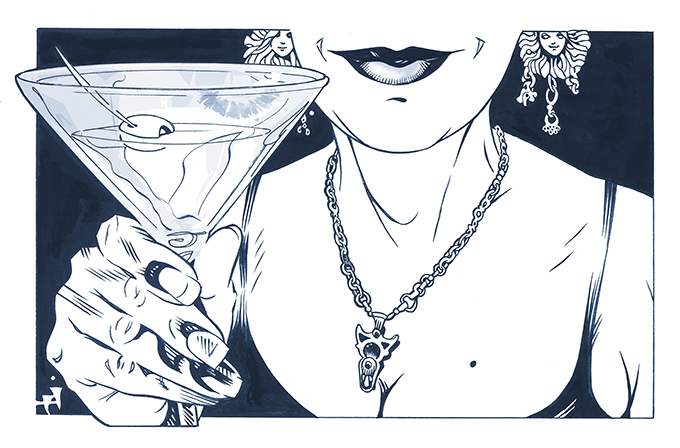 Questions Answered
I'll start with Thursday's Q&A. It was great to get questions about our processes from folks, and I hope I was able to answer them to everyone's satisfaction.
There were a lot of good questions about some processes that don't get a lot of light shined on them, such as how we consider pitches, how we decide what goes into a book, at what point do we stop making changes to books, and if we can upload anything other than InDesign or Word for layout templates for Nexus projects. I answered all these questions and more, which if you're interested in listening in, we'll be posting it as next week's Pathcast.
There were some silly questions, such as wondering if Exalted would get another Scroll of Swallowed Darkness, or if trebuchet rules show up in Once and Future.
We all pondered how in the world Rich has the time to do all the work he does around here. And I think I've come up with an answer to that, but if I say it here, the Time Police (TM) might come and take me away.
During the recording, my puppy, Klaus started eating CDs. He cronched the jewel case for Green Jelly's Cereal Killer Soundtrack, but I was able to save Green Day's Dookie from imminent demise. Clearly he was pulling from the G shelf and honestly, trying to eat Dookie is just too much of a trope for any self-respecting dog.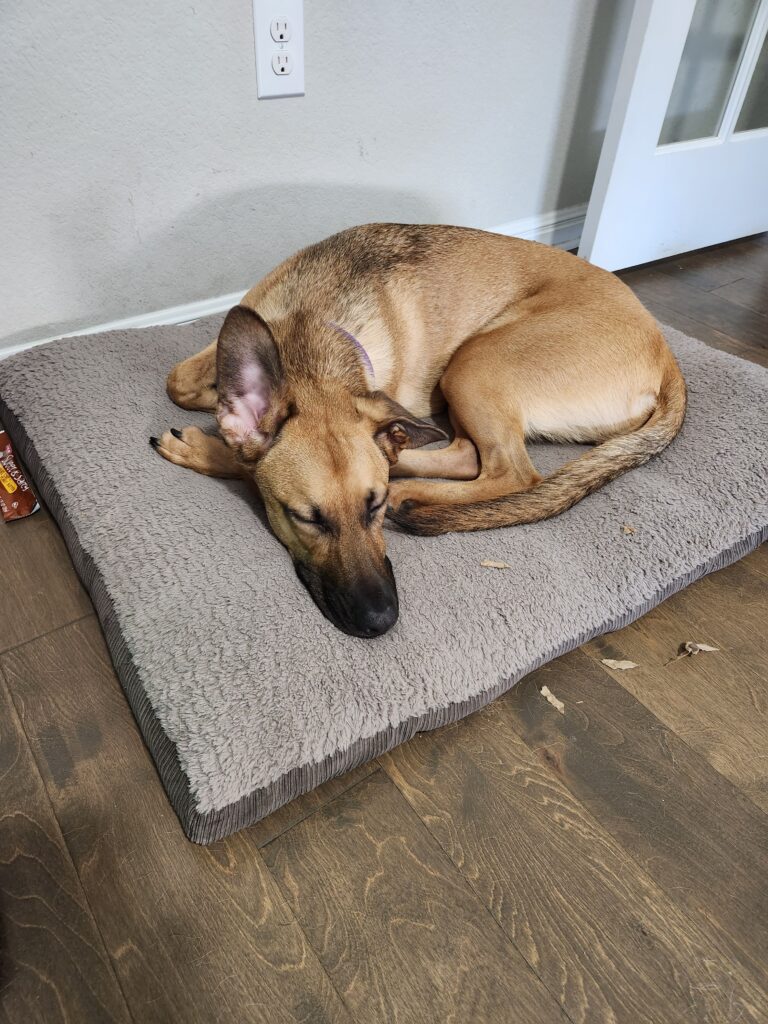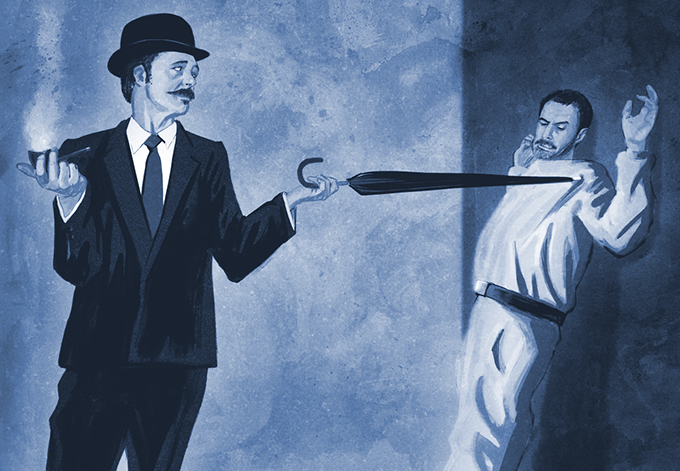 Speaking of…
So I know I answered a lot of questions about our processes, but I also wanted to discuss one of the questions that came up, and I know comes up, more than once: how do we decide when to stop making changes to a book?
So this is something that isn't just an us thing, but an everyone thing. How do you decide enough is enough and stop tweaking a creative work? When the process is collaborative, we must set deadlines and simply move on once we get to a deadline. If you're working on a personal project, tweaking, fiddling, and changing can overwhelm you. Around here, we like to say that done is beautiful. Of course we want all our products to be the best they possibly can be, which is why we go through so many errata phases with our fans, showing off what we've written and getting feedback along the way.
I often joke that mistakes in books such as typos, incorrect wording, and improper phrasing give the work character. We strive to prevent those things, and we have dozens of people read through the material over the course of its production cycle before it even reaches the fans for errata, where they often find more of these mistakes. I believe if a mistake makes it to print, that tenacious little bugger deserves to live.
For your own creative project, consider that no one is a bigger critic of your work than yourself. Sure, it might have some mistakes, but few people will hold it against you. And you can't learn from those mistakes until you put them out there and let people teach you. So if you're holding onto a poem, changing lines every other day, or you're still editing your novella you've been sitting on for the past three years, or maybe you've got a piece of art you keep changing the lines on. STOP. Let it go. Send it out into the world and see if it will flourish. And if it doesn't, don't get discouraged. Learn from it, and start on something newer and better than the last. It took me nearly 2 years from my original pitch to actually writing up a setting bible to get At the Gates started because I kept worrying over if I was doing it right, or what needed to be there. Take my advice, and don't do that to yourself!
I mean, if people can enjoy redacted despite its flaws, they can enjoy your work as well.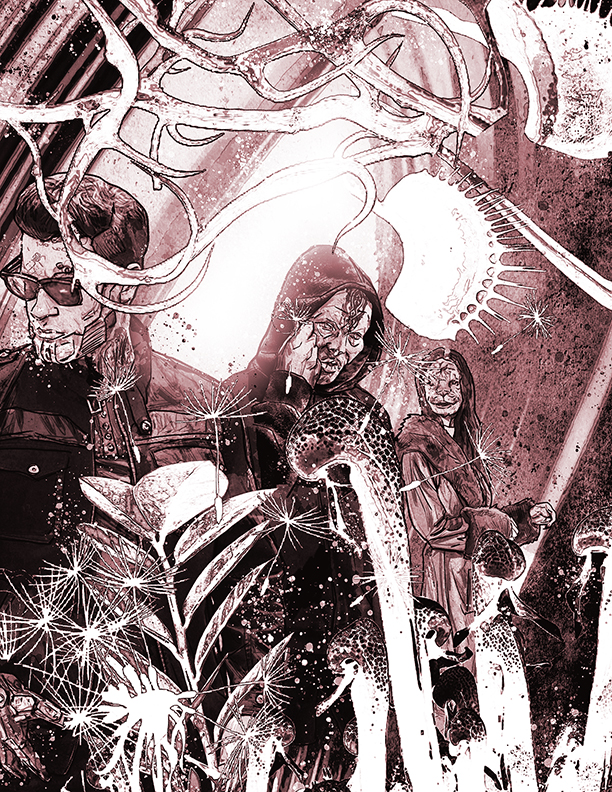 Something, something, something…
MANY WORLDS, ONE PATH!
---
BLURBS!
---
KICKSTARTER/CROWDFUNDING!
ONLY 10 DAYS LEFT!
Here's a link to the BackerKit campaign landing page!
https://www.backerkit.com/call_to_action/877c1416-a77f-42a9-8c11-8aedb2e4656c/landing?ref=OnyxPath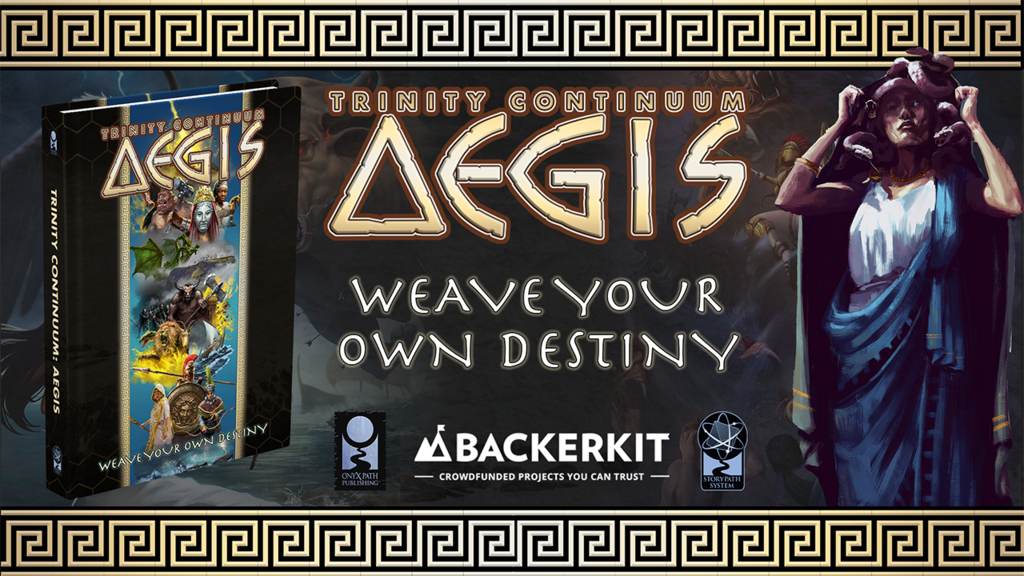 ---
Onyx Path Media!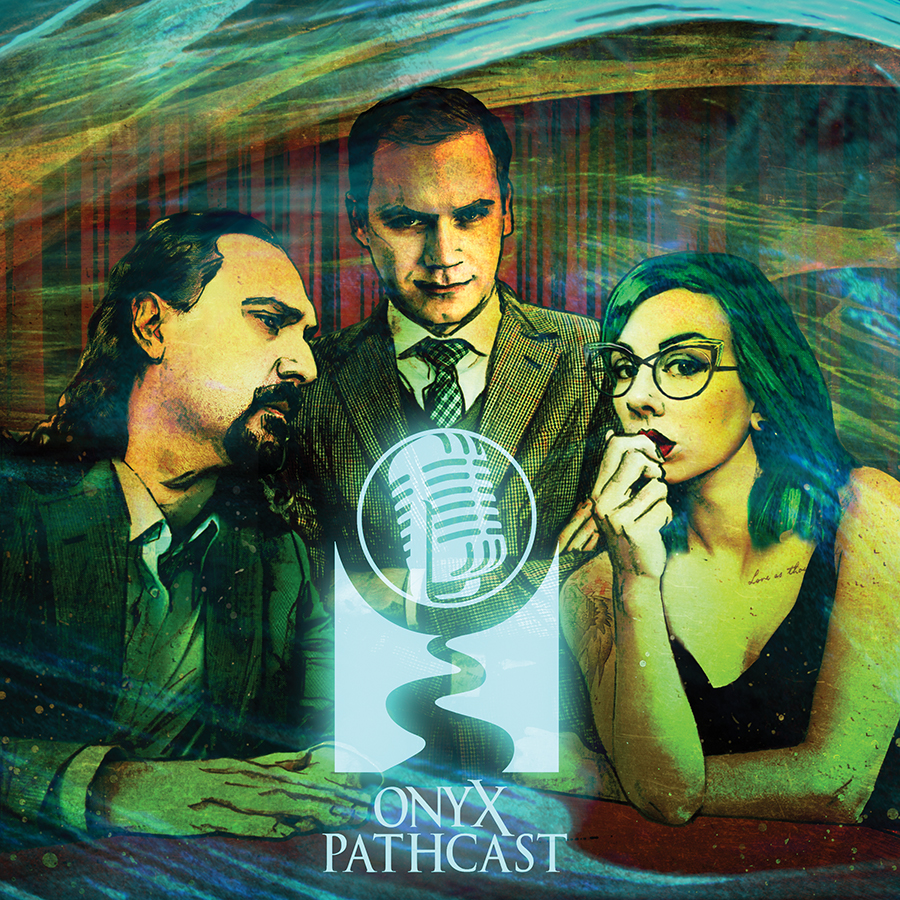 This week:
Dixie and I talk to MK Anderson about editing!
As always, this Friday's Onyx Pathcast will be on Podbean or your favorite podcast venue! https://onyxpathcast.podbean.com/
---
Please check out our attached media schedule for the videos on our Twitch channel this week! In particular, keep those eyes open for our Storypath Showcase, where we give an excellent profile of our various Storypath games and how to play them!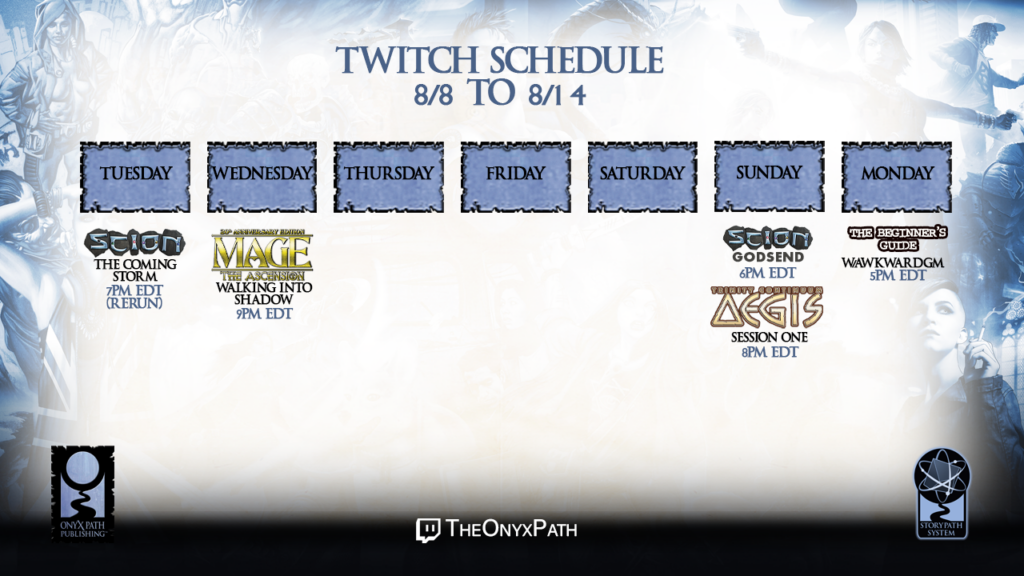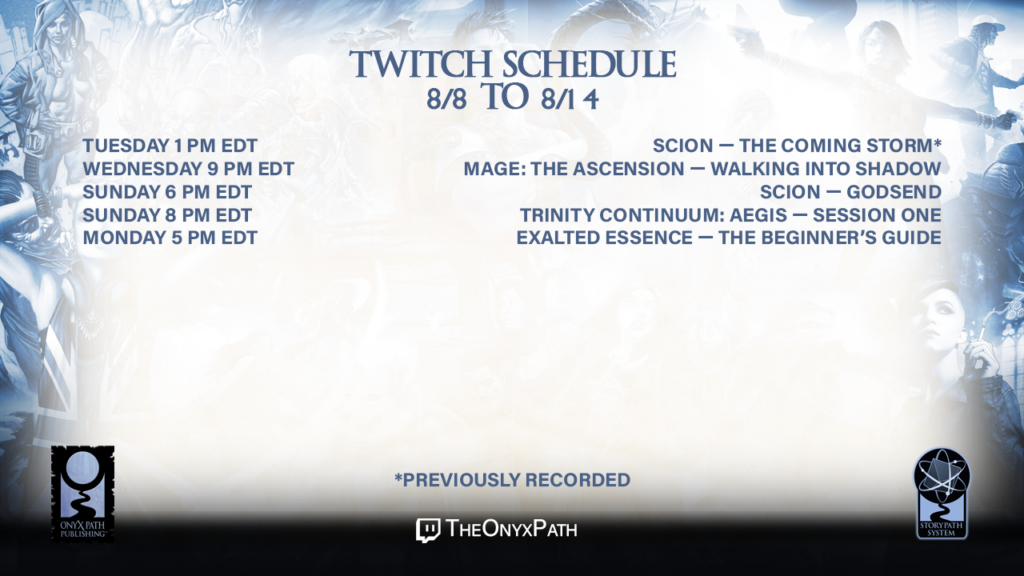 MEDIA HIGHLIGHT OF THE WEEK:
If you're one of our Portuguese language or Latin American fans, you should really check out Overzones on YouTube, as they are currently running through the Flights and Pantheons of the Scion RPG! You can find a couple of their playlists right here:
Playlist about the Flights:
Playlist about the Pantheons:
The Onyx Path News discusses recent and upcoming releases! You can find it on our YouTube channel (click the bell to be informed when we go live!) but if you missed the last episode, here it is: https://youtube.com/live/DrELPzqF-6A
---
Virtual Tabletop!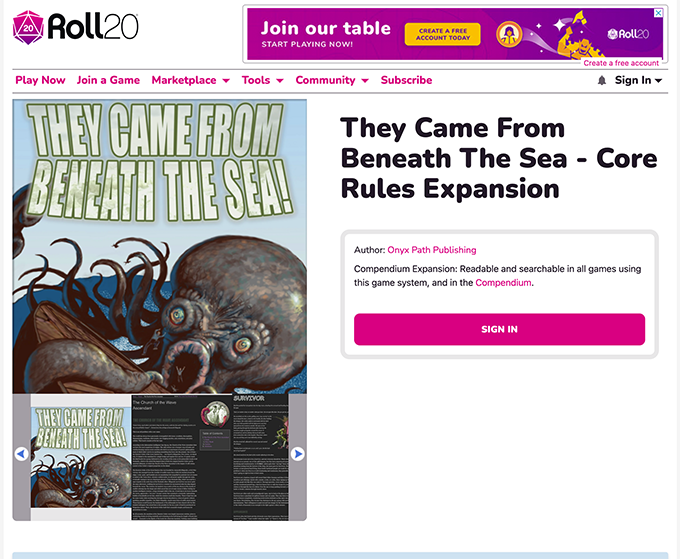 NEW!
They Came From Beneath the Sea! on Roll20 VTT!
https://marketplace.roll20.net/browse/bundle/22308/they-came-from-beneath-the-sea
Here are some more shots from the They Came From Beneath the Sea! Compendium!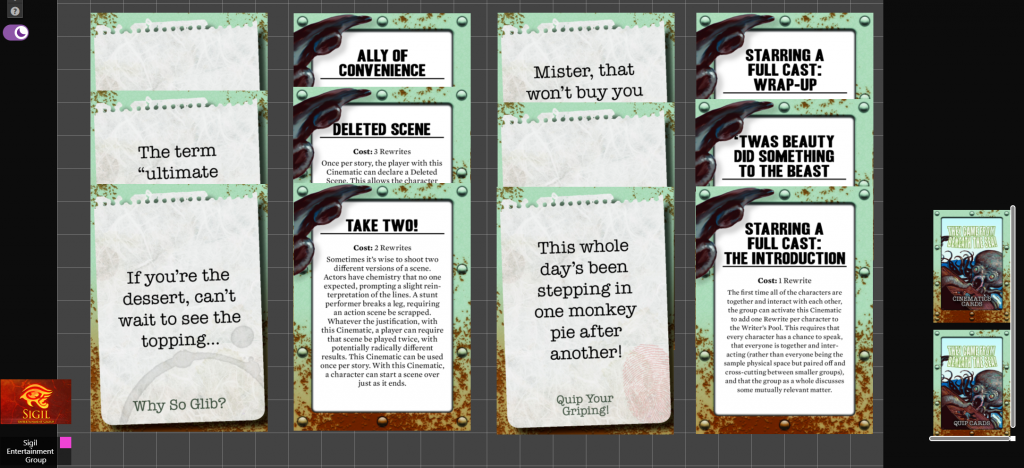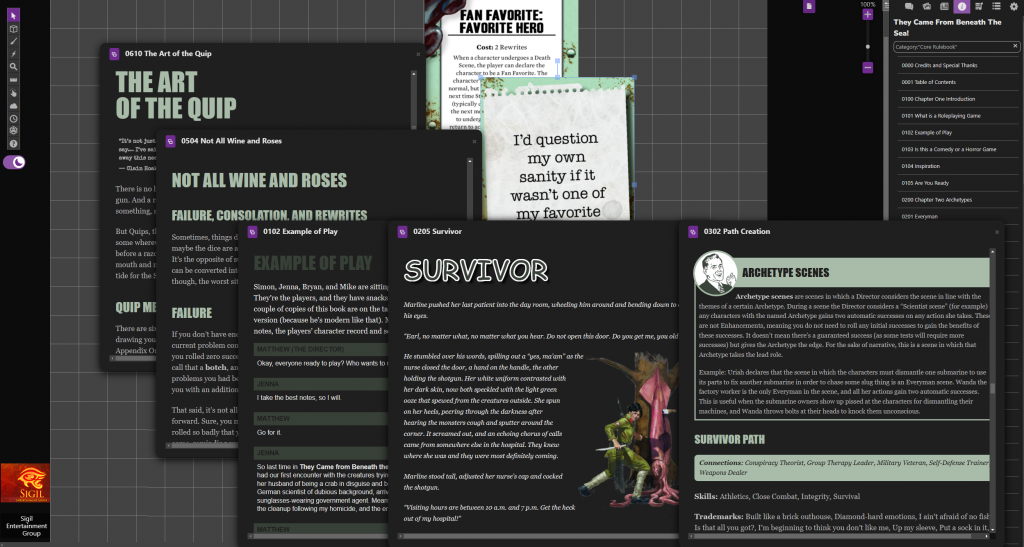 And there's also the Scion Jumpstart, all ready for Roll20 VTT fun!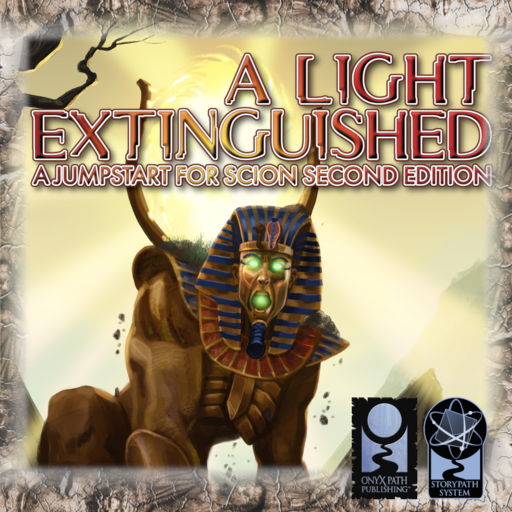 https://marketplace.roll20.net/browse/bundle/21165/a-light-extinguished-a-jumpstart-for-scion-second-edition
More news and links when we have them!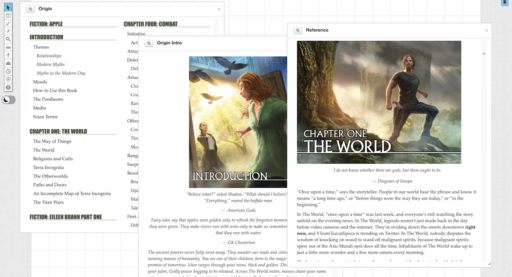 The Scion: Origin and Scion Hero Compendiums are now available on Roll20!

https://marketplace.roll20.net/browse/publisher/1716/onyx-path-publishing

Scion is just the start! They Came From Beneath the Sea! and other
Onyx Path RPGs are in development for Roll20 virtual tabletop!

The first of our official Scion sheets designed for Foundry VTT are
now available!

Direct Link: https://foundryvtt.co
Looking for more virtual tabletop resources? We have a selection of
Tokens, Encounters, and more available now at DriveThruRPG!

Get 'em here: https://bit.ly/3SnrNJ7
---
Our Sales Partners!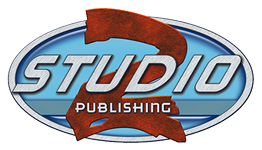 We're working with Studio2 to provide our traditionally printed books out into your local game stores. Game stores can order via their usual distributors, and can also contact Studio2 directly. And individuals can check out our projects via the links below!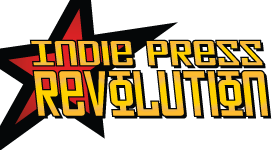 Looking for our Deluxe or Prestige Edition books, dice, and screens? Try this link! http://www.indiepressrevolution.com/xcart/Onyx-Path-Publishing/

As always, you can find Onyx Path's titles in PDF and PoD versions at DriveThruRPG.com!
Amazon and Barnes & Noble!
You can now read our fiction from the comfort and convenience of your Kindle (from Amazon) and Nook (from Barnes & Noble).

Check out Melody Through the Mirrorshade Lens (I wrote a story in this!) and Facets of Truth, as well as Trinity Continuum: Terat and The Hollow Courts on Kindle in the Kindle store!
---
On Sale This Week!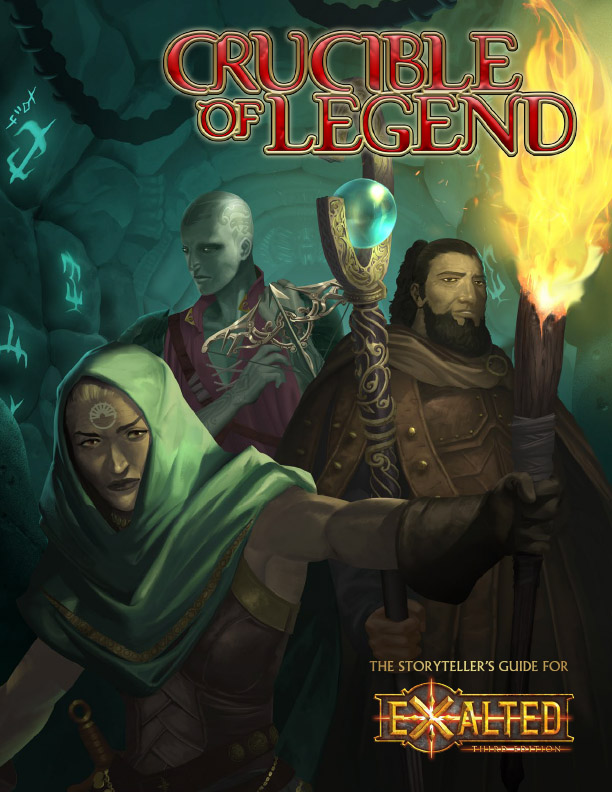 The long awaited Crucible of Legend is on sale this Wednesday at noon! Crucible of Legend is an ST Guide for Exalted 3E, presenting useful story hooks, alternate rules, and guidance for running games in Creation. A must have for Exalted Third Edition and Exalted: Essence Storytellers alike. It's got a preview for Alchemicals in it, which I'm super excited for you all to read!
As a treat…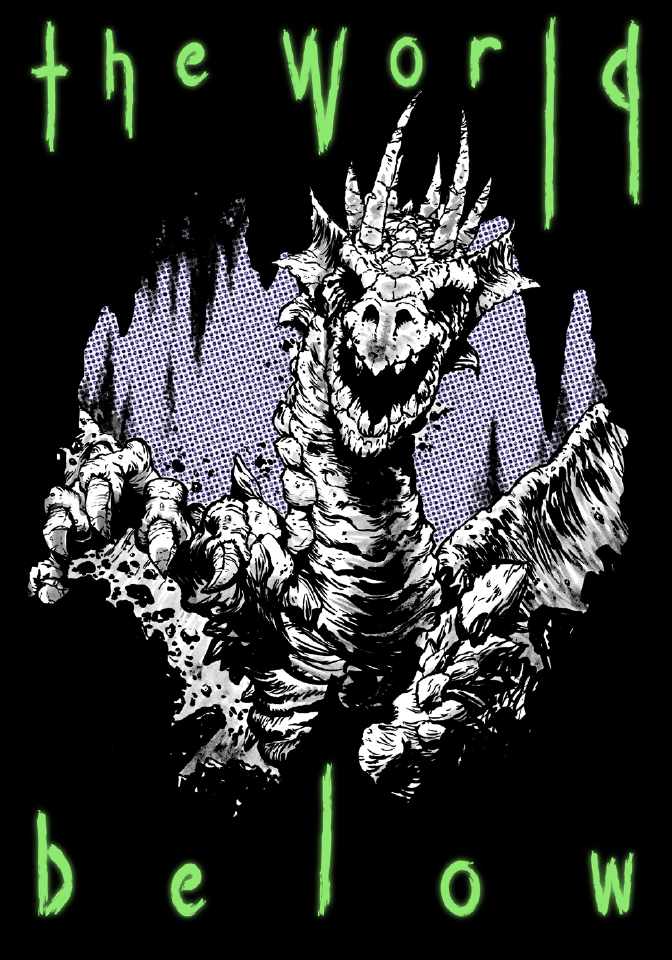 The World Below Ashcan is now available in POD. I'm gonna get a copy of this so I can show off this cool little world to all my friends!
---
Conventions!
As we are slowly returning to attending conventions in person after the current COVID-19 outbreak, keep an eye out here for more physical and virtual conventions we're going to be involved with!
GenCon was last weekend and I hope that everyone who went had a fantastic time and bought a lot of our games. Even if you didn't buy our games, I hope you played some. Either way, please don't tell me about it, I'm already jealous enough since I didn't go this year.
GameHoleCon (Oct 19th – 22nd) has updated their Exhibitor list, and we're on it!:
https://www.gameholecon.com/

We'll be part of the Studio 2 booth at PAX Unplugged (December 1st – 3rd):
https://unplugged.paxsite.com/ (Also, I'll be there, so you can come play a fun game with me!)
Game Night With Onyx Path Publishing at Start.Playing is the last Friday of every month! Come play some Trinity Continuum in celebration of the Trinity Continuum: Aegis crowdfunding! (But any of our game lines are welcome all day long!)
Please spread the word about GMing games as much as
possible. Details on how list a game are at the bottom of the page in
the FAQ:

https://startplaying.games/event/game-night-onyx-path
Seriously, if you haven't checked this out, I suggest you look into it. This site is rad!
---
Ah yes, what I know you're really scrolling for…
Project status updates!
Our full list of projects will be available monthly on our blog! Check out July's full list report here:
DEVELOPMENT STATUS FROM EDDY
Here are the projects that moved to the next stage of production:
First Draft
Tasty Bit – They Came from Camp Murder Lake! (October 2023: Cabin in the Woods)
Eddy: It's been a long time, but I convinced Matthew to write another They Came From Tasty Bit. So he'll be handling the words for this encounter snack about a cabin in the woods!
Development
TC Aether – Aether Companion
Eddy: Final drafts for the Aether Companion are all in, and ready to be thrown into an Aether Gate to appear in a dimension where the work is already done. Oh, I wish it were that simple.
Editing
Exalted – Tomb of Memory (was Exalted Essence Jumpstart)
Danielle (That's me!): This Jumpstart has quickly moved to editing. Yay!
Editing: Scion – Scion: Divine Inspiration
Matthew: After a good review of plot seeds and seed packs, this book is off to the editing queue!
Post-Editing Development
They Came From the Cyclops's Cave! – They Came from Witchford Academy!
Matthew: Fresh back from editing, Witchford Academy advances up the They Came From track toward completion!
---
ART DIRECTION FROM MIKE CHANEY!
In Art Direction
Ex3 Many Faced Strangers – First batch of NPC sketches in for approval…
Ex3 Exigents – Notes with Maria.
TCF Cyclops Cave/Classified – Trying to line up map artist
TC Player's Guide – Figuring out art buy
SCION God 2e – Getting this rolling.
SCION Titans Rising -prepping KS assets
In Layout
Ex Essence Screen – Screen itself is about done… just need to fill some holes on the back of the screen.
Ex Essence Charm Cards – After doing a couple of prototypes, we have a workable template to build on.
Wallpapers for Essence
Proofing
TC Assassins VTT Adventure – Still working on fixes… there's a bunch.
Indexing
At Press
TC Anima – Errata incorporation this week so we can get the index going.
TC: Adventure! – Should see press proofs shortly.
TC Adventure Storyguide Screen and Booklet – Uploading files for Printer… fingers crossed.
Exalted Essence – Quoting with Printers.
W20 Apocalyptic Record – Interior and endpages done… working on LtD cover.
W20 Apocalyptic Record Screen & Booklet – Uploaded files for Printer… fingers crossed.
M20 Lore of the Traditions – Errata phase done… now begins errata incorporation and page xxs. Also working on the printer quote for the LtD version.
Legendlore: Legacies of Earth – Errata phase done…
Ex 3 Crucible of Legends – Advance PDF available Weds on DTRPG!
The World Below Ashcan – PoD version on sale Weds on DTRPG!
---
Today's Reason to Celebrate!
It's the hottest month of the summer, and a great time to just become a vegetable on the couch and drink mojitos, gin and tonic, or just some sparkling water to keep yourself cool. Rich is on vacation with his family this week, so I'm celebrating the freedom from meetings and trying to ignore the record breaking over 100oF heat that has been going on since June here in Texas.