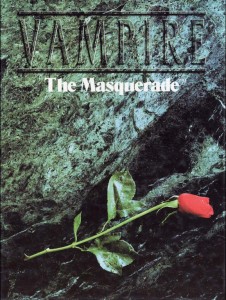 A selection of books from Vampire: The Masquerade 2nd Edition are available for the next two weeks on the Bundle of Holding! You can get a bunch of great classic Vampire books for cheap, and 10% of the proceeds will go to Rich Thomas' chosen charity, The Dream Foundation.
The Player's Collection includes VTM 2e, the Vampire Players Guide 2nd Edition, and the Player's Guide to the Sabbat, retail value $40, for only $8.95!
If you pay more than the threshold price (which changes over time, but currently $24.26), you also get the Storytellers Collection, including A World of Darkness 2nd Edition, Chicago by Night 2nd Edition, The Storytellers Handbook, The Kindred Most Wanted, Who's Who Among Vampires: Children of the Inquisition, and the Storytellers Handbook to the Sabbat, a retail value of $56.