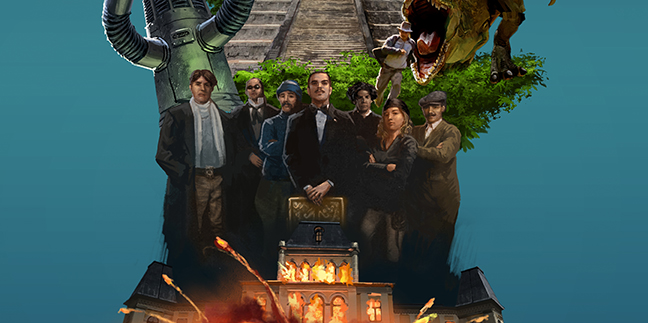 It's May, and much of our Monday Meeting might was manifested on malingering messaging and making more magnificent manuals!
In other words: planning, progress, personal and personnel problems, and perhaps a pinch of praise.
So, the usual stuff, but writ large.
On the praise side of things: look at Trinity Continuum: Adventure! still up there in the DTRPG Top Ten! Not bad for the lil' Pulp Game That Could!
I've also been really happy to see that there are more than a few folks planning on using the TC: Adventure! rules to run their own settings: some in the 70s and 80s, some modern, and some that veer away from the Aeon Society and lean much harder into other kinds of pulp adventures. Plus, at least one table has an entirely different set of adventurers from marginalized peoples going up against the Nazis. So excited that TC: Adventure! can be the springboard for all that creativity and imagination!
Back with first edition, it was a real fight to convince the powers-that-were that our planned third pulp game should be followed through on and published. "Pulp games don't sell" was the mantra, but we fortunately had seeded the importance of the pulp era in the previous two Aeon Trinity games – I mean the original "old photograph" of the original Aeon Society that was replicated on this edition's cover (as seen above) was used in both those cores to set the stage!
It wasn't just because it was a chance for my production department along with Ken Cliffe to dress up as pulp characters…really.
Nope, it was a continuing bit of lore that we hoped would create a sense of scope, at least through time. But with having that already done, and a mock-up cover where I scanned in an actual Doc Savage pulp magazine I had to get all the chips and cracks and tears that denoted age for our cover edges, we were able to get those decision makers to green-light just the core and no more.
This time around, thanks to a successful KS campaign, we already have several projects rolling along for TC: Adventure!, and depending on sales, maybe more!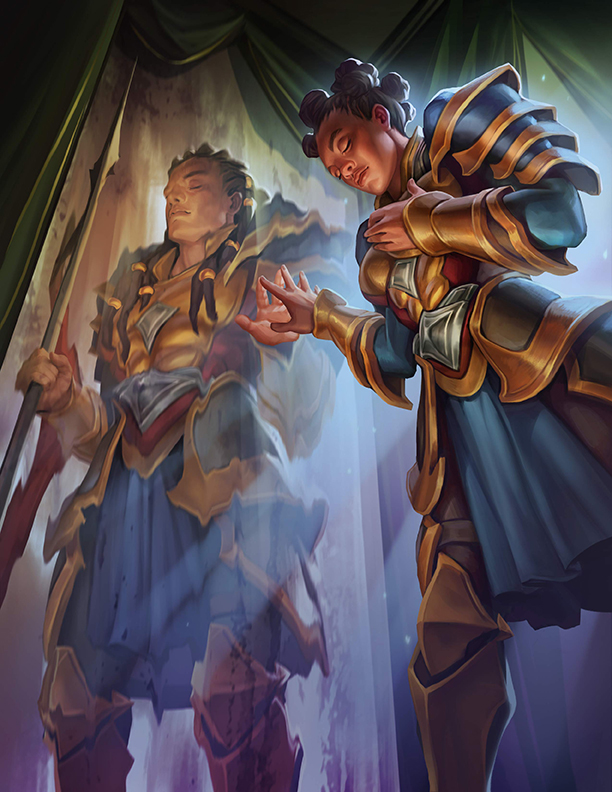 Still working on overhauling our blog pages (and the main site) to bring it back visually closer to the old one, but without losing any of the good stuff we've gained, so sorry if things still look a little odd.
There was another oddness, or oddity, last week with the recording of the Onyx Pathcast, so the expected deep dive into The World Below, our yet to be released fantasy game utilizing the Storypath Ultra System, will actually go live this coming Friday, at your favorite podcast venue.
Last Friday's replacement Pathcast is pretty interesting itself, as Matthew and Danielle talk about personal introductions to games in general, Onyx Path games, and reach out to the audience about how they got into gaming!
If the wait for that Deep Dive into The World Below is still taking too long, remember that Matthew has been, and still is, posting blogs about it every Thursday! Usually accompanied by a poll for what folks want to hear about next: this week, I hear he's revealing some of the twisted permutations that comprise Kaos magic! So you got that goin' for ya!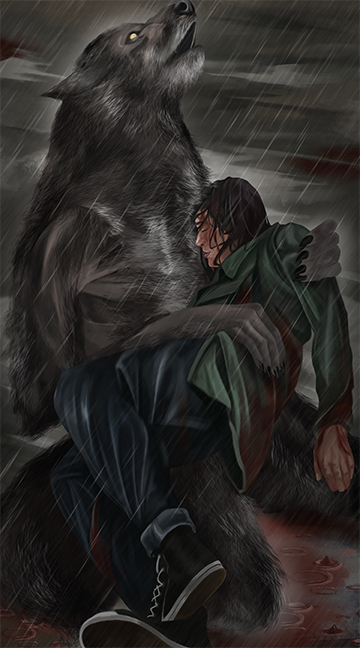 Thanks to everybody who donated to the Bodhana Group's fundraiser over the weekend. They received almost $3K in donations, which is super-helpful support for their efforts towards bringing tabletop gaming and therapeutic methods together. During the weekend, they ran beta-test games of Branch Riders, the TTRPG we are helping them create and will be publishing. Just as teasers, here are some pics of their playtest materials: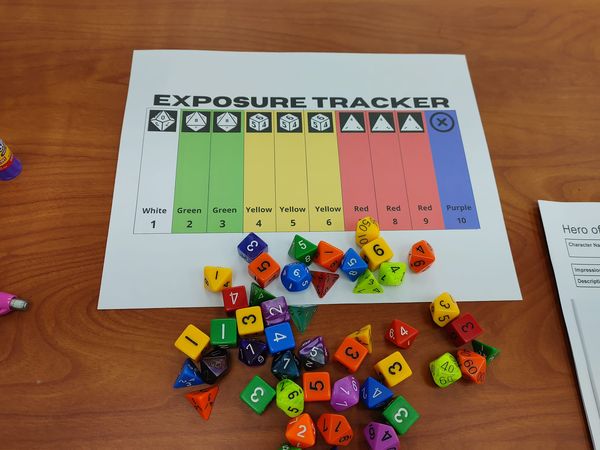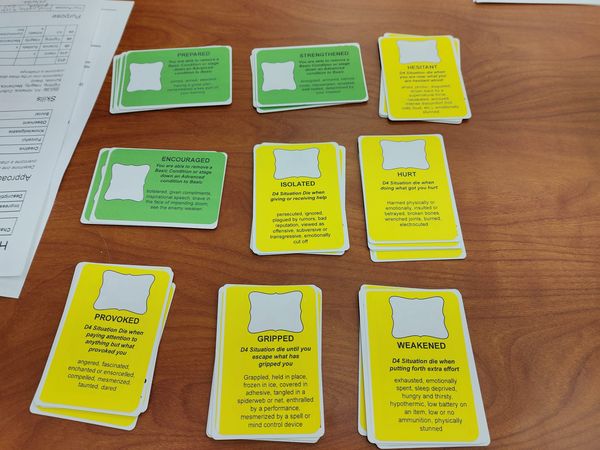 Also during the meeting today, we discussed a couple of upcoming conventions we'll be supporting: first, UK Games Expo (June 2nd – 4th) is almost here. Matthew and Eddy (now that he's local!) will be running games along with a couple of other enthusiastic and super-friendly developers. Leisure Games will have a small selection of our books for sale at the show. We're also making business cards with a QR code linking to our catalog on DTRPG so interested folks can go right there!
Of course, the other big convention for us, huuuge really, is the Onyx Path Virtual Convention (June 16th – 18th) We'll be focusing primarily on Storypath, Exalted, and Pugmire, but any OPP game works. And please do reach out if you want to join us to play during the convention, and especially if you want to run games. Can't have enough games!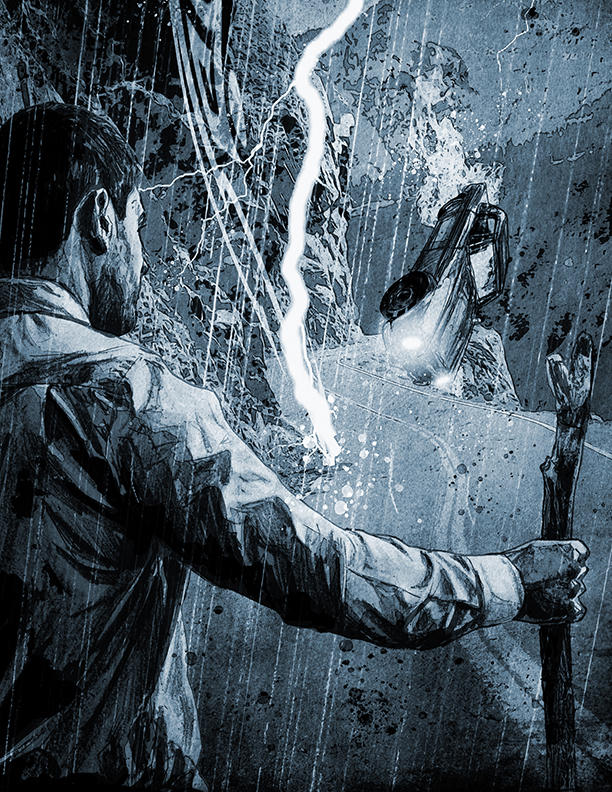 Finally, during the continuing fascinating conversation in the Comments section of this blog, a few contributors mentioned the question of whether a new urban horror/dark fantasy by Onyx Path – still just speculation – should focus on one sort of supernatural creature, or several, or a bunch. Which is a really interesting question about both the setting design, and also our conception of what gamers might be looking for. Do we want a slow drip of supernatural types, like one type a year, or a bunch at once so they can interact (or at least flesh out a multi-layered supernatural world)?
Which, for me, also brings up the question of which ones do we include in a new scary setting? If a single type of supernatural PC, how do you pick which one – hell, that's a hard call if you're looking at picking just three, or five, or thirteen! Think of all the possibilities we've touched on in WoD and CofD, after all. That's a lotta monsters to fill up the night!
So, if you have thoughts on this – please do share them in the Comments and we'll talk. We'll have a nice nosh, and chat. Anything for y'all, the folks who make it so much fun to travel to our:
MANY WORLDS, ONE PATH!
---
BLURBS!
---
KICKSTARTER/CROWDFUNDING!
Coming Later This Month: They Came From…?
---
Onyx Path Media!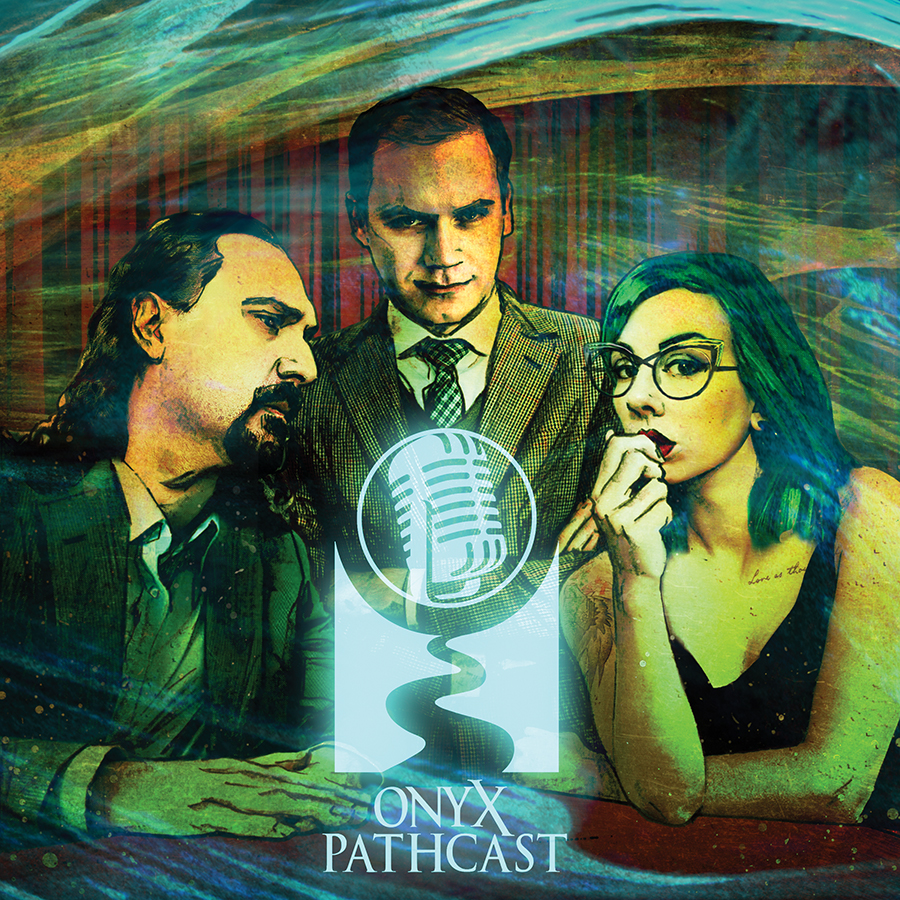 This week:
The original episode plan was lost in the darkness beneath the earth, so this week the Pathcast crew really are digging deep into The World Below!
As always, this Friday's Onyx Pathcast will be on Podbean or your favorite podcast venue! https://onyxpathcast.podbean.com/
---
Onyx Path Media now has its own blog on Tuesdays! We'll continue posting our highlight of the week here, but Tuesday will be the day to visit if you want to catch up on actual plays, interviews, deep dives, and other assorted Onyx Path media!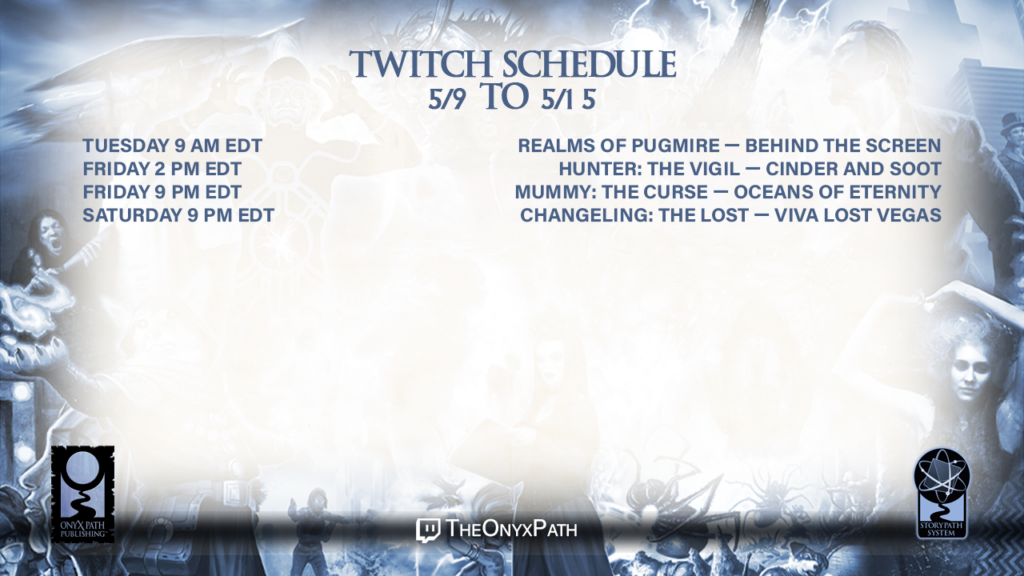 Please check out our attached media schedule for the videos on our Twitch channel this week! In particular, keep those eyes open for our Storypath Showcase, where we give an excellent profile of our various Storypath games and how to play them!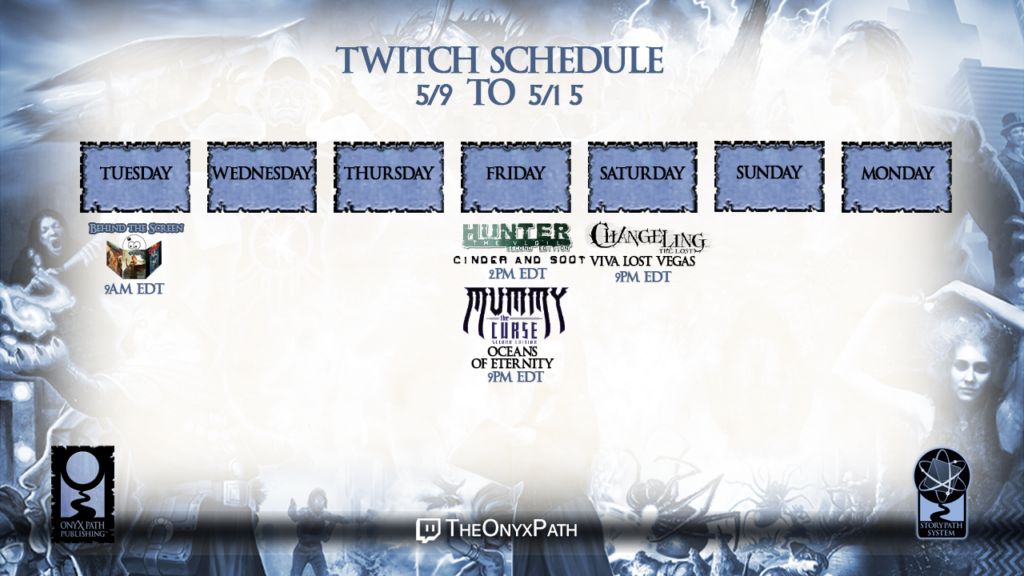 MEDIA HIGHLIGHT OF THE WEEK:
A new series continues on the subject of the Scion roleplaying game! This show, run by the talented Asterinomous, is all about Scion stories, and now moves on to The Golden Cage (or how to catch a god). Watch the video and take some inspiration!: https://youtu.be/GBKWROZvtlM Give them a subscribe and a like, and leave comments on their videos!
The Onyx Path News discusses recent and upcoming releases! You can find it on our YouTube channel (click the bell to be informed when we go live!) but if you missed the last episode, here it is: https://youtube.com/live/n2ohi-49qGQ
---
Virtual Tabletop!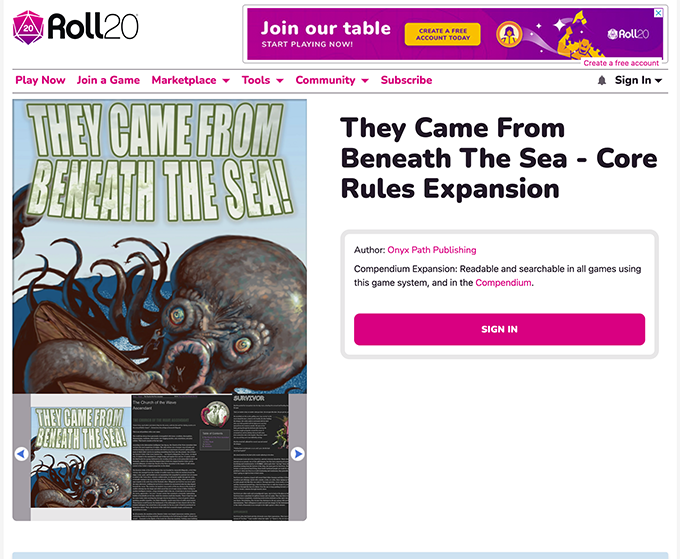 NEW!
They Came From Beneath the Sea! on Roll20 VTT!
https://marketplace.roll20.net/browse/bundle/22308/they-came-from-beneath-the-sea
Here are some more shots from the They Came From Beneath the Sea! Compendium!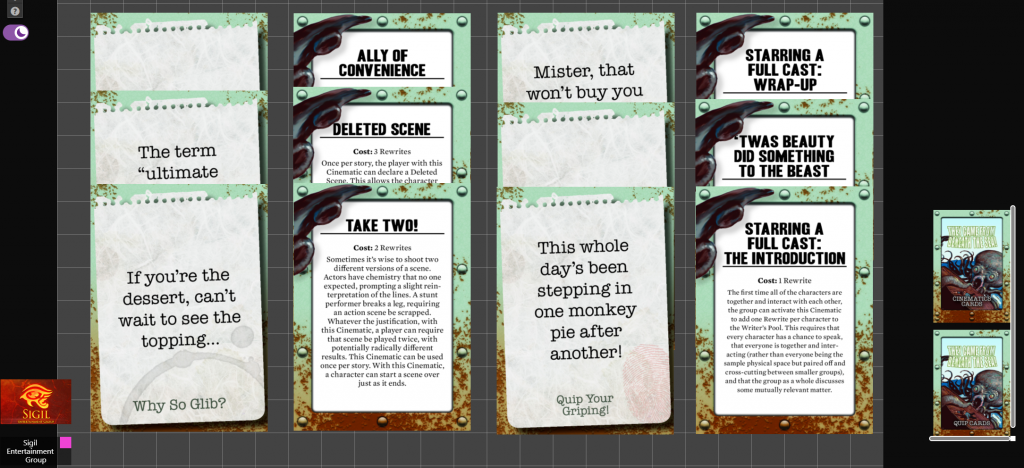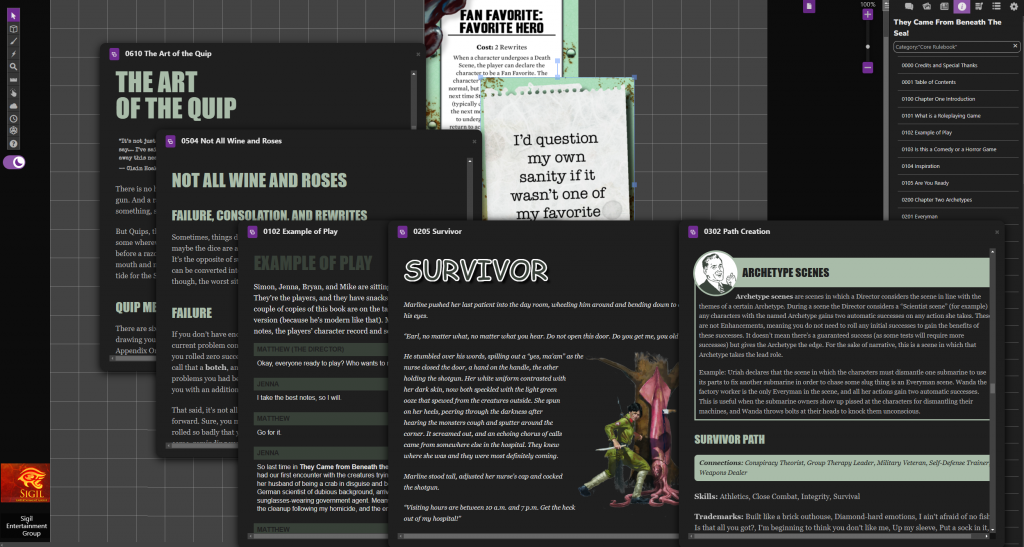 And there's also the Scion Jumpstart, all ready for Roll20 VTT fun!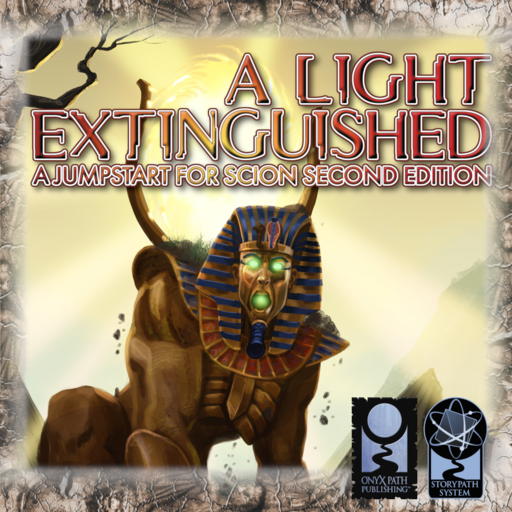 https://marketplace.roll20.net/browse/bundle/21165/a-light-extinguished-a-jumpstart-for-scion-second-edition
More news and links when we have them!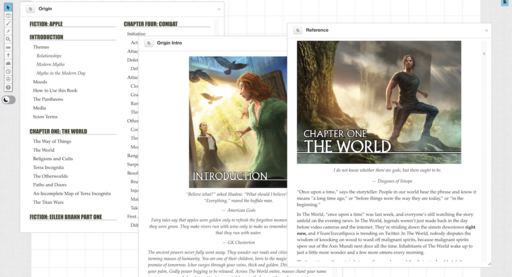 The Scion: Origin and Scion Hero Compendiums are now available on Roll20!

https://marketplace.roll20.net/browse/publisher/1716/onyx-path-publishing

Scion is just the start! They Came From Beneath the Sea! and other
Onyx Path RPGs are in development for Roll20 virtual tabletop!

The first of our official Scion sheets designed for Foundry VTT are
now available!

Direct Link: https://foundryvtt.co
Looking for more virtual tabletop resources? We have a selection of
Tokens, Encounters, and more available now at DriveThruRPG!

Get 'em here: https://bit.ly/3SnrNJ7
---
Our Sales Partners!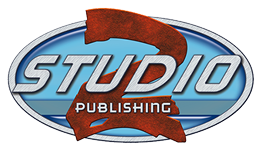 We're working with Studio2 to provide our traditionally printed books out into your local game stores. Game stores can order via their usual distributors, and can also contact Studio2 directly. And individuals can check out our projects via the links below!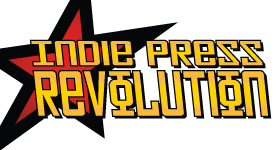 Looking for our Deluxe or Prestige Edition books, dice, and screens? Try this link! http://www.indiepressrevolution.com/xcart/Onyx-Path-Publishing/
https://www.indiepressrevolution.com/xcart/Deals-and-Specials/

As always, you can find Onyx Path's titles in PDF and PoD versions at DriveThruRPG.com!
Amazon and Barnes & Noble!
You can now read our fiction from the comfort and convenience of your Kindle (from Amazon) and Nook (from Barnes & Noble).

Check out Melody Through the Mirrorshade Lens and Facets of Truth , as well as Trinity Continuum: Terat and The Hollow Courts on Kindle in the Kindle store!
---
On Sale This Week!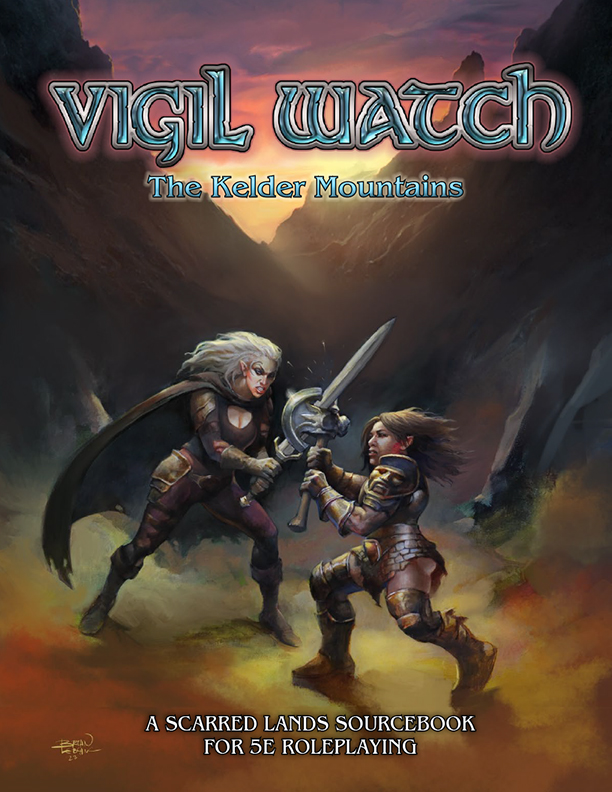 Explore some of the most challenging areas in the Scarred Lands – the home of both dwarves and elves – in the Kelder Mountains! PDF and PoD versions on sale this Weds on DTRPG!
---
Conventions!
As we are slowly returning to attending conventions in person after the current COVID-19 outbreak, keep an eye out here for more physical and virtual conventions we're going to be involved with!
UK Games Expo (June 2nd – 4th) is almost here. Matthew and Eddy will be running games along with a couple of our awesome developers. Leisure Games will have a small selection of our books for sale at the show. We're also making business cards with a QR code linking to our catalog on DTRPG.
Onyx Path Virtual Convention (June 16th – 18th) We'll be focusing
primarily on Storypath, Exalted, and Pugmire, but any OPP game works! As well as tons of panels, games, and other events, we'll have slots opens for folks to run games, so start making your plans now!
Game Night With Onyx Path Publishing at Start.Playing is the last Friday of every month! Come play some They Came From! in celebration of the upcoming They Came From…? KS! (But any of our game lines are welcome all day long!)
Please spread the word about GMing games as much as
possible. Details on how list a game are at the bottom of the page in
the FAQ:

https://startplaying.games/event/game-night-onyx-path
---
And now, the new project status updates!
Our full list of projects will be available monthly on our blog! Check out April's full list report here: https://theonyxpath.com/release-roundup-april-2023/
DEVELOPMENT STATUS FROM EDDY
Here are the projects that moved to the next stage of production:
First Draft
Tasty Bit – TC: Aberrant: Rooftops
Eddy: Our next Tasty Bit will be a nova conflict in the rooftops of a city! I'm curious to see how this one will turn out!
Redlines
Scion: God Jumpstart
Matthew: For a lot of roleplayers, the Jumpstart is their first sight of one of our RPGs. Therefore, we want them to be enticing openings to their respective source games. With this in mind, I'm very interested to see what the God Jumpstart will contain, as finding a way to condense Scion: God's essence into a snapshot Jumpstart will be an impressive challenge!
Final Draft
TC: Aether – TC: Aether Player's Guide
Eddy: The redlines were turned around on time, so it's full steam ahead for the final drafts of our player's guide for Trinity Continuum: Aether!
Editing
Tasty Bit – Scion Demigod: Village
Eddy: The fog-shrouded village has peeked through the mists to end up in the editing queue!
Post-Editing Development
TC: Aberrant – Best at What I Do
Eddy: Just got this back from the editor today. I'm having our new Managing Editor look it over, but then again this book about lone novas and Elites doesn't play by the rules. Well, it actually does play by the rules — the Storypath rules — but I meant… well, you get it.
---
ART DIRECTION FROM MIKE CHANEY!
In Art Direction
M20 Lore of the Traditions – Got Mark doing the last of the art.
M20 Victorian Jumpstart – Contracted.
SCION Once and Future – Awaiting art from Gong and Lauren.
TC Aegis (KS) – KS notes with Maria.
TCF ? (KS) – Wrapping up KS graphics so we can get KS approval…
TC Adventure Addendum – Contracted.
DTR Clade Companion – Contracted.
CtL2e The Hedge – Emails out to artists.
HtV Jumpstart – Contracted.
W20 Icons of Rage – Almost contracted out.
In Layout
TC Anima
W20 Apocalyptic Record Screen & Booklet
HTV Tending the Flame – Got sketches for addt'l splats and symbols are working.
W20 Howls of the Apocalypse – I'm about half way through it.
Wallpapers for Essence, Adventure, Apocalyptic Record
Proofing
MtAw Tome of the Pentacle – At Paradox for approval.
TC Adventure Screen & Booklet – Wrapping that up and getting it ready for press.
Indexing
At Press
M20 Victorian Age – Finishing shipping to KS backers.
M20 Victorian Age Screen – Finishing shipping to KS backers.
Scion Dragon Screen – Finishing shipping to KS backers.
Scion Dragon – Finishing shipping to KS backers.
Scion Masks of the Mythos – Finishing shipping to KS backers.
Scion Masks of the Mythos Screen – Finishing shipping to KS backers.
They Came From! Tasty Bit Compilation – PoD proof on the way.
Ex3 Surface Truths – PoD proof on the way.
TC Stampede of Justice (Adventure JS) – PoD files uploaded.
TC: Adventure! – Trad printing files prepping. Awaiting specs from Printer.
W20 Apocalyptic Record – PoD files uploaded.
SL Vigil Watch Kelder Mtns – PDF and PoD versions on sale this Weds. on DTRPG!
---
Today's Reason to Celebrate!
On this date in 1920, Saul Bass, American graphic designer, illustrator, and director was born. He once described his main goal for his film title sequences as being to "try to reach for a simple, visual phrase that tells you what the picture is all about and evokes the essence of the story". He was also noted for noting that he really couldn't draw, but that didn't stop him from illustrating. These two thoughts are borne out in his most famous pieces: the title sequence for Otto Preminger's The Man with the Golden Arm (1955). The subject of the film was a jazz musician's struggle to overcome his heroin addiction, a taboo subject in the mid-1950s. Bass decided to create an innovative title sequence to match the film's controversial subject. He chose the arm as the central image, as it is a strong image relating to heroin addiction. The titles featured an animated, white on black paper cut-out arm of a heroin addict. As he hoped, it caused a sensation. And for Alfred Hitchcock, Bass provided effective, memorable title sequences, inventing a new type of kinetic typography, for North by Northwest (1959), Vertigo (1958), and Psycho (1960). It was this kind of innovative, revolutionary work that made Bass a revered graphic designer. Before the advent of Bass's title sequences in the 1950s, titles were generally static, separate from the movie, and it was common for them to be projected onto the cinema curtains, the curtains only being raised right before the first scene of the movie. And TIL that he actually did the storyboards for the infamous shower scene in Psycho, which Hitchcock followed meticulously.