Welcome back to our media spotlight blog, with this week's light shining brightly on Pain in the Dice!
The Spotlight
Pain in the Dice is a podcast you may be new to, though the hosts are likely familiar names, hailing from the popular Systematic Understanding of Everything, Mage: The Podcast, and The Story Told shows. Chazz, Terry, Monica, and Josh come together routinely to discuss some excellent RPG-related topics, from reviews (including recent ones of Hundred Devils Night Parade and Heirs to the Shogunate) to delves into the industry (RPG distribution, Kickstarter, etc.)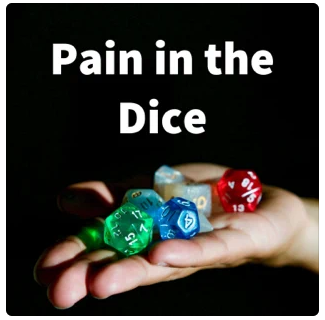 For an insightful and enjoyable listen, seek out Pain in the Dice wherever you listen to your favourite podcasts, or right here on Apple Podcasts: https://podcasts.apple.com/us/podcast/pain-in-the-dice/id1595769318
The Round-Up
Keep an eye on our Twitch schedule for all manner of World of Darkness games and videos taking place in February as we hit every game with a 90% sale on DriveThruRPG and Indie Press Revolution! Take advantage while you can.
If you're not already following The Onyx Path on YouTube and Twitch, now's an ideal time to do so. We produce a wealth of content on Twitch every week with a group of stellar partners and content creators, and much of that content makes its way to our YouTube channel too. Check it out for yourselves:
https://www.twitch.tv/theonyxpath
https://www.youtube.com/c/TheOnyxPathRPG
And here's our upcoming schedule: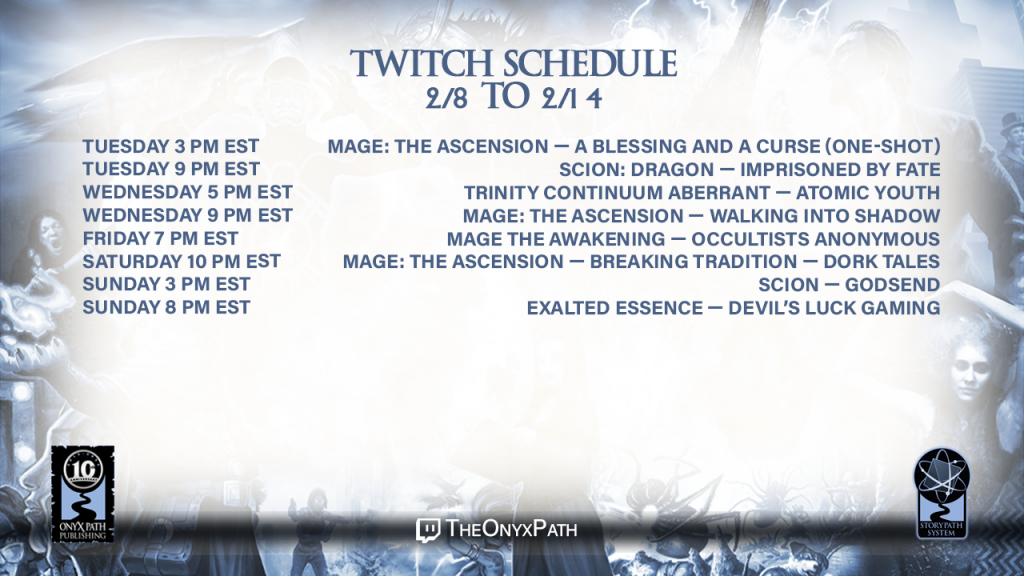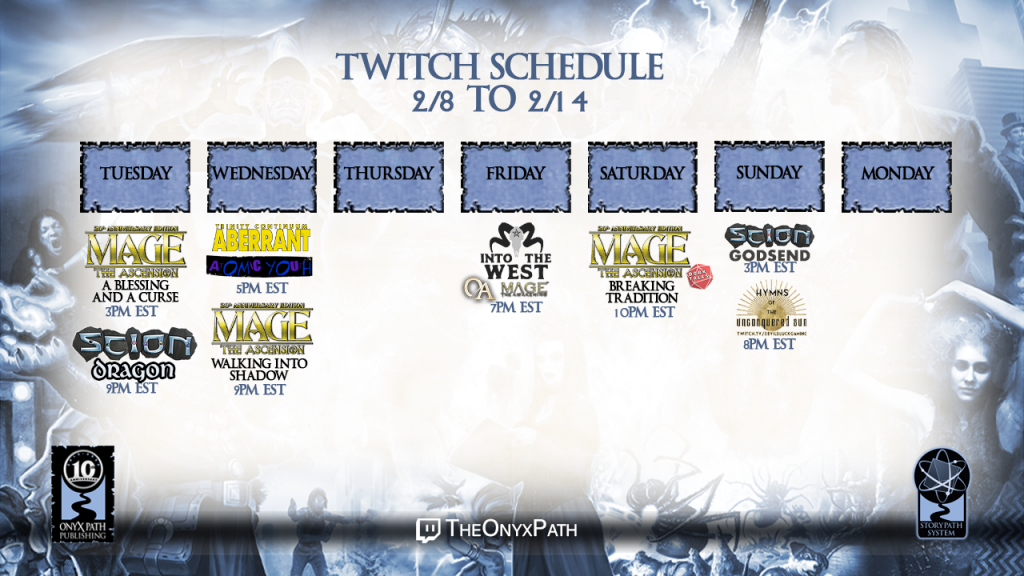 So as you can see, there's a fair amount going on this week, from Mage and Scion to Aberrant and Exalted! Lots of content for you to sink your fangs / claws / magical leeches into!
Meanwhile, the latest Onyx Path News over on our YouTube channel is available for everyone to view. If you want to catch it live, click on the bell on our channel so you're notified each Friday when it streams!
Dork Tales continue with their Mage: The Ascension chronicle every Friday at 19:00 PST. Check out our Twitch channel or theirs over on twitch.tv/dorktales to watch live or follow to watch them once they're uploaded!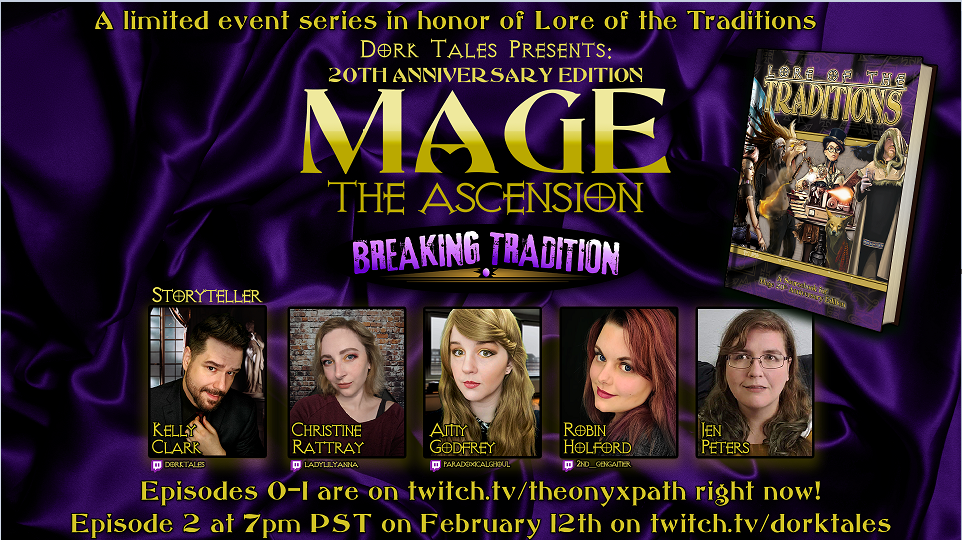 But that's only one of our three Mage shows coming this week. We've also got A Blessing and A Curse live today at 15:00 EST with special players Satyros Phil Brucato, Hiromi Cota, and Rachel Judd, with Storyteller Travis Legge! Find it on our Twitch channel!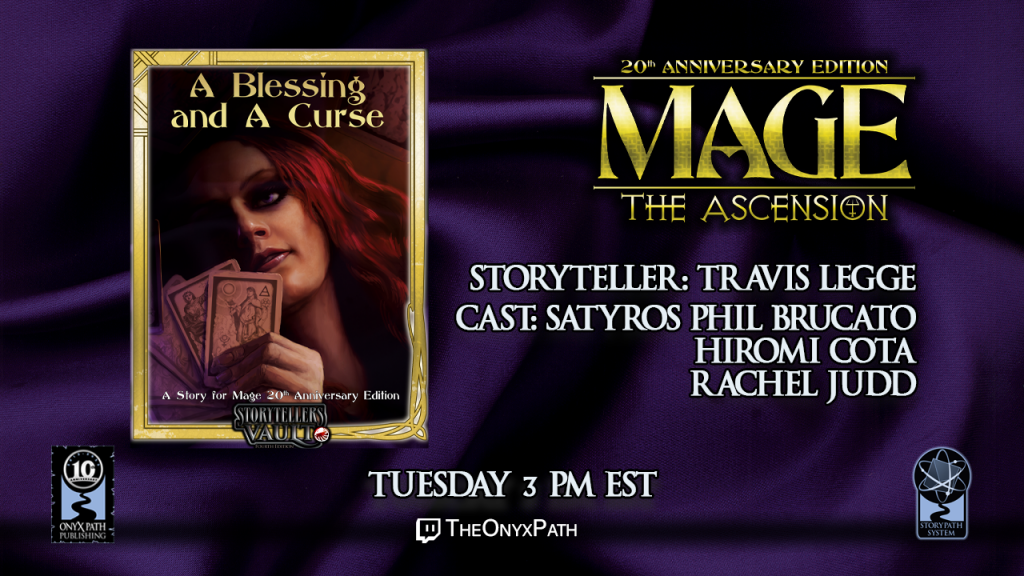 Also running Mage, we have the ominously titled Walking Into Shadow coming this Wednesday at 21:00 EST! We're certainly loading up on Mage: The Ascension content for our Lore of the Traditions Kickstarter! Check out and enjoy this new show, also on our Twitch channel!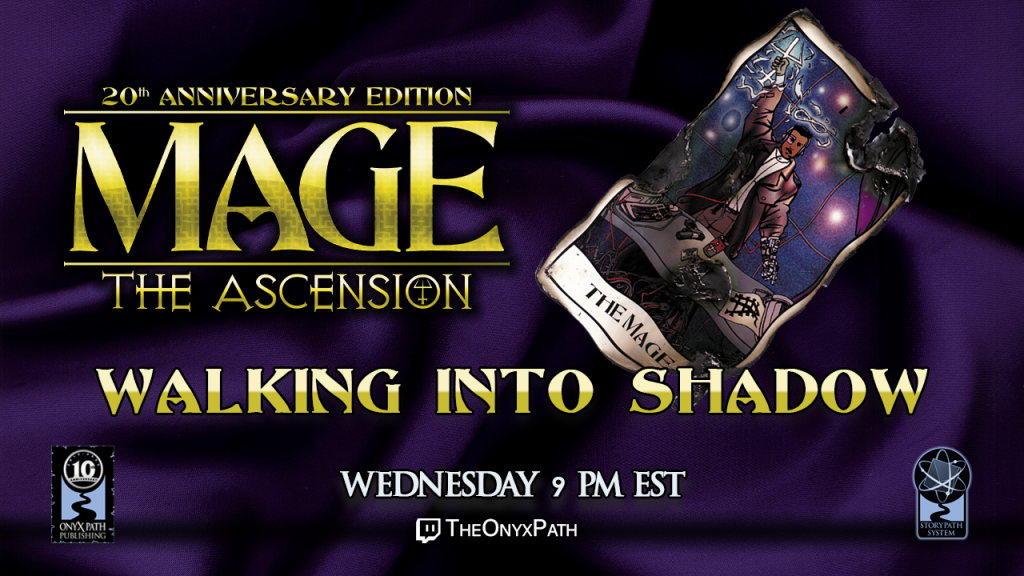 Simulacra Studios continues with their excellent second season of Trinity Continuum: Aberrant – Atomic Youth! This wonderful Aberrant series is the best out there, so give it a watch if you've been wanting to find out how to play this part of the Trinity Continuum:
Devil's Luck Gaming near the conclusion of their epic Exalted: Essence actual play, which you can find on their Twitch channel (http://twitch.tv/devilsluckgaming) along with their entire back catalogue accessible via their website here: https://devilsluckgaming.com/
Do give DLG your support, as their content really is top quality.
Where I Read…
And now for something completely different, as we look at a few of the active "WIR" threads over on RPG.net, where folks read through our books chapter by chapter and give them deep reviews. Live currently, we have a thread for:
They Came from Beyond the Grave!
So if you're more inclined toward reading your reviews, this is a fine place to go.
Do you want to create media?
If you do, you should use the attached form to submit your suggestions for podcasts, review shows, actual plays, deep dives, and more! We'd love to hear from you so we can profile you on our blog and elsewhere: The Form