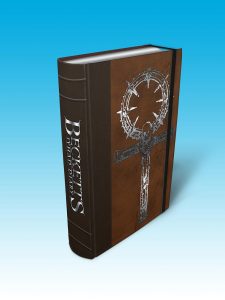 Very much a scattershot of topics today, which is in keeping with every meeting I had today (more than the usual two). Mostly there's the sense that we lost a day due to yesterday's July 4th holiday and we're running to catch up!
Gen Con is a month from now, so we're going over all the things we'll be taking there. Banners, and pins, and Onyx Path pantheon staff T-Shirts in celebration of Scion 2nd Edition. Hmmm, should I be the UberLord, or the Path Meister of the Purple Prose?
One thing I am looking at doing, is purchasing a video camera in order to record our panels and some actual play demos and vids. If anybody reading this has experience with recording for Twitch or YouTube or whatever and has a preferred camera and set up, I'd love to hear from you!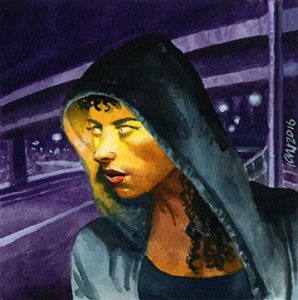 Above we have art for V20 Beckett's Jyhad Diary, which is rolling along strongly through it's Kickstarter. I'm really pleasantly surprised by the amount of interest in this Deluxe offering, but I do think the general subject matter is both near and dear to a lot of long time fans, and the overall exploration of the world and history of the setting is extensive. Here is just half of the book's Table of Contents:
01 – Carna's Rebellion

Upon receiving an invitation from an old flame, Beckett visits Milwaukee, and finds himself caught in the middle of an urban warzone wracked with betrayal and personal crusades.

02 – A Split City

In which Beckett follows the Book of the Grave-War's trail to Chicago, passing down the terrifying Goblin Roads and becoming ensnared in the millennia-old Jyhad between two infamous Methuselahs.

03 – Shadows Coalesce

One Theophilus Bell summons our narrator to the American Rome, where the two make an exchange of services involving Vykos' library and the death – or life – of one dangerous Lasombra.

04 – War Across Dixie

In which Beckett finds himself torn between prophecy and politics in the heart of the American South, playing witness to the Camarilla's planned counter-attack against the destructive Sabbat.

05 – London Calling

In which Beckett travels home to discover the truth surrounding rumors of one Montgomery Coven, his ambitions over the British capital, and his unusual array of powers.

06 – Schism

In which a long-independent Clan entreaties the Camarilla for potential membership, and Beckett records every word of their fateful union. The Sect tables may be turning, but at a terrible cost.

07 – The Anarch Freefall

Carna's trail heads west, leading Beckett to the Anarch Free States and the brewing conflict between rebels of a hundred agendas. He attempts to make sense of the passions in play, while fists and violent words fly.

08 – The Blood Matures

In Santa Monica, Beckett encounters the so-called "thin-bloods" and via Dr. Douglas Netchurch attempts to understand the phenomena afflicting these weakened vampires.

09 – The Spark of Civil War

Beckett's travels take him to the vibrant Mexico City – seat of the Sabbat – where the Sabbat Regent Melinda Galbraith awaits with a once-in-a-lifetime invitation and Lucita receives one hell of an offer.

10 – The Dead Walk

Talk of bloodlines lures Beckett to Haiti – domain of the Samedi – where alongside Talley the Hound he seeks out the elusive Baron, and answers to the bloodline's importance in the Jyhad.

11 – Planting the Eye

Hesha Ruhadze's ambitions overreach his grasp, as he comes into the possession of a truly dangerous Kindred artifact and living piece of a mysterious Methuselah. Beckett seeks to understand the artifact and save the Setite, before a terrible event comes to pass.

12 – The Freedom of Libertatia

Beckett and the ever-enthusiastic Smiling Jack chronicle the existence of a floating Anarch utopia, kept secret by its inhabitants as it works to revolutionize the Anarch Movement.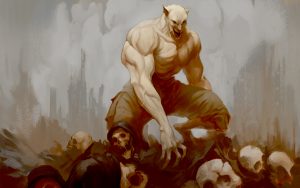 Big congrats to all of our friends and coworkers who had projects nominated for Ennie Awards this year! There are so many excellent projects up this year that I can't even pick a single preferred winner in most categories.
I hear, although I haven't read anything like this myself, that some folks have some weird conspiracy theories and concerns about why Onyx Path had no nominations. Well, if we don't submit projects, they don't get nominated, and we didn't submit anything this year.
No big statement, no message, and I certainly think the books we published last year stand up proudly as possible award winners; I just didn't feel like submitting works with our business strategy right now.
Finally, in case you missed it last week, I'm looking to work with an individual who can drive forward our efforts in "Extended Media". Here's the info I posted last week – we already have had a slew of applications but I'm not making a decision before Gen Con:
1) ePub and Mobi electronic versions of our books: Manage the creation or personally generate the ePub (reflowable and fixed) and Mobi version files of our game books, place both fiction and game book ePub/Mobi versions into the appropriate marketplaces, monitor and follow up.
2) Roll20 and other online tabletop gaming: Modify and pull and assemble graphics and post correctly at such sites and DriveThruRPG.com, as well. Conceptualize and direct creation of projects for use in the on-line tabletop RPG gaming space.
3) App Creation: Supervise App creation via external studios, generate and develop project ideas, place into sales channels and monitor and follow-up.
As you can see, it's a position that requires wearing a lot of hats, which is what we do here. If you think the above list is a piece of cake, want to work with a fun group of miscreants, and help us move our amazing games and settings into new frontiers, please send me an email to:
richt+EMP@theonyxpath.com
Include your thoughts about such a position, and your qualifications. Links to relevant info, and small attachments with your CV or similar are both OK. Every single person who can do the above things is encouraged to apply.
And if you are attending Gen Con and would like a face-to-face talk about this, please let me know at the email address listed above. Good luck!
BLURBS!
KICKSTARTER!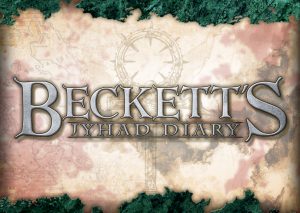 We funded the Deluxe Beckett's Jyhad Diary in less than a week, and it was no low number backers pushed us past! It was thanks to all of you and now the fun gets funner with voting on the added chapters for Stretch Goals!
The option to include V20 dice are getting plenty of folks excited, but it's the selection of chapter text and the Table of Contents that are really causing a stir!
Check it out yourself here: https://www.kickstarter.com/projects/200664283/deluxe-v20-becketts-jyhad-diary
ON SALE!
Looking for our Deluxe or Prestige Edition books? Here's the link to the press release we put out about how Onyx Path is now selling through Indie Press Revolution: https://theonyxpath.com/press-release-onyx-path-limited-editions-now-available-through-indie-press-revolution/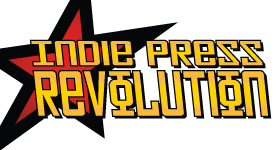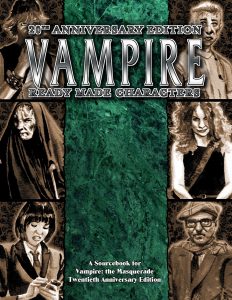 Available this Wednesday on DTRPG in PDF and PoD versions: V20 Ready Made Characters! 13 pre-generated characters with both starting and experienced character sheets, character history and role-playing suggestions! Includes possible coteries including the characters and plot seeds to help jumpstart and chronicle!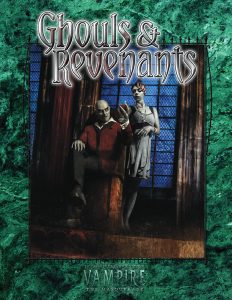 Servants of the Damned: the PDF and PoD versions for V20 Ghouls & Revenants are now available at DTRPG! http://www.drivethrurpg.com/product/184039/V20-Ghouls–Revenants
Ghouls & Revenants includes:
Expanded and revised character creation for ghoul and revenant player-characters
Clan and Sect write-ups for ghouls who serve them
New revenant families including the Rossellini, Kairouan Brotherhood, and more.
New rules for ghouls and revenants including new Merits & Flaws, Backgrounds, Discipline Packages, etc.
A Storyteller chapter for advice on running ghoul-or-revenant focused chronicles.
…and more!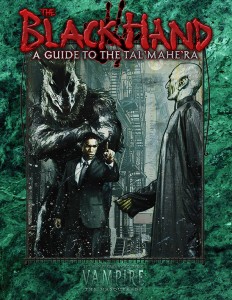 V20 Black Hand: Guide to the Tal' Mahe' Ra is now on the attack at DTRPG in PDF and physical hardcover PoD forms! http://www.drivethrurpg.com/product/179023/V20-The-Black-Hand-A-Guide-to-the-TalMaheRa
The Tal'Mahe'Ra, the Black Hand, plays the long game. They're fighting a war of millennia, and the stakes could never be higher than they are tonight. They know truths about the Ancients, terrifying truths, dangerous truths, and they know the fight will be long and tireless.
The Black Hand — A Guide to the Tal'Mahe'Ra includes:
An updated look at the Tal'Mahe'Ra, which brings the ancient conspiracy into the twenty-first century.
Tricks of the Black Hand's trade, including new Disciplines, Backgrounds, Merits, and eldritch sorceries.
Insight into some of the Hand's sects, including those who hunt the infernal, and the worshipers of Lilith.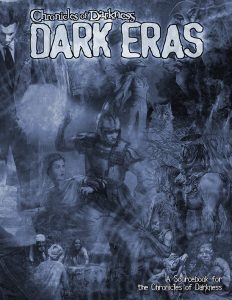 There has always been…Darkness. Coming at you through time itself, the Chronicles of Darkness: Dark Eras PDF and physical book PoD versions are now available at DTRPG! http://www.drivethrurpg.com/product/178583/Chronicles-of-Darkness-Dark-Eras
Chronicles of Darkness: Dark Eras reveals the world throughout its long and storied past. Through sixteen eras, you'll learn the secret history of the world, from the flame-lit tales of the Neolithic to the drug-fueled rebellion of the 1970s. Delve into the past, and learn that the Chronicles of Darkness began long before the modern nights.
Dark Eras includes historical settings for Chronicles of Darkness game lines:
Vampire: the Requiem
Werewolf: the Forsaken
Mage: the Awakening
Promethean: the Created
Changeling: the Lost
Hunter: the Vigil
Geist: the Sin-Eaters
Mummy: the Curse
Demon: the Descent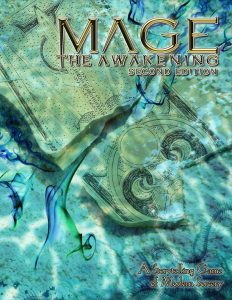 Mage: the Awakening 2nd Edition Advance PDF NOW available at DTRPG.com! http://www.drivethrurpg.com/product/181754/Mage-the-Awakening-2nd-Edition
You are a mage, one of the Wise. You see, know, and explore what others can't imagine, from the depths of the human soul to the hidden corners of reality. Armed with your spells, driven by an addiction to Mysteries, you delve into the secrets of the world. Knowledge has a price, and the dangers are many.
This book contains:
The complete guide to playing a mage in the Chronicles of Darkness.
Reimagined Paths, Orders, and powers to create your Awakened characters and their allies, including an updated version of the most comprehensive free-form magic system in gaming.
Five example settings across the world, from Los Angeles to Salamanca, each with a central Mystery.
A brand-new look at all the strange places of the Fallen World, from the Lower Depths to the Emanation Realms, and what mages might find within.
NOTE: This is the Advance PDF version. A final PDF version and PoD versions will be available at a later date. If you have purchased this Advance PDF, you will be automatically updated to the final PDF and receive a link to enable you to purchase the PoD at a discount designed so that your total price matches our usual PDF and Print combo offer.
You must have your DTRPG account set to accept messages from Onyx Path Publishing before the link messages are sent out, though, so please adjust your settings if you want that discount.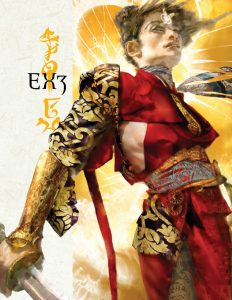 Children of the Unconquered Sun arise!
Exalted 3rd Edition in both PDF and PoD versions is now on sale at DriveThruRPG.com: http://www.drivethrurpg.com/product/162759/Exalted-3rd-Edition
This is your tale. This is Exalted. What legends will they tell of your deeds?
Exalted 3rd Edition depicts both a revitalized and expanded Creation, and the triumphant return of the Solar Exalted—but whether their rebirth will herald the salvation or destruction of the world, none can say. The system redesign takes the best parts of the previous editions and streamlines the mechanics for maximum playability.
Exalted 3rd Edition includes:
New Fiction – Read a new tale by original Exalted developer and author Geoff Grabowski.
New Artwork – See the Realm in a new light with stunning artwork by both new and classic Exalted artists working under the direction of Maria Cabardo.
Expanded Locales – Expand your campaigns with a detailed overview of the sprawling and decadent Second Age of Man. In addition to classic locales such as Chiaroscuro and Nexus, find many new locations not detailed in previous editions, from the treacherous intrigues of Port Calin to the proud warriors of the frigid plains and forests of Medo, held in check only by the iron hand of the Realm.
Intrigue and Mystery – Discover a revitalized Realm, still standing at the brink of civil war, but more dangerous than ever before; and the Lunar dominions which harry its borders, seeking redress for ancient crimes while pursuing modern ambitions.
Expanded Character Creation – Create and play Solar Exalted characters and compelling mortal heroes with more information and fleshed out details.
Combat System – Fight with a new cinematic combat engine, primed to deliver dynamic, exciting, and easily resolved battles between heroes, gods, and armies.
Charms – Explore a vibrant new Charm set encompassing both classic Solar powers from previous editions and all-new powers to shift the course of Creation.
…and much, much more!
CONVENTIONS!
Gen Con 2016 Onyx Path events registration has now been posted on the Gen Con site! A LOT of our events have sold out already, so please jump in ASAP if you'd like to attend: https://www.gencon.com/event_finder/Host/Onyx%20Path%20Publishing
These don't include the demos and playtests we'll be having at the booth.
We'll be at the 2016 Grand Masquerade in New Orleans over the Labor Day Weekend both talking about the early years of White Wolf and representing the tabletop part of the World of Darkness! Come play in games hosted by legendary Dave Martin and the Wrecking Crew and demos at the Onyx Path booth in the dealer area!
---
And now, the new project status updates!
DEVELOPMENT STATUS FROM ROLLICKING ROSE (projects in bold have changed status since last week):
First Draft (The first phase of a project that is about the work being done by writers, not dev prep)
Exalted 3rd Novel by Matt Forbeck (Exalted 3rd Edition)
CtL fiction anthology (Changeling: the Lost 2nd Edition)
Ring of Spiragos (Scarred Lands)
BtP Building a Legend (Beast: the Primordial)
Trinity Continuum Core Rulebook (The Trinity Continuum)
Trinity Continuum: Aeon Rulebook (The Trinity Continuum)
M20 Gods and Monsters (Mage: the Ascension 20th Anniversary Edition)
Scion: Origins (Scion 2nd Edition)
Scion: Hero (Scion 2nd Edition)
BtP Player's Guide
Ring of Spiragos (5e)
Dagger of Spiragos (5e)
V20 Dark Ages Jumpstart (Vampire: the Masquerade 20th Anniversary Edition)
Redlines
Dagger of Spiragos – Pathfinder Version (Scarred Lands)
EX3 Quickstart (Exalted 3rd Edition)
Scarred Lands Player's Guide 5E: Ghelspad (Scarred Lands 2nd Edition)
VtR A Thousand Years of Night (Vampire: the Requiem 2nd Edition)
Pugmire Core Book
Second Draft
Arms of the Chosen (Exalted 3rd Edition)
The Realm (Exalted 3rd Edition)
Dragon-Blooded (Exalted 3rd Edition)
Cavaliers of Mars
Wraith: the Oblivion 20th Anniversary Edition
V20 Dark Ages Anthology (Vampire: the Masquerade 20th Anniversary Edition)
VtM Endless Ages fiction anthology (Vampire: the Masquerade 20th Anniversary Edition)
Development
W20 Changing Ways (Werewolf: the Apocalypse 20th Anniversary Edition)
Changeling: the Lost 2nd Edition, featuring the Huntsmen Chronicle (Changeling: the Lost 2nd Edition)
Signs of Sorcery (Mage: the Awakening Second Edition)
SL Ring of Spiragos (Pathfinder – Scarred Lands 2nd Edition)
SL The Wise and the Wicked (5e – Scarred Lands 2nd Edition)
SL The Wise and the Wicked (Pathfinder – Scarred Lands 2nd Edition)
SL Dagger of Spiragos (Pathfinder – Scarred Lands 2nd Edition)
V20 Dark Ages Companion (Vampire 20th Dark Ages)
Changeling: the Dreaming 20th Anniversary Edition
BtP Mortal Remains (Beast: the Primordial)
M20 Book of Secrets (Mage: the Ascension 20th Anniversary Edition)
Editing:
Night Horrors: Conquering Heroes (Beast: the Primordial)
W20 Pentex Employee Indoctrination Handbook (Werewolf: the Apocalypse 20th Anniversary Edition)
Post-Editing Development:
The Prince's Gambit (Vampire: the Masquerade 20th Anniversary Edition)
V20 Lore of the Bloodlines (Vampire: the Masquerade 20th Anniversary Edition)
CofD Hurt Locker (Chronicles of Darkness)
Indexing:
ART DIRECTION FROM MIRTHFUL MIKE:
In Art Direction
Dark Eras Companion
Necropolis Rio
Beckett's Jyhad Diary
CofD Hurt Locker
Mummy Novel
V20 DA Tome of Secrets
V20 Lore of the Bloodlines
Beast RMCs
SL Wise and Wicked Update
Prince's Gambit 
In Layout
Promethean: the Created Second – Including 2nd proof notes

Secrets of the Covenants
Ex 3 core book – From RichT: Files for both Deluxes are at the printer. Need proofs from the printer- they think this week.
Dark Eras Screen
Gen Con Materials
Kinfolk 
W20 Shattered Dreams 
Proofing
Mage: the Awakening 2nd – Waiting for errata from DaveB.
Scarred Lands PG
At Press
Beast Screen – At shipper.
Beast Prestige Edition – done printing, arranging shipping.
Dark Eras – PDF and PoD versions on sale at DTRPG. Prepping Prestige Edition files for printer.
V20 RMC – On SALE this week at DTRPG!
Ex 3 Backer Charm Book – Out to Backers, fixing errata.
Ex 3 Screen – At the Printer.
Curse of the Blue Nile – Correcting last minute error we found, sending for PoD proof this week.
Gen Con 2016 Brochure – printing
Storypath Brochure – printing
Special- projects on hold in the art and production area until an external factor is resolved
Wraith 20 – Art direction and layout can't go further until art notes come in, still being developed by Rich Dansky.
---
TODAY'S REASON TO DRINK: Artisanal gin from the Finger Lakes region. Sooooo smooth.