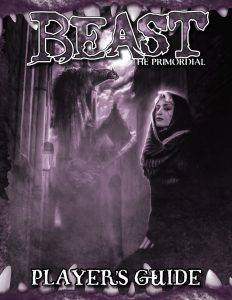 Now available in advance PDF from DriveThruRPG: Beast Player's Guide for Beast: The Primordial!
You know what's out there? No, you don't. Stop trying to list them off. Yeah, yeah, you've met the vampires and the werewolves and the ghosts and so forth, but you haven't seen a hundredth of what's really there. Look, I'm not shaming you. I'm trying to make a point. You don't know. You never will. There's no complete picture, no magic moment where you see the whole truth and get to yell "ah-ha!" You don't know. I don't know. We never will.  That's really a good thing, my sister, because it means there's so much yet to see. 

—Zmei

The Beast Player's Guide expands on the material presented in Beast: The Primordial, with additional information on the Families and Hungers, what it feels like to be a Beast and experience the Devouring, and how to commune with the Dark Mother. You'll also find two new Families and two new Hungers!

The book also includes a plethora of new Atavisms, Nightmares, Merits, and Birthrights, as well as systems for creating smaller, subservient versions of the Horror, new forms of Inheritance, and details on the mysterious Obcasus Rites.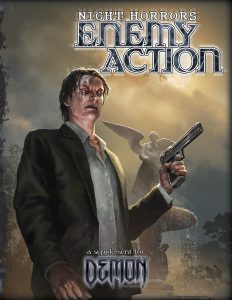 Also available in advance PDF: Night Horrors: Enemy Action for Demon: The Descent!
"Fighting the Machine is like fighting the ocean. You literally cannot hurt it. Doesn't matter how much poison we dump into the ocean. We'll only kill the things in it. We'll never kill it. Same with the God-Machine. Kill angels, traitors, stigmatics, cultists, cryptids, whatever, you'll never hurt the Machine Itself. No, that doesn't mean we stop trying. You stop trying, you drown. Screw that."

—Mr. Bliss, Guardian Inquisitor

Night Horrors: Enemy Action includes:

Dozens of Storyteller characters, including Unchained, angels, exiles, cryptids, and stigmatics, for use as antagonists, allies, or just inspiration
Multiple plot hooks and story seeds for your Demon: The Descent chronicles
A brief look at cults in Demon, including the Ten Thousand Names of God, a secret society fueled by the God-Machine
Kickstarter Update
The Trinity Continuum: Æon Kickstarter ended last Thursday! Thanks to everyone who helped contribute.
We funded in under 3.5 hours, and have since raised $184,515 of our $50,000 goal, or 369%
We've got 1956 backers
We passed 29 stretch goals:

The 1E Bundle has added Hidden Agendas, Luna Rising: Psi Order ISRA & Luna Sourcebook, America Offline: Psi Order Orgotek & FSA Sourcebook, Terra Verde: Psi Order Norça & Sudamérica Sourcebook, Shattered Europe: Psi Order Æsculapians & Europe Sourcebook, Stellar Frontier: Psi Order Upeo wa Macho & Extrasolar Space Sourcebook, Aurora Australis: Psi Order Legions & Austronesia Sourcebook, Darkness Revealed 1: Descent into Darkness, and Darkness Revealed 2: Passage Through Shadow.
The Æon Æxpansion has sections on VARGs, Aberrants and Aberrant Cults, Noetic Biotech, Cyberware and Espionage-related hardtech, Modern-day Psions, new Weapons & Armor, Nihonjin Superiors, life and tech in 2123, and Psiads
In Media Res has scenarios for "Caper, Incorporated," "Codename: Aquarius," "Classified: Help Wanted," and "Artifacts, Etc."
Two Æon novella: Dawn and Meridian
A limited-availability Trinity Continuum Kickstarter T-shirt
Trinity Continuum and Trinity Continuum: Æon d10s unlocked on the Onyx Dice app
Two digital wallpapers
The art budget has been increased
Our next Kickstarter is for Dragon-Blooded: What Fire Has Wrought for Exalted Third Edition. We're planning on launching it at the end of March. Keep an eye out!
Community Spotlight
There's no new Pugmire content this week on Canis Minor.
The following community-created content for Vampire has been added to the Storytellers Vault in the last week:
With the addition of Kindred of the East, all Vampire: The Masquerade settings are now available for use on the Storytellers Vault.