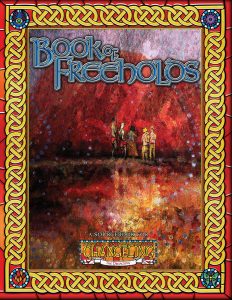 Now available in PDF and print from DriveThruRPG: Book of Freeholds for Changeling: The Dreaming 20th Anniversary Edition!
Home is Where You Go…

They are the center of Kithain culture, the havens and shelters required when times get grim. They are dreams made manifest, and hopes kept burning. From the Mythic Ages to the present day, freeholds have been the linchpin around which the changeling world turns.

Fragile, powerful, mysterious and oft-dangerous, the complex natures of freeholds make for valuable commodities to all changelings, worth dying to protect or killing to acquire.

… Where They Have to Take You In…

The Book of Freeholds opens the doors and invites you in to sit at the hearth for a deep dive into the foundations of changeling society. Learn the history of freeholds as they wind throughout Kithain history. Discover the lost Treasures that bind the fae and their homes together, soul-to-balefire. Study the dangers, the threats, understand the duties and responsibilities, and then gather your motley to claim your birthright.

The Book of Freeholds contains:

Two new freehold Archetypes
Four new Glade Archetypes
Full rules for the creation of freeholds and Glades
11 fully developed freeholds and Glades
New chimera, Treasures and Oaths, and more

… and Where Your Dreams Burn Brightest
Also available from our new friends at Black Chantry Productions: The return of Vampire: The Eternal Struggle! Now available in print on demand via DriveThruCards:
Sales
For entire month of May, DriveThruRPG is running their May D&D Sale, with up to 66% off tons of D&D and D&D-related products!
That includes lots of products from Onyx Path, like current 5e/OGL and classic 3e/d20 Scarred Lands material, as well as our Pugmire releases!
Kickstarter
Did you miss one of our previous Kickstarters? The following Kickstarted products are still open for preorders via BackerKit:
Community Spotlight
The following community-created content for Scarred Lands has been added to the Slarecian Vault in the last week:
The following community-created content for Pugmire has been added to Canis Minor in the last week:
The following community-created content for Vampire has been added to the Storytellers Vault in the last week: