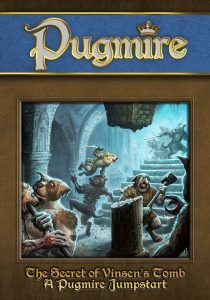 Now available in print from DriveThruRPG: The Secret of Vinsen's Tomb for Pugmire!
"You! You are the ones that must be destroyed in the name of the Monarchies!"

— One-Eyed Molly

A cat living in Pugmire disappears, but neither the police dogs nor the cats of the Cat Quarter know why. When zombies attack the heroes, however, all signs point to an invasion by the Monarchies of Mau. But how does this intrigue tie into the lost tomb of the first king of Pugmire?

"The Secret of Vinsen's Tomb" is a Pugmire story for three to six characters. This jumpstart contains all the rules and characters you need to play — just grab some dice and go! You can also use this adventure with the full version of Pugmire.

The Secret of Vinsen's Tomb contains:

An evocative and mysterious setting that's both family friendly and deep enough to create compelling stories.
A summary of Pugmire's traditional fantasy rules system. It's designed for streamlined play, with an emphasis on cooperation and action over competition and violence.
A complete adventure for a Guide to run for three to six players. Also useful for Guides running a full Pugmire game of first or second level characters!
Six ready-to-play characters, so you can jump into the action.

Can your good dogs discover the secrets of Vinsen's Tomb?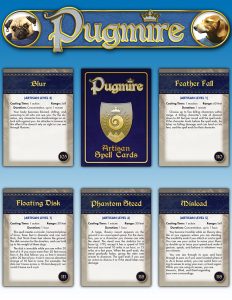 Also available in PDF and print: Pugmire Card Set 2: Artisan Spell Cards and Pugmire Card Set 3: Shepherd Spell Cards!
Enhance your Pugmire game with this set of player aid cards! These helpful visual aids make your Pugmire gaming easier! Lay them out next to your sheet for ease of reference during play, and to keep track of what spells you have available.
Merch
Lots of great new Pugmire and Mau stuff in our RedBubble store!
Also lots of great new material on our Indie Press Revolution storefront if you've missed one of our previous Kickstarters!
Community Spotlight
The following community-created content for Pugmire has been added to Canis Minor in the last week:
The following community-created content for Vampire has been added to the Storytellers Vault in the last week: