Now available in advance PDF via DriveThruRPG: Night Horrors: The Tormented for Promethean: The Created 2nd Edition!
"The Pilgrimage ain't got no shortcuts, no quick fixes. Heck, even death's not a reprieve for us. So you pick yourself up now, and you keep goin'. I promise there's light at the end of this tunnel, even if the walk takes forever and a half. Just mind those that'd get in yer way."

— Sister Meshé, Tammuz Sage

Night Horrors: The Tormented includes:

More than 50 Storyteller characters, including Centimani, Pandorans, alchemists and genitors, qashmallim, clones, and Zeky
A new way the Pilgrimage can go awry: petrificatio
Two new Flux Alembics
Plot hooks and story seeds for your Promethean: The Created chronicles
An in-depth look at the Zeky, complete with rules to play one, and clones
A close examination of the enigmatic Jovian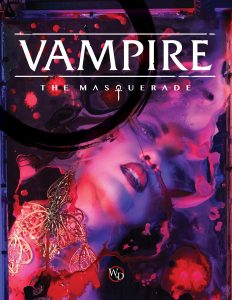 Also available in PDF from DriveThruRPG, from our friends at White Wolf: Vampire: The Masquerade 5th Edition, and its first two supplements!
Camarilla: Dark designs, bitter enemies, and strange allies await you in this World of Darkness. The global blood opera of the Camarilla story continues. As the eldest vampires begin to vanish, the Ivory Tower starts to crack under the weight of it s own decay. Once it was the mightiest faction of vampires in the world, a stronghold of immortality.Now it retreats into a maze of neo-feudal conspiracies to protect itself against the deadly threat of the Second Inquisition, struggling to enforce the Masquerade in the face of modern technology. Featuring insights and perspectives on unlife in the Camarilla from Mark Rein-Hagen and Matthew Dawkins.
Anarch: Welcome to a blood thriller on the streets of the modern nights. For centuries the Anarch Movement enjoyed an uneasy truce with the Camarilla, but no longer.Now, the Unbound refuse to bow to the sickening hypocrisy and tyranny of their former allies. Claiming the nighttime streets as their own, the Anarchs seek independence from the despotic Elders, by any means necessary. Only the toughest and smartest of self-made vampires will survive. Featuring all-new essays on nocturnal survival and politics from Juhana Pettersson.
Read up on the core rules and these two key sects to lay the foundations and prepare yourself for Onyx Path's first V5 supplement, Chicago by Night! Speaking of which:
Kickstarter Update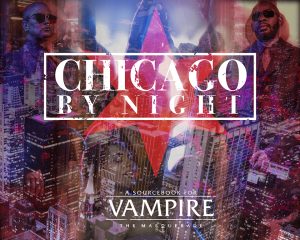 The Kickstarter for a prestige traditional print run of Chicago by Night for Vampire: The Masquerade 5th Edition launched last week! We funded in about 15 hours! So far we have 1121 backers pledging $71,175 — 178% of our $40,000 goal. We just passed our seventh stretch goal as I was writing this update!
Chicago Folio: Includes the Camarilla Record and the Anarch Accounts
Old Traditions PDF bundle add-on: Chicago Chronicles vol 1, Chicago Chronicles vol 2, Chicago Chronicles vol 3
Let the Streets Run Red: A Chicago chronicle featuring characters absent from CbN, and rampaging across Chicago, Indianapolis, Milwaukee, and the rural Illinois, Wisconsin, and Indiana areas.
Discounted Backer T-shirt
Digital Wallpaper
Beckett's Jyhad Diary PDF add-on
Did you miss one of our previous Kickstarters? The following Kickstarted products are still open for preorders via BackerKit:
Community Spotlight
The following community-created content for Scarred Lands has been added to the Slarecian Vault in the last week:
The following community-created content for Realms of Pugmire has been added to Canis Minor in the last week:
The following community-created content for White Wolf games has been added to the Storytellers Vault in the last week: