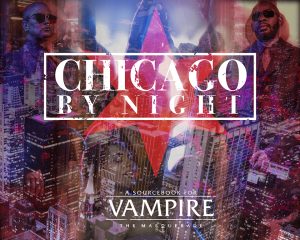 Greetings all! Matthew Dawkins here, the developer of Chicago by Night. This has been one hell of a book to shepherd from pitch, to outline, to writing, development, approvals, and now Kickstarter. At 200,000 words (approximately) it's a big old tome with scores of Kindred, and story hooks, loresheets, and other fun things aplenty.
But before I get ahead of myself, let's break things down. The contents for Chicago by Night are (as per the outline):
Fiction

Introduction

Local Metaplot

The Lasombra Defection

City Rules

Kindred of Chicago

Coteries

Clan Lasombra + Their Discipline

Loresheets

Chronicle Hooks + The Chicago Chronicle
As I said, there's a lot in here. One of the objectives I aim for in all of my projects is utility. There should be something usable for a chronicle in every paragraph, and hopefully every sentence. This book contains more hooks, diving-off points, launchpads, and other such silly words and terms for chronicle ideas than any other book I've had the pleasure to work on, including possibly Beckett's Jyhad Diary. You will read through this book and find hundreds of ideas in its many pages.
One of the other aims of Chicago by Night was to achieve a real feel for the city. We could have gone for a generic [City] by Night book, but Chicago holds a place in a lot of Vampire fans' unbeating hearts, so we wanted to evoke the very real diversity of mood, culture, personalities, and politics in the Windy City. I strongly feel we have achieved this. The writing team is made up of authors from all over, and with many backgrounds. They wrote with honesty and passion in mind and I think you can tell that from the fantastic array of characters on display in Chicago by Night.
We have covered every nook and cranny of this domain, from the nightspots to the suburbs, from the inner city to the shore of Lake Michigan. We have looked at vampires of so many origins. But crucially, we have made this book feel like it's about Chicago, not just any city. There's plenty in here for you to use for your own domains, but if you want the authentic Chicago by Night experience, this is the one for you.
I hope you check our Kickstarter out! If you have any questions, and I can answer them, please post in the comments below!