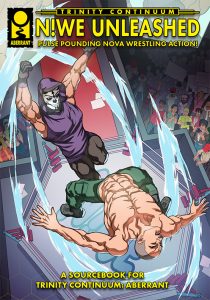 Now available in PDF and print: N!WE Unleashed: Pulse Pounding Nova Wrestling Action! for Trinity Continuum: Aberrant!
In the world of Trinity Continuum: Aberrant, wrestling is a major form of entertainment. Unlike in our world, many of these wrestlers are novas — individuals with amazing powers — and in the case of N!ternational Wrestling Entertainment and Nova Combat federations, these novas use their powers to wow the crowds, win fans, and make themselves rich, or suffer horribly for trying.
In N!WE Unleashed!, you roleplay characters who work in the wrestling business, both in the ring and backstage, courting popularity and heat, striving to win championships, and making enough of a legend of yourself that one day, you might even have your own action figure.
N!WE Unleashed! uses the Storypath System and requires Trinity Continuum Core Rulebook and Trinity Continuum: Aberrant for use.
N!WE Unleashed! includes:
A deep-diving headbutt into the inner workings of the wrestling industry, covering everything from maintaining character to the choreography of a bout, and all the participants involved in running a show.
A plunging powerbomb into the N!WE's history, with advice on incorporating the premier wrestling company into your games of Aberrant, and how to play out and run wrestling matches and all the backstage politics that precede and follow them.
A torture rack of new Edges, Conditions, technology, and characters to augment your game and give it that wrestling federation feel.
A piledriving new mini-system for wrestling-focused games, complete with character creation, rules for moves and maneuvers, and guidance on building up faces, heels, and character popularity.
Other Recent Releases
Did you miss one of these recent releases?
Sales
Onyx Path has added the Scarred Lands Players Guide for Pathfinder to the Mega Bundle for Kentucky Tornado Relief.
Indie Press Revolution has just days left in the end-of-year sale, offering 40% off select Onyx Path releases!
Crowdfunding Update
Did you miss one of our previous Kickstarters? The following Kickstarted products are still open for preorders via BackerKit:
Community Spotlight
The following community-created content for Scarred Lands has been added to the Slarecian Vault in the last week:

The following community-created content for Realms of Pugmire has been added to Canis Minor in the last week:
The following community-created content for Storypath has been added to the Storypath Nexus in the last week: