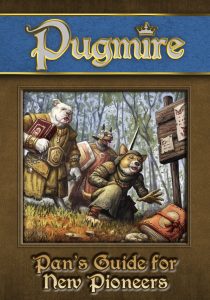 Now available in PDF and print from DriveThruRPG: Pan's Guide for New Pioneers for Pugmire!
Pan's Guide for New Pioneers

When a devastating flood hits Pugmire, all manner of bad dogs, opportunistic rats, and manipulative cats take advantage of the kingdom. Good dogs try to turn the tide, but searching the dangerous wilderness for a way to heal the land is no easy task. If only there existed brave dogs to lay down the way for other intrepid pioneers…

It is time for a new group of heroes to set out on a chaotic and risky adventure! Armed with a guide prepared by the daring dog Pan Dachshund, fabulous treasure and great recognition await them. All these pioneers need do is explore the wilds, discover the key to Pugmire's salvation, and return in one piece!

Pan's Guide for New Pioneers includes:

A full Pugmire adventure, aimed at people brand new to roleplaying games and experienced players alike!
Rules laid out and explained for every encounter and challenge in the adventure.
Snippets of Pan's journal presented for enjoyable reading or integration into the game.
Ready-made characters so a game of Pugmire can commence as soon as you open this book.
Hyperlinks to video footage for those who prefer to follow along in different mediums.
Video footage, you're saying? If you'd like a little prep to found out how Pan and our Pioneers got into this situation, as well as a follow-along guide to how Pugmire's rules work, we recommend playing along with Pan's Story, a choose-your-own-adventure video series that serves as a prequel to Pan's Guide.
Kickstarter
Did you miss one of our previous Kickstarters? The following Kickstarted products are still open for preorders via BackerKit:
Community Spotlight
The following community-created content for Scarred Lands has been added to the Slarecian Vault in the last week:
The following community-created content for Pugmire has been added to Canis Minor in the last week:
The following community-created content for Vampire has been added to the Storytellers Vault in the last week: