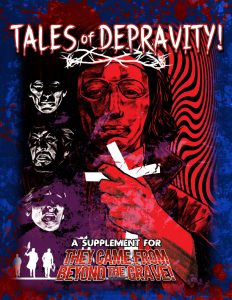 Now available in PDF and print: Tales of Depravity for They Came from Beyond the Grave!
There's something lurking out there.
It carries with it a book. A red book.
The book contains devilry, printed on its very pages.
Every tale from this book will scratch at your soul until it leaves a cavity.
Evil shall fill that hole.
Tales of Depravity! is a sourcebook for Players and Directors wanting a set of chilling, playable tales of They Came from Beyond the Grave!, with three striking stories taking you to different locations, pitting you against an array of foes, and exposing the innards of evil!
They Came from Beyond the Grave! uses the Storypath System, which you can find in the pages of the They Came from Beyond the Grave! rulebook.
Tales of Depravity! includes:
Three horrifying new stories!
Advice and tools for play with your regular gaming group or for running as a convention one-shot!
Gripping fiction, in some cases tied to the tales within, in others existing to inspire and shock you to your core!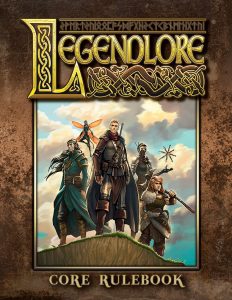 Also available in print from Studio 2 Publishing:
Other Recent Releases
Did you miss one of these recent releases?
Sales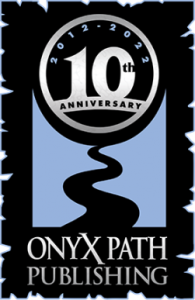 It's Onyx Path's 10th Anniversary! Every month in 2022, we'll be celebrating another one of our published game lines.
June is Crossroads Continent month! You can get the Peoples of the Crossroads Continent PDF at 90% off!
Plus: Did you miss one of our previous months? For the next 12 days we're running an Anniversary Sale on DriveThruRPG, with over 400 PDFs at 50% off! Indie Press Revolution is joining in with 50-75% off Onyx Path products, and Studio 2 has select titles on sale too!
Stay tuned for more OPP10 sales the rest of this year!
Crowdfunding Update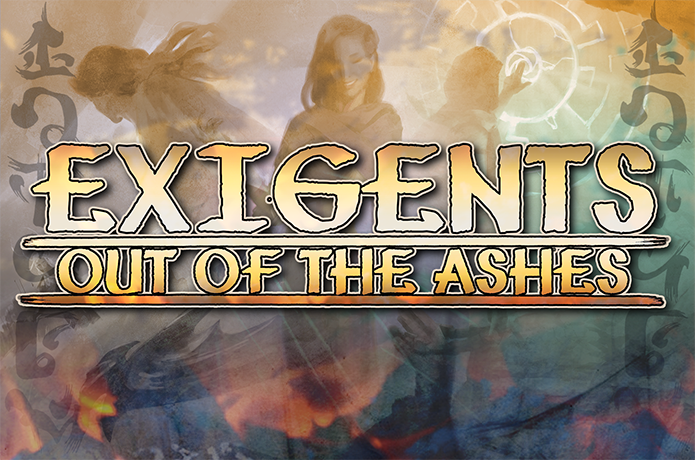 Our crowdfunding campaign for a deluxe edition of Exalted 3rd Edition's Exigents: Out of the Ashes launched last week on Indiegogo! It funded to 100% in 40 minutes, and 200% only nine hours in! Exalted fans are amazing. We're currently at $109,535, or 312% of our original $35,000 goal, thanks to our 1138 backers.
We've hit the following stretch goals:
Exigents Companion: Miracles of the Divine Flame (extra Charm content for our four playable Exigents), Chosen of Masks (a design seed for an Exigent upon which you can build your own Charm set), Bearers of the Spark (a list of gods who might serve as patrons to Exigents), Thousand Venoms Mistress (design seed), Chosen of the Dice (design seed)
Exigents Jumpstart: Great Forks
Streets of Great Forks gazetteer
Did you miss one of our previous Kickstarters? The following Kickstarted products are still open for preorders via BackerKit:
Community Spotlight
The following community-created content for Scarred Lands has been added to the Slarecian Vault in the last week:

The following community-created content for Realms of Pugmire has been added to Canis Minor in the last week:
The following community-created content for Storypath has been added to the Storypath Nexus in the last week: