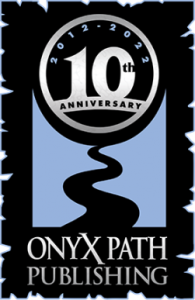 2022 is Onyx Path's tenth anniversary, so every month this year, we're celebrating a different game line!
June is Crossroads Continent month.
The Crossroads Continent is Rich's own D&D setting. Currently there's only one PDF, the Peoples of the Crossroads Continent, but it's on sale for 10% of its original price for our 10th anniversary. That means it's 90% off!
Meanwhile, perhaps you missed one of our previous months! Until June 13, DriveThruRPG is running an Onyx Path 10th Anniversary Sale, where hundreds of our PDFs are 50% off!
Plus! Our partners at Indie Press Revolution and Studio 2 Publishing are running their own sales on Onyx Path physical stock!