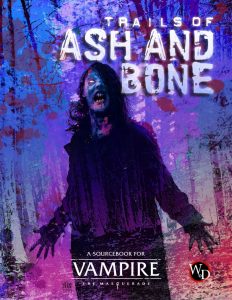 Now available in PDF and print-on-demand from DriveThruRPG: Trails of Ash and Bone for Vampire: The Masquerade 5th Edition!
It's a mistake to think of vampire as simple parasites that latch on to an unlucky victim and drain them until they drop. No, they're not ticks.
They're spiders.
Kindred lure victims into their webs and form a ring of protection and sustenance around themselves. And spiders, like vampires, are cunning. They ensnare the small and the weak, but some bind the strong and the mighty.
Think of the spider when you consider the vampire's herd, the vampire's retainers, the vampire's allies. They're all theirs, caught in a web surrounding a predator. Some even fool themselves into thinking they want to be there. They think that proximity to the predator is a boon, or maybe, just maybe, the predator will see them as a creature with a use greater than sustenance.
Do not fool for the lies of the vampire, recruit. Throughout their webs are trails of ash and bone, from all their friends, loved ones, companions, and cultists.
The vampire cannot help but be the hungry spider.
Trails of Ash and Bone includes:
Four stories, each of a different theme, one set in the forests outside Copenhagen, another in decadent Atlantic City, one in arcane Florence, one the last in urban Birmingham.
A set of fully playable ready-made characters, enabling a group of Vampire players to jump straight into one of these stories.
New Loresheets and Oblivion Ceremonies, expanding the range presented in Cults of the Blood Gods.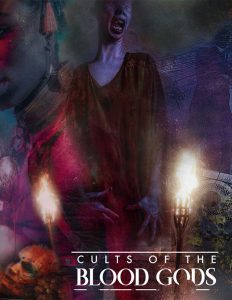 Also available:
Plus! Don't miss the V5 Cults of the Blood Gods Collection, a bundle containing just about everything that came out of that Kickstarter, including today's releases:
Cults of the Blood Gods
Cults of the Blood Gods VTT Assets
Cults of the Blood Gods desktop wallpaper
Children of the Blood
Trails of Ash and Bone
Sales
Prices for DriveThruRPG's premium color print-on-demand books are increasing on July 1, due to a change at their printers. So until June 30th, we're offering discounts on all Onyx Path premium color PoDs! If you've been waffling on whether or not to get a premium color PoD, now's the time to grab what you can!
FAQ: what's the difference between premium color and standard color?
Crowdfunding Update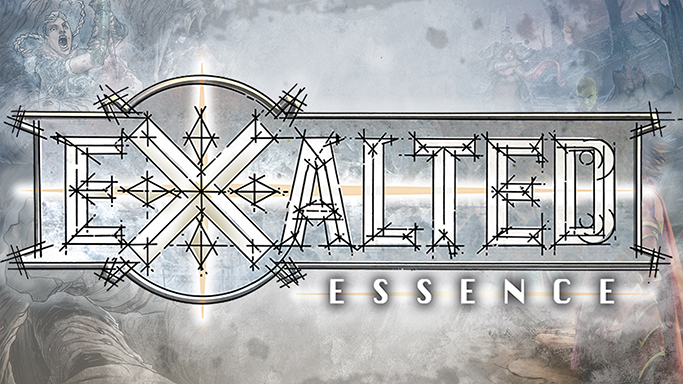 Exalted: Essence launched on Kickstarter one month ago, and hit our funding goal within the first 13 minutes! That makes it our fastest-funding Kickstarter ever, beating Exalted 3rd Edition's previous 18-minute record!
We're currently at $322,492 of our initial $35,000 goal, or an incredible 921%, thanks to our 3777 backers. With just one day remaining (under 24 hours!), we've already hit the following stretch goals:
Essence ST Screen
Pillars of Creation: The Essence Companion: more Universal Charms, Evocations, Hearthstones, warstriders. Scattered Lotus Petals x2: Martial Arts (Single Point Shining Into the Void, Golden Janissary, Celestial Monkey, more). Enemies of the Chosen: Antagonists, demons, fair folk. Eight Directions Atlas: more locations x2. Creation's Chosen: More Solar, Lunar, Exigent, Sidereal, and DB Charms. Storytelling the Chosen x2: ST advice and adventure hooks. Beyond Creation's Chosen: More Infernal, Alchemical, Getimian, Liminal, and Abyssal Charms. Games of Divinity: more on the cosmology and deities of Creation. Lintha Expansion x2. Other Antagonists. Additional Artifacts. Sorcery & Necromancy.
Essence Jumpstart and Ready-Made Characters
Backer T-shirt
Essence Adventure: Three scenarios
Essence Digital Wallpaper
Essence VTT Token Pack
Essence Novella by Lauren Roy
NerdyKeppie bag opportunity
Increased art budget
Essence Charm Cards PDF
Essence Novella by James Huggins
Essence Novella by Rai W. Cole
Did you miss one of our previous Kickstarters? The following Kickstarted products are still open for preorders via BackerKit:
Community Spotlight
The following community-created content for Scarred Lands has been added to the Slarecian Vault in the last week:

The following community-created content for Realms of Pugmire has been added to Canis Minor in the last week:
The following community-created content for Storypath has been added to the Storypath Nexus in the last week: