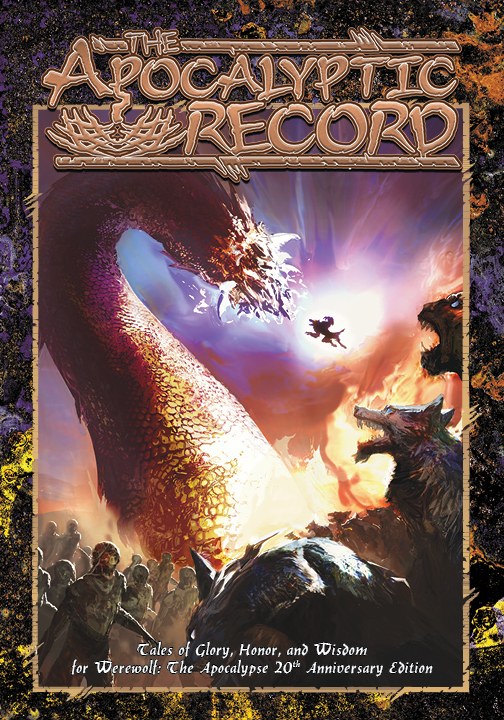 Now available in PDF and print via DriveThruRPG: The Apocalyptic Record for Werewolf: The Apocalypse 20th Anniversary Edition!
Allow me to tell you the tale of the werewolf who went rushing into battle without heeding the advice of their sept Elders.

Oh, wait. I can't. That werewolf died and left no tales behind to tell.

Instead, let me tell you the tale of the werewolf who remained in his camp, chronicling stories of other werewolves' great deeds.

Oh, I can't do that either. That Garou achieved nothing beyond scratchings on bark.

Very well, I'll tell you a better tale. A tale of hundreds of Garou, who fought, clawed, sang, howled, triumphed, despaired, and faced the Apocalypse head on.

Yes. That will be a better tale. We'll call it the Apocalyptic Record.

The Apocalyptic Record includes:

Five chapters of in-character accounts, reports, songs, and tales from the heart of the Garou Nation, covering stories of grief and joy, battle and peace, spirits and kin.
Story hooks in every chapter to make the content within immediately usable at the gaming table.
A chapter dedicated to the Werewolf: The Apocalypse metaplot, and how to utilize it in your stories.
Other Recent Releases
Did you miss one of these recent releases?
Sales
Onyx Path Con 2023 is rapidly approaching! Indie Press Revolution has a bunch of stock for 50% off, and each week DriveThruRPG is offering deeply discounted bundles!
Crowdfunding Update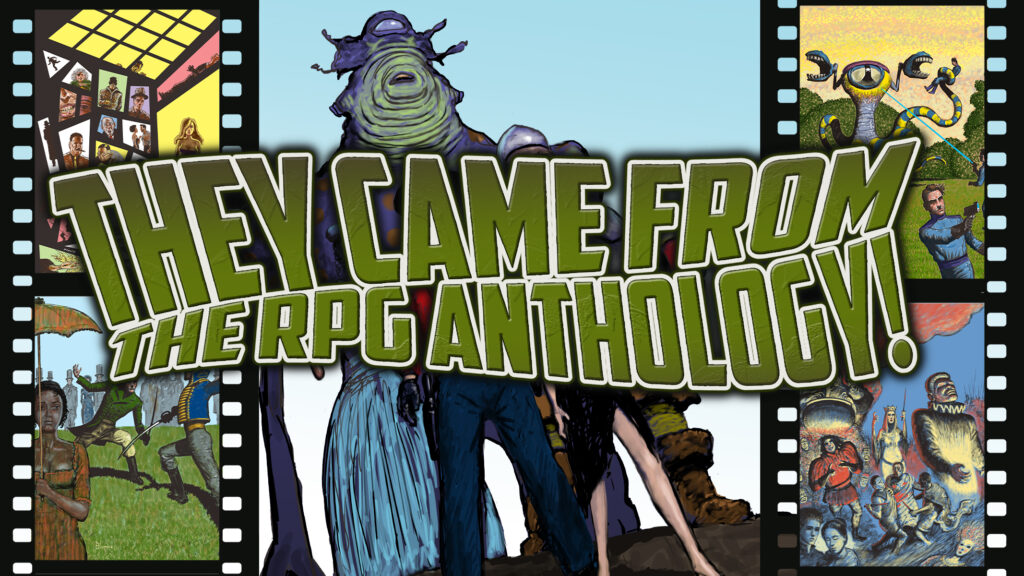 They Came From the RPG Anthology! is halfway over, and we're currently at $18,456 (or 92%) of our $20,000 goal!
This is a core rulebook, not a supplement, so it includes all the rules you need to play. Plus! a host of new potential settings:
They Came from Cowboy's Gulch! (cowboys)
They Came from the Mean Streets! (noir)
They Came from Bridgton Rectory! (costume dramas)
They Came from the Bard's Quill! (Shakespeare)
They Came from the Interstellar Starship! (sci-fi)
In the last round of voting, you voted for They Came from the Billiard Room with the Candlestick! This week, we're currently choosing between:
They Came from the Steel Dragon Fighting Tournament! (fighting games and martial arts movies)
They Came from Beneath Capes and Cowls! (superheroes)
They Came from Neo Tokyo! (90s anime)
Did you miss one of our previous campaigns? The following crowdfunded products are still open for preorders via BackerKit:
Community Spotlight
The following community-created content for Scarred Lands has been added to the Slarecian Vault in the last week:

The following community-created content for Realms of Pugmire has been added to Canis Minor in the last week:
The following community-created content for Storypath has been added to the Storypath Nexus in the last week: