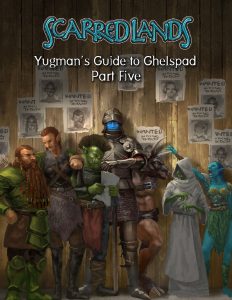 Now available in PDF from DriveThruRPG: Yugman's Guide to Ghelspad, Part 5 for Scarred Lands!
Pay Heed to the Wisdom of Yugman the Sage
A century and a half after the Divine War, the titans lay defeated and scattered across Scarn and beyond. As the people of Ghelspad work to build a new world on the war-torn remnants of a fallen paradise, new heroes rise, and new threats emerge. Yugman the Sage brings an overview of these new heroes and villains, as well as the tools they use to rise to power.
Yugman's Guide to Ghelspad Part Five includes new Backgrounds for Death and Devotional societies, three new subclasses, and new rules for half-orc and minotaur player characters.
A Land Where Legends Walk
Drawing enthusiastically on Greek mythology, the revised and re-imagined Scarred Lands nonetheless retains its place as a modern fantasy RPG setting. This is a world shaped by gods and monsters, and only the greatest of heroes can expect to be counted among them. The most populous continent of Scarn, Ghelspad, plays host to vast unexplored regions, hides unsolved riddles from ancient cultures, and taunts adventures with the promise of undiscovered riches hidden among the ruins of older civilizations.
Yet the myths of the Scarred Lands are relatively recent events. The effects of the Titanswar still ripple through the world, and the heroines and villains of many of these stories are part of living memory, if not still alive themselves.
Merch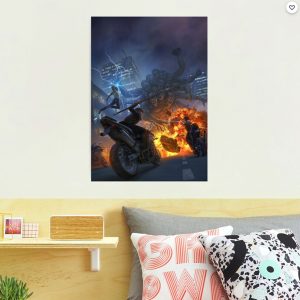 New Scion posters have been added to our RedBubble store!
Kickstarter Update
The Kickstarter for Scion 2nd Edition Book 3: Demigod has just hours remaining! We funded to 100% in 75 minutes, and are currently at 386% of our $35,000 goal, or $134,997, thanks to our 2212 backers! We've hit several stretch goals:
Scion: Demigod Reference Screen
Scion: Demigod Companion: New Boons, new creatures, new Guides, new followers, solo play, new relics, cults & covenants, relic crafting, Terra Incognita, Titans & Titanspawn x2,
Backer T-shirt
Scion: Demigod Desktop Wallpaper
Scion Scenarios x2
Did you miss one of our previous Kickstarters? The following Kickstarted products are still open for preorders via BackerKit:
Community Spotlight
The following community-created content for Scarred Lands has been added to the Slarecian Vault in the last week:

The following community-created content for Realms of Pugmire has been added to Canis Minor in the last week:
The following community-created content for Storypath has been added to the Storypath Nexus in the last week: