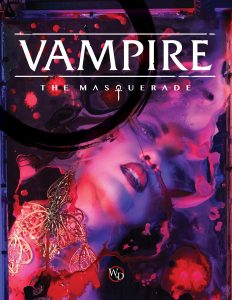 FOR IMMEDIATE RELEASE
August 1, 2019 — Rich Thomas, founder and Creative Director of Onyx Path Publishing, announced the company's next supplement for the newly-launched Vampire: The Masquerade 5th Edition corebook will be Cults of the Blood Gods.

"I'm tremendously excited to be developing Cults of the Blood Gods for V5! We'll be seeing all kinds of faiths and factions, from the Church of Set to the Hecata, the Bahari to the Church of Caine, the Mithraic Mysteries to the Cult of Shalim, and more besides," said Matthew Dawkins, the World of Darkness developer for Onyx Path Publishing. "Being able to provide rules for this edition's Clan of Death is quite the privilege, and we'll be looking to impress people with how they're presented. I've got an excellent, diverse team with a range of experience on this book, and we're all going to work hard to make it stand out."

Cults of the Blood Gods is a new style of sourcebook for Vampire: The Masquerade 5th Edition that introduces the pernicious horror of twisted beliefs. Designed for players and Storytellers, this supplement will include:

Scary, esoteric vampiric cults used in modern nights that include churches, heresies, and warring dogmas.
Kindred cults and faiths built around methuselah worship, including holy rites, in-character texts, and religious tracts.
Setting, advice, and rules to play the Hecata, the Clan of Death.
The manuscript for Cults of the Blood Gods is currently being written and developed using the new Vampire: The Masquerade Fifth Edition rules. A Kickstarter is planned for a prestige edition of this supplement and is expected to launch sometime in 2019. Standard digital and print editions will be released following fulfillment of the Kickstarter.
About Onyx Path Publishing: Founded in 2012, Onyx Path Publishing is a Pennsylvania-based company dedicated to the development of exemplary, immersive worlds. Working with a group of amazingly talented creators, we explore print, electronic and other forms of media distribution to make our products available to our fans. With over 25 years of publishing experience from which to draw, we are industry professionals who love the art of the game and plan to continue making meaningful, innovative contributions in the years to come.

On the web: www.theonyxpath.com
Twitter: @theonyxpath
Facebook: http://www.facebook.com/TheOnyxPath
Press Contact: Monica Valentinelli
Email Address: theonyxpath@gmail.com

About White Wolf Entertainment
White Wolf Entertainment is a licensing company focused on creating the best participatory brands in the world. Since its original entry into the roleplaying game market in 1991, White Wolf's World of Darkness has grown to be one of the most recognized and successful brands in the hobby game space with collective book sales in excess of 10 million copies during this time. White Wolf's World of Darkness brands, which include Vampire: The Masquerade, Werewolf: The Apocalypse, Wraith: The Oblivion, and Orpheus, as well as other universes such as Exalted and Chronicles of Darkness, have been licensed for television series, video games, interactive media events, and a myriad of merchandise and other entertainment products.

On the web: www.white-wolf.com
Twitter: @wwpublishing
Facebook: www.facebook.com/whitewolfpublishing
Press contact: press@white-wolf.com
###