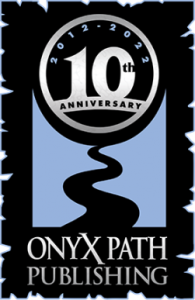 2022 is Onyx Path's tenth anniversary, so every month this year, we're celebrating a different game line!
March is Cavaliers of Mars month.
PDFs from the Cavaliers of Mars game line are currently on sale for 10% of their original prices, for our 10th anniversary. That means it's 90% off!
All seven Cavaliers sale items can be picked up for only $4.20! The sale lasts for the rest of the month.
Additionally, for the remainder of the month, our partners are offering 50% off physical Cavaliers of Mars core rulebooks and GM screens! That includes Indie Press Revolution and also Studio2 Publishing!