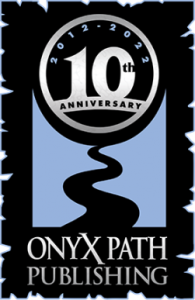 2022 is Onyx Path's tenth anniversary, so we're celebrating a different game line every month this year!
December is Trinity Continuum month.
For our final sale, PDF titles from the original edition of the Trinity Continuum, the Æon Continuum, are on sale for 10% of their original price for our 10th anniversary. That means they're 90% off!
That means:
Trinity 1e: The original edition of Æon's core rules for $0.90, or all 19 titles on sale for only $16.40!
Aberrant 1e: The original edition of Aberrant's core rules for $1, or all 16 sale titles for only $12.90!
Adventure! 1e: The original edition of Adventure! for only $0.90!
That means you can get 36 titles on sale for just $30.20! You'll never see sales this good again!
Plus! Save 50% on a bunch of Onyx Path's traditionally-printed titles from Indie Press Revolution!
Previous sales this year:
January: Dystopia Rising: Evolution
February: World of Darkness
March: Cavaliers of Mars
April: Exalted
May: Scion
June: Crossroads Continent
July: Chronicles of Darkness
August: Scarred Lands
September: Realms of Pugmire
October: They Came From…
November: Legendlore
December: Trinity Continuum